WINNETKA BOWL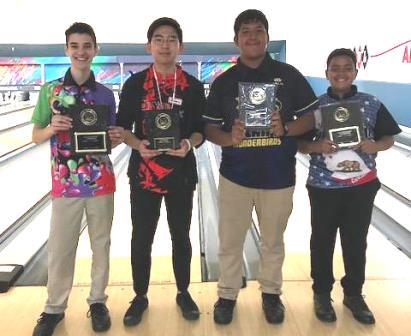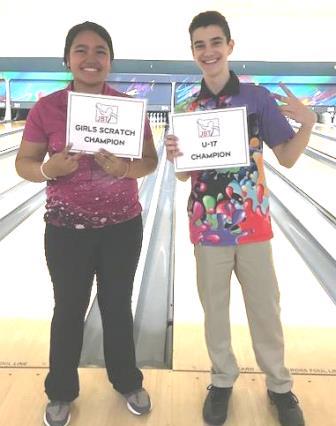 champs Solomon Salama & Brandon Criss with Ryan Lee and DJ Soperanaz; Kaylee Am-Khong and Salama
Two familiar names, but only one familiar face, claimed JBT titles in exciting action with season-long implications at Winnetka Bowl.
Tim Hill began the scratch division stepladder finals with a 214-186 win over Anthony Schanen. Ryan Lee then took over, plucking the "Bird" with a 243-185 win, and continuing to pile on the strikes in a 257-241 thriller over Josh Mabry to advance to the finals.
The good news for Ryan was that he was in another title match. The bad news was that top seed Solomon Salama awaited him, and Solomon has had Lee's number of late in JBT matches. In fairness to Ryan, Solomon has had most kids' numbers nationwide the last few years with his phenomenal performances. Unfortunately for Lee, it was more of the same, as both players bowled well but in the end Salama came up with a 233-203 win, good for the 8th title of his JBT career.
Elias Luna watched his big brother win scratch yesterday, and must have been motivated as he began a title run of his own with a 229-205 win over Kaitlynn Martin to begin the handicap division stepladder finals. Zach Greim, finally busting out of some near-misses, then stopped Luna 216-195. Another younger sibling, Cameron Criss' brother Brandon, then beat Greim 214-190 to reach the title match.
Top seed DJ Soperanaz had taken the lead from Criss at the end of qualifying then coasted to the #1 spot with great bowling. The title game was close throughout, but in the end Brandon joined his borther as JBT champions with a 222-217 win over DJ for his first career JBT title.
It was a dual repeat in the subdivisions (the picture even came out exactly the same, go figure), as Salama beat Greim for the U17 win, while Kaylee Am-Khong got past Martin for the Priority Girls Scratch win.
Big thanks to the team at Winnetka for their usual great job hosting our Tour. Over $3,700 in scholarships were awarded on the weekend- want in on all the fun for all ages and averages? Just check out our schedule and come on down!
Winnetka- final results and scholarship winners
4/22/2018
Scratch Division
rank
bowler
prize
1
Solomon Salama
$265
2
Ryan Lee
$125
3
Josh Mabry
$105
4
Tim Hill
$75
5
Anthony Schanen
$50
6
Costa Gastouniotis
$40
7
Harley Sweigart
$131
8
Marc Villalobos
9
Noah Briceno
10
Kyle Reed
$15
11
JR Mehlum
12
Garrett Lee
13
Kaylee Am-Khong
$50
14
Nolan Am-Khong
15
Kevin Babaag
16
Tanner Sisk
17
Zack Long
18
Trevyr Geronimo
19
Kyler Orosco
20
Allex Zieg
21
Louis Luna
22
Kyle Gilbert
23
Leoj Chin
24
Johnalan Linhorst
25
Gael Egana
26
Ardani Rodas
27
Ricky Pollom
28
Renee Gentry
29
Jacey Opiana
30
Marquan Rivers
31
Clifford Baltazar
32
Deelynn Berrie
33
Austin Sugarman
Handicap Division
1
Brandon Criss
$270
2
DJ Soperanaz
$125
3
Zach Greim
$160
4
Elias Luna
$75
5
Kaitlynn Martin
$85
6
Lindsay Greim
$50
7
Connor Steelmon-Hill
$40
8
Justin Erickson
$30
9
Autumn Barnes
$20
10
Daniel Hong
$20
11
Simon Ortega
12
Caleb Rothstein
$15
13
Silas Phillips
$65
14
Aislinn Lubag
$30
15
Secilia Kalvelage
$15
16
Preston Carrasco
17
Yairi Lubag
$15
18
William Robbins
19
Clifford Robbins
20
Travis Miller
$15
21
Yael Salama
22
Lathan Chin
$60
23
Brian Erickson
24
Brandon Lim
25
Dawson Reese
26
Akayla Orosco
27
Caleb Ready
28
Cyruss Tehrani
29
Jace Barnes
30
Emily Cheesman
31
Nathan Chambers
32
Cora Lerma
33
Theresa Miller
34
Jared Schiada
35
Hillari Hampton
$30
36
James McGough
$5
37
Kyle Perry
38
Jadeyn Mabry
39
Ethan Chambers
40
Adrian Yamanoha
41
Braeden Phillips
42
Louis DePero
43
Marco Cuevas
44
Cameron Criss
45
Hailey Shepherd
46
Garrett Ready
47
Grant Ready
48
Shane Howard
High Games
Scratch
Handicap
1
Mabry 289
B Criss 269
2
Salama 279
Z Greim 257
3
Salama 270
Soperanaz 251
4
R Lee 266
N Chambers 245
5
R Lee 257
3 tied with 244
High Female
1
Am-Khong -62*
2
Martin -134
3
Gentry -143
4
Opiana -147
5
Kalvelage -153
Qualifying Leaders
Scratch
Handicap
1
Salama +102
Soperanaz +105
2
Sweigart +55
B Criss +85
3
Briceno +13
K Martin +76
Round Leaders
Scratch
Handicap
1
N Am-Khong
N Chambers
2
N Am-Khong
K Martin
3
Hill
B Criss
4
Salama
B Criss
5
Salama
Soperanaz
6
Salama
Soperanaz
7
Salama
Soperanaz
8
Salama
Soperanaz
Total Awarded This Event: $1,981