PAC NW DOUBLES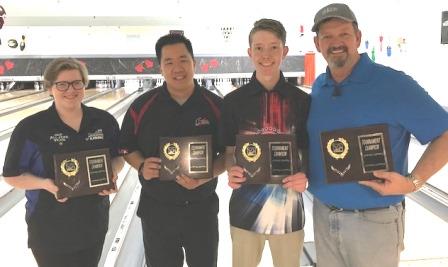 champs Abbie Kay & Kevin Hong, and Paul and Charles Lemay
After a long day of great competition, Abbie Kay and Kevin Hong claimed scratch, while Paul and Charles Lemay won handicap, at the JBT Pac NW Doubles Classic, hosted by Hiline Lanes in Burien.
All-time JBT titles leader Cortez Schenck made a trip to the PNW a success with a 227-186 win with his partner Mike Calderon over Tanner Spacey and Bradley Baltazar to begin the scratch finals. In a thriller of a semifinal, Robert Kelley and Andrew Martin snuck by Schenck and Calderon 209-207 to reach the title game.
Hong, a veteran of team and doubles events, and the rapidly improving Abbie Kay grabbed the top seed, and were able to defeat Kelley and Martin for the win, the first of Abbie's JBT career.
The father-son duo of Charles and Paul Lemay began the handicap finals with a 177-160 win over Trevor Wodesky and JT Taylor. Trevor's brother Taylor and Brandon Jensen tried to avenge the family in the semifinals, but the Lemays were good again, winning 182-153 to reach the title game.
Top seeds Malcolm Jacobson and Vianne Daniels enjoyed the best events of their JBT careers. However, the Lemays saved their best for last, defeating Malcolm and Vianne 260-226, earning the first titles of their JBT careers.
Huge thanks to the incredible Pat Johns and their team for hosting a jam-packed day, which resulted on over $3,500 in scholarships awarded. Want in on all the fun? Just come on out to the next JBT event!
Pac NW Doubles- final results and scholarship winners
12/2/2017
Scratch Division
rank
bowler
prize
bowler
prize
total
1
Abbie Kay
$500
Kevin Hong
$500
2
Andrew Martin
$260
Robert Kelley
$260
3
Cortez Schenck
$200
Mike Calderon
$200
4
Bradley Baltazar
$125
Tanner Spacey
$125
5
Josh Xu
$100
Ryan Delap
$100
6
Tommie McNeal
$80
Brandi Calderon
$80
7
isaac Mailkoff
Jacob Frazier
8
Kyle Adams
Simon Dyck
$5
$5
9
Preston Craig
Duncan Whitaker
10
Makana Wong
Hunter Bower
11
Kevin Nagasawa
Tyler Boe
$45
$45
12
Jessica Holbrook
Barry Tate
13
Tyler Denune
Payton Edwards
14
Don Bautch
Jerry Jennings
15
Paul Rosales
Matt Surina
16
Mike Armstrong
Danny Chalmers
17
Aidghan Ziegler
Evan Smith
18
Tyler Coates
Steve Coates
19
Elijah Chin
Bud Sicard
20
Brooklyn Boudreau
Jessica Buchanan
21
Alejandro Moser-Hernandez
Carl Nichols
22
Brendan Curtis
Alan Curtis
23
Brian DeLuisa-Anderson
Nate Davis
24
John Malone
Jeff Knapp
25
Sam Gritzke
WendyJo LaTurner
26
Collins Davis
$30
Peter Davis
$30
27
Ethen Maxwell
Derek Lehman
28
Sam Flaisig
Danaka Heekin
29
Piper Chalmers
Leea Haworth
30
Michael Strothman
Todd Strothman
31
Justice Dillman
Alan Dillman
Handicap Division
1
Paul Lemay
$630
Charles Lemay
$630
2
Malcolm Jacobson
$200
Vianne Daniel
$200
$400
3
Taylor Wodesky
$125
Brandon Jensen
$125
$250
4
Trevor Wodesky
$90
JT Taylor
$135
$225
5
Peyton Freund
$125
Tyler Freund
$125
$125
6
Mary Sicard
$63
Ben Clark
$63
$126
7
Joe Brooks
$45
Noah Sicard
$45
$90
8
Madison Flatin
$80
Kathy White
$80
9
Madelyn San Soucie
Kadie Dicken
10
Ruth Magana
Ken Nooney
11
Derek Haight
Paul Haight
12
Anna Gatlin
Kailee Wilcox
13
Aiden Wong
Mike Leemani
14
Tiana Richard
$15
Jason Richard
$15
15
Sienna Stoner
$15
Lane Hill
$15
16
Dayton Nickolson
$50
Donnie Nickolson
$50
17
AJ Schock
Payton Bower
18
Kyler Jandusay
$15
Bryan Zeutenhorst
$15
19
Mike Sargent
Alena McDoyle
20
Jasmine Emswiler
Debi Farve
21
Jacob Reeves
Xavier Batingan
22
Alex Thionnet
Brandt Thionnet
23
Hannah Johnson
$15
Shane Johnson
24
Mac Kaurin
Alexander Paul-Patterson
25
Cadin Cervine
$60
Jaadyn Humphries
$60
26
Ryan Smerud
Adam Smerud
27
Kierra Wilcox
Caitlin Moore
28
Noah Green
Scott Haugen
29
Ben Heisler
Charles Heisler
30
Carter Humphries
Stacy Humphries
31
Avery Eelkema
$45
Alan Vancleeve
$45
32
Tyler Marquart
Donnie Marquart
33
Mason Mattingly
Cindy Mattingly
34
Zach Johnson
Josh Dyer
35
Colt Jance
Gary Carter
36
Mackenzie Theophilus
Darin Theophilus
37
Josh Iverson
Gary Iverson
38
RayAnn Davis
Marty Davis
39
Jakob Brown
Glen Brown
40
Nicolas Fox
Daniel Fox
41
Quinn Shaner
$5
Brian Shaner
$5
42
Anna Maxwell
Jacob Marquart
43
Cosmo Castellano
Mateo Segura
44
Miranda Lundquist
Cora Lundquist
45
Josie Reunert
$5
Anne Marie Reunert
$5
High Games
Scratch
1
McNeal 279
2
Schenck 278
3
Dyck 267
4
Frazier 266
5
Schenck 263
Handicap
1
Jacobson 290
2
Stoner 273
3
N Sicard 269
4
M Sicard 267
5
Daniels 266
Qualifying Leaders
Scratch
1
Schenck / Calderon +160
2
Kay / Hong +141
3
Mailkoff / Frazier +117
Handicap
1
Wodesky / Jensen +229
2
Jacobson / Daniels +181
3
Wodesky / Taylor +153
Round Leaders
Scratch
1
Schenck / Calderon
2
Kay / Hong
3
Kay / Hong
4
Schenck / Calderon
5
Kay / Hong
6
Kay / Hong
7
Kay / Hong
Handicap
1
Gatlin / Wilcox
2
Jacobson / Daniels
3
Wodesky / Jensen
4
Wodesky / Jensen
5
Wodesky / Jensen
6
Jacobson / Daniels
7
Jacobson / Daniels
TOTAL AWARDED THIS EVENT: $3,501