SO CAL BAKER TEAM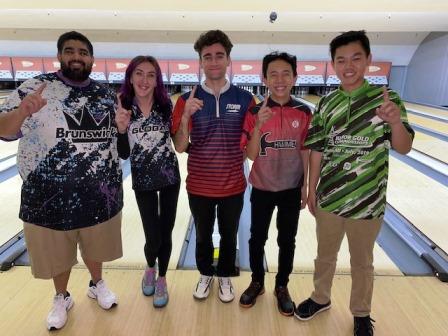 champs Aarik Torres, Kagan Kost, Dominic Fisher, Martin Velaso, Henry Lee
pictures of all teams at our facebook page, "Junior Bowlers Tour Southwest"
In a terrific comeback final, the "Kingpins" were exactly that, winning the JBT So Cal Baker Challenge, hosted by Bowlium Lanes in Montclair.
After 10 games of Baker-style qualifying, the Kingpins qualified 7th, then got by the #2 and #3 seeded teams to reach the final. Their opponents would be the top seed 'Mixed Nuts' team, who had rolled 4-0 through their matches. They won the first game of the finals 207-191, but Kingpin came roaring back 218-180 to force one more game for the title. The final game was a crazy one, with gutter balls on both sides changing the match. However, it still came down the anchor bowlers, and after Dominic Fisher doubled, Bobby Campagnale's good second shot left a 7-pin standing, and that gave Kingpin the 186-181 win and the championship. It's the first JBT title for all, and the youths split the $500 top prize.
Big thanks to the team at Bowlium for hosting one of our favorite weekends of the year. Want in on all this fun for all ages and averages? Just check out our schedule and come on down!
So Cal Baker- final results and scholarship winners
11/30/2019
rank
bowlers
prize
total
1
Henry Lee
$167
$500
Dominic Fisher
$167
Kagan Kost
Aarik Torres
Martin Velasco
$167
2
Ricky Pollom
$100
$400
Gael Egana
$100
Louis Luna
$100
Elias Luna
$100
Bobby Campagnale
3
Emily Schrider
$67
$200
Joe Jimenez
Emily Cheesman
$67
Peter Ruiz
$67
Buddy Lucas
4
Nick Caner
$67
$200
Andrew Svoren
Ben Martin
$67
Clint Strawmyer
Mark Wang
$67
5
Stephanie Fung
Allex Zieg
Michael Marmolejo
Jonathan Hall
Kyler Orosco
6
Hunter Mayes
Chris Mayes
Jennifer Peterson
DJ Kneifel
Justin Phillips Jr
7
Tony Nino
Kyle Nino
Preston Carrasco
Marshall Degnan
Mark Degnan
8
Ryan Bass
Hailey Shepherd
Allison Azvedo
Ardani Rodas
Jaclyn Azvedo
9
Tyler Weitzman
Kaitlyn Griffin
JP Griffin
Antonio Palangio
Chriss Garcia
10
Frank Howard
Shane Howard
Jonathan Fun
Andrew Fung
Leoj Chin
11
Dawson Reese
Harley Sweigart
Brian Reed
Kyle Reed
Gage Baker
12
Edward Wheelan
Allysha Howard
David Schneider
Jim Harvey
Michelle Silver
13
Michael McQuisten
Marquan Rivers
Josh Molloy
Richard Delgado
Leah Parker
14
Zack Jellsey
Bobby Hornacek
Bryce Nakunz
Ronnie Castillo
Lamaki Welch
15
Trevyr Geronimo
Garrett Lee
Jennifer Loredo
Daniel Hong
$100
Young Cho
16
Akayla Orosco
Kaitlynn Yukihiro
Alexis Lee
Stephanie Hong
Stephanie Cope
17
Noel Hernandez
Corbin Reid Hirsch
Nathan Chambers
Lucas Rabb
Brock Bivins
18
Sebastian Huffman
Lathan Chin
Matthew Wang
Steve Spencer
Sara Lee
19
Secilia Kalvelage
Marco Cuevas
Travis Miller
Theresa Miller
Silas Phillips
20
Zach Greim
Lindsay Greim
Elias O'Hollaren
Katelyn Abigania
Steve Smith
21
Connor Steelmon-Hill
Kean Gatmaitan
Danielle Swaisgood
Philip Hall
Valerie Spence
Email director@bowljbt.com to reserve a spot. Scroll below for reserved list.
JBT ALL-BAKER 5-PERSON TEAM CHALLENGE!
to be held at:
7 PM Saturday November 30 at Bowlium
4666 Holt Blvd., Montclair CA, (909) 626-3528
9:30 AM Sunday December 8 at Hiline Lanes
15733 Ambaum Blvd SW, Burien WA, (206) 244-2272
Bowl the events at Bowlium Saturday and Sunday to make it a tripleheader of JBT fun in So Cal!
Bowl the Doubles event at Hiline Saturday to make it a doubleheader of JBT fun in the Northwest!
Hereís the twists:
- This is an all-scratch* event, but your teams must have at least one bowler with an entering average of 170 or less. (avg. as of 11/5/19)
- *Teams with more than one under-170 bowler get 8 extra pins per game for each under-170 bowler (so, up to 32 pins per game!)
- Teams may have a max of 2 adults (adults may be the 170 & under bowler)
(Ďadultí in JBT means anyone age 22 and over as of 8/1/19)
- Each bowler MUST be the anchor (frames 5 & 10) twice each in qualifying.
ENTRY FEE: $25 per person ($125 per team) FORMAT:
- teams roll 10 Baker games
- top 8** teams advance to best
2-of-3 matchplay
EBONITE BALL RAFFLE AT THIS AND ALL
JBT EVENTS! Points awarded for finishing position only. Team shirts
highly encouraged but not required.
SAMPLE PRIZE FUNDS: (1:6 teams earn scholarships, minimum 4 teams cash, $500 first)
16 entries 24 entries
1st- $500 1st- $500
2nd- $250 2nd- $400
3rd-4th- $125 3rd-4th- $200
5th-6th- $100
***Leading qualifiers : $100***
**If 11+ teams enter, the top 8 advance. If 10 or less teams enter, the top 6 advance.
To reserve spots, email director@bowljbt.com, or visit www.bowljbt.com.
JBT bowlers use 19-20 JBT average, all others use highest 19-20 15+ game average as of 11/5, verification required if itís the 170 & under bowler. All other JBT rules apply. Limited to the first 24 fully paid teams. Walk-ins OK, but prepayments strongly encouraged. Please help us spread the word to our JBT alumni. We'll see you there, don't miss it!
RESERVED TEAMS:
Bivins - partner - partner - partner - partner
Weitzman - Garcia - Griffin - Griffin - Palangio
Hirsch- Hernandez- Rabb - BIvins - partner
Silva - Wheelam - Ruiz - Schneider - Zirges
Criss, B -
Criss, C-
Egana - Luna, L - Luna, E - Ricky - Bobby
Kalvelage - Phillips - MIller - Miller - Cuevas
Nino - Nino - Carrasco - Degnan - Degnan
Fung - Orosco K - A Azvedo - Marmolejo -
Peterson - Kneifel - Mayes - Mayes - Phillips
Huffman -
Orosco A -
Wang - Wang - Wang - Spencer - Kovach