JBT ALL-BAKER 5-PERSON TEAM CHALLENGE!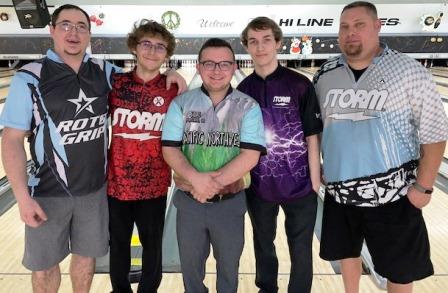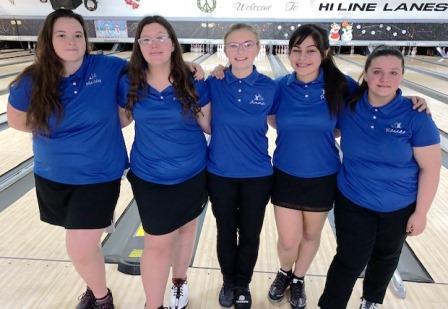 champs "Get Pranked" and runners-up "300 Wannabes"
pictures of all teams at our facebook page, "Junior Bowlers Tour Southwest"
A group of ladies were looking to duplicate JBT history, but it was an Oregon bunch getting vengeance instead, in terrific action at the JBT Baker Team Challenge, hosted by Hiline Lanes in Burien.
The '300 wannabes' (Madison Flatin, Kierra and Kailee Wilcox, Anna Gatin, and Rose Ugbinada) were looking to match the strategy of five So Cal girls last year with all-under-170 averages to take the title. They looked well on their way, earning the top seed by a decent margin, and only dropping one game in matchplay (to the mostly-Lennox 'Funky Monkeys') to reach the title match. Their opponents would be #2 seed "Get Pranked" (Trevor and Eric Wodesky, JT Taylor, Silas LeBlanc, Chris Mongelli), who also only dropped one game to reach the final.
It looked like it would take a big score from the higher average team to beat the girls, but the gentlemen were more than up to the task, blasting two big numbers to sweep the 2-of-3 match and earn the title. The youth bowlers split the $600 top prize/ For Silas it was his second JBT win, while JT and Eric claimed their first titles.
Huge thanks to all the adults who competed in one of our favorite events of the year, as well as Pat Johns and the team at Hiline for an outstanding job hosting a jam packed weekend. The $1,500 awarded on the day pushed the weekend total to almost $5,000 in scholarships earned by all ages and all averages! Want a piece of the fun? Just check out our schedule and come on down!
Pac NW Baker- final results and scholarship winners
11/30/2019
rank
bowlers
prize
total
1
Trevor Wodesky
$200
$600
Eric Wodesky
JT Taylor
$200
Silas LeBlanc
$200
Chris Mongelli
2
Madison Flatin
$80
$400
Kailee Wilcox
$80
Kierra Wilcox
$80
Anna Gatlin
$80
Rose Ugbinada
$80
3
Toby Wills
$50
$250
Carter Humphries
$50
Jaadyn Humphries
$50
Kenji Lonon
$50
Cadin Cervine
$50
4
Matthew Lennox
$84
$250
Michael Lennox
Jacob Lennox
$84
Hailey Lennox
$84
Bruce Springer
5
Kevin Nagasawa
Bradley Baltazar
Andrew Martin
Nick Fox
Robert Kelley
6
Brooklyn Boudreau
Evan Smith
Juliauna Gosney
Liam Hardman
Aidghan Ziegler
7
Mac Kaurin
Elijah Chin
Andy Herrmann
Brian Browning
Mason McKenzie
8
Makana Wong
Aiden Wong
Noah Sicard
DoHoon Kwon
Sam Gritzke
9
Kyle Adams
Simon Dyck
Derek Li
Nathan Tang
Jacob Imoo
10
Braidyn Bishop
Carson Siems
Brody Ruby
Trevor Johnson
Dane Downing
11
Ben Heisler
Charles Heisler
Bryan Zeutenhorst
Alex Perini
AJ Hooper
12
Chloe Bartlett
Vianna Daniels
Malcolm Jacobson
James Yost
Sean McCandless
13
Ryan Smerud
Colt Jance
Michael Strothman
Adam Smerud
Gary Carter
14
Lohrghan Ziegler
Duke Knudsen
Sam Flaisig
Todd Strothman
Jerry Jennings
15
Mike Sargent
Alena McDugle
Ruth Magana
Jasmine Emswiler
Derek Thompson
16
Payden Stumpf
Noah Green
Piper Chalmers
Danny Chalmers
Brian Monnette
17
Carl Nichols
Skyler Broussard
Alejandro Moser-Hernandez
Paul Rosales
Samyia Gildon
18
Tyler Coates
Steve Coates
Hunter Bower
Megan Bower
Payton Bower
19
Brian DeLuisa-Anderson
Nate Davis
Bud Sicard
Kevin Hong
Jonathan Lorey
20
Collins Davis
Peter Davis
Sally Ault
Sam Cox
Chase Hudson
21
Cindy Mattingly
Douglas Bialza II
Douglas Bialza III
Mason Mattingly
Micah Mattingly
to be held at:
7 PM Saturday November 28 at Bowlium
4666 Holt Blvd., Montclair CA, (909) 626-3528
10 AM Sunday December 8 at Hiline Lanes
15733 Ambaum Blvd SW, Burien WA, (206) 244-2272
Bowl the events at Bowlium Saturday and Sunday to make it a tripleheader of JBT fun in So Cal!
Bowl the Doubles event at Hiline Saturday to make it a doubleheader of JBT fun in the Northwest!
Hereís the twists:
- This is an all-scratch* event, but your teams must have at least one bowler with an entering average of 170 or less. (avg. as of 11/5/19)
- *Teams with more than one under-170 bowler get 8 extra pins per game for each under-170 bowler (so, up to 32 pins per game!)
- Teams may have a max of 2 adults (adults may be the 170 & under bowler)
(Ďadultí in JBT means anyone age 22 and over as of 8/1/19)
- Each bowler MUST be the anchor (frames 5 & 10) twice each in qualifying.
ENTRY FEE: $25 per person ($125 per team) FORMAT:
- teams roll 10 Baker games
- top 8** teams advance to best
2-of-3 matchplay
Points awarded for finishing position only. Team shirts
highly encouraged but not required.
SAMPLE PRIZE FUNDS: (1:6 teams earn scholarships, minimum 4 teams cash, $500 first)
16 entries 24 entries
1st- $500 1st- $500
2nd- $250 2nd- $400
3rd-4th- $125 3rd-4th- $200
5th-6th- $100
***Leading qualifiers : $100***
**If 11+ teams enter, the top 8 advance. If 10 or less teams enter, the top 6 advance.
To reserve spots, email director@bowljbt.com, or visit www.bowljbt.com.
JBT bowlers use 19-20 JBT average, all others use highest 19-20 15+ game average as of 11/5, verification required if itís the 170 & under bowler. All other JBT rules apply. Limited to the first 24 fully paid teams. Walk-ins OK, but prepayments strongly encouraged. Please help us spread the word to our JBT alumni. We'll see you there, don't miss it!
RESERVED TEAMS:
| | | | | | |
| --- | --- | --- | --- | --- | --- |
| 1 | Wilcox | Wilcox | Flatin | Gatlin | Ugbinada |
| 2 | Jance | Carter | Jance | Strothman | Smerud |
| 3 | Wills | Humpries C | London K | Cervine C | Humphries J |
| 4 | Baltazar | Martin | Nagasawa | Kelley | Fox, N |
| 5 | BDA | Davis N | Sicard B | Hong | |
| 6 | Wodesky | Taylor | Le Blanc S | Wodesk | Mongelli |
| 7 | Martin, A | Baltazar | Nagasawa | Kelley | Humphries J |
| 8 | Siems, C | Downing, D | Ruby, B | Johnson, T | Bishop, B |
| 9 | Tang, N | Li, D | Adams, K | Dyck, S | Imoo |
| 10 | Sargent | McDugle | Emswiler | Magana | Thompson D |
| 11 | Lennox | Lennox | Lennox | Lennox | Springer |
| 12 | Heisler | Heisler | Zeutenhorst | Perini | Hooper |
| 13 | Kaurin | Chin E | McKenzie M | Herrmann | Browner |
| 14 | Rosales | Moser-Hern. | Nichols | Broussard | Gildon |
| 15 | Sicard B | Wong A | Kwon | Wong M | McNamara |
| 16 | Bower | Bower | Coates | | |
| 17 | Daniels | Jacobson | MacCandless | Yost | Bartlett |
| 18 | Malone | Stumpf | Gritzke | Lee | Lee |
| 19 | Mattingly | Mattingly | Mattingly | Bialza | Bialza |
| 20 | Boudreau | Smith E | Ziegler A | Hardman | Gosney J |
| 21 | | | | | |
| 22 | | | | | |
| 23 | | | | | |
| 24 | | | | | |