"THE PRIMO" at CAL BOWL- day 2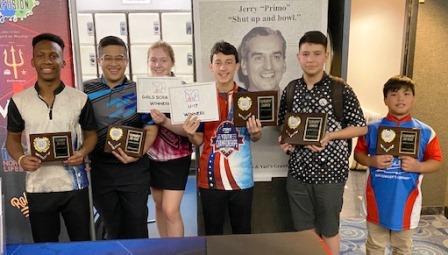 champs Elias O'Hollaren & Elias Luna; Marquan Rivers, Cerell Cardines, Madison Holman, Gavin Fernandez
The Elias-Elias Alliance (thanks Tyler) came through with wins on day two of "The Primo", a special JBT weekend hosted by Cal Bowl in Lakewood.
O'Hollaren roared through the scratch division stepladder, starting with a 247-225 win over Solomon Salama. He then got past Marquan Rivers 216-203 to get to the title match. Top seed Cerell Cardines used a big 299 to dominate the tournament, but ELias was on a big time roll, beating Cardines for the title, the third of his young JBT career.
In the handicap division, Elias also won three matches, starting with a 232-201 victory over Madison Holman. He then beat Alexis Lee to reach the title game. Top seed Gavin Fernandez was looking to avenge the day before's runner-up finish, but a tenth frame spare cost him the match, giving Luna the first JBT title of his career.
Gavin was more than consoled as the back to back second place finishes left him as easily the best combined finisher on the weekend, earning him the $500 'Primo' bonus and pushing him over $1,000 earned on the weekend. In scratch, Rivers' 5th & 3rd finishes gave him teh best combined result, earning him the $500 windfall.
O'Hollaren swept his events with a U17 win over Salama, while Madison Holman swept the Priority Girls weekend with a win over Avery Domaguin.
Big thanks to the fantastic team at Cal for hosting us, and the Salama family for making the event possible. Jerry 'Primo' Primavera is Solomon and Yael's grandfather, who introduced them to the sport. Want in on all this fun for all ages? Just check out our schedule and come on down!
Cal Bowl- final results and scholarship winners
3/1/2020
Scratch Division
rank
bowler
prize
1
Elias O'Hollaren
$500
2
Cerell Cardines
$250
3
Marquan Rivers
$625
4
Solomon Salama
$245
5
Ben Dinenberg
$75
6
Garrett Lee
$60
7
Cyruss Tehrani
$50
8
Chris Mayes
$50
9
Hunter Mayes
10
Joshua Abigania
11
Ryan Lee
12
Tim Hill
13
Nick Caner
14
Nolan Am-Khong
15
Allex Zieg
16
Kyler Orosco
17
Josh Williams
$5
18
Louis Luna
19
Michael Marmolejo
20
Gael Egana
21
Jordan Fahy
22
Katelyn Abigania
23
Allison Azvedo
24
Zach Greim
25
Stephanie Fung
26
Josh Karney
27
Austin Sugarman
28
Daniel Hong
29
Brandon Howard
30
Ardani Rodas
31
Jaclyn Azvedo
32
Adrian Yamanoha
33
RJ Davis
34
Byron Whitehead
35
Zane Piper
36
Emily Cheesman
37
Shane Howard
Handicap Division
1
Elias Luna
$500
2
Gavin Fernandez
$780
3
Alexis Lee
$200
4
Madison Holman
$215
5
Gabriylla Tantardini
$125
6
Taner Ferguson
$105
7
Jayden Macias
$80
8
Justin Ringus
$60
9
Andrew Sanchez
$50
10
Matt Wang
$70
11
Avery Domaguin
$25
12
Aislinn Lubag
$44
13
Zian Sasaki
14
Ryland Pimentel
15
Marshall Degnan
$5
16
Connor Steelmon-Hill
$29
17
Jimmy Pfaff
18
Stephanie Hong
$15
19
Brandon Miranda
20
Kayden O'Dell
21
Yael Salama
$104
22
Chase Simmons
23
Akayla Orosco
24
AC Domantay
25
Bryce Nakunz
26
Hayden Fernandez
27
Ben Martin
28
Yairi Lubag
$15
29
Noel Hernandez
30
Kendall Bollea
$14
31
Tyler Weitzman
32
Edward Wheelan
33
Raeden Pimentel
34
Lawrence Buhain
35
Gunnar Gruenewald
36
Danielle Swaisgood
37
Miya Greene
38
Justin Redfield
39
Mark Wang
$15
40
Caleb Rothstein
41
Brian Chan
42
Kaitlyn Griffin
43
Tim Kessler
44
Ethan Chambers
45
Hailey Shepherd
46
Lindsay Greim
$15
47
Kaitlynn Martin
48
Kameron Taylor
49
Cameron Criss
50
Riley Christy
51
Kaitlynn Yukihiro
52
Nathan Ginsburg
53
Ronnie Castillo
54
Izeah Mendoza
55
Brandon Criss
56
Nathan Chambers
57
Ryan Ginsburg
58
Brandon Rother
59
Brandon Ringus
High Games
Scratch
Handicap
1
Cardines 299
A Lee 284
2
Rivers 279
Rae. Pimentel 281
3
Tehrani 278
Degnan 268
4
Cardines 267
A Sanchez 268
5
3 tied with 266
J Macias 256
High Female
1
Holman -21*
2
Domaguin -24
3
K Abigania -57
4
A Azvedo -67
5
S Fung -75
Qualifying Leaders
Scratch
Handicap
1
O'Hollaren +177
J Ringus +103
2
Cardines +132
Matt Wang +98
3
Salama +118
G Fernandez +98
U-17
1
O'Hollaren +177
2
Salama +118
3
Dinenberg +96
4
H Mayes +47
5
N Am-Khong +24
Round Leaders
Scratch
Handicap
1
Cardines
B Miranda
2
Cardines
G Fernandez
3
O'Hollaren
Matt Wang
4
O'Hollaren
Matt Wang
5
O'Hollaren
J Ringus
6
O'Hollaren
G Fernandez
7
Cardines
G Fernandez
8
Cardines
G Fernandez
Total Awarded This Event: $4,326
This event is sponsored by the Salama family to honor Solomon and Yael's grandfather Jerry 'Primo' Primavera, who introduced them to the sport.
Date: Sunday, March 1, 2020
Start Time: 10 AM. Check in begins at 8 AM. Please check in no later than 9:30 AM.
Max bowlers: 120. Please email director@bowljbt.com to reserve a spot. You can prepay (not required) at the 'Sign Me Up!' section of this website. Reservations (paid or unpaid) must check in no later than 30 minutes before start time. At that time, all bowlers will be taken on a first come, first serve basis until the field is full.
This is a one day event. Saturday is a separate one day event. You can bowl only Saturday, only Sunday, or both. However, you must bowl both events to eligible for the $500 bonus, as explained below in the 'scholarships' section.
Divisions: Scratch or handicap. It is the bowlers' choice of division. Also, everyone age 16 or under as of 8/1/19 is automatically entered in the U-17 side event. Also, every female is automatically entered in the Girls Scratch side event.
Points: This event counts for So Cal and All-Conference points.
Entry fee: $40 handicap; $50 scratch. Scholarship brackets are available for $2 each. Raffle tickets for Ebonite bowling balls, and our PowerBowl and 24 jackpots, are available on-site.
Scholarships: 1:6 in each division earn scholarships, scratch and handicap. Minimum prizes for this event in scratch are $500, 250, $125, $75, $50. In handicap, $500, 250, $125, $75, $50. In addition, the bowler in each division with the best combined finish on the weekend earns an additional $500. (Best combined finish is determined by adding points [separate from regular JBT points] from their two finishes. First place finishers earn 1 point, 2nd place earns, 2, etc. Bowlers must bowl both events to be eligible for the $500 bonus.) Bowlers must finish in the top 4 twice in a conference to qualify for that conference's Invitational, which features $1,000 for first place. Bowlers who finish in the top 20 in a conference's points race, or the top 100 in all-conference points, qualify for the Touring Players Championship, featuring $2,000 for first.
Lane conditions: conditions vary from event to event, and are not posted prior to the event (unless otherwise announced). Some events do not post the pattern until after qualifying. Be ready for anything- it makes you a better bowler! Check out previous patterns and corresponding cut scores at the 'lane conditions' section of this website.
RESERVED BOWLERS:
scroll down for non-alphabetized bowlers. PLEASE contact us if you need to cancel your reservation.
| | |
| --- | --- |
| 1 | Abigania, J |
| 2 | Abigania, K |
| 3 | Azvedo, A |
| 4 | Azvedo, J |
| 5 | Bollea |
| 6 | Caner, N |
| 7 | Caner, N |
| 8 | Cardines, C |
| 9 | Castillo, R |
| 10 | Chambers, E |
| 11 | Chambers, N |
| 12 | Cheesman, E |
| 13 | Cheesman, E |
| 14 | Cheesman, E |
| 15 | Criss, B |
| 16 | Criss, C |
| 17 | Degnan, M |
| 18 | Dinenberg, D |
| 19 | Domaguin, A |
| 20 | Domantay, AC |
| 21 | Fahy, J |
| 22 | Fiel, I |
| 23 | Fiel, I |
| 24 | Fung, S |
| 25 | Geronimo, T |
| 26 | Ginsburg, N |
| 27 | Ginsburg, R |
| 28 | Greene, M |
| 29 | Greene, M |
| 30 | Greim, L |
| 31 | Greim, Z |
| 32 | Hampton, H |
| 33 | Hernandez, N |
| 34 | Hill, T |
| 35 | Holman, M |
| 36 | Hong, D |
| 37 | Hong, D |
| 38 | Hong, S |
| 39 | Hong, S |
| 40 | Howard, A |
| 41 | Howard, B |
| 42 | Howard, S |
| 43 | Huffman, S |
| 44 | Karney, J |
| 45 | Karney, J |
| 46 | Karney, J |
| 47 | Kessler, T |
| 48 | Lee, A |
| 49 | Lee, G |
| 50 | Lubag, A |
| 51 | Lubag, Y |
| 52 | Luna, L |
| 53 | Macias, J |
| 54 | Marmolejo, M |
| 55 | Martin, K |
| 56 | Mayes, C |
| 57 | Mayes, H |
| 58 | Mendoza, I |
| 59 | Miranda, B |
| 60 | Morgan, T |
| 61 | Nakunz, B |
| 62 | O'Hollaren, E |
| 63 | Orosco, A |
| 64 | Orosco, K |
| 65 | Pimentel, R |
| 66 | Pimentel, R |
| 67 | Reese, D |
| 68 | Rivers, M |
| 69 | Rodas, A |
| 70 | Rother, B |
| 71 | Rothstein, C |
| 72 | Salama, S |
| 73 | Salama, Y |
| 74 | Shepherd, H |
| 75 | Simmons, C |
| 76 | Steelmon-Hill, C |
| 77 | Sugarman, A |
| 78 | Swaisgood, D |
| 79 | Taylor, K |
| 80 | Wang, M |
| 81 | Wang, M |
| 82 | Weitzman, T |
| 83 | Wheelan, E |
| 84 | Williams, J |
| 85 | Yukihiro, K |
| 86 | Zieg, A |
| 87 | Bass, R |
| 88 | Lee, R |
| 89 | Am-Khong, N |
| 90 | Ringus, J |
| 91 | Ringus, B |
| 92 | Shepherd, H |
| 93 | Sanchez, A |
| 94 | Sasaki, Z |
| 95 | Castillo, R |
| 96 | Kokanour, G |