MOJAVE DOUBLES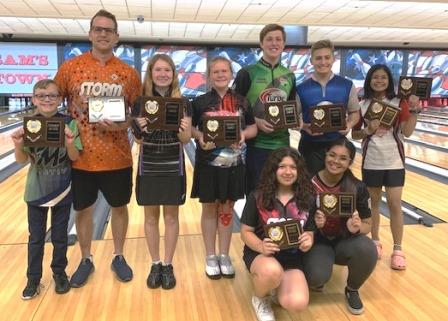 champs Gael Egana & Zach Griem and Kendall Bollea & Lindsay Greim, with finalists
Four successful JBT veterans teamed up for titles at the Mojave Doubles, hosted by Sam's Town in Las Vegas.
Both #4 seeded times climbed their stepladders for the titles. In handicap, Kendall Bollea and Lindsay Greim defeated Ava McLaughlin and Jazmyne Compehos 211-192 in round one of the Baker format. They then got past Gavin Holter and AJ Imperial 213-196 to reach the title match. The father-son combo of Jon and JT Verde had taken over the lead in the final game, but couldn't get the same momentum going in the finale, and Kendall and Lindsay cruised to a 223-162 win and the championship.
In the scratch division, Gael Egana and Zach Greim, last year's runners up, looked to avenge that result from last year, and boy did they ever, putting on a clinic in the finals. The first match proved the toughest, as they snuck by TJ Rock and Jorell Morris 244-231. In the semifinals they almost rolled the first Baker 300 in the finals in JBT history, with Greim's solid-8 on the final shot finishing a 299-208 win over Kyle and Brian Reed. The title match featured top seed TV stars Katelyn Abigania and Darren Tang; Katelyn from numerous summer appearances and Darren from PBA shows. They grabbed the lead in the final game of matchplay, but their solid 234 here was not close against Zach and Gael, who fired a 277, for 813 total in the finals, sweeping their way to an impressive win.
Big thanks to Sam's Town for hosting us, and to all the adults and alumni who took the time to bowl with today's JBT bowlers. Adult results were highlighted by former JBT star Zack Hattori's perfect 300, which was matched by Corbin Reid-Hirsch, who tossed his first career perfecto in game seven. Want in on all the fun? Just check out our schedule and come on down!
Mojave Doubles- final results and scholarship winners
11/23/2019
Scratch Division
rank
bowler
prize
bowler
prize
total
1
Gael Egana
$200
Zach Greim
$200
$400
2
Katelyn Abigania
$255
Darren Tang
$255
3
Kyle Reed
$200
Kyle Reed
$200
4
TJ Rock
$118
Jorell Morris
$75
$193
5
Solomon Salama
$50
Cerell Cardines
$107
$157
6
Sebastian Huffman
Zack Hattori
7
Devyn Patalina
Caleb Andrews
8
Elias O'Hollaren
Joshua Abigania
9
Kyle Perry
Clifford Robbins
10
Jason Bardol
Jason Bardol II
11
Samantha Conti
Johnny Petraglia Jr
12
Allex Zieg
Michael Marmolejo
13
Tim Hill
Tim Ursillo
14
Faythe Reid
Skyler McGowan
15
Alexiz Bustamante
Louie Cryts
16
Dawson Reese
Alyssa Tucker
17
Wendy MacPherson
Avery Domaguin
$5
$5
18
Brysen Mortensen
Tyler Mortensen
19
Josh Williams
Harley Sweigart
20
Brock Bivins
Hailey Kroeger
21
Ardani Rodas
Trevyr Geronimo
22
Ryan Enright
Paul Enright
23
Afton Lords
$14
Keely Lords
$14
24
Hayden Hull
Mike Hill
25
Makenzie Derezotes
Evan Greathouse
Handicap Division
1
Kendall Bollea
$200
Lindsay Greim
$200
$400
2
JT Verde
$250
Jon Verde
$250
3
Gavin Holter
$100
AJ Imperial
$100
$200
4
Ava McLaughlin
$75
Jazmyne Compehos
$75
$150
5
Tyler Morgan
$263
Don Morgan
$263
6
Corbin Reid-Hirsch
$100
Myrna Hunter
$100
7
Silas Phillips
Miya Greene
$15
$15
8
Jeremy Cardines
Yael Salama
9
Jordan Gil
Ringo Gil
10
Gavin Fernandez
Jay Fernandez
11
Ryland Gregorich
Brian Gregorich
12
Hayden Fernandez
Alecia Fernandez
13
William Robbins II
William Robbins III
14
Kaeylie Timbal
Koby Omizo
15
Noel Gregorich
Marisol Ramirez-Buckles
16
Marissa Ruiz
Michael Ruiz
17
Zack Gonzalez
Gary Tsunoda
18
Brandon Rother
Brent Rother
19
CJ Todeschi
Derrick Bollea
20
Charlise Esmena
Carlos Jones
21
Jayson McCoy
Justyce McCoy
22
Ethan Siu
Corey Siu
23
Mason Snow
Ray Snow
24
Emma Downing
Tommy Kroeger
25
Tyler Castronova
Monika Castronova
26
Katherine Abaca
Mohammad Munir
27
Julian Stenroos
Bryce Nakunz
28
Jakob Enright
Mike Clemence
High Games
Scratch
Handicap
1
Morris 287
Reid Hirsch 312
2
Morris 278
R Gregorich 296
3
Morris 278
Morgan 288
4
O'Hollaren 277
Morgan 286
5
Huffman 269
Compehos 286
Round Leaders
Scratch
Handicap
1
Greim - Egana
Gregorich-Gregorich
2
Reed - Reed
Gregorich-Gregorich
3
Rock - Morris
Holter-Imperial
4
Greim - Egana
Holter-Imperial
5
Greim - Egana
Morgan - Morgan
6
Greim - Egana
Morgan - Morgan
7
Abigania - Tang
Verde - Verde
TOTAL AWARDED THIS EVENT: $2,602
Email director@bowljbt.com to reserve a spot. Be sure to note 9:30 or 12:30 squad. Scroll below for reserved list.
<![if !vml]>
<![endif]>
To be contested
NOV 30 BOWLIUM MONTCLAIR CA 11 AM
DEC 7 HILINE LANES BURIEN WA 9:30 AM & 12:30 PM
NOV 23 SAM'S TOWN LAS VEGAS NV 11 AM
DEC 14 BOWLERO MESA MESA AZ AZ 11 AM
DEC 21 TENPINS & MORE RIO RANCHO NM 9:30 AM & 12:30 PM
***3 balls max per bowler at each event***
Bowl one or as many as you can! ………………………………………………………………………………………………………………………………………………………………………………………………
*Teams must have AT LEAST one JBT-eligible bowler. Partner can be ANY bowler.
(JBT eligible means age 21 or under as of 8/1/19)
*Handicap AND Scratch divisions!
*$400 1st place scholarship minimum per team guaranteed at each event !
ENTRY FEE: $80 per team FORMAT: (2 divisions, scratch & handicap)
--bowl 4 team games across 8 lanes
Teams with 'juniors' who --top 40% bowl 3 team matchplay games
have never bowled in a JBT
enter for $5 off per junior! --top 4 teams in each division bowl a BAKER
style stepladder finals
OPTIONAL EXTRAS FOR ADULTS AND JUNIORS !! (all returned 100%)
Brackets – 'adult' and 'junior' scratch and handicap brackets will be run.
'Junior' prizes are awarded as scholarship and 'adult' prizes are awarded as cash.
Adults may also choose to declare any/all winnings to their partner as scholarship.
Position prizes awarded as scholarship to 'juniors' only
(in other words, brackets are the only part where 'adults' can receive cash)
HANDICAP 90% OF 400 (i.e. -- team entering at 380 will get 18 pins)
Bowlers who have competed in JBT events in 19-20 will use their JBT average. All others must use their highest
19-20 average, 15 games minimum. All others will use 200. Teams over 400 MUST bowl scratch.
For more info or to sign up, visit us at www.bowlJBT.com
Max bowlers: 60 teams. Please email director@bowljbt.com to reserve a spot. You can prepay (not required) at the 'Sign Me Up!' section of this website. Reservations (paid or unpaid) must check in no later than 30 minutes before start time. At that time, all bowlers will be taken on a first come, first serve basis until the field is full.
RESERVED TEAMS:
Greim, Z / partner
Greim, L / partner
Downing / partner
Bivins, B / partner
Derezotes / partner
Rich, A
Rich. C
Criss, C
Criss, B
Hill, T - partner
Domaguin - partner
Holter - partner
Esmena - Carlos J.
Greene-
Salama, S - Cardines, C
Salama, Y - Cardines, J
Rodas - Geronimo
Lords - partner
Hernandez - partner
Reid-Hirsch - partner
Timbal - partner
Kabol - partner
Bollea - Greim L
Robbins - Robbins
Hull - partner
Leong - partner
Nakunz, B - partner
Downing - Kroeger, T
Kroger, H - partner
Rother - partner
Phillips S - Greene
O'Hollaren - partner
McCoy -partner
McCoy - partner
Bardol II - Bardol
Reid- McGowan
Morgan, T - partner
Siu - Siu
Castronova - Castronova
Gonzalez - Tsunoda
Zieg -
Marmolejo -
Nakunz - Stenroos
Gil - Gil
Reed- Reed
Rock - Morris
Ruiz - Ruiz
Todeschi -Bollea
Gregorich N - Buckles-Ramirez
Gregorich R - Gregorich B
Compehos - McLaughlin
Huffman - Hattori