NM-TX DOUBLES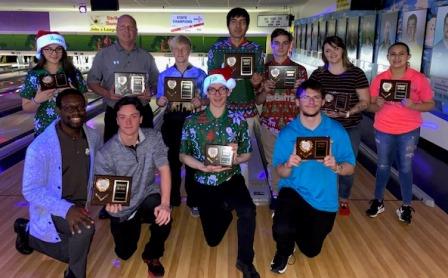 champs Ken Clayton, Will Davis, Eric Gauna, Aidan LaCasse (back center) with finalists
NM-TX Doubles- final results and scholarship winners
12/21/2019
Scratch Division
rank
bowler
prize
bowler
prize
total
1
Will Davis
$428
Ken Clayton
$428
2
DeeRonn Booker
Zach Harvey
$260
$260
3
Kara Thompson
$200
Don Thompson
$200
4
Jacob Gill
John Green
$150
$150
5
Yarelis Alvarez
$100
Paul Carper
$100
6
Nathan Nguyen
Cole Poswiatowski
7
Clifford Robbins
Aileen Linares
$10
$10
8
Joey MacPhee
Brandyn MacPhee
$40
$40
9
Tylor MacPhee
$42
Zakary MacPhee
$42
10
Blayne Hurst
Christian Apolonio
11
Stephen Poswiatowski
Bob Thurston
12
Angel Ortega
Kallista Fritts
13
Andy Zumwalt
Lauren Jaramillo
14
Kallista Fritts
Nathan Nguyen
15
Angel Ortega
Cole Poswiatowski
16
Jonah Seawright
Alek Rakov
$100
$100
17
Noah Saul
Billy Grant
18
Brock Bivins
$10
Janeyl Woodward
$10
19
Kara Thompson
Mariano Garcia
20
Tim Harvey
Justin Weddige
21
Morgan Ellis
$10
Sam Pinge
$10
22
Alex Harmon
Ronnie Davis
23
Toby Cdebaca
Matthew Cdebaca
24
Danielle Fincham
D Quinten Fincham
Handicap Division
1
Eric Gauna
$200
Aidan LaCasse
$200
$400
2
Montana Cdebaca
$250
Cierra Coffman
$250
3
JD Messenger
$114
Krystal Campos
$100
$214
4
Joshua Burnett
$240
Judson Carter
$240
5
Alex Thompson
$93
Anthony Kohman
$63
$159
6
Jeremiah Martinez
$128
Austin Eddington
$128
7
Taylor Herson
Josie Herson
8
Jordan Womble
$5
Lane White
$5
9
Michael Jamael
Eric Carriaga
10
Karl Kielich
Kloey Kielich
11
William Robbins II
William Robbins III
12
Jamie Meuth
$20
Richard Keefe
13
Alyssa Burks
Michael Burks
14
Bari Harvey
Jake Gushard
15
Iliana Ontiveros
Antonio Ontiveros
16
Sommer Gouviea
Stephen Gallegos
17
Ryan Heaton
Tod Heaton
18
Aiden Ruiz-Jimenez
Cesar Ruiz-Jimenez
19
Jared Basey
Rosie Jamael
20
Shaiden Raymond
Aaron Raymond
21
Mihael Goodman
Gary Hadley
22
Angela Romero
Ronnie Romero
23
Devin Fincham
Denja Fincham
24
Isaac John
Ivan John
25
Aaron Moore
Joshua Ramirez
26
AJ Navarrete
Leroy Espinoza
27
Joseph Gonzalez
Eric Altenburg
28
Trinity Cardenas
John Ellis
29
Korben Robinson
Chuck O'Dell
30
Faith Pinter
Alex Garcia
31
Jay Heffer
Taylor Herson*
32
Santi Navarrete
Steven Navarrete
High Games
Scratch
1
Hurst 279
2
Hurst 278
3
T MacPhee 278
4
Green 268
5
Z Harvey 268
Handicap
1
Gauna 296
2
LaCasse 292
3
Gauna 275
4
Campos 269
5
LaCasse 265
Qualifying Leaders
Scratch
1
Booker - Z Harvey +380
2
Davis - Clayton +168
3
J - B MacPhee +112
Handicap
1
Burnett - Carter +181
2
T - J Herson +176
3
Gauna - LaCasse +161
Round Leaders
Scratch
1
C Robbins - Linares
2
Booker - Z Harvey
3
Booker - Z Harvey
4
Booker - Z Harvey
5
Booker - Z Harvey
6
Booker - Z Harvey
7
Booker - Z Harvey
Handicap
1
Gauna - LaCasse
2
Messenger - Campos
3
Burnett- Carter
4
Burnett - Burnett
5
Burnett - Carter
6
Gauna - LaCasse
7
Gauna - LaCasse
TOTAL AWARDED THIS EVENT: $2,763
Email director@bowljbt.com to reserve a spot. Be sure to note 9:30 or 12:30 squad. Scroll below for reserved list.
<![if !vml]>
<![endif]>
To be contested
NOV 30 BOWLIUM MONTCLAIR CA 11 AM
DEC 7 HILINE LANES BURIEN WA 9:30 AM & 12:30 PM
NOV 23 SAM'S TOWN LAS VEGAS NV 11 AM
DEC 14 BOWLERO MESA MESA AZ AZ 11 AM
DEC 21 TENPINS & MORE RIO RANCHO NM 9:30 AM & 12:30 PM
***3 balls max per bowler at each event***
Bowl one or as many as you can! ………………………………………………………………………………………………………………………………………………………………………………………………
*Teams must have AT LEAST one JBT-eligible bowler. Partner can be ANY bowler.
(JBT eligible means age 21 or under as of 8/1/19)
*Handicap AND Scratch divisions!
*$400 1st place scholarship minimum per team guaranteed at each event !
ENTRY FEE: $80 per team FORMAT: (2 divisions, scratch & handicap)
--bowl 4 team games across 8 lanes
Teams with 'juniors' who --top 40% bowl 3 team matchplay games
have never bowled in a JBT
enter for $5 off per junior! --top 4 teams in each division bowl a BAKER
style stepladder finals
OPTIONAL EXTRAS FOR ADULTS AND JUNIORS !! (all returned 100%)
Brackets – 'adult' and 'junior' scratch and handicap brackets will be run.
'Junior' prizes are awarded as scholarship and 'adult' prizes are awarded as cash.
Adults may also choose to declare any/all winnings to their partner as scholarship.
Position prizes awarded as scholarship to 'juniors' only
(in other words, brackets are the only part where 'adults' can receive cash)
HANDICAP 90% OF 400 (i.e. -- team entering at 380 will get 18 pins)
Bowlers who have competed in JBT events in 19-20 will use their JBT average. All others must use their highest
19-20 average, 15 games minimum. All others will use 200. Teams over 400 MUST bowl scratch.
For more info or to sign up, visit us at www.bowlJBT.com
Max bowlers: 36 teams at 9:30, 48 teams at 12:30. Please email director@bowljbt.com to reserve a spot. You can prepay (not required) at the 'Sign Me Up!' section of this website. Reservations (paid or unpaid) must check in no later than 30 minutes before start time. At that time, all bowlers will be taken on a first come, first serve basis until the field is full.
RESERVED TEAMS:
9:30 squad 12:30 squad
Herson- partner Heaton, Ryan - partner
Bennett - partner Weddige - partner
Meuth - partner Martinez, J - partner
Alvarez - partner Burnett - partner
Bivins - partner Saul - Grant
Goodman - partner Robinson, K - partner
Basey - partner Davis - partner
Romero, A - partner Harmon - partner
Linares - C Robbins Ellis - partner
Campos K- Messenger Ellis - partner
Rakov-partner Jaramillo - partner
Kielich - partner Fritts - partner
Ruiz-Jimenez - partner Herson - partner
Poswiatowski, S - Thurston Gauna - partner
Burnett - partner Raymond -partner
Moore - partner Altenburg - Gonzalez
Williams - Sweigart Burks - Burks
Pinter - partner
Navarette, S - partner
Navarette, AJ - partner
Raymond - partner
Bivins - partner
Davis - partner
Harmon - partner
Fritts - partner
Harvey - Gushard
Harvey - Booker
Lavoie - partner
Thompson A - partner
Thompson K - partner
Raymond - partner
Martinez, J - partner