PAC NW DOUBLES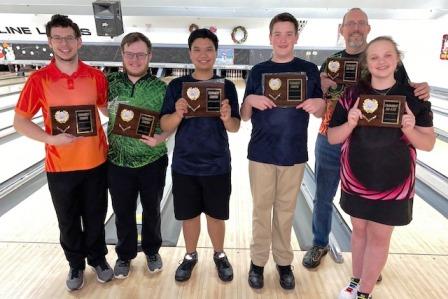 champs Simon Dyck & Kyle Adams, and Xavier Batingan & Jacob Reeves; Quinn & Brian Shaner
Two teams claimed titles in jam-packed action at the annual JBT Pac NW Doubles Classic, hosted by Hiline Lanes in Burien.
All four scratch division finalists were teams of current JBT youth paired with adult JBT veterans. John Malone and Payden Stupmf began the stepladder with a 247-194 win over Hunter Bower and Brian Monnette. Mac Kaurin and Andy Herrmann then stopped John and Payden to reach the title game. Top seeds Kyle Adams and Simon Dyck led early and came back to regain the lead in the last game of matchplay. They put on a clinic in the final, winning 234-207 for the second title of Adams' JBT career and a third for Dyck.
The father/daughter team of Brian and Quinn Shaner, winners at this event in 2017, began a climb up the handicap stepladder with a 170-163 win over Aubrey Harding and Halie Martin. The Shaners then got by Colt Jance and Kevin Hong to advance to the title match. Top seeds Jacob Reeves and Xavier Batingan also used a big last game to jump into the lead, but could not shake Quinn and Brian in a low scoring finals. In the end, Xavier made a tenth frame spare and Brian missed his, and the difference was enough for a 125-120 win, good for their first career JBT title each.
Big thanks to all the adults who took time to bowl with today's JBT bowlers, and to Pat Johns and his team for another great job hosting this jam packed event. Want in on all the fun? Just check out our schedule and come on down!
Pac NW Doubles- final results and scholarship winners
12/7/2019
Scratch Division
rank
bowler
prize
bowler
prize
total
1
Kyle Adams
$505
Simon Dyck
$505
2
Mac Kaurin
$275
Andy Herrmann
$275
3
John Malone
$200
Payden Stumpf
$200
4
Hunter Bower
$174
Brian Monnette
$174
5
Andrew Martin
$100
Robert Kelley
$100
6
Brian DeLuisa-Anderson
$80
Nate Davis
$80
7
Bradley Baltazar
Kevin Nagasawa
8
AJ Hooper
Charles Heisler
9
Elijah Chin
Bud Sicard
10
Michael Strothman
Todd Strothman
11
Paul Rosales
$12
George Aoyama
$12
12
Trevor Wodesky
Chris Mongelli
13
Jerry Jennings
Russ Perini
14
Mandy Haugen
Piper Chalmers
15
Evan Smith
Aidghan Ziegler
16
Tyler Coates
Steven Coates
17
Makana Wong
Lance Lorfeld
18
Brooklyn Boudreau
Liam Hardman
19
Ben Heisler
Alex Perini
20
Jaadyn Humphries
Cadin Cervine
21
Alejandro Moser-Hernandez
Carl Nichols
22
Harry Davis
Charlie Simperman
23
Malcolm Jacobson
Tai Garrett
24
JT Taylor
Eric Wodesky
25
Sam Gritzke
Chad Chalmers
26
Collins Davis
Peter Davis
27
Vianne Daniels
Danaka Heekin
28
Kadie Dicken
Sienna Stoner
29
Lohrghan Ziegler
Duke Knudsen
30
Matthew Lennox
Jacob Lennox
31
Ryan Smerud
$12
Adam Smerud
$12
Handicap Division
1
Jacob Reeves
$300
Xavier Batingan
$300
$600
2
Quinn Shaner
$400
Brian Shaner
$400
3
Colt Jance
$298
Kevin Hong
$298
4
Aubrey Harding
$114
Halie Martin
$129
$243
5
Lucas LeBlanc
$75
Dalton Mason
$75
$150
6
Clayton Imoo
Jacob Imoo
$132
$132
7
Mary Sicard
$50
Guillermo Castaneda
$50
$100
8
Kierra Wilcox
$40
Rose Ugbinada
$40
$80
9
Toby Wills
$57
Carter Humphries
$57
10
Avery Domaguin
$10
David Domaguin
$10
11
Douglas Bialza II
Douglas Bialza III
12
Nathan Tang
Derek Li
13
Silas LeBlanc
Bryan Zeutenhorst
14
Hannah Hamilton
Isabelle Fontana
15
Brandt Thionnnet
Alex Thionnet
16
Sawyer Baughman-Treiberg
Ted Baughman
17
Kailee Wilcox
Anna Gatlin
18
John London
Kenji London
$14
$14
19
Kaylee Lundgren
Eric Lundgren
20
Hannah Lennox
Hailey Lennox
21
Jaxson Rich
Jeff Rich
22
Sam Flaisig
Cyruss Bachman
23
Madison Flatin
Mike Wilcox
24
Mason Mattingly
Cindy Mattingly
25
Ruth Magana
Dayton Nickolson
26
Courtney Oller
$14
Logan Winchell
14
27
Noah Sicard
DoHoon Kwon
28
Arden Han-Wei
Pat Johns
29
Chloe Bartlett
Micah Mattingly
30
Peyton Freund
Tyler Freund
31
McKenna Oller
Isabella Winchell
32
Carson Siems
Dane Downing
33
Charles Trevethan
Alric Korshaven
$5
$5
34
Payton Bower
Aiden Wong
35
Danny Chalmers
Cassandra Chalmers
36
Braidyn Bishop
Michael Bishop
$5
$5
37
Alena McDugle
Mike Sargent
38
Madeline Sage
Victorya White
39
Matthew Hess
Matt Hess Sr
40
Trevor Johnson
Brody Ruby
41
Tai Garrett
Jessica Cureutte
High Games
Scratch
1
B Sicard 266
2
B Heisler 247
3
Baltazar 246
4
Kaurin 238
5
Kaurin 237
Handicap
1
H Martin 258
2
Harding 253
3
Harding 253
4
Imoo 253
5
Jance, Zeutenhorst 251
Qualifying Leaders
Scratch
1
DeLuisa/Davis +98
2
Martin/Kelley +48
3
Malone/Stumpf +32
Handicap
1
Harding/Martin +229
2
Shaner/Shaner +95
3
Imoo/Imoo +89
Round Leaders
Scratch
1
Adams/Dyck
2
Adams/Dyck
3
BDA / Davis
4
BDA / Davis
5
Martin/Kelley
6
Martin/Kelley
7
Adams/Dyck
Handicap
1
Harding/Martin
2
Harding/Martin
3
Harding/Martin
4
Harding/Martin
5
Harding/Martin
6
Harding/Martin
7
Reeves/Batingan
TOTAL AWARDED THIS EVENT: $3,426
PAC NW DOUBLES- handicap
39 first-time teams, 15 qualify for semifinals
RANK
BOWLER
ln
gm 1
gm 2
gm 3
gm 4
TOTAL
+ / -
1
Harding / Martin
17
481
461
439
448
1829
229
2
Shaner / Shaner
19
416
441
460
378
1695
95
3
Imoo / Imoo
5
374
456
418
441
1689
89
4
Sicard M / Castaneda
7
368
465
426
422
1681
81
5
Jance / Hong
23
368
494
455
354
1671
71
6
Le Blanc L / Mason
5
346
433
401
466
1646
46
7
Wills/Humphries C
17
390
431
461
361
1643
43
8
Reeves / Batingan
13
406
445
402
368
1621
21
9
Bialza / Bialza
19
381
423
352
454
1610
10
10
Wilcox K / Ugbinada
1
348
443
393
410
1594
-6
11
Domaguin / Domaguin
7
397
367
348
465
1577
-23
12
Hamilton / Fontana
15
386
312
468
406
1572
-28
13
LeBlanc S / Zeutenhorst
11
432
345
418
370
1565
-35
14
Buaghman / Baughman-Treiberg
13
426
337
387
412
1562
-38
15
Tang / Li
5
356
388
426
391
1561
-39
16
Thionett/Thionett
9
367
397
371
423
1558
-42
17
Wilcox K / Gatlin
1
384
365
421
386
1556
-44
18
Jance / Hong - R
5
394
368
400
390
1552
-48
19
London / London
11
395
370
405
373
1543
-57
20
Lundgren / Lundgren
7
413
354
380
391
1538
-62
21
Lennox H / Lennox H
3
315
400
404
412
1531
-69
22
Rich/ Rich
9
406
378
370
364
1518
-82
23
Flaisig / Bachman
9
353
368
374
399
1494
-106
24
Flatin / Wilcox M
1
322
416
385
364
1487
-113
25
Mattingly / Mattingly
19
374
342
327
440
1483
-117
26
Magana / Nickolson
19
370
354
390
361
1475
-125
27
Oller C / Winchell L
15
355
393
363
364
1475
-125
28
Sicard N / Kwon
15
341
422
360
346
1469
-131
29
Johns./ Han Wei
15
373
373
362
360
1468
-132
30
Bartlett / Mattingly
19
332
378
359
394
1463
-137
31
Magana / Nickolson - R
3
359
326
408
364
1457
-143
32
Freund/Freund
17
397
349
320
382
1448
-152
33
Oller M / Winchell I
15
343
382
342
371
1438
-162
34
Siems / Downing
7
307
342
374
397
1420
-180
35
Trevethan / Korshaven
1
326
357
392
344
1419
-181
36
Bower / Wong A
11
376
309
319
398
1402
-198
37
Chalmers D / Chalmers C
17
355
352
351
339
1397
-203
38
Bishop / Bishop
21
330
339
352
371
1392
-208
39
McDugle / Sargent
3
340
337
363
348
1388
-212
40
Sage / White
13
386
349
306
339
1380
-220
41
Hess / Hess
9
281
387
360
342
1370
-230
42
Johnson / Ruby
11
320
355
325
348
1348
-252
43
Garrett / Cureutte
1
393
326
385
0
1104
-496
PAC NW DOUBLES - scratch
30 first time teams; 12 qualify for semifinals
RANK
BOWLER
ln
gm 1
gm 2
gm 3
gm 4
TOTAL
+ / -
1
Davis / BDA
23
358
453
457
430
1698
98
2
Martin/Kelley
9
345
387
490
426
1648
48
3
Malone/Stumpf
7
419
370
436
407
1632
32
4
Adams/Dyck
7
491
366
383
386
1626
26
5
Baltazar/Nagasawa- R
13
412
411
404
346
1573
-27
6
Bower / Monnette
23
365
345
416
419
1545
-55
7
Herrmann / Kaurin
11
333
394
410
402
1539
-61
8
Strothman/Strothman
21
362
339
424
374
1499
-101
9
Wodesky/Mongelli
11
329
355
420
393
1497
-103
10
Chin/B. Sicard- R
19
343
352
426
375
1496
-104
11
Rosales/Aoyama
15
386
345
360
399
1490
-110
12
Hooper / Heisler
13
358
406
340
380
1484
-116
13
Jennings/Perini
15
359
410
348
349
1466
-134
14
Haugen / Chalmers
19
362
339
410
353
1464
-136
15
Smith/A. Ziegler
21
339
378
409
337
1463
-137
16
Coates/Coates
15
383
337
369
356
1445
-155
17
Wong / Lorfeld
9
310
376
380
377
1443
-157
18
Biudreau / Hardman
3
359
419
365
296
1439
-161
19
Heisler B / Perini A
13
272
348
447
358
1425
-175
20
Humphries / Cervine
23
356
378
305
386
1425
-175
21
Baltazar/Nagasawa
21
357
306
360
386
1409
-191
22
Moser-Hern./Nichols
9
329
370
356
350
1405
-195
23
Davis/Simperman
17
358
309
377
360
1404
-196
24
Jacobson/Garrett
7
393
359
311
340
1403
-197
25
Taylor/Wodesky
11
374
354
317
358
1403
-197
26
Moser-Hern./Nichols- R
23
326
314
376
376
1392
-208
27
Chin/B. Sicard
13
421
349
326
295
1391
-209
28
Gritzke/Chalmers C
17
340
292
358
387
1377
-223
29
Strothman / Strothman- R
17
335
344
397
299
1375
-225
30
Davis / Davis
23
315
315
410
329
1369
-231
31
Daniels/Heekin
11
348
321
343
338
1350
-250
32
Dicken / Stoner
3
255
310
353
369
1287
-313
33
Knudsen/L. Ziegler
23
286
251
315
408
1260
-340
34
Lennox M / Lennox J
13
316
312
295
329
1252
-348
35
Smerud / Smerud
5
341
316
305
284
1246
-354