AMF FIREBIRD LANES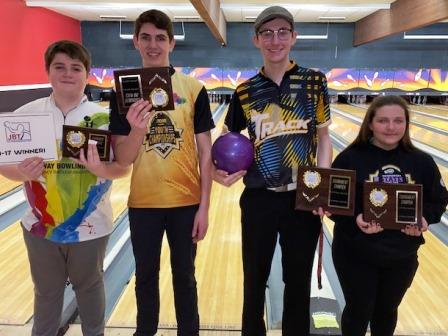 champs John Malone & Kailee Wilcox with Liam Hardman, Bud Sicard
John Malone and Kailee Wilcox picked up JBT titles in exciting Pacific Northwest Conference action at Salem's AMF Firebird Lanes.
Liam Hardman opened the scratch division stepladder finals with a 223-202 win over Kyle Adams. John then raced off the first eight strikes en route to a 267-234 win over Hardman. The title match was a thriller between Malone and top seed Bud Sicard. After a short count in the tenth frame left John finished at 236, Sicard needed all three in the tenth to win. He tripped a 2-pin for the first strike, but could not get the second hit, giving a relieved Malone his second career JBT title.
Scores were high in the handicap division, and it continued with Anna Gatlin beating Ewan Oester 269-231 to begin the stepladder. In the semifinal, Kailee Wilcox, who earlier had the only front-nine of the weekend, topped her good friend 256-234 to reach the title match. Trevor Wodesky grabbed the top seed away from Kailee by just two pins with a huge semifinal output, but could not find the same look in the finale. Wilcox remained red-hot, winning 257-191 for her first career JBT title, to go along with a high school title won the day before, for a pretty amazing weekend!
Aubrey Harding won her first Priority Girls Scratch subdivision with a win over Payton Bower, while Liam won an entertaining U17 finale against Bud 235-222. Lucky bowlers tried their hands at 'trick shots', with Lohrghan Ziegler's lefty 9-count the most successful result. Thanks to everyone at Firebird for hosting us, and everyone for attending. Want in on all this fun for all ages and averages? Just check out our schedule and come on down!
AMF Firebird- final results and scholarship winners
2/9/2020
Scratch Division
rank
bowler
prize
1
John Malone
$255
2
Bud Sicard
$125
3
Liam Hardman
$87
4
Kyle Adams
$60
5
Tyler Coates
6
Jerry Jennings
7
AJ Hooper
8
Brian DeLuisa-Anderson
9
Hunter Bower
$27
10
Duke Knudsen
11
Mac Kaurin
12
Paul Rosales
13
Silas LeBlanc
14
Michael Strothman
15
Ben Heisler
16
Bradley Baltazar
17
Cadin Cervine
$22
18
Andrew Martin
19
Danny Ford
20
Coen Schulte
$5
21
Alex Perini
22
Lohrghan Ziegler
$20
23
Cosmo Castellano
24
DoHoon Kwon
Handicap Division
1
Kailee Wilcox
$200
2
Trevor Wodesky
$100
3
Anna Gatlin
$75
4
Ewan Oester
$60
5
Aubrey Harding
$100
6
Payton Bower
$67
7
Mary Sicard
8
Kierra Wilcox
$5
9
Logenn Storer
10
Carter Humphries
$15
11
Dante Sellgren
12
Logan Winchell
$22
13
Yael Salama
14
Anotonio Moreno
15
Toby Wills
$50
16
Bryan Zeutenhorst
$15
17
Lucas LeBlanc
18
Noah Sicard
19
Alex Mannen
20
Douglas Bialza III
21
Isabella Winchell
22
Coldy Hull
23
McKenna Oller
24
Courtney Oller
$29
25
Madison Flatin
26
Blake Oren
28
Dalton Mason
28
Halie Martin
29
Colt Jance
Qualifying Leaders
Scratch
Handicap
1
K Adams +104
Oester +227
2
Malone +97
L Winchell +178
3
Jennings +84
P Bower +171
High Games
Scratch
Handicap
1
Malone 267
Kailee Wilcox 297
2
B Sicard 258
Oester 285
3
K Adams 258
Gatlin 285
4
Knudesn 257
Oester 282
5
S LeBlanc, Adams 254
Sellgren 282
Girls Scratch subdivision
1
P Bower +1
2
Harding -43*
3
Kierra Wilcox -48
4
M Sicard -48
5
Kailee Wilcox -90
U-17 scratch subdivision
1
B Sicard +84
2
Hardman +73*
3
Hooper +69
4
Knudsen +38
5
Kaurin +28
Round Leaders
Scratch
Handicap
1
DeLuisa-Anderson
P Bower
2
Hardman
P Bower
3
Knudsen
Oester
4
K Adams
Kierra Wilcox
5
K Adams
Oester
6
B Sicard
Oester
7
B Sicard
Oester
8
B Sicard
Wodesky
TOTAL AWARDED THIS EVENT: $1,339
Date: Sunday, February 9, 2020
Start Time: 10 AM. Check in begins at 8 AM. Please check in no later than 9:30 AM.
Max bowlers: 96. Please email director@bowljbt.com to reserve a spot. You can prepay (not required) at the 'Sign Me Up!' section of this website. Reservations (paid or unpaid) must check in no later than 30 minutes before start time. At that time, all bowlers will be taken on a first come, first serve basis until the field is full.
This is a one day event. Saturday is a separate one day event. You can bowl only Saturday, only Sunday, or both.
Divisions: Scratch or handicap. It is the bowlers' choice of division. Also, everyone age 16 or under as of 8/1/19 is automatically entered in the U-17 side event. Also, every female is automatically entered in the Girls Scratch side event.
Points: This event counts for Pac NW and All-Conference points.
Entry fee: $40 handicap; $50 scratch. Scholarship brackets are available for $2 each. Raffle tickets for Ebonite bowling balls, and our PowerBowl and 24 jackpots, are available on-site.
Scholarships: 1:6 in each division earn scholarships, scratch and handicap. Minimum prizes in scratch are $250, $125, $75, $50. In handicap, $200, $100, $60, $40. Bowlers must finish in the top 4 twice in a conference to qualify for that conference's Invitational, which features $1,000 for first place. Bowlers who finish in the top 20 in a conference's points race, or the top 100 in all-conference points, qualify for the Touring Players Championship, featuring $2,000 for first.
Lane conditions: conditions vary from event to event, and are not posted prior to the event (unless otherwise announced). Some events do not post the pattern until after qualifying. Be ready for anything- it makes you a better bowler! Check out previous patterns and corresponding cut scores at the 'lane conditions' section of this website.
RESERVED BOWLERS:
scroll down for non-alphabetized bowlers. PLEASE do not forget to contact us if you need to cancel your reservation.
DeLuisa, B
Wills, T
Hardman, L
Jance, C
Moreno, A
Hooper, AJ
Harding, A
LeBlanc, L
LeBlanc, S
Mason, D
Wodesky, T
Oren, B
Oester, E
Coates, T
Flatin, M
Humphries, C
Humphries, J
Hull, C
Knudsen, D
Oller, C
Oller, M
Winchell, I
Winchell, L
Zeutenhorst, B
Ford, D
Mannen, A
Martin, H
Kaurin, M
Sicard, N
Sicard, B
Sicard, M
Malone, J
Cervine, C
Rosales, P
Martin, A
Heisler, B
Salama, Y