KEYSTONE LANES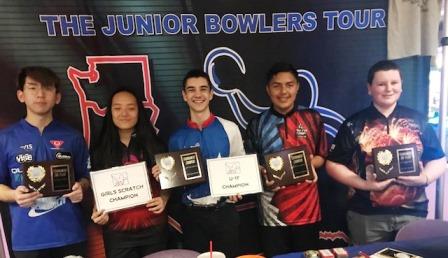 champs Solomon Salama & Jimmy Pfaff; Ryan Lee, Stephanie Hong, Riley Christy
Solomon Salama and Jimmy Pfaff claimed JBT titles in exciting Southern California Conference action at Norwalk's Keystone Lanes.
Kyler Orosco began the scratch division stepladder finals with a 230-207 win over Zach Greim. Ryan Lee then stopped Orosco 235-217 to reach the title game. Top seed Salama was dominant on the day, as he often is, and was not any different in the final. He won the match 248-192 for the 22nd title of his still-young JBT career.
Riley Christy defeated Stephanie Hong 230-207 to begin the handicap division stepladder finals. Christy then got by Tim Kessler 235-212 to climb to the final match against top seed Jimmy Pfaff.
Pfaff had come oh so close to victory last month at Parkway. Given a second chance by more great bowling, he took full advantage this time, winning the match and claiming his first career JBT victory.
Salama doubled his fun on the day with a U17 win over Greim, while Stephanie Hong won her first Priority Girls Scratch title with a win over Kaitlynn Yukihiro.
Big thanks to the team at Keystone, title sponsor Ebonite and all our other great sponsor, and everyone for attending. Want in on all the fin for all ages and averages? Just check out our schedule and come on down, it's as simple as that!
Keystone Lanes- final results and scholarship winners
10/12/2019
Scratch Division
rank
bowler
prize
1
Solomon Salama
$325
2
Ryan Lee
$125
3
Kyler Orosco
$100
4
Zach Greim
$75
5
Cerell Cardines
$60
6
Elias O'Hollaren
$50
7
Nick Caner
8
Ricky Pollom
9
Daniel Hong
10
Ben Dinenberg
11
Daryus Alo
12
Costa Gastouniotis
13
Max Premeau
14
Allex Zieg
15
Gael Egana
16
Trevyr Geronimo
17
Louis Luna
18
Andrew Chan
19
Tim Hill
$10
20
Sebastian Huffman
21
Lamaki Welch
22
Ardani Rodas
23
Cyruss Tehrani
24
Dawson Reese
25
Darin Thornton
26
Alberto Bernal
27
Christopher Berryman
28
Hailey Shepherd
29
Josh Williams
30
Jordan Fahy
31
Trenton Gibbs
32
Shane Howard
33
Joshua Villegas
Handicap Division
1
Jimmy Pfaff
$200
2
Riley Christy
$100
3
Timothy Kessler
$60
4
Stephanie Hong
$100
5
Ronnie Castillo
$40
6
Nicholas Hockman
$40
7
Ian Fiel
8
Justin Redfield
9
Ailslinn Lubag
$29
10
Tyler Weitzman
$60
11
Ethan Ash
12
Brandon Miranda
$15
13
Kaitlynn Yukihiro
$25
14
Manuel Gonzalez
15
Yairi Lubag
16
Nathan Chambers
17
Alexis Lee
18
Connor Steelmon-Hill
19
Elias Luna
20
Ryan Ginsburg
21
Kendall Bollea
22
Nathan Ginsburg
23
Lindsay Greim
24
Ethan Chambers
25
Akayla Orosco
26
Izeah Mendoza
27
Yael Salama
28
Kayden O'Dell
High Games
Scratch
Handicap
R Lee 277
Hockman 275
Premeau 268
Pfaff 274
R Lee 267
Fiel 268
Cardines 259
Weitzman 262
Salama 258
Christy 260
High Female
1
Hong -92*
2
Yukihiro -161
3
Shepherd -185
4
A Lubag -209
5
A Orosco -244
Qualifying Leaders
Scratch
Handicap
1
Salama +161
Pfaff +116
2
Greim +124
Weitzman +79
3
R Lee +101
Christy +72
U-17
1
Salama +161*
2
Greim +124
3
K Orosco +44
4
Gastouniotis +32
5
Alo +19
Round Leaders
Scratch
Handicap
1
Gastouniotis
Redfield
2
Lee
Christy
3
Salama
Pfaff
4
Salama
Pfaff
5
Salama
Pfaff
6
Salama
Pfaff
7
Salama
Kessler
8
Salama
Pfaff
Total Awarded This Event: $1,414
Date: Saturday, October 12, 2019
Start Time: Noon. Check in begins at 10 AM. Please check in no later than 11:30 AM.
Max bowlers: 96. Please email director@bowljbt.com to reserve a spot. You can prepay (not required) at the 'Sign Me Up!' section of this website. Reservations (paid or unpaid) must check in no later than 30 minutes before start time. At that time, all bowlers will be taken on a first come, first serve basis until the field is full.
This is a one day event. Sunday is a separate one day event. You can bowl only Saturday, only Sunday, or both.
Divisions: Scratch or handicap. It is the bowlers' choice of division. Also, everyone age 16 or under as of 8/1/19 is automatically entered in the U-17 side event. Also, every female is automatically entered in the Girls Scratch side event.
Points: This event counts for So Cal and All-Conference points.
Entry fee: $40 handicap; $50 scratch. Scholarship brackets are available for $2 each. Raffle tickets for Ebonite bowling balls, and our PowerBowl and 24 jackpots, are available on-site.
Scholarships: 1:6 in each division earn scholarships, scratch and handicap. Minimum prizes in scratch are $250, $125, $75, $50. In handicap, $200, $100, $60, $40. Bowlers must finish in the top 4 twice in a conference to qualify for that conference's Invitational, which features $1,000 for first place. Bowlers who finish in the top 20 in a conference's points race, or the top 100 in all-conference points, qualify for the Touring Players Championship, featuring $2,000 for first.
Lane conditions: conditions vary from event to event, and are not posted prior to the event (unless otherwise announced). Some events do not post the pattern until after qualifying. Be ready for anything- it makes you a better bowler! Check out previous patterns and corresponding cut scores at the 'lane conditions' section of this website.
RESERVED BOWLERS:
scroll down for non-alphabetized bowlers. PLEASE do not forget to contact us if you need to cancel your reservation.
Keystone Sat
Abigania, Josh
Abigania, Katelyn
Ash, Ethan
Azvedo, Allison
Azvedo, Jaclyn
Baker, Gage
Berryman, Chris
Bollea, Kendall
Chambers, Ethan
Chambers, Nathan
Cheesman, Emily
Criss, Brandon
Criss, Cameron
Fahy, Jordan
Fiel, Ian
Figueroa, Noah
Geronimo, Trevyr
Ginsburg, Nathan
Hanson, Amanda
Hill, Tim
Hockman, Nicholas
Hong, Daniel
Hong, Stephanie
Howard, Shane
Inoyue, Shane
Karney, Josh
Kessler, Tim
Lee, Alexis
Lee, Garrett
Lee, Ryan
Lubag, Aislinn
Lubag, Yairi
Luna, Louis
Marmolejo, Michael
Martinez, KJ
O'Dell, Kayden
O'Neil, Dillon
Orosco, Akayla
Orosco, Kyler
Pollom, Ricky
Premeau, Max
Reese, Dawson
Rodas, Ardani
Salama, Solomon
Salama, Yael
Shepherd, Hailey
Steelmon-Hill, Connor
Thornton, Darin
Villegas, Joshua
Weitzman, Tyler
Williams, Josh
Yukihiro, Kaitlynn
Zieg, Allex
O'Hollaren, Elias
Buhain, L
Dinenberg, B
Christy, R
Pfaff, Jimmy
Bernal, Alberto
Gonzalez, Manuel
Tehrani. Cyruss
Egana, Gael
Ginsburg, Ryan
Castillo, Ronnie
Ash, Ethan