MESA EAST BOWL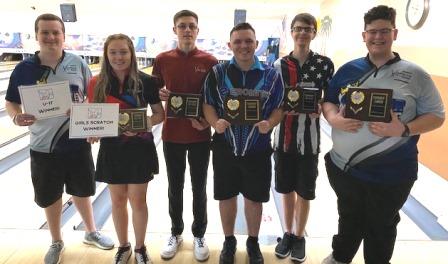 champs Josh Molloy & Mike McQuisten; Gavin Holter, Madison Holman, Chris Mayes, Darren Fletcher
Josh Molloy and Mike McQuisten each earned their first JBT titles, in terrific JBT Arizona Conference action at Mesa East Bowl.
After qualifying, bowlers competed in 'pick your survivor', with the low score on each pair eliminated, but the higher seeds choosing who is on each pair. Molloy earned the top seed and chose well, picking the right opponents including Tim Hill in the semifinals, who he beat 249-211 to advance. The other semifinals was one of the matches of the year, as Chris Mayes and Matthew Garrett each had eight strikes in nine frames, and Mayes came up with three in the tenth for a 280-266 win to advance to his first title match. In the finale, Mayes slowed down a bit, while Josh remained on cruise control, winning the game for a long awaited first career JBT title.
In the handicap division, sixteen survivors were carved down to four, and in those matches a resurgent Darren Fletcher beat Brockton Scotford 239-207, while McQuisten stopped red-hot Madison Holman 221-186 to set up the finale. McQuisten rolled a six-bagger early in the title match to put away a win popular with his fellow GCU Antelopes, and his first career JBT title.
Gavin Holter beat Payton Workman for the day's U17 win, while Priority Girls Scratch went to Holman with a win over Rachael Berg.
Big thanks to Erika and the team for a great job hosting our Tour for the first time. Want in on all the fun for all averages and all ages? Just check out our schedule and come on down!
Mesa East Bowl- final results and scholarship winners
3/7/2020
Scratch Division
rank
bowler
prize
1
Josh Molloy
$250
2
Chris Mayes
$125
3
Matthew Garrett
$100
4
Tim Hill
$103
5
Gavin Holter
$111
6
Lucas Rabb
7
Alberto Bernal
8
Clifford Robbins
9
Tyler Denune
$5
10
Josh Williams
$14
11
Cesar Padilla
12
Hayden Hull
13
Rashaad Jordan
14
William Robbins
15
Jarrod Spangler
16
Rachael Berg
$39
17
Ben Laffoon
18
Thayne Hahn
19
Aileen Linares
20
Shane Smith
21
Emily Cheesman
22
Ryan Perry
23
Jennifer Peterson
24
Keith Ylvisaker
25
Matt Rush
26
Hunter Mayes
27
Brock Bivins
28
CJ Todeschi
29
Rene Canez III
Handicap Division
1
Mike McQuisten
$250
2
Darren Fletcher
$125
3
Brockton Scotford
$105
4
Madison Holman
$140
5
Harper Schmidt
$90
6
Jaden Workman
$50
7
Jack Haines
$40
8
Mackenzie Theophilus
9
Payton Workman
10
Mackenzie Ickes
11
Emily Rohrbacker
12
RJ Pointon
13
Corbin Reid Hirsch
14
Tyler Morgan
$58
15
Paityn Gaines
16
Yael Salama
17
Noel Hernandez
18
Mackenzie Hammer
$15
19
Caden Henk
20
Jadeyn Mabry
$73
21
Connor Bell
$15
22
Ethan Roxborough
23
Alisabeth Rich
24
Kaitlynn Hammer
25
Ian Seth Silva
26
Keiran Roth
27
Jake Creek
28
Bailey Knight
29
Kendall Bollea
$25
30
Peyton Lee
31
Jason Gootzeit
32
Quinten Bell
33
Miya Greene
34
Koryn Marquez
35
Silas Phillips
36
Conner Pendergrass
37
Aiden Ruiz-Jimenez
38
Caden Meliska
High Games
Scratch
Handicap
Bernal 288
Pointon 273
Holter 288
J Workman 271
C Mayes 280
Schmidt 270
C Mayes 279
Schmidt 268
Hill 276
Reid-Hirsch 267
High Female
1
Berg +11
2
Holman -9*
3
Linares -11
4
Cheesman -60
5
Theophilus -66
Qualifying Leaders
Scratch
Handicap
1
Molloy +172
Schmidt +209
2
Bernal +165
P Workman +174
3
C Robbins +133
Ickes +135
U-17
1
P Workman +84
2
Holter +76*
3
Denune +64
4
Padilla +56
5
Hull +44
Round Leaders
Scratch
Handicap
1
C Robbins
Pointon
2
C Robbins
Reid-Hirsch
3
C Robbins
Fletcher
4
C Robbins
P Workman
5
Molloy
Schmidt
Total Awarded This Event: $1,708
Date: Saturday, March 7, 2020
Start Time: 1 PM. Check in begins at 11 AM. Please check in no later than 12:30 PM.
Max bowlers: 96. Please email director@bowljbt.com to reserve a spot. You can prepay (not required) at the 'Sign Me Up!' section of this website. Reservations (paid or unpaid) must check in no later than 30 minutes before start time. At that time, all bowlers will be taken on a first come, first serve basis until the field is full.
This is a one day event. Sunday is a separate one day event. You can bowl only Saturday, only Sunday, or both.
Divisions: Scratch or handicap. It is the bowlers' choice of division. Also, everyone age 16 or under as of 8/1/19 is automatically entered in the U-17 side event. Also, every female is automatically entered in the Girls Scratch side event.
Points: This event counts for AZ and All-Conference points.
Entry fee: $40 handicap; $50 scratch. Scholarship brackets are available for $2 each. Raffle tickets for Ebonite bowling balls, and our PowerBowl and 24 jackpots, are available on-site.
Scholarships: 1:6 in each division earn scholarships, scratch and handicap. Minimum prizes in scratch are $250, $125, $75, $50. In handicap, $200, $100, $60, $40. Bowlers must finish in the top 4 twice in a conference to qualify for that conference's Invitational, which features $1,000 for first place. Bowlers who finish in the top 20 in a conference's points race, or the top 100 in all-conference points, qualify for the Touring Players Championship, featuring $2,000 for first.
Lane conditions: conditions vary from event to event, and are not posted prior to the event (unless otherwise announced). Some events do not post the pattern until after qualifying. Be ready for anything- it makes you a better bowler! Check out previous patterns and corresponding cut scores at the 'lane conditions' section of this website.
RESERVED BOWLERS:
scroll down for non-alphabetized bowlers. PLEASE do not forget to contact us if you need to cancel your reservation.
| | |
| --- | --- |
| 1 | Holter, G |
| 2 | Greene, M |
| 3 | Pointon, RJ |
| 4 | Hammer, M |
| 5 | Hammer, K |
| 6 | Meliska, C |
| 7 | Molloy, J |
| 8 | Garrett, M |
| 9 | Mabry, J |
| 10 | Schmidt, H |
| 11 | Roth, K |
| 12 | Ylvisaker, K |
| 13 | Burke, J |
| 14 | Gauna, E |
| 15 | Padilla, C |
| 16 | Bivins, B |
| 17 | Lee, P |
| 18 | Creek, J |
| 19 | Todeschi, CJ |
| 20 | Bollea, K |
| 21 | Silva, I |
| 22 | Peterson, J |
| 23 | Scotford, B |
| 24 | Ickes, M |
| 25 | Spangler, J |
| 26 | Theophilus, M |
| 27 | Laffoon, B |
| 28 | Gootzeit, J |
| 29 | Henk, C |
| 30 | Haines, J |
| 31 | Rohrbacker, E |
| 32 | Phillips, S |
| 33 | Cruz, V |
| 34 | Pendergrass, C |
| 35 | Workman, P |
| 36 | Workman, J |
| 37 | Marquez, K |
| 38 | Ruiz-Jimenez, A |
| 39 | Canez, R |
| 40 | Holter, G |
| 41 | Rich, A |
| 42 | Williams, J |
| 43 | Salama, Y |