PARADISE LANES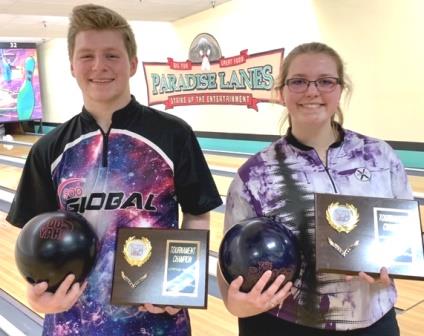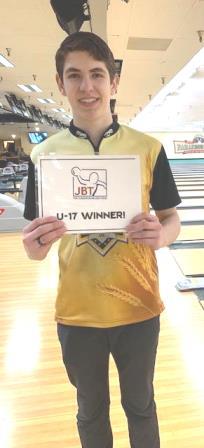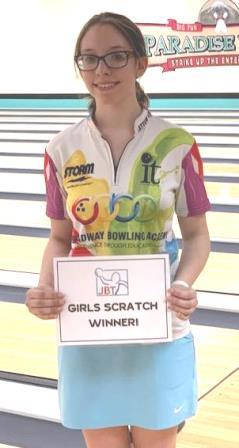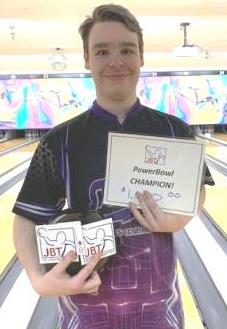 champs Tyler Coates & Hannah Hamilton; Bud Sicard; Brooklyn Boudreau; Tai Garrett
Tyler Coates and Hannah Hamilton claimed JBT titles, but Tai Garrett walked out as perhaps the biggest winner, in exciting JBT Pacific Northwest Conference action at Paradise Lanes.
Jerry Jennings began the scratch division stepladder with a 217-193 win over Hunter Bower, who earlier fired the event's only perfect 300 game, his first in JBT competition. Coates then stepped Jennings 208-197 to advance to the title game. Top seed Trevor Johnson used a 290 game in the semifinals to pace a very high scoring field, but Coates is riding a season-long hot streak, and was able to hold off Johnson 226-210, for the 10th title of his JBT career, one of only a few Pac NW-based bowlers to reach that landmark.
Hannah Hamilton claimed to be exhausted, but found the reserves to roar up the handicap stepladder, beginning with a 226-195 win over Payton Bower. She then beat Alena McDugle 241-196 to get to the title match. Top seed Zoey Theophilus had been brilliant all day, but Hannah remained red hot, beating Zoey 234-199 for her first career JBT title.
However, the individual highlight of the day was turned in by Tai Garrett, who on his second attempt hit the PowerBowl jackpot for a $1,000 scholarship windfall! Combined with $50 on his first attempt, $60 in brackets, and $50 for finishing 6th, Tai earned $1,160 for the day's efforts- WOW!
Brooklyn Boudreau won the Priority Girls Scratch subdivision with a win over Payton Bower, while Bud Sicard beat Skyler Broussard for the U17 win. Molly Combs won the raffle for any Ebonite ball of her choice, courtesy of our title sponsor.
Big thanks to the team at Paradise for hosting our Tour. Want in on all the fun and excitement that only JBT provides? Just check out our schedule and come on down!
Paradise Lanes- final results and scholarship winners
3/1/2020
Scratch Division
rank
bowler
prize
1
Tyler Coates
$250
2
Trevor Johnson
$150
3
Jerry Jennings
$100
4
Hunter Bower
$90
5
Bud Sicard
$60
6
Liam McNamara
$50
7
Skyler Broussard
$30
8
Makana Wong
9
Andrew Martin
10
Silas LeBlanc
11
Matthew Lennox
12
Elijah Chin
13
Duke Knudsen
14
Duncan Whitaker
$15
15
Bradley Baltazar
16
John Malone
17
Jacob Lennox
18
Brooklyn Boudreau
$50
19
Kyle Adams
20
Brian DeLuisa-Anderson
21
Ben Heiseler
22
Juliauna Gosney
23
Kalym Henry
24
Alejandro Moser-Hernandez
25
Mac Kaurin
26
Mary Sicard
27
Payton Edwards
28
Michael Strothman
29
Lohrghan Ziegler
30
Liam Hardman
31
Mason McKenzie
32
Paul Rosales
Handicap Division
1
Hannah Hamilton
$225
2
Zoey Theophilus
$125
3
Alena McDugle
$100
4
Payton Bower
$160
5
Ayden Lynn
$60
6
Tai Garrett
$1,160
7
Hailey Lennox
$40
8
Vincent Oberto
9
Molly Combs
$60
10
Logan Winchell
$30
11
Thomas McDugle
12
Jessica Curette
13
Guillermo Castaneda
14
Trevor Wodesky
15
Isabella Winchell
16
Halie Martin
17
Tori Smith
18
Kailee Wilcox
19
Nathan Tang
20
Laila Smith
21
Kaylee Lundgren
22
Hallie Stewart
23
Courtney Oller
24
Colt Jance
$5
25
Bryan Zeutenhorst
26
Toby Wills
27
Matthew Hess
28
Charles Trevethan
29
Ewan Oester
30
Ben Lang
31
Lucas LeBlanc
32
Elsa Shao
33
Kenji London
34
Dalton Mason
35
Noah Sicard
36
McKenna Oller
37
McKenzie Sparano
38
Kayla Duke
Qualifying Leaders
Scratch
Handicap
1
Coates +231
P Bower +218
2
Broussard +138
Z Theophilus +193
3
McNamara +132
Oberto +189
High Games
Scratch
Handicap
1
H Bower 300
A Lynn 303
2
T Johnson 290
Oberto 292
3
Coates 278
L Smith 282
4
McNamara 278
A Lynn 280
5
M Lennox 278
P Bower, Z. Theo. 268
Girls Scratch side event
1
P Bower +68
2
Boudreau +19*
3
Gosney -19
4
Kailee Wilcox -67
5
H Martin -71
U-17 scratch side event
1
Broussard +138
2
B Sicard +113*
3
E Chin +82
4
A Martin +77
5
P Bower +68
Round Leaders
Scratch
Handicap
1
Broussard
Oberto
2
Coates
Oberto
3
Coates
P Bower
4
Coates
P Bower
5
Coates
P Bower
6
Coates
Z Theophilus
7
Coates
Z Theophilus
8
T Johnson
Z Theophilus
TOTAL AWARDED THIS EVENT: $2,410
Date: Sunday, March 1, 2020
Start Time: 9:30 AM. Check in begins at 7:30 AM. Please check in no later than 9 AM.
Max bowlers: 96. Please email director@bowljbt.com to reserve a spot. You can prepay (not required) at the 'Sign Me Up!' section of this website. Reservations (paid or unpaid) must check in no later than 30 minutes before start time. At that time, all bowlers will be taken on a first come, first serve basis until the field is full.
This is a one day event.
Divisions: Scratch or handicap. It is the bowlers' choice of division. Also, everyone age 16 or under as of 8/1/19 is automatically entered in the U-17 side event. Also, every female is automatically entered in the Girls Scratch side event.
Points: This event counts for Pac NW and All-Conference points.
Entry fee: $40 handicap; $50 scratch. Scholarship brackets are available for $2 each. Raffle tickets for Ebonite bowling balls, and our PowerBowl and 24 jackpots, are available on-site.
Scholarships: 1:6 in each division earn scholarships, scratch and handicap. Minimum prizes in scratch are $250, $125, $75, $50. In handicap, $200, $100, $60, $40. Bowlers must finish in the top 4 twice in a conference to qualify for that conference's Invitational, which features $1,000 for first place. Bowlers who finish in the top 20 in a conference's points race, or the top 100 in all-conference points, qualify for the Touring Players Championship, featuring $2,000 for first.
Lane conditions: conditions vary from event to event, and are not posted prior to the event (unless otherwise announced). Some events do not post the pattern until after qualifying. Be ready for anything- it makes you a better bowler! Check out previous patterns and corresponding cut scores at the 'lane conditions' section of this website.
RESERVED BOWLERS:
scroll down for non-alphabetized bowlers. PLEASE do not forget to contact us if you need to cancel your reservation.
| | |
| --- | --- |
| 1 | Adams, Kyle |
| 2 | Baltazar, Bradley |
| 3 | Chin, Elijah |
| 4 | Coates, Tyler |
| 5 | Combs, Molly* |
| 6 | Hamilton, Hannah |
| 7 | Henry, Kalym |
| 8 | Hess, Matthew |
| 9 | Jance, Colt |
| 10 | Johnson, Trevor |
| 11 | Kaurin, Mac |
| 12 | Knudsen, Duke |
| 13 | Lang, Benjamin* |
| 14 | LeBlanc, Lucas |
| 15 | LeBlanc, Silas |
| 16 | Lennox, Hailey |
| 17 | Lennox, Jacob |
| 18 | Lennox, Matthew |
| 19 | London, Kenji |
| 20 | Lundgren, Kaylee |
| 21 | Lynn, Ayden* |
| 22 | Malone, John |
| 23 | Mason, Dalton |
| 24 | McDugle, Alena |
| 25 | Oester, Ewan |
| 26 | Oller, Courtney |
| 27 | Oller, Mackenzie |
| 28 | Rosales, Paul |
| 29 | Smith, L* |
| 30 | Smith, T* |
| 31 | Stuart, H* |
| 32 | Tang, Nathan |
| 33 | Theophilus, Z* |
| 34 | Trevethan, Charles |
| 35 | Wilcox, Kailee |
| 36 | WIlcox, Kierra |
| 37 | Wills, Toby |
| 38 | Winchell, Isabelle |
| 39 | Winchell, Logan |
| 40 | Wodesky, Trevor |
| 41 | Yamasaki, Ashton |
| 42 | Chao, ELsa* |
| 43 | Gosney-Tuiloma, Juliauna |
| 44 | DeLuisa-Anderson, Brian |
| 45 | Edwards, Peyton |
| 46 | Gritzke, Sam |
| 47 | Oberto, Vincent |
| 48 | Heisler, Ben |
| 49 | Martin., Halie |
| 50 | Whitaker, Duncan |
| 51 | Duke, Kayla |