PARKWAY BOWL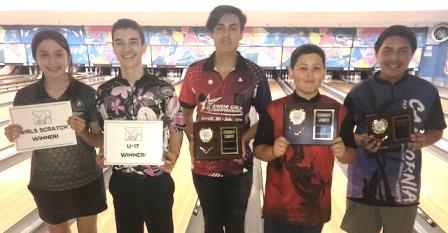 champs Marco Flores & Ethan Chambers; Trishelle Leal, Solomon Salama, Jimmy Pfaff
Marco Flores and Ethan Chambers outstruck the competition to win JBT titles in exciting So Cal Conference action at Parkway Bowl in El Cajon.
Surprisingly high scores were the order of the day, highlighted by a perfect game from Tim Hill, and not one but TWO perfect games from Ricky Pollom! Unfortunately for Ricky the day's format was 'super survivor', and if you have the low game any round you're out, and that happened in round two for an early exit. Eventually, four bowlers remained, and in that round, Hill want out on low total while previous day's champ Elias O'Hollaren went out on low (not so low) totals.
In the resulting title game, Flores took on Solomon Salama in an all-lefty battle, and poured on the strikes in a 257-225 win, good for his second career JBT title.
Handicap survivors were carved down to three, and in that round Hayden Fernandez bowed out with low game in third place, leaving Chambers and Jimmy Pfaff, who were nearly a combined +1000 for ten rounds, to play for the title. Unsurprisingly, they both shot well over average in the finale, but it was Ethan with the 266-253 win, good for his second career JBT title.
Solomon got some vengeance with a win over Leoj Chin for the U17 crown, while Trishelle Leal won a high scoring Priority Girls Scratch final 259-232 over Katelyn Abigania.
Big thanks to the team at Parkway for hosting us, Ebonite and all our other sponsors, and everyone for attending. Want in on all this action? Just check out our schedule and come on down!
Kearny Mesa- final results and scholarship winners
9/15/2019
Scratch Division
rank
bowler
prize
1
Marco Flores
$275
2
Solomon Salama
$158
3
Tim Hill
$125
4
Elias O'Hollaren
$105
5
Joshua Abigania
$75
6
Dawson Reese
$73
7
Allex Zieg
$50
8
Ian Versaggi
9
Carlos Perez
10
Ricky Pollom
11
Cyruss Tehrani
12
Josh Karney
13
Daniel Hong
14
Leoj Chin
$58
15
KJ Martinez
$28
16
Ardani Rodas
17
Katelyn Abigania
$25
18
Ryan Lee
19
Nolan Am-Khong
20
Joshua Vilegas
21
Trevyr Geronimo
22
Kyler Orosco
23
Alberto Bernal
24
Shane Inouye
25
Darin Thornton
26
Michael Marmolejo
27
Trishelle Leal
$50
28
Christopher Berryman
29
Louis Luna
30
Garrett Lee
31
Max Premeau
32
Emily Cheesman
33
Cerell Cardines
34
Shane Howard
$14
35
Josh Williams
36
Hailey Shepherd
37
Connor Miyake
38
Stephanie Fung
Handicap Division
1
Ethan Chambers
$250
2
Jimmy Pfaff
$125
3
Hayden Fernandez
$100
4
Robert Coulon
$75
5
Kayden O'Dell
$60
6
Raeden Pimentel
$65
7
Timothy LeCount
$40
8
Brian Chan
$55
9
Sterling Lopez
10
Connor Steelmon-Hill
$88
11
Noel Hernandez
12
Preston Carrasco
13
Maheleah Potter
14
Megan Hanks
15
Nathan Ginsburg
16
Lindsay Greim
17
Ian Fiel
18
Manuel Gonzalez
19
Cayden Hanson
20
Ryland Pimentel
21
Akayla Orosco
22
Zian Sasaki
23
Flynn Iott
24
Yairi Lubag
$15
25
Aislinn Lubag
$15
26
Avery Domaguin
27
Yael Salama
28
Lathan Chin
29
Alexis Lee
30
Jasmia Alshamary
31
Zachary Gibbs
32
Hayden Wegner
33
Makayla Villa
34
Gavin Fernandez
35
Nicholas Hockman
36
Nathan Chambers
37
Gage Baker
38
Stephanie Hong
39
Nathan Tidball
40
Kendall Bollea
41
Miya Greene
42
Prestin Frazee
43
Noah Figueroa
High Games
Scratch
Handicap
Pollom 300
E Chambers 310
Pollom 300
Pfaff 303
T Hill 300
E Chambers 286
T Hill 279
Pfaff 277
J Abigania 278
LeCount 277
High Female
1
K Abigania +66
2
Leal 0*
3
Cheesman -46
4
Domaguin -58
5
Potter -62
Qualifying Leaders
Scratch
Handicap
1
Pollom +183
E Chambers +308
2
L Chin +170
H Fernandez +217
3
Salama +160
Pfaff +212
U-17
1
L Chn +170
2
Salama +160
3
O'Hollaren +153
4
Floes +128
5
Tehrani +124
Round Leaders
Scratch
Handicap
1
Am-Khong
Pfaff
2
Zieg
E Chambers
3
Chin
H Fernandez
4
Chin
E Chambers
5
Pollom
E Chambers
Total Awarded This Event: $1,934
Date: Sunday, September 15, 2019
Start Time: 10 AM. Check in begins at 8 AM. Please check in no later than 9:30 AM.
Max bowlers: 112. Please email director@bowljbt.com to reserve a spot. You can prepay (not required) at the 'Sign Me Up!' section of this website. Reservations (paid or unpaid) must check in no later than 30 minutes before start time. At that time, all bowlers will be taken on a first come, first serve basis until the field is full.
This is a one day event. Saturday is a separate one day event. You can bowl only Saturday, only Sunday, or both.
Divisions: Scratch or handicap. It is the bowlers' choice of division. Also, everyone age 16 or under as of 8/1/19 is automatically entered in the U-17 side event. Also, every female is automatically entered in the Girls Scratch side event.
Points: This event counts for So Cal and All-Conference points.
Entry fee: $40 handicap; $50 scratch. Scholarship brackets are available for $2 each. Raffle tickets for Ebonite bowling balls, and our PowerBowl and 24 jackpots, are available on-site.
Scholarships: 1:6 in each division earn scholarships, scratch and handicap. Minimum prizes in scratch are $250, $125, $75, $50. In handicap, $200, $100, $60, $40. Bowlers must finish in the top 4 twice in a conference to qualify for that conference's Invitational, which features $1,000 for first place. Bowlers who finish in the top 20 in a conference's points race, or the top 100 in all-conference points, qualify for the Touring Players Championship, featuring $2,000 for first.
Bonus: So Cal BPA has added $200 in additional prize fund to this event!
Lane conditions: conditions vary from event to event, and are not posted prior to the event (unless otherwise announced). Some events do not post the pattern until after qualifying. Be ready for anything- it makes you a better bowler! Check out previous patterns and corresponding cut scores at the 'lane conditions' section of this website.
RESERVED BOWLERS:
Salama, Solomon
Salama, Yael
Hill, Tim
Bollea, Kendall
Hockman, N
Bernal, A
Gonzalez, M
Orosco, K
Orosco, A
Hernandez, N
Chambers, E
Chambers, N
Chan, Brian
Berryman, C
Criss, C
Criss, B
Lubag, Y
Lubag, A
Hong, S
Hong, D
Miyake