SAM'S TOWN BOWLING CENTER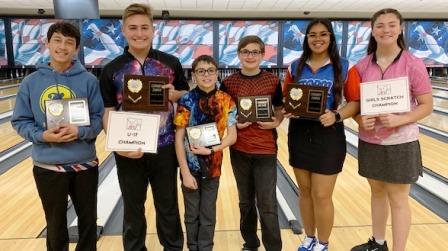 champs Gael Egama & Jazmyne Compehos; Elias O'Hollaren, Brandon Rother, Tyler Castronova
Gael Egana and Jazmyne Compehos completed outstanding weekends with JBT titles at Sam's Town in exciting Moajve Conference singles action.
Solomon Salama began the scratch division stepladder finals with a 232-164 win over Devyn Patalina. Elias O'Hollaren then stopped Solomon 225-174 to advance to the title match. O'Hollaren has already been oh so close to becoming one of our youngest scratch champions ever, and a 298 here helped his cause, but this time he ran into red-hot top seed Gael Egana. After winning the doubles event yesterday, Gael squeezed by Elias 198-194 in the finale to capture the 8th title of his JBT career.
Tyler Castronova survived a tough opening round of the handicap stepladder 226-223 over Brandon Rother. Castronova then turned it way up in the next match, beating AJ Imperial 275-199 to ascend to the title match. Top seed Jazmyne Compehos has had rare instant success on Tour, and after a fourth place finish in doubles the day before, she bested Catronova 244-211 to claim her first career JBT title.
Miya Greene beat Katelyn Abigania to win the day's Priority Girls Scratch event, and Egana completed his dream weekend with a win over Salama for the U17 win. Big thanks to the crew at Sam's for hosting us, and everyone for attending. To get in on this fun for all ages and averages, just check out our schedule and come on down!
Sam's Town-final results and scholarship winners
11/2/2019
Scratch Division
rank
bowler
prize
1
Gael Egana
$250
2
Elias O'Hollaren
$153
3
Solomon Salama
$173
4
Devyn Patalina
$75
5
Caleb Andrews
$60
6
Jorell Morris
$50
7
Allez Zieg
8
Joshua Abigania
9
Brock Bivins
10
Kyle Rendon
11
TJ Rock
$15
12
Skyler McGowan
$15
13
Clifford Robbins
14
Katelyn Abigania
$50
15
Ardani Rodas
16
Josh Williams
17
Jayson McCoy
18
Sebastian Huffman
19
Jamison Kaboli
20
Michael Marmolejo
21
Trevyr Geronimo
22
Kyle Reed
23
Brendan Lindsey
24
Dawson Reese
$5
25
William Robbins
26
Zach Greim
27
Wyland Gilmore
28
Hayden Hull
29
Tim Hill
30
Marisol Ramirez-Buckles
31
Samantha Conti
$5
32
David Otero
33
Makenzie Derezotes
34
Afton Lords
Handicap Division
1
Jazmyne Compehos
$225
2
Tyler Castronova
$125
3
AJ Imperial
$100
4
Brandon Rother
$75
5
Cameron Criss
$90
6
Hayden Fernandez
$91
7
Bryce Nakunz
$40
8
Brandon Criss
$69
9
Jon Verde III
10
Kendall Bollea
11
Shatyl Denevan
$30
12
Noel Gregorich
13
Steve Abarca
14
Zack Gonzalez
15
Audrey Andrews
16
Miya Greene
$50
17
Annalie Izzolo
18
Gavin Fernandez
19
Katherine Abarca
20
Kathryn Shaffner
21
Charlise Esmena
22
Yael Salama
23
Nicholas Hockman
24
Justyce McCoy
25
Corbin Reid-Hirsch
26
Ryland Gregorich
27
Julian Stenroos
28
Mason Snow
29
Jordan Gil
30
Ava McLaughlin
31
Jason Bardol II
32
Sam Gutwald
33
Lindsay Greim
34
Aiden Gosselin
35
Faythe Reid
36
Derek Raridon
37
Gavin Holter
38
Tyler Morgan
$5
39
Marissa Ruiz
High Games
Scratch
Handicap
O'Hollaren 298
Compehos 303
Egana 278
Rother 283
O'Hollaren 278
B Criss 283
Salama 267
Castronova 275
Rodas 267
Compehos 275
High Female
1
K Abigania -11
2
Greene -118*
3
K Bollea -158
4
A Andrews -177
5
Ramirez-Buckles -178
Qualifying Leaders
Scratch
Handicap
1
Salama +160
C Criss +144
2
Patalina +138
Rother +125
3
Egana +126
Castronova +119
U-17
1
Salama +160
2
Egana +126*
3
O'Hollaren +103
4
C Criss +54
5
J Abigania +4
Round Leaders
Scratch
Handicap
1
O'Hollaren
C Criss
2
Andrews
C Criss
3
Andrews
C Criss
4
Salama
C Criss
5
Salama
C Criss
6
Patalina
C Criss
7
O'Hollaren
Imperial
8
Egana
Compehos
Total Awarded This Event: $1,751
Date: Saturday, November 23, 2019
Start Time: 10 AM. Check in begins at 8 AM. Please check in no later than 9:30 AM.
Max bowlers: 96. Please email director@bowljbt.com to reserve a spot. You can prepay (not required) at the 'Sign Me Up!' section of this website. Reservations (paid or unpaid) must check in no later than 30 minutes before start time. At that time, all bowlers will be taken on a first come, first serve basis until the field is full.
This is a one day event. Saturday is a separate one day event. You can bowl only Saturday, only Sunday, or both. This event is singles (Saturday is Doubles).
Divisions: Scratch or handicap. It is the bowlers' choice of division. Also, everyone age 16 or under as of 8/1/19 is automatically entered in the U-17 side event. Also, every female is automatically entered in the Girls Scratch side event.
Points: This event counts for Mojave and All-Conference points.
Entry fee: $40 handicap; $50 scratch. Scholarship brackets are available for $2 each. Raffle tickets for Ebonite bowling balls, and our PowerBowl and 24 jackpots, are available on-site.
Scholarships: 1:6 in each division earn scholarships, scratch and handicap. Minimum prizes in scratch are $250, $125, $75, $50. In handicap, $200, $100, $60, $40. Bowlers must finish in the top 4 twice in a conference to qualify for that conference's Invitational, which features $1,000 for first place. Bowlers who finish in the top 20 in a conference's points race, or the top 100 in all-conference points, qualify for the Touring Players Championship, featuring $2,000 for first.
Lane conditions: conditions vary from event to event, and are not posted prior to the event (unless otherwise announced). Some events do not post the pattern until after qualifying. Be ready for anything- it makes you a better bowler! Check out previous patterns and corresponding cut scores at the 'lane conditions' section of this website.
RESERVED BOWLERS:
Greim, Z
Greim, L
Bivins, B
Derezotes, M
Rich, A
Rich, C
Criss, C
Criss, B
Holter
Greene
Salama, S
Salama, Y
Lords
Esmena
Hernandez
Reid-Hirsch
Kabol
Bollea
Hockman, N
Robbins
Robbins
Hull, H
Leong, D
Nakunz, B
Gilmore, W
Gilmore, W
Rother
O'Hollaren
McCoy, J
McCoy, J
Bardol II
Reid, F
Denevan, Shatyl
Castronova
McGowan, S
Gonzalez
Zieg
Marmolejo
Nakunz
Stenroos, J
Gil
Morris, J
Morgan, T
Gregorich, N
Gregorich, R
Compehos
McLaughlin