STARLITE LANES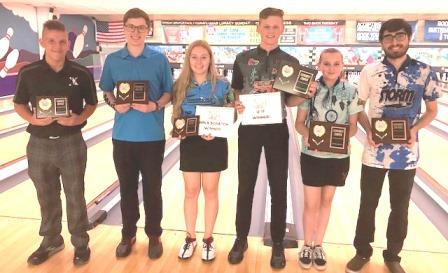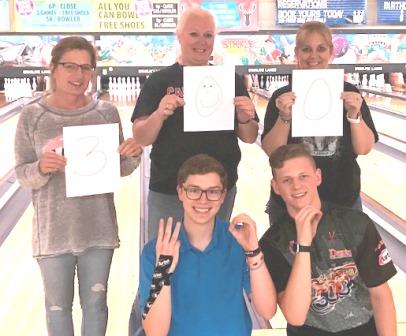 champs Hunter Mayes & Mackenzie Hammer; Brock Bivins, Matthew Garrett, Madison Holman, Justin Worthington
Hunter Mayes and Mackenzie Hammer captured JBT titles in terrific action at 7000 feet, at Flagstaff's Starlite Lanes.
Brock Bivins busted out of a recent slump with a 265-175 win over Kyle Rendon to begin the scratch division stepladder finals. Brock had the first six in the next match, but Hunter Mayes stayed tough and strung the back seven for a 258-234 win to move to the title match.
Top seed Matthew Garrett already had a dream day, firing 300 during qualifying, and leading most of the day. This time Mayes ran the front six, and it looked like Garrett might turn the tables, striking out late for 247. However, needing a mark, Hunter crushed another rack, eventually striking out himself for a 264-247 final, good for his third career JBT title.
Madison Holman had a great day as well, appearing in both side event finals and going 1-for-2, losing to Mayes in the U17 final, and beating Rachael Berg for the Priority Girls Scratch win.
Big thanks to the team at Starlite, Ebonite and all our other sponsors, and everyone who attended the sold-out event. Want in on all the fun? Just come on out to the next event!
Starlite- final results and scholarship winners
9/22/2019
Scratch Division
rank
bowler
prize
1
Hunter Mayes
$292
2
Matthew Garrett
$125
3
Brock Bivins
$100
4
Kyle Rendon
$75
5
Brendan Lindsey
$60
6
Joshua Molloy
$50
7
Austin Muldoon
8
CJ Todeschi
$5
9
Lucas Rabb
10
Kyle Gilbert
$56
11
Chris Mayes
12
Ethan Young
13
Rachael Berg
$25
14
Hayden Hull
15
Clifford Robbins
16
Afton Lords
$15
17
Skyler McGowan
18
Tyler Denune
19
Ryan Perry
20
Cerell Cardines
21
William Robbins
22
Tim Hill
23
Josh Williams
$5
24
Rene Canez III
25
Alex Seng
26
Keith Ylvisaker
27
Ryan Zent
28
Payton Workman
29
Stacey Lamb
30
Makenzie Derezotes
31
Jennifer Peterson
32
Kyle Lawrence
33
Keenan Swanson
34
Rashaad Jordan
Handicap Division
1
Mackenzie Hammer
$200
2
Justin Worthington
$100
3
Miya Greene
$132
4
Madison Holman
$110
5
Tyler Gideon
$50
6
Faythe Reid
$40
7
Silas Phillips
8
Aiden Othic
9
Brockton Scotford
$14
10
Connor Meliska
$5
11
Caden Meliska
12
Mackenzie Ickes
13
Corbin Reid-Hirsch
14
Alisabeth Rich
15
Ava McLaughlin
16
Joshua Brown
17
Annalie Izzolo
18
Kendall Bollea
19
Zack Othic
20
Darren Fletcher
21
Jaden Workman
22
RJ Pointon
23
Kaitlyn Pennington
24
Ashley Lamb
25
Kaitlyn Hammer
26
Bailey Knight
27
Noel Hernandez
28
Braden Macias
29
Yael Salama
30
Braxton Sexton
High Games
Scratch
Handicap
Garrett 300
M Hammer 314
Garrett 279
J Brown 273
H Mayes 269
Greene 273
Bivins 265
Worthington 271
H Mayes 264
Co. Meliska 264
High Female
1
Holman +52*
2
Berg +25
3
Greene -20
4
Lords -21
5
Reid -71
Qualifying Leaders
Scratch
Handicap
1
Garrett +229
Holman +187
2
Rendon +91
Greene +180
3
H Mayes +81
Phillips +116
U-17
1
H Mayes +81*
2
Holman +52
3
Young +30
4
Hull -16
5
Lords -21
Round Leaders
Scratch
Handicap
1
Rendon
Reid
2
Rendon
Holman
3
Garrett
Holman
4
Garrett
Holman
5
Garrett
Holman
6
Garrett
Greene
7
Garrett
M Hammer
Total Awarded This Event: $1,469
Date: Sunday, September 22, 2019
Start Time: 9 AM. Check in begins at 7:30 AM. Please check in no later than 8:30 AM.
Max bowlers: 64. Please email director@bowljbt.com to reserve a spot. You can prepay (not required) at the 'Sign Me Up!' section of this website. Reservations (paid or unpaid) must check in no later than 30 minutes before start time. At that time, all bowlers will be taken on a first come, first serve basis until the field is full. *This event will be at or close to sellout, reservations strongly encouraged.
This is a one day event. Saturday is a separate one day event. You can bowl only Saturday, only Sunday, or both.
Divisions: Scratch or handicap. It is the bowlers' choice of division. Also, everyone age 16 or under as of 8/1/19 is automatically entered in the U-17 side event. Also, every female is automatically entered in the Girls Scratch side event.
Points: This event counts for Mojave, Arizona, and All-Conference points.
Entry fee: $40 handicap; $50 scratch. Scholarship brackets are available for $2 each. Raffle tickets for Ebonite bowling balls, and our PowerBowl and 24 jackpots, are available on-site.
Scholarships: 1:6 in each division earn scholarships, scratch and handicap. Minimum prizes in scratch are $250, $125, $75, $50. In handicap, $200, $100, $60, $40. Bowlers must finish in the top 4 twice in a conference to qualify for that conference's Invitational, which features $1,000 for first place. Bowlers who finish in the top 20 in a conference's points race, or the top 100 in all-conference points, qualify for the Touring Players Championship, featuring $2,000 for first.
Lane conditions: conditions vary from event to event, and are not posted prior to the event (unless otherwise announced). Some events do not post the pattern until after qualifying. Be ready for anything- it makes you a better bowler! Check out previous patterns and corresponding cut scores at the 'lane conditions' section of this website.
RESERVED BOWLERS:
Berg, R
Bivins, B
Bollea
Brown, J
Canez, Rene III
Cardines, C
Denune
Derezotes
Fletcher
Garrett, M
Gauna
Gideon, Tyler
Greene, M
Hammer, K
Hammer, M
Hernandez, N
Hill, T
Hirsch, C
Hull
Ickes, Mackenzie
Imperial, AJ
Izzolo
Jordan, R
Knight, B
Lamb, A
Lamb, S
Lawrence, K
Lindsey, B
Lords, A
Mabry, Jadeyn
Mabry, Josh
Mayes, C
Mayes, H
McGowan
McLaughlin, Ava
McQuisten
Meliska, Co
Meliska,C
Muldoon
Othic, A
Othic, Z
Pennington, Kaitlyn
Phillips, SIlas
Pointon, RJ
Rabb
Reid, F
Rendon, K
Rich, A
Rich, C
Robbins, C
Robbins, W
Salama, Y
Scotford, B
Stenroos
Todeschi
Williams J
Workman, J
Workman, P
Worthington
Yazzie, Skyler
Ylvisaker
Young, Ethan
Zent
Holman, M
Creek, J
Sexton, Braxton
Molloy, Josh
WAIT LIST:
Gilbert, K
Seng, A
Peterson
Swanson, K
Dylan Callado
Macias, Braden