THE 2020 TOURING PLAYERS CHAMPIONSHIP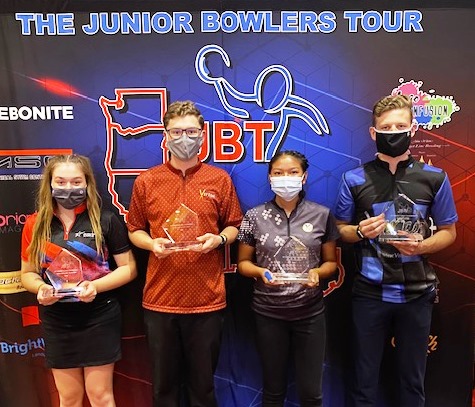 champs Madison Holman, Matthew Garrett, Gerilynn Delegarito, Hunter Mayes
Matthew Garrett, Tucson AZ, and Gerilynn Delegarito, Bloomfield NM, earned $2,000 scholarships each as scratch and handicap champs of the 2020 Junior Bowlers Tour's season-ending Touring Players Championship, hosted by Strike Zone Bowling Center in Henderson, NV.
Gael Egana, Chula Vista CA, defeated Joshua Molloy of Mesa AZ 210-195 to begin the scratch division stepladder finals. Las Vegas' Cerell Cardines then beat Egana 238-212 to advance to the title match.
Top seed Garrett and Cardines had been the best on the fourth of four lane patterns that tested the bowlers, the toughest and flattest, so it was fitting they played a dramatic and well-bowled title match. After Garrett struck out from the ninth for 199, Cerell needed the first strike to win it all. A good shot crept a pinch high, and when the 4-7 stood a jubilant Garrett took down his first JBT major, second career title, and a $2,160 total scholarship windfall.
Mackenzie Ickes of Mesa, AZ opened up the handicap division stepladder finals with a 198-161 decision over Trevor Wodesky of Oregon City, OR. Delegarito then stopped Ickes 198-173 to reach the title match,
Youngster Peyton Lee of Phoenix was impressive all week long in gaining the top seed, but Gerilynn used all her experience to fill frames in the title game, maintaining a pace Peyton couldn't catch up to. The 203-178 final was good for the third title of Delegarito's JBT career, first major, and $2,020 in total earnings over the week.
Hunter Mayes capped off a fantastic U17 season with a win over Gael Egana for that title, while Madison Holman, equally impressive in Priority Girls Scratch, beat close rival Rachael Berg for that crown.
Mackenzie Theophilus of Tumwater, WA rolled the event's only 300 game out of over 2,200 games bowled. The TPC brings the best of the JBT's best from all five conferences together for four days of intense competition and camraderie. $18,180 was awarded to the bowlers in a terrific wrapup to the 2019-20 season. Huge thanks to Jerry Francomano and the team at Strike Zone for helping make possible a smooth, safe event for all. Season 25 of the JBT starts in late August- check out our schedule and see you soon!
2020 Touring Players Championship
final standings and optional scholarship winners
SCRATCH DIVISION
no.
name
TPC
u17
girls
brackets
elite
sweepers
TOTAL $
1
Garrett, Matthew
2000
60
100
2160
2
Cardines, Cerell
1000
75
1075
3
Egana, Gael
500
200
200
900
4
Molloy, Josh
400
60
60
520
5
DeLuisa-Anderson, Brian
300
300
6
Sicard, Bud
200
300
500
7
Guba, Andrew
175
30
205
8
Mayes, Hunter
150
400
50
600
9
Jennings, Jerry
125
125
10
Geronimo, Trevyr
100
70
170
11
Williams, Josh
100
90
190
12
Greim, Zach
100
10
100
210
13
Bivins, Brock
100
40
140
14
Mayes, Chris
100
100
15
Davis, Will
100
50
150
16
McGowan, Skyler
0
17
Orosco, Kyler
18
Harvey, Brad
19
Huffman, Sebastian
170
170
20
Uribarri, Daunte
150
150
21
LeBlanc, Silas
22
Reed, Kyle
20
20
23
Premeau, Max
24
Rabb, Lucas
150
150
25
Berg, Rachael
200
200
26
Reese, Dawson
100
60
40
200
27
O'Hollaren, Elias
30
30
28
Padilla, Cesar
100
100
29
Linares, Aileen
100
100
30
Luna, Louis
31
Harmon, Alex
32
Hill, Tim
33
Harvey, Zach
34
Hong, Daniel
35
Caner, Nick
36
Cdebaca, Montana
37
Lindsey, Brendan
90
90
38
Workman, Payton
39
Andrews, Caleb
40
Chin, Leoj
20
150
170
41
Johnson, Trevor
42
Hull, Hayden
80
80
43
Alo, Daryus
44
Alvarez, Yarelis
45
Holter, Gavin
46
Weddige, Justin
70
70
47
Patalina, Devyn
48
Rendon, Kyle
40
40
49
Hardman, Liam
10
40
50
50
Kaurin, Mac
51
Ylvisaker, Keith
52
Todeschi, CJ
53
Howard, Shane
54
Zent, Ryan
55
Lee, Garrett
56
Bower, Hunter
8965
HANDICAP DIVISION
no.
name
TPC
u17
girls
brackets
elite
sweepers
TOTAL $
1
Delegarito, Gerilynn
2000
20
2020
2
Lee, Peyton
1000
60
40
1100
3
Ickes, Mackenzie
500
100
75
675
4
Wodesky, Trevor
400
400
5
Fernandez, Hayden
300
150
450
6
Fernandez, Gavin
200
10
135
345
7
Bollea, Kendall
175
70
70
315
8
Brown, Joshua
150
150
9
Theophilus, Mackenzie
125
125
10
Holman, Madison
100
400
500
11
Parker, JoJo
100
100
12
Morgan, Tyler
100
60
200
360
13
Sicard, Mary
100
100
14
Hammer, Mackenzie
100
20
60
125
305
15
Othic, Aiden
100
10
110
16
Castllo, Ronnie
50
65
115
17
Compehos, Jazmyne
50
50
18
Degnan, Marshall
19
Schmidt, Harper
40
40
20
Silva, Ian Seth
60
60
21
Jance, Colt
20
20
22
Hammer, Kaitlyn
40
40
23
Workman, Jaden
20
20
24
McQuisten, Mikey
115
115
25
Scotford, Brockton
26
Creek, Jake
20
20
40
27
Greene, Miya
140
140
28
Bardol, Jason II
29
Pimentel, Ryland
10
325
335
30
Burke, James
10
10
31
Haines, Jack
80
80
32
Reid-Hirsch, Corbin
50
50
33
Hernandez, Noel
34
Wilcox, Kierra
35
LeBlanc, Lucas
60
60
36
Todacheenie, Xaden
37
Carrasco, Preston
38
London, Kenji
39
Worthington, Justin
40
Navarrete, AJ
100
100
41
Ruiz-Jimenez, Aiden
42
Chambers, Ethan
43
Navarrete, Santiago
44
Rich, Alisabeth
230
230
45
Greim, Lindsay
46
Chambers, Nathan
47
Pointon, RJ
48
Gauna, Eric
49
Goodman, Michael
50
Raymond, Shaiden
51
Hong, Stephanie
40
40
52
Orosco, Akayla
53
Lee, Alexis
54
Ruiz, Marissa
55
Mason, Dalton
56
Nakunz, Bryce
57
Castronova, Tyler
200
200
58
Reid, Faythe
59
Wilcox, Kailee
60
Verde, Jon III
61
Flatin, Madison
62
Marquez, Koryn
63
Rother, Brandon
175
175
64
Imperial, AJ
65
O'Dell, Kayden
66
Bennett, Christopher
40
40
67
McLaughlin, Ava
68
Snow, Mason
69
Martin, Halie
200
200
70
Pfaff, Jimmy
9215
TOTAL AWARDED:
18180
Click here or scroll down for complete TPC scores
Click here or scroll down for sweeper 1 results
Click here or scroll down for sweeper 2 results
Click here or scroll down for sweeper 3 results
Click here or scroll down for sweeper 4 results
Click here or scroll below for details on the format
Click here or scroll below for covid safety protocol info
Semifinal standings:
2020 JBT TPC- SCRATCH
4 qualify for finals
includes 30 bouns pins for wins & 15 for second
no.
name
TOTAL
+ or -
gm 1
gm 2
gm 3
tot
GR TOT
+ or -
1
Garrett, Matthew
1939
139
294
319
192
805
2744
344
2
Cardines, Cerell
1842
42
267
246
279
792
2634
234
3
Egana, Gael
1942
142
239
203
237
679
2621
221
4
Molloy, Josh
1948
148
207
228
221
656
2604
204
5
DeLuisa-Anderson, Brian
1844
44
226
244
237
707
2551
151
6
Sicard, Bud
1867
67
178
254
244
676
2543
143
7
Guba, Andrew
1967
167
179
229
146
554
2521
121
8
Mayes, Hunter
1877
77
209
221
192
622
2499
99
9
Jennings, Jerry
1820
20
254
162
253
669
2489
89
10
Geronimo, Trevyr
1826
26
182
265
211
658
2484
84
11
Williams, Josh
1826
26
257
192
190
639
2465
65
12
Greim, Zach
1878
78
197
150
176
523
2401
1
2020 JBT TPC- HANDICAP
4 qualify for finals
scores include 30 bonus for wins and 15 for 2nd
no.
name
avg
hcp
TOTAL
+ or -
gm 1
gm 2
gm 3
tot
GR TOTAL
+ or -
1
Lee, Peyton
121
71
1940
140
194
151
168
726
2666
266
2
Delegarito, Gerilynn
177
20
1899
99
218
229
216
723
2622
222
3
Ickes, Mackenzie
153
42
1913
113
221
188
162
697
2610
210
4
Wodesky, Trevor
174
23
1941
141
186
229
181
665
2606
206
5
Fernandez, Hayden
123
69
1896
96
166
193
135
701
2597
197
6
Fernandez, Gavin
117
74
1952
152
138
138
111
609
2561
161
7
Bollea, Kendall
166
30
1895
95
168
200
203
661
2556
156
8
Brown, Joshua
170
27
1968
168
147
152
206
586
2554
154
9
Theophilus, Mackenzie
171
26
1996
196
141
164
138
521
2517
117
10
Holman, Madison
186
12
1919
119
184
127
198
545
2464
64
11
Parker, JoJo
157
38
1905
105
109
166
147
536
2441
41
12
Morgan, Tyler
190
9
1915
115
181
112
146
466
2381
-19
Quarterfinal scores:
2020 JBT TPC- SCRATCH
12 qualify for semifinals
no.
name
TOTAL
+ or -
gm 1
gm 2
gm 3
block
TOTAL
+ or -
1
Guba, Andrew
1260
60
166
262
279
707
1967
167
2
Molloy, Josh
1240
40
225
266
217
708
1948
148
3
Egana, Gael
1276
76
217
210
239
666
1942
142
4
Garrett, Matthew
1271
71
201
267
200
668
1939
139
5
Greim, Zach
1142
-58
256
236
244
736
1878
78
6
Mayes, Hunter
1232
32
232
194
219
645
1877
77
7
Sicard, Bud
1299
99
194
213
161
568
1867
67
8
DeLuisa-Anderson, Brian
1129
-71
193
233
289
715
1844
44
9
Cardines, Cerell
1121
-79
211
297
213
721
1842
42
10
Geronimo, Trevyr
1198
-2
213
191
224
628
1826
26
11
Williams, Josh
1196
-4
184
246
200
630
1826
26
12
Jennings, Jerry
1226
26
202
181
211
594
1820
20
13
Bivins, Brock
1196
-4
212
194
197
603
1799
-1
14
Mayes, Chris
1214
14
198
217
169
584
1798
-2
15
Davis, Will
1069
-131
190
243
285
718
1787
-13
16
McGowan, Skyler
1099
-101
236
267
181
684
1783
-17
17
Orosco, Kyler
1158
-42
227
213
183
623
1781
-19
18
Harvey, Brad
1097
-103
234
249
195
678
1775
-25
19
Huffman, Sebastian
1158
-42
184
233
180
597
1755
-45
20
Uribarri, Daunte
1102
-98
214
234
201
649
1751
-49
21
LeBlanc, Silas
1121
-79
198
201
230
629
1750
-50
22
Reed, Kyle
1136
-64
214
216
182
612
1748
-52
23
Premeau, Max
1111
-89
176
221
239
636
1747
-53
24
Rabb, Lucas
1166
-34
178
200
202
580
1746
-54
25
Berg, Rachael
1144
-56
173
215
213
601
1745
-55
26
Reese, Dawson
1170
-30
199
181
185
565
1735
-65
27
O'Hollaren, Elias
1069
-131
237
192
226
655
1724
-76
28
Padilla, Cesar
1074
-126
264
192
177
633
1707
-93
29
Linares, Aileen
1122
-78
192
184
198
574
1696
-104
30
Luna, Louis
1069
-131
172
218
228
618
1687
-113
31
Harmon, Alex
1140
-60
182
183
176
541
1681
-119
32
Hill, Tim
1069
-131
181
222
206
609
1678
-122
33
Harvey, Zach
1095
-105
185
211
173
569
1664
-136
34
Hong, Daniel
1132
-68
150
212
129
491
1623
-177
35
Caner, Nick
1089
-111
144
254
129
527
1616
-184
36
Cdebaca, Montana
1069
-131
170
182
180
532
1601
-199
37
Lindsey, Brendan
1092
-108
157
157
194
508
1600
-200
2020 JBT TPC- HANDICAP
12 qualify for semifinals
no.
name
avg
hcp
hcp tot
+ or -
gm 1
gm 2
gm 3
hcp block tot
TOTAL
+ or -
1
Theophilus, Mackenzie
171
26
1166
-34
300
258
194
830
1996
196
2
Brown, Joshua
170
27
1360
160
213
141
173
608
1968
168
3
Fernandez, Gavin
117
74
1249
49
189
152
140
703
1952
152
4
Wodesky, Trevor
174
23
1216
16
202
265
189
725
1941
141
5
Lee, Peyton
121
71
1329
129
137
146
115
611
1940
140
6
Holman, Madison
186
12
1242
42
225
225
191
677
1919
119
7
Morgan, Tyler
190
9
1261
61
189
224
214
654
1915
115
8
Ickes, Mackenzie
153
42
1252
52
179
185
171
661
1913
113
9
Parker, JoJo
157
38
1219
19
155
194
223
686
1905
105
10
Delegarito, Gerilynn
177
20
1172
-28
227
215
225
727
1899
99
11
Fernandez, Hayden
123
69
1245
45
139
166
139
651
1896
96
12
Bollea, Kendall
166
30
1129
-71
197
236
243
766
1895
95
13
Sicard, Mary
176
21
1279
79
185
150
210
608
1887
87
14
Hammer, Mackenzie
165
31
1243
43
163
210
170
636
1879
79
15
Othic, Aiden
160
36
1178
-22
186
195
203
692
1870
70
16
Castllo, Ronnie
185
13
1227
27
229
155
215
638
1865
65
17
Compehos, Jazmyne
160
36
1223
23
156
182
196
642
1865
65
18
Degnan, Marshall
189
9
1273
73
182
156
217
582
1855
55
19
Schmidt, Harper
167
29
1200
0
176
223
169
655
1855
55
20
Silva, Ian Seth
147
47
1195
-5
178
179
158
656
1851
51
21
Jance, Colt
178
19
1129
-71
220
257
186
720
1849
49
22
Hammer, Kaitlyn
166
30
1237
37
167
192
158
607
1844
44
23
Workman, Jaden
122
70
1213
13
137
134
142
623
1836
36
24
McQuisten, Mikey
185
13
1166
-34
224
226
176
665
1831
31
25
Scotford, Brockton
164
32
1129
-71
210
168
225
699
1828
28
26
Creek, Jake
146
48
1232
32
180
133
134
591
1823
23
27
Greene, Miya
180
18
1202
2
180
170
213
617
1819
19
28
Bardol, Jason II
177
20
1226
26
188
192
146
586
1812
12
29
Pimentel, Ryland
171
26
1201
1
161
191
181
611
1812
12
30
Burke, James
157
38
1157
-43
190
182
167
653
1810
10
31
Haines, Jack
151
44
1154
-46
178
203
143
656
1810
10
32
Reid-Hirsch, Corbin
185
13
1197
-3
171
213
190
613
1810
10
33
Hernandez, Noel
176
21
1206
6
179
176
180
598
1804
4
34
Wilcox, Kierra
156
39
1130
-70
201
161
192
671
1801
1
35
LeBlanc, Lucas
153
42
1220
20
139
159
141
565
1785
-15
36
Todacheenie, Xaden
118
73
1172
-28
110
159
125
613
1785
-15
37
Carrasco, Preston
150
45
1173
-27
136
170
168
609
1782
-18
38
London, Kenji
182
16
1210
10
162
178
177
565
1775
-25
39
Worthington, Justin
154
41
1177
-23
149
133
192
597
1774
-26
40
Navarrete, AJ
170
27
1156
-44
180
186
169
616
1772
-28
41
Ruiz-Jimenez, Aiden
140
54
1129
-71
179
119
175
635
1764
-36
42
Chambers, Ethan
155
40
1129
-71
172
161
161
614
1743
-57
43
Navarrete, Santiago
155
40
1146
-54
134
157
182
593
1739
-61
44
Rich, Alisabeth
150
45
1143
-57
156
150
150
591
1734
-66
45
Greim, Lindsay
166
30
1129
-71
181
173
158
602
1731
-69
46
Chambers, Nathan
149
45
1165
-35
162
112
138
547
1712
-88
47
Pointon, RJ
142
52
1137
-63
138
121
147
562
1699
-101
48
Gauna, Eric
181
17
1129
-71
159
183
149
542
1671
-129
Qualifying scores: (yellow line & above, plus exempts, check in at 8 AM, bowling at 9 AM Sunday)
2020 JBT TPC- SCRATCH
43 non-exempt bowlers; 26 qualify plus the 10 exempt qualify for Sunday 9 AM
no.
name
ex?
squad
game 1
game 2
game 3
tot
game 4
game 5
game 6
tot 2
TOTAL
+ or -
1
Sicard, Bud
A
196
267
178
641
195
199
264
658
1299
99
2
Egana, Gael
yes
B
202
246
211
659
156
237
224
617
1276
76
3
Garrett, Matthew
A
211
239
249
699
179
190
203
572
1271
71
4
Guba, Andrew
B
190
217
221
628
160
214
258
632
1260
60
5
Molloy, Josh
A
180
176
201
557
210
245
228
683
1240
40
6
Mayes, Hunter
yes
A
191
220
208
619
202
234
177
613
1232
32
7
Jennings, Jerry
B
199
158
224
581
245
225
175
645
1226
26
8
Mayes, Chris
yes
A
131
199
200
530
236
243
205
684
1214
14
9
Geronimo, Trevyr
A
195
188
200
583
207
225
183
615
1198
-2
10
Bivins, Brock
yes
B
189
178
181
548
224
187
237
648
1196
-4
11
Williams, Josh
yes
B
221
225
201
647
172
174
203
549
1196
-4
12
Reese, Dawson
B
163
174
202
539
247
203
181
631
1170
-30
13
Rabb, Lucas
yes
A
184
227
189
600
201
162
203
566
1166
-34
14
Huffman, Sebastian
B
155
200
170
525
202
215
216
633
1158
-42
15
Orosco, Kyler
B
171
202
231
604
185
179
190
554
1158
-42
16
Berg, Rachael
A
214
210
158
582
191
202
169
562
1144
-56
17
Greim, Zach
yes
B
217
228
161
606
152
181
203
536
1142
-58
18
Harmon, Alex
A
189
234
149
572
192
151
225
568
1140
-60
19
Reed, Kyle
A
170
168
149
487
202
202
245
649
1136
-64
20
Hong, Daniel
B
205
157
169
531
184
225
192
601
1132
-68
21
DeLuisa-Anderson, Brian
A
171
184
150
505
240
154
230
624
1129
-71
22
Linares, Aileen
B
152
182
174
508
191
209
214
614
1122
-78
23
Cardines, Cerell
yes
A
178
201
236
615
151
187
168
506
1121
-79
24
LeBlanc, Silas
A
249
222
152
623
158
157
183
498
1121
-79
25
Premeau, Max
B
211
190
172
573
198
159
181
538
1111
-89
26
Uribarri, Daunte
B
163
138
144
445
193
267
197
657
1102
-98
27
McGowan, Skyler
B
199
191
175
565
160
179
195
534
1099
-101
28
Harvey, Brad
A
195
156
207
558
149
180
210
539
1097
-103
29
Harvey, Zach
A
164
164
201
529
183
199
184
566
1095
-105
30
Lindsey, Brendan
B
170
177
204
551
206
156
179
541
1092
-108
31
Caner, Nick
A
176
204
172
552
187
170
180
537
1089
-111
32
Padilla, Cesar
A
159
144
188
491
158
190
235
583
1074
-126
33
Cdebaca, Montana
A
147
217
190
554
159
160
196
515
1069
-131
34
Luna, Louis
B
190
183
176
549
188
189
143
520
1069
-131
35
Workman, Payton
A
214
218
171
603
147
175
143
465
1068
-132
36
Andrews, Caleb
B
186
142
126
454
231
201
180
612
1066
-134
37
Chin, Leoj
B
150
167
195
512
213
170
165
548
1060
-140
38
Johnson, Trevor
B
168
184
158
510
180
152
214
546
1056
-144
39
Hull, Hayden
A
181
152
172
505
164
162
215
541
1046
-154
40
O'Hollaren, Elias
yes
B
131
181
198
510
176
156
201
533
1043
-157
41
Alo, Daryus
B
125
155
168
448
214
205
168
587
1035
-165
42
Alvarez, Yarelis
B
201
147
211
559
190
125
159
474
1033
-167
43
Holter, Gavin
A
159
165
165
489
212
153
177
542
1031
-169
44
Weddige, Justin
A
177
149
145
471
213
183
156
552
1023
-177
45
Patalina, Devyn
B
197
167
168
532
135
177
169
481
1013
-187
46
Rendon, Kyle
B
180
192
132
504
173
178
146
497
1001
-199
47
Hardman, Liam
B
162
186
162
510
198