WESTERN BOWL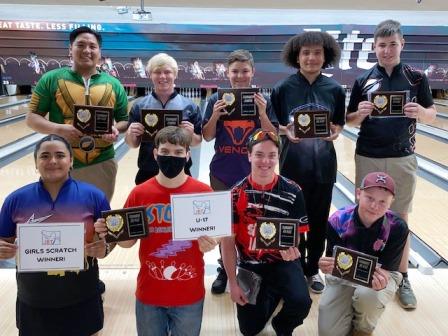 champs Will Davis & Aiden Ruiz-Jimenez, with finalists
Western Bowl- final results and scholarship winners
6/20/2020
Scratch Division
rank
bowler
prize
1
Will Davis
$293
2
Nathan Nguyen
$125
3
John Green
$75
4
Zach Harvey
$78
5
Alek Rakov
6
Brock Bivins
7
Blayne Hurst
8
Brad Harvey
9
Yarelis Alvarez
$50
10
Alex Harmon
$28
11
Donius Jeffires
12
Toby Cdebaca
13
Morgan Ellis
$25
14
Montana Cdebaca
15
Aileen Linares
16
Danielle Fincham
$1,000
17
TJ Thalman
$10
18
Kolton Carpenter
19
Wesley Carlock
20
Kallista Fritts
21
Justin Weddige
22
Kara Thompson
$14
Handicap Division
1
Aiden Ruiz-Jimenez
$274
2
Jared Basey
$115
3
Christopher Bennett
$104
4
Jordan Womble
$75
5
Ian Silva
$65
6
Michael Goodman
$15
7
Jaxon Wichers
$30
8
Trip Campbell
$14
9
Shaiden Raymond
10
Chris Woolsey
11
Eric Gauna
12
Elliot Varela
13
Kendall Bollea
14
Danny Harbin Jr
15
Harlee Wilson
16
Lane White
17
Harper Schmidt
18
Faith Pinter
19
AJ Navarrete
20
Miya Greene
21
Kloey Kielich
22
JoJo Parker
23
Angela Romero
24
Alex Thompson
25
Devin Fincham
$5
26
Gerilynn Delegraito
27
Santi Navarrete
High Games
Scratch
Handicap
1
Davis 279
Bennett 309
2
Green 279
Basey 292
3
Z Harvey 277
S Raymond 285
4
Hurst 268
Ruiz-Jimenez 278
5
Alvarez 264
Womble 277
Girls Scratch side event
1
Alvarez +69
2
M Ellis -109
3
M Cdebaca -151
4
Linares -167
5
Da. Fincham -170
U-17 scratch side event
1
Green +74
2
Womble +46
3
Bennett +13
4
T Cdebaca -82
5
Da. Fincham -170
Qualifying Leaders
Scratch
Handicap
1
Z Harvey +126
Bennett +218
2
Nguyen +124
Ruiz-Jimenez +187
3
Green +74
Basey +168
Round Leaders
Scratch
Handicap
1
Hurst
S Raymond
2
Rakov
Basey
3
Nguyen
Basey
4
Nguyen
Ruiz-Jimenez
5
Z Harvey
Bennett
6
Z Harvey
Ruiz-Jimenez
7
Z Harvey
Basey
8
Davis
Basey
TOTAL AWARDED THIS EVENT: $2,426
Date: Saturday, April 25, 2020
Start Time: 1 PM. Check in begins at 11 AM. Please check in no later than 12:30 PM.
Max bowlers: 96. Please email director@bowljbt.com to reserve a spot. You can prepay (not required) at the 'Sign Me Up!' section of this website. Reservations (paid or unpaid) must check in no later than 30 minutes before start time. At that time, all bowlers will be taken on a first come, first serve basis until the field is full.
This is a one day event. Sunday is a separate one day event. You can bowl only Saturday, only Sunday, or both.
Divisions: Scratch or handicap. It is the bowlers' choice of division. Also, everyone age 16 or under as of 8/1/19 is automatically entered in the U-17 side event. Also, every female is automatically entered in the Girls Scratch side event.
Points: This event counts for NM-TX and All-Conference points.
Entry fee: $40 handicap; $50 scratch. Scholarship brackets are available for $2 each. Raffle tickets for Ebonite bowling balls, and our PowerBowl and 24 jackpots, are available on-site.
Scholarships: 1:6 in each division earn scholarships, scratch and handicap. Minimum prizes in scratch are $250, $125, $75, $50. In handicap, $200, $100, $60, $40. Bowlers must finish in the top 4 twice in a conference to qualify for that conference's Invitational, which features $1,000 for first place. Bowlers who finish in the top 20 in a conference's points race, or the top 100 in all-conference points, qualify for the Touring Players Championship, featuring $2,000 for first.
Lane conditions: conditions vary from event to event, and are not posted prior to the event (unless otherwise announced). Some events do not post the pattern until after qualifying. Be ready for anything- it makes you a better bowler! Check out previous patterns and corresponding cut scores at the 'lane conditions' section of this website.
RESERVED BOWLERS:
scroll down for non-alphabetized bowlers. PLEASE do not forget to contact us if you need to cancel your reservation.
| | |
| --- | --- |
| 1 | Hurst, B |
| 2 | Bivins, B |
| 3 | Hall, D |