ARIZONA BAKER TEAM CHALLENGE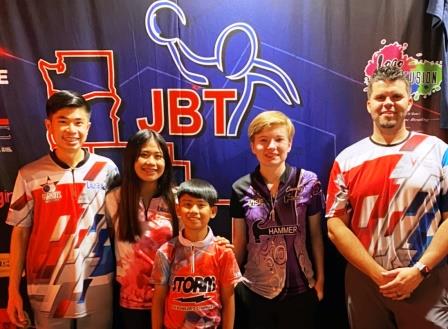 champs Josh, Katelyn, and Jon Abigania, Kendall Bollea, and Josh Blanchard
A talented trio of siblings were joined by two stars in their own right to win the JBT AZ Baker Team Challenge, hosted by Bowlero Mesa.
A full field of teams bowled 10 Baker games in qualifying, with the top 8 advancing to best 2-of-3 matchplay, definitely one of the most exciting forms of bowling. The top seeded "Rejects" proved to be anything but, as they earned a $100 bonus for the top seed, barely avoided an upset in round one, then squeaked by their semifinal match to get to the final. It ended up 1 vs. 2 as the Abigania kids teamed up with two time defending handicap Bowler of the Year Kendall Bollea and 13-time JBT champ and current PBA West/NW Director Josh Blanchard to win their two matches to get to the final.
Both title match games were close, but a total team effort sealed the deal for the winners, as Josh and Katelyn kept up their winning bowling from all season, Jon more than held his own filling frames when asked, Kendall seemingly improving with every shot, and finally, Blanchard (who earlier converted a 7-10 to spark his team) locking it up with a tenth frame double to claim the championship. It was Jon's first JBT title, Katelyn's third, Josh's fourth, Kendall's seventh, and number 14 for Blanchard to go with his 13 JBT wins as a youth.
Like all JBT events, even this mostly scratch format proved to be for everyone. The 40 matchplay finalists featured 12 adults, 14 bowlers who usually bowl our handicap events including one team off ALL handicap bowlers, 11 girls, and 22 JBT champions with a combined hundreds of JBT titles (somebody count for us).
Huge thanks to the team at Mesa for hosting, and to all the adults and alumni who bowled, making this one of our favorite weekends of the year. Want in on the fun for all ages and averages? Just check out our schedule and come on down!
AZ Baker- final results and scholarship winners
12/12/2021
rank
bowlers
prize
total
1
Kendall Bollea
$125
$500
Josh Blanchard
Jon Abigania
$125
Josh Abigania
$125
Katelyn Abigania
$125
2
Chris Mayes
$134+$34
$400
Cerell Cardines
$134+$34
+ $100
Justin Phillips
qual. ldr.
Michael Fitzgerald
Jack Haines
$134+$34
3
Hunter Mayes
$100
$300
DJ Kniefel
$100
Jennifer Peterson
Diante Fields
Kieran Roth
$100
4
Ryan Zent
$67
$200
John Conaway
Joe Huber
Justin Worthington
$67
Brockton Scotford
$67
5
Jadeyn Mabry
$33
$100
Madi Holman
$33
Cortez Schenck
Lindsay Greim
Brandi Calderon
$33
6
Mackenzie Theophilus
$25
$100
Ben Laffoon
$25
Matt Adragna
$25
Riley Dempsey
Erika Kemp
$25
7
Mikey McQuisten
$34
$100
Jonathan Mayer
Emily Rohrbacker
$34
Matt Villegas
Corbin Reid-Hirsch
$34
8
Alisabeth Rich
$20
$100
Conner Pendergrass
$20
RJ Pointon
$20
Aiden Ruiz-Jimenez
$20
Jaden Workman
$20
9
Emily Cheesman
Skyler McGowan
Julina Stenroos
Kyle Rendon
Connor Steelmon-Hill
10
Gage Baker
Nathan Tidball
Mike Mayes
Brandon ROther
Kyler Duster
11
Matt Zweig
Alec Johnson
Jackson Beltoya
Ellie Watson
Shane Smith
12
Brock Bivins
David Waybright
CJ Todeschi
Jacob Ellis
Josh Carlson
13
Cesar Padilla
Aileen Linares
Harper Schmidt
Amy Hammer
Mackenzie Paige
14
Sebastian Huffman
JT Verde
Jon Verde
Monica Catronova
Tyler Castronova
15
Kaitlyn Hammer
Bailey Knight
Thomas Lawrence
Anthony Stabolito
Payton Workman
16
Tracy Lee
Noel Hernandez
Josh Molloy
Kamryn Wyman
Matt Jones
17
Alex Hartman
DJ Cowart
Mike Jones
Stephanie Vasquez
Nick Barrieault
18
Caden Meliska
Connor Meliska
Kristen Meliska
Mike Meliska
Kyler Harden
19
Dodge Flynn
Richard Armstrong
Tony Maresca
Seth Krich
Dave Inoshita
20
Keith Ylvisaker
Robert Ylvisaker
Victoria Ylvisaker
Tim Jacob
Josh Brown
21
Daryus Alo
Mason Snow
Earl Garner
Gyrus Alo
Darren Tang
22
Jason Gootzeit
David Levergae
Peyton Lee
Brendan Bobersky
Marcus Van Tobel
23
Paityn Gaines
Connor Bell
Quinten Bell
Gunnar Hahn
Thayne Hahn
24
Susan Meinhardt
Jazmyn Meinhardt
Joshua Meinhardt
Nikki Meinhardt
Scott Meinhardt
TOTAL AWARDED THIS EVENT: $1,900
JBT ALL-BAKER 5-PERSON TEAM CHALLENGE!
to be held:
10 AM Sunday December 12 at Bowlero Mesa
1754 W. Southern Ave., Mesa AZ, (480) 834-0588
Bowl the Doubles events at Narrows or Mesa Saturday to make it a doubleheader of JBT fun in the NW or SW!
Hereís the twists:
- This is an all-scratch* event, but your teams must have at least one bowler with an entering average of 170 or less. (avg. as of 11/8/21)
- *Teams with more than one under-170 bowler get 8 extra pins per game for each under-170 bowler (so, up to 32 pins per game!)
- Teams may have a max of 2 adults (adults may be the 170 & under bowler)
(Ďadultí in JBT means anyone age 22 and over as of 8/1/21)
- Each bowler MUST be the anchor (frames 5 & 10) twice each in qualifying.
ENTRY FEE: $25 per person ($125 per team) FORMAT:
- teams roll 10 Baker games
- top 8** teams advance to best
2-of-3 matchplay
EBONITE BALL RAFFLE AT THIS AND ALL
JBT EVENTS! Points awarded for finishing position only. Team shirts
highly encouraged but not required.
SAMPLE PRIZE FUNDS: (1:6 teams earn scholarships, minimum 4 teams cash, $500 first)
16 entries 24 entries
1st- $500 1st- $500
2nd- $250 2nd- $400
3rd-4th- $125 3rd-4th- $200
5th-6th- $100
***Leading qualifiers : $100***
**If 11+ teams enter, the top 8 advance. If 10 or less teams enter, the top 6 advance.
To reserve spots, email director@bowljbt.com, or visit www.bowljbt.com.
JBT bowlers use 21-22 JBT average, all others use highest 21-22 15+ game average as of 11/8, verification required if itís the 170 & under bowler. All other JBT rules apply. Walk-ins OK as space permits, but prepayments strongly encouraged. Please help us spread the word to our JBT alumni. We'll see you there, don't miss it!
RESERVED BOWLERS:
PLEASE do not forget to contact us if you need to cancel or adjust your reservation. This list may not be updated after the Friday of the event as we travel, etc. However, walk-ins / late entries are still gladly accepted as space permits. There is generally plenty of room for walk-ins / late entries, and we'll post here clearly if an event is nearing sellout or sold out.
| | | | | | |
| --- | --- | --- | --- | --- | --- |
| no. | bowlers | | | | |
| 1 | Bollea, Kendall | Abigaina, Jon (u) | Abigania, Katelyn | Blanchard, Josh (a) | Abigania, Josh |
| 2 | Kemp, Erika | Laffoon, Ben | Theophilus, Mackenzie | Adragna, Mathew | Dempsey, Riley |
| 3 | Scotford, Brockton | | | | |
| 4 | Rich, Alisabeth | Workman, Jaden | | | |
| 5 | Bell, Quinten | Bell, Connor | | | |
| 6 | Mabry. Jadeyn | Greim, Lindsay | Holman, Madison | Schenck, Cortez | Calderon, Brandi |
| 7 | Hernandez, Noel | Mullen, Josh | Wyman, Kamryn | Jones, Matt | Molloy, Josh |
| 8 | Hammer, Amy | Padilla, Cesar | Linares, Aileen | Schmidt, Harper | Paige, Mackenzie |
| 9 | Meinhardt, Susan | Meinhardt, Jazmyn | Nikki? | Scott? | Joshua? |
| 10 | Lee, Peyton | Leverage, David | Gootzeit, Jason | Bobersky. Brendan | VonTobel, Marcus |
| 11 | Meliska, Caden | Meliska, Connor | Meliska, Michael | Meliska, Kristen | |
| 12 | Workman, Payton | Hammer, Kaitlyn | | | |
| 13 | Castronova, Tyler | Castronova, Monika | Huffman, Sebastian | Verde, JT | Verde, Jon |
| 14 | Rich, Alisabeth | Workman, Jaden | Pendergrass, Conner | Pointon, RJ | Ruiz-Jimenez, Aiden |
| 15 | Zent, Ryan | Conaway, John | Worthington, Justin | Huber, Joe | Van Gordon, Kevin |
| 16 | Armstrong II, Richard | Flynn, Dodge | Krich, Dave | Krich, Seth | Maresca, Tony |
| 17 | Todeschi, CJ | Bivins, Brock | Waybright, David | Ellis, Jacob | Carlson, Josh |
| 18 | Kneifel, DJ | Peterson, Jennifer | Roth, Kieran | Fields, Diante | Mayes, Hunter |
| 19 | McGowan, Skyler | Stenroos, Julian | Cheesman, Emily | Rendon, Kyle | Steelmon-Hill, Connor |
| 20 | Baker, Gage | Tidball, Nathan | Mayes, Mike | Rother, Brandon | Duster, Kyle |
| 21 | Ylvisaker, Keith | Ylvisaker, Robert | Ylvisaker, Victoria | Jacob, Tim | Brown, Josh |
| 22 | Hull, Hayden | | | | |
| 23 | Alo, Daryus | Alo, Gyrus | Tang, Darren | Snow, Mason | Garner, Earl |
| 24 | Smith, Shane | Johnson, Alec | Zweig, Matt | Beltoya, Jackson | |
| 25 | Mayes, Chris | Haines, Jack | Phillips, Justin | Cardines, Cerell | Fitzgerald, Michael |