SO CAL BAKER TEAM CHALLENGE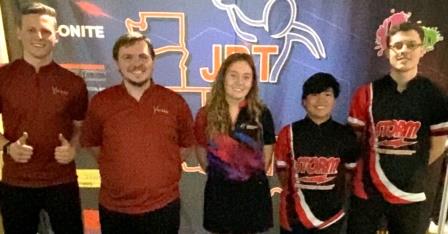 champs Hunter Mayes, Josh Molloy, Madison Holman, Gavin Fernandez, Chris Mayes
A team of red-hot current JBT stars outlasted a talented field to win the So Cal Baker Team Challenge, held at Bowlium Lanes in Montclair.
The 'Voice Crack' team (JP Griffin, Leoj Chin, Ian Fiel, Chris Porter, and breakout PWBA star Stephanie Zavala) qualified first after 10 Baker-style qualifying games, but fell in round one of best 2-of-3 matchplay to 'Team 30' (Martin Velasco, Jeremy Tuazon, Pamela Faller, Dominic Fisher, and adult David Jones). They pulled another upset in the semifinals, this time over a team highlighted by Main Event champ Oscar Chan, to reach the finals.
Coming from the other side of the bracket, and mostly from the other side of the Colorado, were the Red Hot Chili Peppers. Qualifying third, they won round one over a team anchored by PBA all-time great Mark Baker and son Gage, and then an all-junior team of 'Vegas Boys', to reach the final. After splitting the first two games, the Chili Peppers got the higher ground in game three, winning it for the title. It was win #5 for Chris Mayes, third for Madison Holman, third for Main Event and Desert Open winner Gavin Fernandez, 6th for Joshua Molloy, and 18th for Hunter Mayes.
Huge thanks to Al and the team at Bowlium for hosting one of our most fun events each year, back from a covid-hiatus. Want in on all the fun? Just check out our schedule and come on down!
So Cal Baker- final results and scholarship winners
11/28/2021
rank
bowlers
prize
total
1
Josh Molloy
$100
$500
Chris Mayes
$100
Hunter Mayes
$100
Madison Holman
$100
Gavin Fernandez
$100
2
Martin Velasco
$100
$400
Jeremy Tuazon
$100
Pamela Faller
$100
Dominic Fisher
$100
David Jones
3
Jerrad Barczyszyn
$45
$225
Sebastian Huffman
$45
Dominic Montoya
$45
Tyler Castronova
$45
Hayden Fernandez
$45
4
Oscar Chan
$225
John Northup
Kaitlynn Yukihiro
$75
Sarah Lee
$75
Henry Lee
$75
5
JP Griffin
$34
$102
Stephanie Zavala
Leoj Chin
$34
Ian Fiel
$34
Chris Porter
6
Jerry Wang
Joshua Rha
Ivan Ceballos
Ben Martin
Keir Smyth
7
Gage Baker
Mark Baker
Allex Zieg
Ricky Pollom
Tiffany Miskjian
8
Emily Schrider
Stephanie Fung
Joe Jimenez
Jonathan Fung
Adrian Yamanoha
9
Kaili Purugganan
Kendall Bollea
Sarah Klinkenborg
Mike McCowan
Ernie Mota
10
Emily Cheesman
Bryce Nakunz
Connor Steelmon-Hill
Mike Nakunz
Kyle Duster
11
Garrett Purugganan
Mike Lee
Steven Lee
Nathan Chambers
Ethan Chambers
12
Lindsay Greim
Jadeyn Mabry
Brandon Rother
Andrew Sanchez
Brian Reed
13
Brent Purugganan
Lathan Chin
Miranda Emery
Eddie Gaddison
Bruce Gruman
14
Porfirio Jimeno II
Porfirio Jimeno III
Daniel Rios
Aarin Shepard
Angel Jimeno
15
Chase Simmons
Kayden O'Dell
Austin Sugarman
Lisa Simmons
Jacob Brown
16
Kaitlyn Griffin
Scott Silva
Ray Minter
Ethan Santos
Jamie Ferry
17
Nick Caner
Blayke Miller
Jason Weed
Bryan Baker
Emma Shaner
18
Ronnie Castillo
Bobby Hornacek
Naomi Yamauchi
Zack Jellsey
Bobby Campagnale
19
Ryan Klinkenborg
Dious Clay Jr
Connor Scharton
Gregory Goodrich
Dious Clay Sr
TOTAL AWARDED THIS EVENT: $1,452
JBT ALL-BAKER 5-PERSON TEAM CHALLENGE!
to be held:
7 PM Saturday November 27 at Bowlium
4666 Holt Blvd., Montclair CA, (909) 626-3528
10 AM Sunday December 5 at Narrows Plaza
2200 Mildred St W, University Place WA, (253) 565-1007
10 AM Sunday December 12 at Bowlero Mesa
1754 W. Southern Ave., Mesa AZ, (480) 834-0588
Bowl the events at Bowlium Saturday and Sunday to make it a tripleheader of JBT fun in So Cal!
Bowl the Doubles events at Narrows or Mesa Saturday to make it a doubleheader of JBT fun in the NW or SW!
Hereís the twists:
- This is an all-scratch* event, but your teams must have at least one bowler with an entering average of 170 or less. (avg. as of 11/8/21)
- *Teams with more than one under-170 bowler get 8 extra pins per game for each under-170 bowler (so, up to 32 pins per game!)
- Teams may have a max of 2 adults (adults may be the 170 & under bowler)
(Ďadultí in JBT means anyone age 22 and over as of 8/1/21)
- Each bowler MUST be the anchor (frames 5 & 10) twice each in qualifying.
ENTRY FEE: $25 per person ($125 per team) FORMAT:
- teams roll 10 Baker games
- top 8** teams advance to best
2-of-3 matchplay
EBONITE BALL RAFFLE AT THIS AND ALL
JBT EVENTS! Points awarded for finishing position only. Team shirts
highly encouraged but not required.
SAMPLE PRIZE FUNDS: (1:6 teams earn scholarships, minimum 4 teams cash, $500 first)
16 entries 24 entries
1st- $500 1st- $500
2nd- $250 2nd- $400
3rd-4th- $125 3rd-4th- $200
5th-6th- $100
***Leading qualifiers : $100***
**If 11+ teams enter, the top 8 advance. If 10 or less teams enter, the top 6 advance.
To reserve spots, email director@bowljbt.com, or visit www.bowljbt.com.
JBT bowlers use 21-22 JBT average, all others use highest 21-22 15+ game average as of 11/8, verification required if itís the 170 & under bowler. All other JBT rules apply. Limited to the first 24 fully paid teams in WA, 20 in CA/AZ. Walk-ins OK, but prepayments strongly encouraged. Please help us spread the word to our JBT alumni. We'll see you there, don't miss it!
RESERVED BOWLERS:
PLEASE do not forget to contact us if you need to cancel or adjust your reservation. This list may not be updated after the Friday of the event as we travel, etc. However, walk-ins / late entries are still gladly accepted as space permits. There is generally plenty of room for walk-ins / late entries, and we'll post here clearly if an event is nearing sellout or sold out.
| | | | | | |
| --- | --- | --- | --- | --- | --- |
| no. | bowlers | | | | |
| 1 | Puruggannan, Garrett | Lee, Mike (a) | Lee, Steven (a) | Chambers, Ethan | Chambers, Nathan |
| 2 | Sugarman, Austin | | | | |
| 3 | | | | | |
| 4 | Greim, Lindsay | Mabry, Jadeyn | Reed, Kyle | Sanchez, Andrew | Rother, Brandon |
| 5 | Jimeno, Angel | Jimeno, Porfirio III | Jimeno, Porfirio Jr | Rios, Daniel | Shepard, Aarin |
| 6 | Bivins, Brock | | | | |
| 7 | Wang, Jerry | | | | |
| 8 | Klinkenborg, Ryan | Clay, Dious | Scharton, Connor | Goodrich, Gregory | Clay, Dious Sr. |
| 9 | Castillo, Ronnie | | | | |
| 10 | Simmons, Chase | O'Dell, Kayden | | | |
| 11 | Purugganan, Brent | Chin, Lathan | Emery, Miranda | Gaddison, Eddie | Gruman, Bruce |
| 12 | Purugganan, Kaili | Bollea, Kendall | Klinkenborg, Sarah | McCowan, Mike | Mota, Ernie |
| 13 | Velasco, Martin | Tuazon, Jeremy | Faller, Pamela | Velasco, Mike | Jones, David |
| 14 | Chan, Oscar | Northup, John | Yukihiro, Kaitlynn | Lee, Sarah | Lee, Henry |
| 15 | Molloy, Josh | Mayes, Chris | Mayes, Hunter | Holman, Madison | Fernandez, Gavin |
| 16 | Baker, Gage | Baker, Mark | Zieg, Allex | Marmolejo, MIchael | |
| 17 | Cheesman, Emily | Nakunz, Bryce | Steelmon-Hill, C. | Nakunz, Mike | Duster, Kyle |
| 18 | Griffin, JP | Zavala, Stephanie | Chin, Leoj | Fiel, Ian | Porter, Chris |
| 19 | Griffin, Kaitlyn | Silva, Scott | Santos, Shannon | Santos, Ethan | Ferry, Jamie |
| 20 | Caner, Nick | Miller, Blayke | Weed, Jason | Baker, Bryan | Dinenberg, Ben |