MOJAVE DOUBLES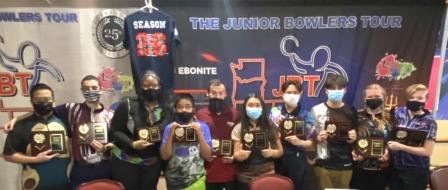 champs and finalists
A dominant finish and a truly wild finish highlighted action at the JBT Mojave Doubles Classic, hosted by Sam's Town Bowling Center in Vegas.
The scratch division baker-format stepladder finals began with Kelcey Acon-Kawamura and Gianni Silva beating Zach Greim and Elias O'Hollaren 245-200 (the 200 being Dutch, the first baker-format one in JBT we can remember). Avery Domaguin, like Kelcey one of a crowd of rising female JBT stars, then teamed with Casey Shephard to stop Silva and Aczon-Kawamura 224-161 to advance to the title match.
Top seeds Cerell Cardines and Solomon Salama had led from the very start, and the teamed with the packed resumes proved why that is so, pouring on the strikes for a 257-188 win over Avery and Casey for the title. It's the 31st of Solomon's JBT career, and the 17th of Cardines', but amazingly his first since November of 2019- now that that ice is re-broken, look out!
Gyrus Alo teamed with adult partner Olivia Derrico to win the opening game of the handicap stepladder final 168-135 over Kayden O'Dell and Cuzack Bove. Kendall Bollea and Lindsay Greim, who have already teamed together to win two previous doubles events, then beat Gyrus and Olivia 183-145, to advance to another title match.
Top seeds Dart Longa and Hayden King had been wonderful all day en route to the number one spot, and engaged in a tight battle with Lindsay and Kendall in the final. In the ninth, Kendall chopped a 6-10, and incredibly, in the tenth Greim did exactly the same thing, with that unlikely event giving Longa a shot to double to win and fill 20 to tie. Dart's perfect first shot left a solid-8, but then just barely missed the spare, handing a relieved Lindsay and Kendall their 5th career JBT titles each.
Tyler Castronova fired the event's only 300 game, his career first, and Harper Schmidt claimed the day's Ebonite ball. Connor Steelmon-Hill nailed the '26' jackpot for a quick $200 bonus.
Big thanks to Sam's Town for their usual great hosting job, and all the adults and alumni taking the time out of their weekend to bowl with today's JBT kids. Want in on all the fun for all ages and average? Just check out our schedule and come on down!
Mojave Doubles- final results and scholarship winners
11/20/2021
Scratch Division
rank
bowler
prize
bowler
prize
total
1
Solomon Salama
$290
Cerell Cardines
$200
$490
2
Avery Domaguin
$300
Casey Shephard
$300
3
Elias O'Hollaren
$189
Zach Greim
$144
$333
4
Gianni Silva
$75
Kelsey Aczon-Kawamura
$75
$150
5
Sebastian Huffman
$80
Zach Hattori
$80
6
Marquan Rivers
Ricky Pollom
7
Milan Vasquez
Troy Smith Jr
8
Daryus Alo
Darren Tang
9
Jason Bardol II
Jason Bardol
10
Chris Mayes
Madison Holman
11
Joshua Carlson
Harper Schmidt
12
Julian Stenroos
Skyler McGowan
13
Daniel Hong
Deo Benard
14
Connor Steelmon-Hill
$200
Jordan Gil
$200
15
Hunter Mayes
DJ Kneifel
16
Brendan Lindsey
Kyle Rendon
17
Tyler Castronova
Mike Clemence
18
Allex Zieg
Michael Marmolejo
19
Jamison Kaboli
Sam Flaisig
20
Mason Snow
Josh Alcaraz
21
Seth Stovall
Chris Lellos
22
Clifford Robbins
William Robbins
23
Jerrad Barczyszyn
Tyson Lopes
24
Dillon O'Neil
Amy O'Neil
Handicap Division
1
Kendall Bollea
$336
Lindsay Greim
$214
$550
2
Dart Longa
$125
Hayden King
$125
$250
3
Gyrus Alo
$125
Olivia Derrico
$125
4
Kayden O'Dell
$40
Cuzack Bove
$60
$100
5
Iliana Ontiveros
$40
Antonio Ontiveros
$40
$80
6
Ezekiel Trejo
Ramon Camarillo
7
Gage Baker
Kyle Reed
8
Sara Miric
Andrew Valdez
9
Alexis Lee
Mike Lee
10
Davi Page
William Robbins
11
Tramell Adams
Charisse Adams
12
Bryce Nakunz
Mike Nakunz
13
Gavin Fernandez
Hayden Fernandez
14
Steve Abarca
Nelson Abarca
15
Austin Nash
Dylan Donahue
16
JT Verde
Jon Verde
17
Ethan Chambers
Steve Lee
18
Brandon Rother
Brent Rother
19
Robert Lawrence
Aiden Ruiz-Jimenez
20
Caden Sham
Justo Sham
21
Desiree Najera
Chris Najera
High Games
Scratch
Handicap
1
Castronova 300
H King 265
2
Salama 289
H King 252
3
Domaguin 289
Bollea 250
4
Pollom 268
Abarca 250
5
D Alo 267
Longa 247
Round Leaders
Scratch
Handicap
1
Cardines-Salama
Longa-King
2
Cardines-Salama
Longa-King
3
Cardines-Salama
Bollea-Greim
4
Cardines-Salama
Bollea-Greim
5
Cardines-Salama
Longa-King
6
Cardines-Salama
Longa-King
7
Cardines-Salama
Longa-King
Qualifying Leaders
Scratch
Handicap
1
Salama-Cardines +386
Bollea-Greim +110
2
Domaguin-Shephard +241
Longa-King +65
3
O'Hollaren-Greim +172
Miric-Valdez +48
TOTAL AWARDED THIS EVENT: $2,483
'21-'22 Doubles events to be contested at:
NOV 20 SAM'S TOWN LAS VEGAS NV 11 AM
NOV 27 BOWLIUM MONTCLAIR CA 11 AM
DEC 4 NARROWS PLAZA UNIV. PLACE WA Noon
DEC 11 BOWLERO MESA MESA AZ 11 AM
DEC 18 TENPINS & MORE RIO RANCHO NM 9:30 AM & 12:30 PM
***3 balls max per bowler at each event***
*Teams must have AT LEAST one JBT-eligible bowler. Partner can be ANY bowler.
(JBT eligible means age 21 or under as of 8/1/21)
*Handicap AND Scratch divisions!
*$400 1st place scholarship minimum per team guaranteed at each event !
ENTRY FEE: $80 per team FORMAT: (2 divisions, scratch & handicap)
--bowl 4 team games across 8 lanes
Teams with 'juniors' who --top 40% bowl 3 team matchplay games
have never bowled in a JBT
enter for $5 off per junior! --top 4 teams in each division bowl a BAKER
style stepladder finals
OPTIONAL EXTRAS FOR ADULTS AND JUNIORS !! (all returned 100%)
Brackets – 'adult' and 'junior' scratch and handicap brackets will be run.
'Junior' prizes are awarded as scholarship and 'adult' prizes are awarded as cash.
Adults may also choose to declare any/all winnings to their partner as scholarship.
Position prizes awarded as scholarship to 'juniors' only
(in other words, brackets are the only part where 'adults' can receive cash)
HANDICAP 90% OF 400 (i.e. -- team entering at 380 will get 18 pins)
Bowlers who have competed in JBT events in 21-22 will use their JBT average. All others must use their highest
21-22 average, 15 games minimum. All others will use 200. Teams over 400 MUST bowl scratch.
For more info or to sign up, email director@bowljbt.com, and visit us at www.bowlJBT.com
RESERVED BOWLERS:
PLEASE do not forget to contact us if you need to cancel or adjust your reservation. This list may not be updated after the Friday of the event as we travel, etc. However, walk-ins / late entries are still gladly accepted as space permits. There is generally plenty of room for walk-ins / late entries, and we'll post here clearly if an event is nearing sellout or sold out.
| | | |
| --- | --- | --- |
| no. | bowler | 11 AM Sat |
| 1 | Alo, Daryus / Tang, Darren | x |
| 2 | Alo, Gyrus / partner | x |
| 3 | Baker, Gage / Reed, Kyle | x |
| 4 | Barczyszyn, Jarred / Lopes, Tyson | x |
| 5 | Bardol, Jason / Bardol, Jason | x |
| 6 | Bollea, Kendall / Greim, Lindsay | x |
| 7 | Bove, Cuzack / O'Dell, Kayden | x |
| 8 | Cardines, Cerell / Salama, Solomon | x |
| 9 | Carlson, Josh / Schmidt, Harper | x |
| 10 | Castronova, Tyler / partner | x |
| 11 | Chambers, Ethan / Chambers, Nathan | x |
| 12 | Domaguin, Avery/ Shepard, Casey | x |
| 13 | Donahue, Dylan / Nash, Austin | x |
| 14 | Gil, Jordan / partner | x |
| 15 | Greim, Zach / O'Hollaren, Elias | x |
| 16 | Huffman, Sebastian / partner | x |
| 17 | Kaboli, Jamison / Flaisig, Sam | x |
| 18 | Lee, Alexis/ Lee, Mike | x |
| 19 | Lindsey, Brendan / Rendon, Kyle | x |
| 20 | Longa, D'art / King, Hayden | x |
| 21 | Mayes, Chris / Holman, Madison | x |
| 22 | Mayes, Hunter / Kneifel, DJ | x |
| 23 | McGowan, Skyler / Stenroos, Julian | x |
| 24 | Miric, Sara / Valdez, Andrew | x |
| 25 | Najera, Desiree / Najera, Chris | x |
| 26 | Nakunz, Bryce / Nakunz, Mike | x |
| 27 | O'Neil, Dillon / | x |
| 28 | Page, Davi / partner | x |
| 29 | Pollom, Ricky / Rivers, Marquan | x |
| 30 | Robbins, William / Robbins, Clifford | x |
| 31 | Rother, Brandon / partner | x |
| 32 | Scotford, Brockton / partner | x |
| 33 | Sham, Caden / Sham, Justo | x |
| 34 | Silva, Gianni / Aczon-Kawamua, Kelcey | x |
| 35 | Snow, Mason / Alcaraz, Josh | x |
| 36 | Stovall, Seth / Lellos, Chris | x |
| 37 | Vasquez, Milan / Smith, Troy Jr. | x |
| 38 | Verde, JT / Verde, Jon Jr | x |
| 39 | Zieg, Allex / Marmolejo, Michael | x |
| 40 | Lawrence, Robert / Ruiz-Jimenez, Aiden | x |
| 41 | Hong, Daniel / Benard, Deo | x |
| 42 | Trejo, Ezekiel / Camarillo, Roman | x |
| 43 | Ontiveros, Antonio / Ontiveros, Iliana | x |
| 44 | | |