ARIZONA INVITATIONAL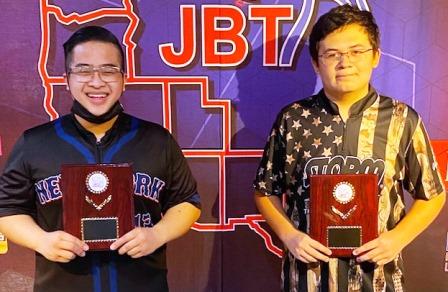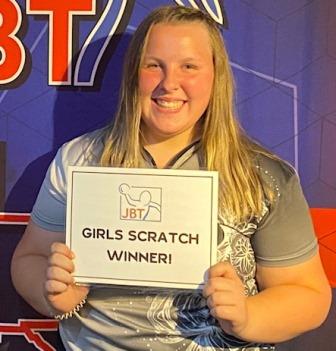 Cerell Cardines, Samuel Winemiller, Mackenzie Theophilus
Cerell Cardines continued a dream June, while Samuel Winemiller capped off a dream day, as champions of the 2022 JBT Arizona Conference Invitational tournament, held at Let It Roll in Phoenix.
Cardines began the month by winning the So Cal Invitational, then followed with a win at the Mojave Invite, the two wins in one season already being a feat only accomplished four times before (Zach Greim, Cortez Schenck, Gage Baker, and Jared Starr-Moncayo). Nobody has won three Invitationals in a season- there's just so many pitfalls in the triple-elimination matchplay format to dodge, it's close to unthinkable. However, Cerell was up to the challenge, eliminating Cesar Padilla in matchplay round eight, earning a bye while Chris Mayes finally ousted Matthew Garrett. Cardines was able to beat Mayes in the finale, securing the win, the 21st of his fantastic JBT career, and another $1,000 scholarship windfall.
Kyler Harden started hot in the handicap division to earn the #1 seed for matchplay, but struggled thereafter, eliminated in round four. In round nine, just three bowlers remained, and in that round Winemiller enjoyed a rare second bye, while fellow Cactus bowler Araceli Hunt eliminated Jacob Ellis in third place to set up an all-Tucson finale. Hunt opened the season with the Desert Open win and was looking to close it with an Invite win, but Samuel remained strong, bowling a solid game to beat Araceli for his first career title and the $1,000 top scholarship prize.
Cesar Padilla finished up a dominant U17 season by beating Josh Abigania for that subdivision win, while Mackenzie Theophilus was strong all day, beating Katelyn Abigania in the girls scratch finale for that win, leaping her onto the all-star team in that category.
Mathew Adragna fired the event's only 300 game en route to the scratch division top seed, and Bryce Nakunz won the day's bowling ball from our fantastic title sponsor Ebonite. Huge thanks to the whole team at Let It Roll for a smooth job hosting this prestigious event, which awarded over $5,800 in scholarships to all skill levels and ages. Top season-long scorers now advance to the Touring Players Championship, our most important event of the year, in July in Las Vegas!
Arizona Invitational- final results and scholarship winners
6/18/2022
Scratch Division
rank
bowler
prize
1
Cerell Cardines
$1,000
2
Chris Mayes
$614
3
Matthew Garrett
$265
4
Cesar Padilla
$365
5
Hunter Mayes
$130
6
Josh Abigania
$175
7
Mathew Adragna
$73
8
Skyler McGowan
$50
9
Keith Ylvisaker
10
DJ Kneifel
11
Andrew Guba
12
Michael Marmolejo
13
Payton Workman
14
Hayden Hull
15
Josh Molloy
$65
16
Brock Bivins
17
Katelyn Abigania
$100
18
Corbin Reid-Hirsch
19
Brendan Bobersky
20
Ben Laffoon
21
Quinten Bell
22
Jason Gootzeit
23
Harper Schmidt
24
Madison Holman
25
Shane Smith
26
CJ Todeschi
27
Allex Zieg
28
Ryan Zent
29
Mackenzie Paige
30
Noel Hernandez
31
Kaitlyn Hammer
32
Thomas Lawrence
x
Mackenzoe Theophilus
$200
Handicap Division
1
Samuel Winemiller
$1,000
2
Araceli Hunt
$515
3
Jacob Ellis
$250
4
Peyton Lee
$333
5
Aiden Ruiz-Jimenez
$150
6
Nathan Bravo
$100
7
Susan Meinhardt
$75
8
Jon Abigania
9
Christian Ortega
$50
10
Cayden Matherly
11
Brockton Scotford
$50
12
Kyler Harden
$60
13
Connor Bell
14
Kamryn Wyman
$50
15
Xaden Todacheenie
16
Kaitlyn Pennington
17
Jaden Workman
18
Madeliene Serafini
19
Ian Silva
20
Bryce Nakunz
21
Conner Pendergrass
22
Keiran Roth
23
Bailey Knight
24
Hayden Fernandez
25
Lindsay Greim
26
Joanna Molloy
27
Dylan Donahue
28
Gage Baker
$150
29
Danielle Fincham
30
Kendall Bollea
$20
31
Jadeyn Mabry
$15
32
Koryn Marquez
33
Cameron Sager
34
Abigail Hunt
35
Alisabeth Rich
36
Jazmyn Meinhardt
37
Paityn Gaines
38
Caden Rose
39
Devin Fincham
40
Alexander Hughes
x
Brandon Rother
$15
High Games
Scratch
Handicap
1
Adragna 300
Matherly 324
2
Ylvisaker 279
P Lee 281
3
Molloy 276
Bravo 279
4
McGowan 269
Ruiz-Jimenez 277
5
H Mayes 267
Harden 268
High Female
1
Theophilus -13*
2
K Abigania -23
3
Pennington -31
4
Cheesman -51
5
Holman -67
6
L Greim -106
7
Bollea -116
8
Clark -126
9
Marquez -132
10
Fincham -153
Qualifying Leaders
Scratch
Handicap
1
Adragna +172
Harden +205
2
H Mayes +126
P Lee +144
3
J Molloy +84
Matherly +106
U-17
1
J Abigania +79
2
Padilla -11*
3
K Abigania -23
4
Rother -32
5
C Bell -46
6
Gootzeit -56
7
Schmidt -61
8
Bollea -116
9
Barczyszyn -122
10
Clark -126
Round Leaders
Scratch
Handicap
1
Molloy
Bravo
2
H Mayes
Bravo
3
Molloy
Harden
4
Molloy
Harden
5
Adragna
Harden
Total Awarded This Event: $5,870
JBT INVITATIONAL TOURNAMENTS
$25,000 in scholarships
MINIMUM GUARANTEED!
Mountain: May 22, 9:30 AM, at Silva Lanes
So Cal: June 5, 9:30 AM, at Winnetka Bowl
Mojave: June 12, 9:30 AM, at Suncoast
Arizona: June 18, 10 AM, at Let It Roll (T of C/ non-C Sunday 6/19)
Pac NW: June 26, 9:30 AM, at Paradise Lanes
ENTRY FEE: $60 scratch, $50 handicap
Includes all scholarships except $2 scholarship brackets in both divisions
Eligibility:
Each event is open to anyone making a top-4 finish in that Conference this season,
OR the top 32 in season-long points in that Conference
Format:
-QUALIFYING: Bowl 5 games across 10 lanes. The top eleven 5-game totals, plus the top 5 season-long point scorers, advance to the triple-elimination finals! (If a top-5 player does not show or chooses to bowl in the opposite division, additional bowlers will be taken to complete a 16-player field)
-FINALS: Bowlers will play TRIPLE elimination match play (keep bowling until you lose 3 times), until a winner is determined
***FORMATS, DATES, AND PRETTY MUCH EVERYTHING SUBJECT TO COVID RESTRICTIONS, WHICH MAY BE VERY DIFFERENT FROM TODAY. STAY POSTED AT OUR WEBSITE & FACEBOOK!
______________________________________________________________________________
GUARANTEED PRIZE FUNDS, each event:
1st-$1,000
2nd- $500
3rd- $250
4th- $125
5th- $100
Additional spots earn scholarships on a 1:6 ratio
PLUS The top 5 point scorers going into each Invite will have Invite winnings augmented to $50 minimum
EACH INVITATIONAL IS WORTH TRIPLE POINTS. THE TOP 20 IN EACH CONFERENCEíS POINTS AFTER THE INVITATIONAL ADVANCE TO THE 2022 TOURING PLAYERS CHAMPIONSHIP IN LAS VEGAS, WITH $2,000 FOR FIRST PLACE!
ALL OTHER JBT RULES APPLY. SEE YOU THERE, DONíT MISS IT!!!