MOJAVE INVITATIONAL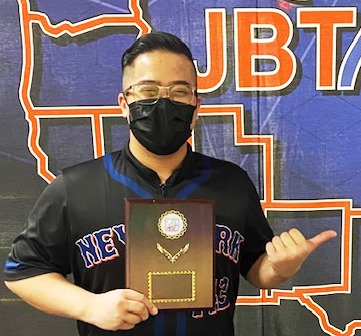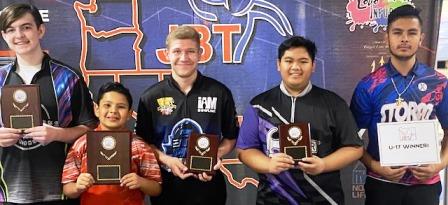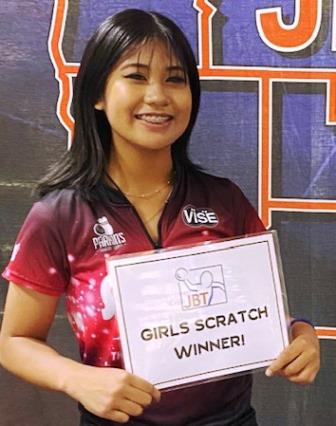 Cerell Cardines, Kieran Roth, Ezekiel Trejo, Austin Nash, Hayden Fernandez, Cesar Padilla, Katelyn Abigania
Cerell Cardines and Ezekiel Trejo earned $1,000 scholarships each as champions of the JBT Mojave Conference Invitational tournament, hosted by Suncoast Bowling Center in Las Vegas.
Bowlers in both divisions bowled qualifying on two very challenging patterns before the top sixteen advances to triple elimination matchplay. In the scratch division, Zach Greim, on a mission to solidify his TPC berth, was the last undefeated bowler, before hitting a rougher patch and finishing in fifth. In round eight, Elias O'Hollaren and Josh Molloy bowed out in third and fourth, leaving Hunter Mayes needing to beat Cerell Cardines twice to take the title in a clash of two of our best.
Cerell stayed in charge to win the first game and the title, and boy how things have turned around for the veteran. After nine consecutive second place finishes, this is his third consecutive title, second consecutive Invitational, and he becomes the 16th bowler in JBT history to join the extremely elite 20-title club!
In the handicap division, #6 seed Trejo excelled in matchplay, starting out 5-0 before two quick losses. He recovered quickly, and gave Kieran Roth his second loss in round eight, earning a bye in the process. He then watched as Roth eliminated Hayden Fernandez, but Hayden's third place finish was enough to seal Mojave Bowler of the Year! This set up a single game final, and in that title game, Ezekiel was able to beat Kieran again, claiming his second career JBT title, $1,000 top prize, and jumping him into the Mojave all-star team!
Cesar Padilla came from behind to beat O'Hollaren for the U17 title, and Katelyn Abigania won Girls Scratch, each picking up a $200 scholarship bonus. Huge thanks to Becky and the team at Suncoast for another great job hosting a big day. Over $5,500 was awarded to qualifiers of all ages and skill levels! Top scorers now advance to the Touring Players Championship to go against the JBT's best for our biggest title. Want in on all of this? Just check out our schedule and come on down!
Mojave Invitational- final results and scholarship winners
6/12/2022
Scratch Division
rank
bowler
prize
1
Cerell Cardines
$1,000
2
Hunter Mayes
$500
3
Elias O'Hollaren
$409
4
Josh Molloy
$150
5
Zach Greim
$132
6
Skyler McGowan
$100
7
Michael Marmolejo
8
Tyler Castronova
$50
9
Cesar Padilla
$215
10
Seth Stovall
11
Katelyn Abigania
$200
12
Brock Bivins
13
Andrew Guba
14
Chris Mayes
$157
15
Avery Domaguin
$145
16
Sebastian Huffman
17
Jamison Kaboli
18
Jason Bardol II
$14
19
DJ Kneifel
20
Emily Cheesman
21
Allex Zieg
22
Quinten Bell
23
Daryus Alo
24
JR Barczyszyn
25
Madison Holman
26
Harper Schmidt
27
Edward Hear
28
Dart Longa
29
Kelcey Aczon-Kawamura
30
Josh Carlson
31
Dominic Montoya
Handicap Division
1
Ezekiel Trejo
$1,000
2
Kieran Roth
$544
3
Hayden Fernandez
$250
4
Austin Nash
$150
5
Gavin Fernandez
$100
6
Lindsay Greim
7
Chase Simmons
$15
8
Cuzack Bove
9
Kendall Bollea
$95
10
Sara Miric
11
Dylan Donahue
$50
12
Nicholas Harnit
13
Bryce Nakunz
14
Keana Ancheta
15
Devin Montoya
16
Connor Bell
$50
17
Gyrus Alo
18
Bailey Knight
19
Ethan Chambers
20
Steve Abarca
21
Gage Baker
$115
22
JT Verde
23
Elijah McMakin
24
Nathan Harnit
25
Brandon Rother
$10
26
Jake King
27
Aiden Ruiz-Jimenez
28
Dylan Leong
29
Noel Gregorich
High Games
Scratch
Handicap
1
H Mayes 259
H Fernandez 260
2
Cardines 259
Trejo 246
3
Z Greim 256
Nash 244
4
Guba 255
H Fernandez 243
5
Padilla 253
Roth 241
High Female
1
Domaguin -2
2
K Abigania -44
3
Cheesman -104
4
Holman -168
5
Bollea -168
6
Daniels -196
7
Greim -198
8
Aczon-Kawamura -210
9
Linares -214
10
Miric -321
Qualifying Leaders
Scratch
Handicap
1
H Mayes +68
Montoya -2
2
Bivins +22
Ni. Harnit -2
3
Marmolejo +21
Nash -18
U-17
1
Padilla +13
2
O'Hollaren -6
3
Stovall -41
4
K Abigania -44
5
Nakunz -127
6
Huffman -147
7
D Alo -153
8
J Abigania -156
9
Barczyszyn -166
10
Schmidt -169
Round Leaders
Scratch
Handicap
1
Guba
Nash
2
Guba
Montoya
3
Domaguin
Nash
4
H Mayes
Nash
5
H Mayes
Montoya
Total Awarded This Event: $5,401
JBT INVITATIONAL TOURNAMENTS
$25,000 in scholarships
MINIMUM GUARANTEED!
Mountain: May 22, 9:30 AM, at Silva Lanes
So Cal: June 5, 9:30 AM, at Winnetka Bowl
Mojave: June 12, 9:30 AM, at Suncoast
Arizona: June 18, 10 AM, at Let It Roll (T of C/ non-C Sunday 6/19)
Pac NW: June 26, 9:30 AM, at Paradise Lanes
ENTRY FEE: $60 scratch, $50 handicap
Includes all scholarships except $2 scholarship brackets in both divisions
Eligibility:
Each event is open to anyone making a top-4 finish in that Conference this season,
OR the top 32 in season-long points in that Conference
Format:
-QUALIFYING: Bowl 5 games across 10 lanes. The top eleven 5-game totals, plus the top 5 season-long point scorers, advance to the triple-elimination finals! (If a top-5 player does not show or chooses to bowl in the opposite division, additional bowlers will be taken to complete a 16-player field)
-FINALS: Bowlers will play TRIPLE elimination match play (keep bowling until you lose 3 times), until a winner is determined
***FORMATS, DATES, AND PRETTY MUCH EVERYTHING SUBJECT TO COVID RESTRICTIONS, WHICH MAY BE VERY DIFFERENT FROM TODAY. STAY POSTED AT OUR WEBSITE & FACEBOOK!
______________________________________________________________________________
GUARANTEED PRIZE FUNDS, each event:
1st-$1,000
2nd- $500
3rd- $250
4th- $125
5th- $100
Additional spots earn scholarships on a 1:6 ratio
PLUS The top 5 point scorers going into each Invite will have Invite winnings augmented to $50 minimum
EACH INVITATIONAL IS WORTH TRIPLE POINTS. THE TOP 20 IN EACH CONFERENCEíS POINTS AFTER THE INVITATIONAL ADVANCE TO THE 2022 TOURING PLAYERS CHAMPIONSHIP IN LAS VEGAS, WITH $2,000 FOR FIRST PLACE!
ALL OTHER JBT RULES APPLY. SEE YOU THERE, DONíT MISS IT!!!