MOUNTAIN INVITATIONAL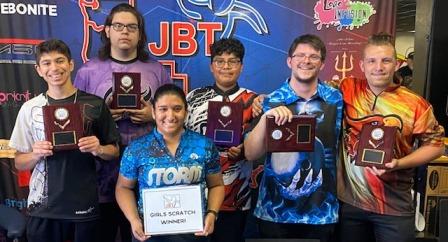 Jonas Romero, Carlos Estrada, Aileen Linares, Xaden Todacheenie, Josh Burnett, Brock Bivins
Josh Burnett and Xaden Todacheenie earned JBT major titles as champions of the 2022 Mountain Invitational, held at Albuquerque's Silva Lanes.
After five qualifying games on two different lane patterns, the top eleven totals joined the top 5 season-long point scorers for exciting triple-elimination matchplay. Harper Schmidt was the last undefeated scratch bowler, with a 5-0 start, but the wheels fell off from there en route to a third place finish. In the same round, Carlos Estrada finished a fine day in fourth, which left Brock Bivins and Josh Burnett still standing, each with only one loss. They split the next two games, leaving the soon-to-be ACU teammates to play one last game for the title. These are situations where Bivins has thrived of late, but Burnett had the answer here, rolling a terrific final game to capture the title, his second overall, and first major, and $1,000 top scholarship prize!
Todacheenie was one of a slew of bowlers that had a shot at handicap Bowler of the Year heading into the Invitational, and picked the perfect time to get hot, qualifying 8th for matchplay and then starting an undefeated streak that never stopped. When he eliminated Alex Thompson in third place in round eight, and Jonas Romero ousted Gerilynn Delegarito at the same time, Jonas was left with the unenviable position of needing to beat Xaden three straight times to swipe the title away. Romero had a fantastic debut weekend, but even he wasn't up to the task of slowing down Todacheenie, who won this game as well to complete the dream day, going a perfect 9-0 in matchplay to win his second career JBT title, first major, $1,000 top prize, and enough points to leapfrog the field into Bowler of the Year!
Delegarito's great day also featured appearances in both subdivision finals. In U-17, Schmidt was able to defeat her for the win- and that win also decided U17 Bowler of the Year in his favor, wow! In Girls Scratch, Aileen Linares finished off her dominant season by beating Gerilynn for her seventh Mountain Conference girls win of the season. Harper and Aileen each picked up $200 for the win, while Delegarito matched that $200 with the dual runners-up. Linares also held off both Bivins and Burnett to earn the scratch Bowler of the Year title, the first female in our 26 year history to earn that honor!
Gigantic thanks to Barbie and her team at Silva for another great job hosting our Tour on a busy weekend! Over $7,000 were awarded on the weekend! The top 20 point scorers now advance to the Touring Players' Championship, featuring the best form all JBT conferences playing for our most important title of the season!
Mountain Invitational- final results and scholarship winners
5/22/2022
Scratch Division
rank
bowler
prize
1
Josh Burnett
$1,000
2
Brock Bivins
$500
3
Harper Schmidt
$480
4
Carlos Estrada
$125
5
Eric Gauna
$100
6
Hunter Mayes
$80
7
Nathan Nguyen
$50
8
Chris Mayes
$15
9
Noah Narbaez
10
Jaxson Garton
11
Cole White
12
Aileen Linares
$250
13
Will Davis
14
Kallista Fritts
15
Josh Molloy
$30
16
Justin Weddige
$50
17
Xavier Kitchens
18
Kara Thompson
19
Joshua Ruehlen
Handicap Division
1
Xaden Todacheenie
$1,000
2
Jonas Romero
$500
3
Alex Thompson
$265
4
Gerilynn Delegarito
$475
5
Tyler Romine
$165
6
Angela Romero
$115
7
Rebecca Wilson
$60
8
Talyn Pacheco
$65
9
Jake Campbell
10
Donovan Romero
11
Ian Silva
12
Gauge Eccher
$60
13
Seth Martinez
$50
14
Robert Lawrence
$50
15
Derick Romero
16
Jordan Wisthoff
17
Kendall Bollea
$15
18
Isaac John
19
Josie Herson
20
Ivan John
21
Tori Berger
$15
22
Zach Sterkel
23
Kloey Kielich
24
Kayden Johnson
25
Land Matthies
26
Chad Schafer
27
Caitlyn White
28
Emma Kitchens
$15
29
Nayt Beery
30
River Disecker
31
Sam Sitler
32
Logan Trujillo
33
Kamryn Kelsey
34
Aiden Ruiz-Jimenez
35
Brekton Crouch
36
Shaiden Raymond
$120
U-17
Girls Scratch
1
Schmidt -21
Delegarito -35
2
Delegarito -35
Linares -36
3
De. Romero -44
Bollea -84
4
Romine -47
A Romero -101
5
Narbaez -59
Ca. White -160
6
Bollea -84
Fritts -173
7
Garton -138
Kileich -184
8
R Lawrence -156
K Thompson -242
9
Kielich -184
Kelsey -297
10
Ruiz-Jimenez -254
Qualifying Leaders
Scratch
Handicap
1
Molloy +103
Romine +78
2
H Mayes +94
Campbell +67
3
Burnett +55
A Thompson +57
Round Leaders
Scratch
Handicap
1
H Mayes
Berger
2
Nguyen
A Thompson
3
Nguyen
A Thompson
4
Burnett 243
A Thompson
5
Molloy
T Romine
Scratch High Game
1
C Mayes 265
2
H Mayes 258
3
Molloy 249
4
C Mayes 245
5
Nguyen 243
Handicap High Game
1
Todacheenie 285
2
A Thompson 275
3
Romine 268
4
Delegarito 262
5
Romine 260
TOTAL AWARDED THIS EVENT: $5,450
JBT INVITATIONAL TOURNAMENTS
$25,000 in scholarships
MINIMUM GUARANTEED!
Mountain: May 22, 9:30 AM, at Silva Lanes
So Cal: June 5, 9:30 AM, at Winnetka Bowl
Mojave: June 12, 9:30 AM, at Suncoast
Arizona: June 18, 9:30 AM, at Let It Roll (T of C/ non-C Sunday 6/19)
Pac NW: June 26, 9:30 AM, at Paradise Lanes
ENTRY FEE: $60 scratch, $50 handicap
Includes all scholarships except $2 scholarship brackets in both divisions
Eligibility:
Each event is open to anyone making a top-4 finish in that Conference this season,
OR the top 32 in season-long points in that Conference
Format:
-QUALIFYING: Bowl 5 games across 10 lanes. The top eleven 5-game totals, plus the top 5 season-long point scorers, advance to the triple-elimination finals! (If a top-5 player does not show or chooses to bowl in the opposite division, additional bowlers will be taken to complete a 16-player field)
-FINALS: Bowlers will play TRIPLE elimination match play (keep bowling until you lose 3 times), until a winner is determined
***FORMATS, DATES, AND PRETTY MUCH EVERYTHING SUBJECT TO COVID RESTRICTIONS, WHICH MAY BE VERY DIFFERENT FROM TODAY. STAY POSTED AT OUR WEBSITE & FACEBOOK!
______________________________________________________________________________
GUARANTEED PRIZE FUNDS, each event:
1st-$1,000
2nd- $500
3rd- $250
4th- $125
5th- $100
Additional spots earn scholarships on a 1:6 ratio
PLUS The top 5 point scorers going into each Invite will have Invite winnings augmented to $50 minimum
EACH INVITATIONAL IS WORTH TRIPLE POINTS. THE TOP 20 IN EACH CONFERENCEíS POINTS AFTER THE INVITATIONAL ADVANCE TO THE 2022 TOURING PLAYERS CHAMPIONSHIP IN LAS VEGAS, WITH $2,000 FOR FIRST PLACE!
ALL OTHER JBT RULES APPLY. SEE YOU THERE, DONíT MISS IT!!!