2022 TOURING PLAYERS CHAMPIONSHIP
click here for all scores click here for sweepers click here for Top Dawg
click here for U17/Girls click here for Elite click here for consolation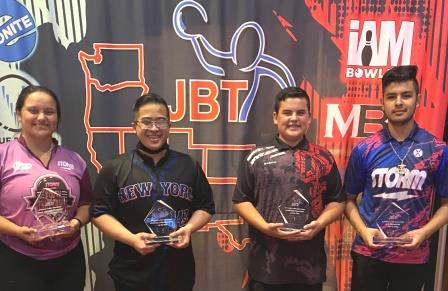 champs Koryn Marquez, Cerell Cardines, Nicholas Harnit, Cesar Padilla
Cerell Cardines, Las Vegas NV, and Nicholas Harnit, Hemet CA, earned the Junior Bowlers Tour's most prestigious titles, wrapping up the 26th season of JBT competition with victories at the Touring Players' Championship, hosted by Strike Zone Bowling Center in Henderson NV.
Three Pac NW bowlers joined Cardines in the scratch division stepladder finals, and ten frames weren't enough to decide round one, as Duncan Whitaker and Bud Sicard tied at 222. Whitaker won the ensuing rolloff 10-9 to advance. Cardines stopped Duncan 229-203 to advance to the finals. It was a dream title match between Cerell, who won three Invitationals to conclude the regular season, and top seed Ashton Yamasaki, who swept Pac NW Invitational weekend, making them unequivocally the two hottest bowlers on tour. The title match, like the rest of the stepladder, was incredibly well-bowled under major pressure on a demanding pattern. In the end, Cardines knocked over one last 10-pin for the 10th frame mark he needed, beating Yamasaki 223-215, finishing off the storybook ending with his 22nd career JBT title and $2,070 scholarship payday, while Portland's Yamasaki added $1,300 to his outstanding JBT season.
We start off every JBT event with a shout of 'make your spares!', and Harnit became a JBT champ by heeding it, starting with a clean game to beat Oregon's Mackenzi Clark 233-217. The next match was an absolute thriller, as another Oregonian, Shelby Unger, got the double she needed in the tenth frame, but then got 7 on the fill to tie Harnit at 200. In the following two-frame rolloff, Nicholas' spare was the difference as he advanced. Top seed James McGough had a fantastic event, getting through ten games of qualifying in sixth place, moving up to the lead after the quarterfinals, and maintaining it in the semifinals. However, Harnit was riding an unstoppable wave of momentum, and came up with another clean game to defeat McGough 227-203, and earn the first title of his JBT career in the biggest way, earning $2,345 through the win and side events.
Koryn Marquez defeated Piper Chalmers for the $400 win as Girls Scratch TPC champion, while Cesar Padilla beat Bud Sicard in a rematch of last year's U17 title match for that crown and $400 bonus. In total, 170 talented qualifiers of all ages and skill levels shared in $22,643 in scholarships! Enormous thanks goes to so many folks for making an event like this possible- Jerry Francomano and the team at Strike Zone for hosting us, Darlene and Ramanda and their staffs at Sunset Station for coordinating our room block and incredible Celebration Dinner, title sponsor Ebonite, and our additional sponsors led by IAM Bowling, Timi and crew at An Octopus' Garden for the Girls flowers, and everyone for attending all season long!
It all starts over again in just a few days, with Desert Open kicking off season 27 of JBT action. Don't miss it!!
| | | | | | | | | | | |
| --- | --- | --- | --- | --- | --- | --- | --- | --- | --- | --- |
| | 2022 TPC- FINAL STANDINGS | | | | | | | | | |
| | 7/31/2022 | | | | | | | | | |
| | | | | | | | | | | |
| | Scratch Division | | | | | | | | | |
| RANK | Bowler | prize | position | thu sweep | fri sweep | girls/u17 | consol. | dawg | brax | elite |
| 1 | Cardines, Cerrell | 2070 | 2000 | | 70 | | | | | |
| 2 | Yamasaki, Ashton | 1300 | 1000 | | 100 | | | | | 200 |
| 3 | Whitaker, Duncan | 700 | 600 | | | | | | | 100 |
| 4 | Sicard, Bud | 890 | 500 | 100 | 40 | 200 | | | | 50 |
| 5 | Guba, Andrew | 750 | 400 | 150 | 200 | | | | | |
| 6 | Adragna, Mathew | 300 | 300 | | | | | | | |
| 7 | Padilla, Cesar | 1037 | 200 | 40 | | 400 | | 40 | 207 | 150 |
| 8 | Kaurin, Mac | 275 | 175 | | | 100 | | | | |
| 9 | Stovall, Seth | 180 | 150 | 30 | | | | | | |
| 10 | Greim, Zach | 250 | 125 | | | | | 125 | | |
| 11 | Abigania, Joshua | 100 | 100 | | | | | | | |
| 12 | Gootzeit, Jason | 220 | 100 | | | | | 75 | 45 | |
| 13 | Orosco, Kyler | 200 | 100 | | 80 | | | 20 | | |
| 14 | McGowan, Skyler | 180 | 100 | | | | | 50 | 30 | |
| 15 | Mayes, Chris | 150 | 100 | | | | | | | 50 |
| 16 | Molloy, Joshua | 189 | 100 | 60 | | | | | 29 | |
| 17 | London, Kenji | 50 | | 20 | | | | 30 | | |
| 18 | Marmolejo, Michael | | | | | | | | | |
| 19 | Kneifel, DJ | 270 | | | | | | | 270 | |
| 20 | Chin, Elijah | | | | | | | | | |
| 21 | Zieg, Allex | | | | | | | | | |
| 22 | Coates, Tyler | | | | | | | | | |
| 23 | Alo, Daryus | 140 | | | 140 | | | | | |
| 24 | Jance, Colt | 144 | | | | | | 100 | 44 | |
| 25 | Mayes, Hunter | | | | | | | | | |
| 26 | Adams, Kyle | | | | | | | | | |
| 27 | Ylvisaker, Keith | 125 | | 125 | | | | | | |
| 28 | Bell, Quinten | | | | | | | | | |
| 29 | O'Hollaren, Elias | 30 | | | 30 | | | | | |
| 30 | Hardman, Liam | 200 | | | | | | 200 | | |
| 31 | Ponzo, Kyle | | | | | | | | | |
| 32 | Holman, Madison | 100 | | | | 100 | | | | |
| 33 | Huffman, Sebastian | 60 | | | 60 | | | | | |
| 34 | Hull, Hayden | 75 | | 75 | | | | | | |
| 35 | Bivins, Brock | | | | | | | | | |
| 36 | Todeschi, CJ | | | | | | | | | |
| 37 | Castronova, Tyler | | | | | | | | | |
| 38 | Pollom, Ricky | | | | | | | | | |
| 39 | Schmidt, Harper | | | | | | | | | |
| 40 | Rosales, Paul | | | | | | | | | |
| 41 | Griffin, JP | 50 | | | 50 | | | | | |
| 42 | Bobersky, Brendan | | | | | | | | | |
| 43 | Garrett, Matthew | | | | | | | | | |
| 44 | Craig, Preston | | | | | | | | | |
| 45 | Reid-Hirsch, Corbin | | | | | | | | | |
| 46 | Linares, Aileen | | | | | | | | | |
| 47 | Weddige, Justin | 340 | | 200 | 140 | | | | | |
| 48 | Fritts, Kallista | | | | | | | | | |
| 49 | Strothman, Michael | | | | | | | | | |
| 50 | Burnett, Joshua | | | | | | | | | |
| 51 | Castillo, Ronnie | | | | | | | | | |
| 52 | Thompson, Kara | 20 | | | 20 | | | | | |
| 53 | Gauna, Eric | | | | | | | | | |
| 54 | Chalmers, Piper | 200 | | | | 200 | | | | |
| 55 | Kwon, DoHoon | | | | | | | | | |
| 56 | Hear, Edward | | | | | | | | | |
| 57 | Hernandez, Noel | | | | | | | | | |
| 58 | Davis, Will | | | | | | | | | |
| 59 | Bardol, Jason II | 100 | | | | | 100 | | | |
| 60 | Lawrence, Thomas | | | | | | | | | |
| 61 | Yamanoha, Adrian | 30 | | | | | 30 | | | |
| 62 | Estrada, Carlos | 60 | | | | | 60 | | | |
| 63 | Holbrook, Jessica | | | | | | | | | |
| 64 | Oester, Ewan | | | | | | | | | |
| 65 | Cheesman, Emily | | | | | | | | | |
| 66 | Stenroos, Julian | | | | | | | | | |
| 67 | Barczyszyn, Jerrad | 40 | | | | | 40 | | | |
| 68 | Hammer, Kaitlyn | | | | | | | | | |
| 69 | Pimentel, Ryland | | | | | | | | | |
| 70 | Smith, Shane | | | | | | | | | |
| 71 | Nguyen, Nathan | | | | | | | | | |
| 72 | White, Cole | | | | | | | | | |
| 73 | Kaboli, Jamison | | | | | | | | | |
| 74 | Snow, Mason | | | | | | | | | |
| 75 | Paige, Mackenzie | | | | | | | | | |
| 76 | Steelmon-Hill, Connor | | | | | | | | | |
| 77 | Montoya, Dominic | 200 | | | | | 200 | | | |
| 78 | Wilcox, Kailee | | | | | | | | | |
| 79 | Carlson, Joshua | | | | | | | | | |
| | | | | | | | | | | |
| | | | | | | | | | | |
| | Handicap Division | | | | | | | | | |
| RANK | Bowler | prize | position | thu sweep | fri sweep | girls/u17 | consol. | dawg | brax | elite |
| 1 | Harnit, Nicholas | 2345 | 2000 | 300 | | | | | 45 | |
| 2 | McGough, James | 1025 | 1000 | | 25 | | | | | |
| 3 | Unger, Shelby | 700 | 600 | | | | | | | 100 |
| 4 | Clark, Mackenzi | 530 | 500 | | | | | | 30 | |
| 5 | Serafini, Madeleine | 400 | 400 | | | | | | | |
| 6 | Wilcox, Kierra | 625 | 300 | | | | | 125 | | 200 |
| 7 | Alo, Gyrus | 200 | 200 | | | | | | | |
| 8 | Dessart, Spencer | 240 | 175 | | 50 | | | | 15 | |
| 9 | Meinhardt, Susan | 185 | 150 | | | | | 20 | 15 | |
| 10 | Trejo, Ezekiel | 125 | 125 | | | | | | | |
| 11 | Roth, Kieran | 130 | 100 | | | | | | 30 | |
| 12 | Lawrence, Robert | 499 | 100 | 95 | 20 | | | | 134 | 150 |
| 13 | Tidball, Nathan | 400 | 100 | | 300 | | | | | |
| 14 | Purugganan, Brent | 120 | 100 | 20 | | | | | | |
| 15 | Miric, Sara | 100 | 100 | | | | | | | |
| 16 | Chalmers, Danny | 150 | 100 | | | | | | | 50 |
| 17 | Pendergrass, Conner | | | | | | | | | |
| 18 | Wills, Toby | 45 | | | | | | | 45 | |
| 19 | Montoya, Devin | | | | | | | | | |
| 20 | Winchell, Logan | 20 | | | 20 | | | | | |
| 21 | Baker, Gage | 20 | | 20 | | | | | | |
| 22 | Fernandez, Gavin | 170 | | 40 | | | | 100 | 30 | |
| 23 | Rother, Brandon | 75 | | | | | | | 75 | |
| 24 | Sham, Caden | 75 | | | | | | 75 | | |
| 25 | Sicard, Mary | 200 | | 200 | | | | | | |
| 26 | Simmons, Chase | 15 | | | | | | | 15 | |
| 27 | Abigania, Jon | | | | | | | | | |
| 28 | McDugle, Alena | 30 | | | | | | | 30 | |
| 29 | Harnit. Nathan | | | | | | | | | |
| 30 | Nash, Austin | | | | | | | | | |
| 31 | Scotford, Brockton | 75 | | 75 | | | | | | |
| 32 | Marquez, Koryn | 565 | | 150 | | 400 | | | 15 | |
| 33 | Torres, Eddie | | | | | | | | | |
| 34 | Wang, Jerry | 80 | | | 80 | | | | | |
| 35 | Abkin, Stephen | 80 | | | | | | 30 | | 50 |
| 36 | Verde, JT | | | | | | | | | |
| 37 | Abarca, Steve | | | | | | | | | |
| 38 | Johnson, Hailey | 180 | | 150 | 30 | | | | | |
| 39 | Bower, Payton | | | | | | | | | |
| 40 | Rowe, Maddie | 15 | | | | | | | 15 | |
| 41 | Hunt, Araceli | | | | | | | | | |
| 42 | Herson, Josie | | | | | | | | | |
| 43 | Lee, Peyton | 45 | | | | | | | 45 | |
| 44 | Nakunz, Bryce | 20 | | | | | | 20 | | |
| 45 | Martinez, Seth | | | | | | | | | |
| 46 | Romero, Derick | | | | | | | | | |
| 47 | Fiel, Ian | | | | | | | | | |
| 48 | Donahue, Dylan | 50 | | 50 | | | | | | |
| 49 | Thompson, Alex | | | | | | | | | |
| 50 | Todacheenie, Xaden | 40 | | | | | | 40 | | |
| 51 | Mabry, Jadeyn | 64 | | | | | | 20 | 44 | |
| 52 | Silva, Ian | | | | | | | | | |
| 53 | Romine, Tyler | | | | | | | | | |
| 54 | Bollea, Kendall | | | | | | | | | |
| 55 | Purugganan, Kaili | 15 | | | | | | | 15 | |
| 56 | Greim, Lindsay | | | | | | | | | |
| 57 | Bell, Connor | | | | | | | | | |
| 58 | Uzzell, Taylinn | | | | | | | | | |
| 59 | Cabanting, Kobe | | | | | | | | | |
| 60 | Curette, Jessica | 50 | | | | | | 50 | | |
| 61 | Fincham, Danielle | | | | | | | | | |
| 62 | Zeutenhorst, Bryan | | | | | | | | | |
| 63 | Ruiz-Jimenez, Aiden | 130 | | | 70 | | | | 60 | |
| 64 | Bove, Cuzack | 55 | | | 40 | | | | 15 | |
| 65 | O'Dell, Kayden | | | | | | | | | |
| 66 | Fernandez, Hayden | 175 | | | 175 | | | | | |
| 67 | Chambers, Nathan | | | | | | | | | |
| 68 | Sicard, Noah | | | | | | | | | |
| 69 | Walters, Jade | | | | | | | | | |
| 70 | Coates, Terrell | | | | | | | | | |
| 71 | Delegarito, Gerilynn | 215 | | | 100 | | 100 | | 15 | |
| 72 | Kielich, Kloey | | | | | | | | | |
| 73 | Schwind, Karson | 250 | | | 20 | | 200 | | 30 | |
| 74 | Knight, Bailey | | | | | | | | | |
| 75 | Wisthoff, Jordan | | | | | | | | | |
| 76 | Harden, Kyler | | | | | | | | | |
| 77 | Winemiller, Samuel | | | | | | | | | |
| 78 | Oller, McKenna | 20 | | | 20 | | | | | |
| 79 | Matherly, Cayden | 370 | | 100 | 60 | | 60 | 150 | | |
| 80 | Hunt, Abigail | 20 | | 20 | | | | | | |
| 81 | McGough, Jacob | | | | | | | | | |
| 82 | Romero, Angela | | | | | | | | | |
| 83 | Wyman, Kamryn | | | | | | | | | |
| 84 | Chambers, Ethan | | | | | | | | | |
| 85 | Orosco, Akayla | | | | | | | | | |
| 86 | Sanchez, Andrew | | | | | | | | | |
| 87 | Ellis, Jacob | 40 | | | | | 40 | | | |
| 88 | Bravo, Nathan | | | | | | | | | |
| 89 | Ortega, Gabriel | 30 | | | | | 30 | | | |
| 90 | Raymond, Shaiden | | | | | | | | | |
| 91 | Tiquia, Jazel | | | | | | | | | |
| x | McNutt, RJ | 200 | | | | | | 200 | | |
| x | McGough, Hannah | 200 | | 25 | 175 | | | | | |
| x | McDugle, Thomas | 125 | | | 125 | | | | | |
| x | Cabanting, Keiden | 60 | | 60 | | | | | | |
| x | Tiquia, Laelah | 25 | | 25 | | | | | | |
TOTAL AWARDED: $22,643
2022 TOURING PLAYERS CHAMPIONSHIP- scores
Scratch TPC semifinals:
2022 TPC- SCRATCH
4 qualify for stepladder
scores below include 30 pin matchplay win bonuses
RANK
Bowler
TOTAL
gm 1
gm 2
gm 3
gm 4
gm 5
gm 6
TOTAL
+ / -
1
Yamasaki, Ashton
3467
288
187
282
233
178
276
4911
711
2
Cardines, Cerrell
3401
289
228
192
226
240
277
4853
653
3
Sicard, Bud
3362
287
307
246
198
201
230
4831
631
4
Whitaker, Duncan
3430
245
206
246
264
278
156
4825
625
5
Guba, Andrew
3403
219
286
206
213
261
210
4798
598
6
Adragna, Mathew
3310
195
257
238
192
266
245
4703
503
7
Padilla, Cesar
3524
219
163
175
207
206
205
4699
499
8
Kaurin, Mac
3444
212
188
273
159
176
169
4621
421
9
Stovall, Seth
3269
228
266
266
260
151
163
4573
403
10
Greim, Zach
3293
171
239
279
170
223
200
4575
375
11
Abigania, Joshua
3331
221
178
205
178
231
230
4574
374
12
Gootzeit, Jason
3292
175
190
169
180
181
205
4392
192
Handicap TPC semifinals:
2022 TPC- HANDICAP
12 qualify for semifinals
scores below include 30 pin matchplay win bonuses
RANK
Bowler
TOTAL
gm 1
gm 2
gm 3
gm 4
gm 5
gm 6
TOTAL
+ / -
1
McGough, James
3478
235
266
251
190
258
234
4912
712
2
Clark, Mackenzi
3410
273
254
233
172
226
269
4837
637
3
Harnit, Nicholas
3365
285
219
243
235
247
193
4787
587
4
Unger, Shelby
3410
203
182
240
269
217
208
4729
529
5
Serafini, Madeleine
3471
165
257
194
198
186
233
4704
504
6
Wilcox, Kierra
3352
237
184
247
243
184
256
4703
503
7
Alo, Gyrus
3414
167
159
189
221
287
261
4698
498
8
Dessart, Spencer
3382
240
197
160
151
240
316
4686
486
9
Meinhardt, Susan
3351
164
262
172
266
217
190
4622
422
10
Trejo, Ezekiel
3361
187
178
269
190
223
199
4607
407
11
Roth, Kieran
3344
187
224
168
224
180
280
4607
407
12
Lawrence, Robert
3335
139
195
181
142
161
158
4311
111
Scratch TPC quarterfinals:
2022 TPC- SCRATCH
12 qualify for semifinals
scores below include 30 pin matchplay win bonuses
RANK
Bowler
TOTAL
gm 11
gm 12
gm 13
gm 14
gm 15
TOTAL
+ / -
1
Padilla, Cesar
2274
236
267
231
267
249
3524
524
2
Yamasaki, Ashton
2366
143
175
258
252
273
3467
467
3
Kaurin, Mac
2177
218
283
256
247
263
3444
444
4
Whitaker, Duncan
2225
171
256
255
320
203
3430
430
5
Guba, Andrew
2206
298
182
278
243
196
3403
403
6
Cardines, Cerrell
2140
288
276
285
176
236
3401
401
7
Sicard, Bud
2184
204
219
265
284
206
3362
362
8
Abigania, Joshua
2137
252
217
171
287
267
3331
331
9
Adragna, Mathew
2115
239
297
194
244
221
3310
310
10
Greim, Zach
2090
254
202
222
278
247
3293
293
11
Gootzeit, Jason
2070
244
308
214
231
225
3292
292
12
Stovall, Seth
2069
177
288
242
226
267
3269
269
13
Orosco, Kyler
2066
288
288
245
186
190
3263
263
14
McGowan, Skyler
2178
186
217
200
223
254
3258
258
15
Mayes, Chris
2181
217
235
191
264
165
3253
253
16
Molloy, Joshua
2151
277
239
185
214
178
3244
244
17
London, Kenji
2026
253
238
226
320
180
3243
243
18
Marmolejo, Michael
2085
231
242
236
197
243
3234
234
19
Kneifel, DJ
2085
276
162
264
256
174
3217
217
20
Chin, Elijah
2059
238
262
224
233
166
3182
182
21
Coates, Tyler
2055
239
206
264
194
220
3158
178
22
Zieg, Allex
2115
148
256
221
189
242
3171
171
23
Alo, Daryus
2102
257
214
264
149
156
3142
142
24
Jance, Colt
1960
309
204
177
277
203
3130
130
25
Mayes, Hunter
2055
217
215
142
288
209
3126
126
26
Adams, Kyle
2084
185
285
171
191
204
3120
120
27
Ylvisaker, Keith
2023
187
201
275
247
171
3104
104
28
Bell, Quinten
1990
216
202
176
249
260
3093
93
29
O'Hollaren, Elias
2012
218
226
199
228
201
3084
84
30
Hardman, Liam
2058
216
225
181
239
143
3062
62
31
Ponzo, Kyle
2074
217
166
162
198
241
3058
58
32
Holman, Madison
1903
209
234
236
228
242
3052
52
33
Huffman, Sebastian
2055
241
146
173
173
264
3052
52
34
Hull, Hayden
1975
168
220
245
234
198
3040
40
35
Bivins, Brock
1967
255
223
182
194
211
3032
32
36
Todeschi, CJ
1919
202
204
248
208
223
3004
4
37
Castronova, Tyler
2069
249
180
163
139
203
3003
3
38
Pollom, Ricky
1997
259
161
251
170
162
3000
0
39
Schmidt, Harper
2004
173
206
233
183
201
3000
0
40
Rosales, Paul
1933
181
202
196
239
240
2991
-9
41
Griffin, JP
1873
235
234
205
243
170
2960
-40
42
Bobersky, Brendan
1997
250
167
167
228
148
2957
-43
43
Garrett, Matthew
1995
222
160
151
216
205
2949
-51
44
Craig, Preston
1873
168
253
189
184
258
2925
-75
45
Reid-Hirsch, Corbin
2035
171
219
166
175
159
2925
-75
46
Linares, Aileen
1873
179
216
259
157
231
2915
-85
47
Weddige, Justin
1920
255
175
162
202
198
2912
-88
48
Fritts, Kallista
1898
231
149
200
203
217
2898
-102
49
Strothman, Michael
1961
124
231
214
179
189
2898
-102
50
Burnett, Joshua
1874
191
202
217
137
252
2873
-127
51
Castillo, Ronnie
1982
198
199
173
188
132
2872
-128
52
Thompson, Kara
1928
179
154
168
187
216
2832
-168
53
Gauna, Eric
1891
189
148
165
153
239
2785
-215
54
Chalmers, Piper
1912
170
142
168
194
169
2755
-245
Handicap TPC quarterfinals:
2022 TPC- HANDICAP
12 qualify for semifinals
scores below include 30 pin matchplay win bonuses
RANK
Bowler
TOTAL
gm 11
gm 12
gm 13
gm 14
gm 15
TOTAL
+ / -
1
McGough, James
2176
263
277
282
267
213
3478
478
2
Serafini, Madeleine
2203
310
235
264
218
241
3471
471
3
Alo, Gyrus
2148
271
222
270
249
254
3414
414
4
Clark, Mackenzi
2232
184
295
211
187
301
3410
410
5
Unger, Shelby
2199
210
270
256
199
276
3410
410
6
Dessart, Spencer
2108
256
231
240
274
273
3382
382
7
Harnit, Nicholas
2146
220
238
258
275
228
3365
365
8
Trejo, Ezekiel
2026
268
276
314
238
239
3361
361
9
Wilcox, Kierra
2304
192
265
161
253
177
3352
352
10
Meinhardt, Susan
2125
254
198
255
258
261
3351
351
11
Roth, Kieran
2035
250
245
292
282
240
3344
344
12
Lawrence, Robert
2203
252
244
293
160
183
3335
335
13
Tidball, Nathan
2120
210
260
253
280
211
3334
334
14
Purugganan, Brent
2124
238
263
254
258
179
3316
316
15
Miric, Sara
2106
259
175
233
283
250
3306
306
16
Chalmers, Danny
2136
235
194
184
284
266
3299
299
17
Pendergrass, Conner
2109
248
211
207
247
257
3279
279
18
Wills, Toby
2107
244
194
294
194
240
3273
273
19
Montoya, Devin
1986
274
265
255
305
187
3272
272
20
Winchell, Logan
2006
250
287
197
264
261
3265
265
21
Baker, Gage
2088
262
215
242
269
187
3263
263
22
Fernandez, Gavin
2106
251
265
216
249
175
3262
262
23
Rother, Brandon
2099
189
179
262
262
271
3262
262
24
Sham, Caden
2081
206
228
238
247
259
3259
259
25
Sicard, Mary
2025
212
258
280
200
276
3251
251
26
Simmons, Chase
2027
171
314
281
197
247
3237
237
27
Abigania, Jon
2128
202
214
247
224
216
3231
231
28
McDugle, Alena
2063
187
216
259
214
271
3210
210
29
Harnit. Nathan
2035
269
282
210
202
210
3208
208
30
Nash, Austin
2069
255
238
229
196
220
3207
207
31
Scotford, Brockton
2007
250
273
211
286
180
3207
207
32
Marquez, Koryn
2098
199
196
290
222
197
3202
202
33
Torres, Eddie
1991
214
256
239
268
232
3200
200
34
Wang, Jerry
2054
211
268
262
249
154
3198
198
35
Abkin, Stephen
2172
156
212
170
249
237
3196
196
36
Verde, JT
2088
269
223
228
192
190
3190
190
37
Abarca, Steve
2064
198
248
205
190
284
3189
189
38
Johnson, Hailey
2105
196
219
198
228
243
3189
189
39
Bower, Payton
2117
225
229
215
194
200
3180
180
40
Rowe, Maddie
2062
178
240
244
206
248
3178
178
41
Hunt, Araceli
2055
252
234
244
191
201
3177
177
42
Herson, Josie
2040
251
214
191
223
251
3170
170
43
Lee, Peyton
1986
244
264
212
261
203
3170
170
44
Nakunz, Bryce
1977
178
281
250
190
273
3149
149
45
Martinez, Seth
2018
181
264
239
244
197
3143
143
46
Romero, Derick
2063
185
207
182
199
304
3140
140
47
Fiel, Ian
2053
148
204
268
241
222
3136
136
48
Donahue, Dylan
1965
237
227
176
254
268
3127
127
49
Thompson, Alex
2021
188
177
208
264
255
3113
113
50
Todacheenie, Xaden
1977
201
178
209
241
295
3101
101
51
Mabry, Jadeyn
2054
217
272
206
187
160
3096
96
52
Silva, Ian
1988
187
201
219
215
282
3092
92
53
Romine, Tyler
1977
217
216
256
189
235
3090
90
54
Bollea, Kendall
1986
289
229
175
217
183
3079
79
55
Purugganan, Kaili
2042
163
177
217
277
173
3049
49
56
Greim, Lindsay
2061
229
144
179
210
223
3046
46
57
Bell, Connor
1981
172
208
284
235
162
3042
42
58
Uzzell, Taylinn
1995
222
190
196
240
199
3042
42
59
Cabanting, Kobe
1996
229
244
191
187
176
3023
23
60
Curette, Jessica
2066
230
181
187
194
160
3018
18
61
Fincham, Danielle
1999
198
206
173
190
242
3008
8
62
Zeutenhorst, Bryan
2030
188
186
145
239
213
3001
1
63
Ruiz-Jimenez, Aiden
2083
175
153
198
173
196
2978
-22
64
Bove, Cuzack
2018
155
178
210
153
228
2942
-58
65
O'Dell, Kayden
1980
211
193
189
178
188
2939
-61
66
Fernandez, Hayden
1977
158
171
254
171
173
2904
-96
Scratch TPC qualifying standings:
2022 TPC- SCRATCH
41 plus 13 exempt qualify for Sunday 9 AM quarterfinals
RANK
BOWLER
ex?
TOTAL
gm 6
gm 7
gm 8
gm 9
gm 10
BLOCK 2
TOTAL
+ / -
1
Yamasaki, Ashton
1104
265
276
237
227
257
1262
2366
366
2
Padilla, Cesar
1014
221
257
269
276
237
1260
2274
274
3
Whitaker, Duncan
1107
235
198
224
252
209
1118
2225
225
4
Guba, Andrew
1072
249
216
184
237
248
1134
2206
206
5
Sicard, Bud
1066
205
270
258
170
215
1118
2184
184
6
Mayes, Chris
x
1142
278
180
197
175
209
1039
2181
181
7
McGowan, Skyler
x
976
247
255
234
187
279
1202
2178
178
8
Kaurin, Mac
x
1060
237
256
210
218
196
1117
2177
177
9
Molloy, Joshua
x
1015
236
248
203
236
213
1136
2151
151
10
Cardines, Cerrell
x
1054
225
248
179
220
214
1086
2140
140
11
Abigania, Joshua
x
973
279
209
247
213
216
1164
2137
137
12
Adragna, Mathew
1060
201
227
213
219
195
1055
2115
115
13
Zieg, Allex
x
1030
204
211
200
222
248
1085
2115