ARIZONA INVITATIONAL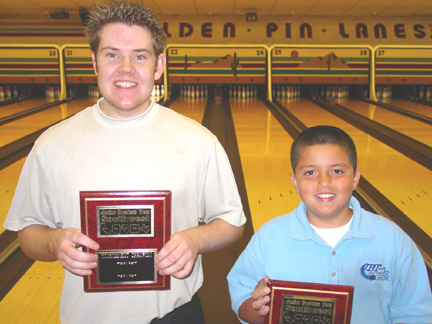 champs Cayson Coyle and Cameron Peck
Cayson Coyle put on an impressive matchplay performance, while Cameron Peck wrapped up the year in major style, with wins at the JBT Arizona Invitational, held at Tucson's Golden Pin Lanes. Each picked up a top prize of a $1,000 scholarship, part of a $9,000 scholarship bonanza awarded at the event.
Elias Ewert put on a clinic in the scratch division's 10-game qualifying round, leading by over 100 pins. However, the triple elimination matchplay format was unkind to him, as he was eliminated in round four in 12th place. After five grueling rounds, Coyle was the only undefeated bowler, while four of the top five seeds remained alive, a rarity in this format for us.
In round six matches, #14 seed and Junior Team USA member Bryanna Caldwell rolled the high game of the tournament in eliminating #4 BJ Baker 287-164. #10 Brandon Allred eliminated 40-time champ and #5 seed Steven Black 217-182, #9 Chris Weyrauch eliminated top seed Kevin Saunders (and ended his B.O.Y. chances) 163-160, and Coyle stayed undefeated by giving Theo Douthit his second loss in a thriller, 276-266.
In round seven Theo enjoyed a much needed bye, while Coyle gave Weyrauch his second loss 225-153, and Caldwell eliminated Allred 200-168. With four bowlers thus remaining, Coyle eliminated Caldwell 223-188, and Douthit eliminated Weyrauch 226-214, setting up a situation where Douthit would have to beat the still-undefeated Coyle three times to win the title.
Theo, who had already won six Arizona JBT titles this season, had locked up Bowler of the Year by reaching the finale, but had quite a roadblock facing him in Cayson, who had already beaten Theo twice. However, Douthit was up to the challenge in games one and two, escaping with close wins to set up a one game title match. This time, though, Coyle was too much, and the Las Vegan cruised to a 221-184 win and his second career JBT victory.
In the handicap division, Joey Longo led the qualifying round, but like Ewert struggled in matchplay, falling to a still-impressive 12th place finish. Nine bowlers were still left alive after five rounds of triple-elimination matchplay, including top-seed Michael Curry, who by outlasting #2 Steven Pizzi wrapped up the handicap Bowler of the Year award. In round six matches, #11 Susan Kurzeka eliminated #10 Taylor King, #5 Brandon Longo eliminated #16 Kevin Millard, #9 Kyle Bridgman eliminated Curry, #7 Peck gave #4 Justin White his first loss, while #3 Cheslea Zemelka sat back and watched it all with a bye.
With six bowlers now left for round seven, Kurzeka eliminated Longo, Bridgman stayed alive by defeating White, and Peck eliminated Zemelka. With four bowlers left, Bridgman again stayed alive, this time giving Peck loss number two by a 190-165 score, while White eliminated Kurzeka 220-216. This left three bowlers, so White earned a bye, while Peck eliminated Bridgman 245-159, setting up a one-game title match against Justin.
White has been "Mr. Invitational" in his JBT career, winning the 2005 Arizona and 2006 California editions, while Cameron has had an eventful year, improving his average by almost FIFTY pins over the season, so it was no surprise that the two put on a really entertaining match. In White's tenth frame, he needed 8-spare-strike to win. His first shot went light and left the 2-4-5, which he spared, so he now needed a strike to tie. Unfortunately for White, his next ball was light as well, and Peck claimed a hard fought 215-213 win, and his fourth career JBT title.
Thanks to everyone at Golden Pin for an absolutely fantastic job hosting the wrapup to the tenth season of Arizona JBT events. 102 qualifiers shared in an enormous $9,405 in scholarships awarded at the event. The top 15 in our season-long points after this event now qualify for the Touring Players Championship, featuring a $2,000 first place scholarship. We'll see everyone else in September if not sooner for the start of season eleven!
Arizona Invitational- final results and optional scholarship winners
6/17/2006
Arizona Conference
Scratch Division
rank
name
city, state
prize
1
Cayson Coyle
Las Vegas, NV
$1,000
2
Theo Douthit
San Diego, CA
$865
3
Chris Weyrauch
Chandler, AZ
$575
4
Bryanna Caldwell
Tucson, AZ
$300
5
Brandon Allred
Las Vegas, NV
$305
6
Kevin Saunders
Goodyear, AZ
$375
7
BJ Baker
Tempe, AZ
$175
8
Steven Black
Phoenix, AZ
$180
9
Christian Jensen
Anthem, AZ
$345
10
Grant Sudbeck
Tucson, AZ
$115
11
Bill Grant
Rio Rancho, NM
$50
12
Elias Ewert
Chandler, AZ
$95
13
Forrest Holland
Escondido, CA
$230
14
Savahna Porter
Yuma, AZ
$50
15
Lanndyn Carnate
Glendale, AZ
$50
16
Tyler Addotta
Tucson, AZ
$50
17
Tom Anderson
Chandler, AZ
$15
18
Jerod Florez
Bosque Farms, NM

19
JR Monteith
Orange, CA
$15
20
Cameron Smith
Santee, CA

21
Labriel Leach
Tucson, AZ

22
Bear Wiltfang
Lake Havasu City, AZ

23
Andy Byer
Albuquerque, NM
$15
24
Jeremy Medina
Santa Fe, NM
$15
25
Justin Medina
Santa Fe, NM

26
David Johnston
Glendale, AZ

27
Greg Garbera
Glendale, AZ

28
Kyle King
Phoenix, AZ

29
Berman Sae-Aee
San Diego, CA

30
Rachelle Davis
Tucson, AZ

31
Brandon Donnelly
Lake Havasu City, AZ
$15
32
Brian Weyrauch
Tempe, AZ

33
Will McPherson
Chandler, AZ
34
Chris Varholdt
Chandler, AZ

35
Randy Cote
Tucson, AZ

36
Taylor Brennan
Prescott, AZ

37
Emily Ornelas
Phoenix, AZ
38
Kevin Schoenfeld
Phoenix, AZ
39
Kris George
Glendale, AZ
40
Amanda Falk
Tucson, AZ

41
Mike Armstrong
Tucson, AZ

42
Zach Simon
Scottsdale, AZ
43
Eric Warren
Phoenix, AZ
44
DeShaun Jefferson
Phoenix, AZ
45
Justin Penwell
Mesa, AZ
46
Mike Kremer
Peoria, AZ
Handicap Division
rank
name
city, state
prize
1
Cameron Peck
Riverside, CA
$1,045
2
Justin White
Phoenix, AZ
$810
3
Kyle Bridgman
Kingman, AZ
$515
4
Susan Kurzeka
Albuquerque, NM
$400
5
Chelsea Zemelka
Phoenix, AZ
$280
6
Brandon Longo
Chandler, AZ
$200
7
Michael Curry
Phoenix, AZ
$250
8
Taylor King
Phoenix, AZ
$115
9
Kevin Millard
Tucson, AZ
$100
10
Steven Pizzi
Avondale, AZ
$200
11
Joshua Shoup
Phoenix, AZ
$50
12
Joey Longo
Chandler, AZ
$95
13
Rebecca Bodinet
Phoenix, AZ
$50
14
Nicholas Lee
Tucson, AZ
$50
15
Allie Ijams
Mission Viejo, CA
$140
16
Kylee Bonneville
Mesa, AZ
$50
17
Robert Atherton
Glendale, AZ

18
Alex Powell
Phoenix, AZ

19
CJ Crowley
Gilbert, AZ

20
David Price
Safford, AZ
$45
21
Samantha Aguilar
Tucson, AZ

22
Drew Stern
Northridge, CA

23
Justin Newkirk
Tucson, AZ

24
Alicia Sullivan
Kingman, AZ

25
Jacob Fischer
Peoria, AZ

26
Bethany Baker
Tempe, AZ

27
Justus Trader
Prescott Valley, AZ
$60
28
Anthony Cruz
San Diego, CA
$15
29
Jessica Reed
Tucson, AZ

30
Matt Payne
Phoenix, AZ
31
Justin Givler
Phoenix, AZ
32
Corbin Farris
Phoenix, AZ
$15
33
Amy Dorsey
Prescott Valley, AZ
$25
34
Jay Prewitt
Chandler, AZ

35
Matt Erb
Phoenix, AZ

36
Michael Kenny
Prescott Valley, AZ
$15
37
Jordan Bell
Phoenix, AZ

38
Rebeca Reguero
Phoenix, AZ
$15
39
Eric Vitzthum
Glendale, AZ

40
Kyle Karpovich
Chandler, AZ

41
Andrew Farris
Phoenix, AZ

42
Daniel Cotten
Glendale, AZ
43
Justin Basom
Lemon Grove, CA
44
Barbara Lampkin
Tucson, AZ
45
Byce Techmer
Tempe, AZ
46
Bryanna Dawson
Tempe, AZ
47
Ashley Belden
Tijeras, NM
48
Tiffany King
Surprise, AZ
$30
49
Kyle Frederick
Chandler, AZ
50
Tim Radney
Mesa, AZ
51
Chris Spinner
Mesa, AZ
52
Courtney Dutton
Chandler, AZ
53
Zach Huglin
Gilbert, AZ
54
Kayla Frederick
Chandler, AZ
55
Alex Ellis
Phoenix, AZ
TOTAL AWARDED THIS EVENT: $9,405