SHAKE, RATTLE, & BOWL at Cliff Castle Casino
presented by Days Inn Camp Verde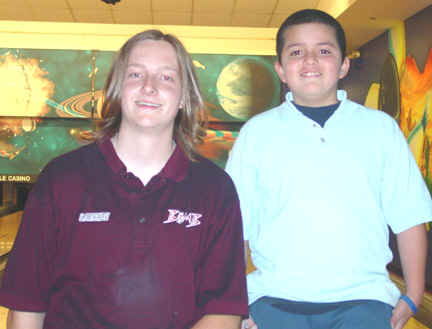 champions Kevin Saunders & Cameron Peck
Kevin Saunders captured his 6th career JBT SW title, while 11 year-old Cameron Peck joined his big brother as JBT SW champions in exciting action at Shake, rattle, and Bowl.
An extremely challenging lane condition put a premium on shotmaking and spares. Combining that with our nail-biting Survivor semifinals format- where the low score on each pair is eliminated after every game- yielded do-or-die shots throughout the center. The only two bowlers to average 200+ after qualifying, Brandon Allred and Christian Jensen, were eliminated in middle rounds.
Eventually the scratch division was whittled down to 8, resulting in head-to-head matches from that point on. The only blowout in that round was Savahna Porter's 234-162 dismissal of Labriel Leach. All the other matches came down to the tenth frame: DeShaun Jefferson defeated Justin Medina 182-161, Kevin Saunders doubled in the tenth to defeat Bill Grant 189-187, and Grant Sudbeck got by Andy Byer 177-175 when Andy failed to strike in his tenth.
In semifinal matches, Saunders dispatched Sudbeck 217-190, while Porter edged Jefferson 179-175, to set up the title match between Kevin and Savahna.
Porter was looking to become the 5th female scratch champion in JBT SW history, while Kevin had already claimed the early points lead by getting this far. Saunders, who had qualified third, seemed to leave a ringing-10 every time he had a chance to put the match away, and compounded that by missing two of them. Porter, however, had uncharacteristic spare trouble of her own, handing the match right back to Saunders. When Kevin got a 9-count on his first ball in the the tenth, he sealed a 183-175 win, and the well-earned title.
The handicap division saw a plethora of younger and lower-average bowlers make the cut, as many of the higher average handicap bowlers were confounded by the conditions. In round of 8 matches, Cameron Peck eliminated David Price, who had two good tournaments and won a bowling ball on the weekend, Wendy Shelton stopped Bethany Baker's fine run, Susan Kurzeka eliminated top-qualifier Zachary Barnard, while Alicia Sullivan got the best of Jewels Giordano.
In the semifinals, Peck was too much for Shelton to handle, as he cruised past Shelton, 215-175. In the other match, Kurzeka just got by Sullivan, 216-205, to advance to her first title match.
Peck, the younger brother of 3-time winner Shane Peck, had found no success in his first few JBT events, but was unfazed by the raucous title match atmosphere, and neither was Kurzeka, as they both got off to good starts. But, just when it looked like Kurzeka was closing the handicap difference, Peck came up with a 2-4-10 split conversion, and rode the momentum the rest of the way to a 254-221 win, and the first title of his JBT SW career.
Thanks once again to Phil Oates and his great staff for hosting a jam-packed event. $3,382 in scholarships was awarded to a 109-bowler field, thanks in large part to a terrific sponsorship from Ms. Tammy Roper and Days Inn Camp Verde, which all our bowlers and parents deeply appreciate.
Shake, Rattle, & Bowl- final results and optional scholarship winners
9/4/2005
Arizona Conference
Survivor Format- 5 game totals listed
Scratch Division
rank
name
city, state
score
prize
1
Kevin Saunders
Goodyear, AZ
m 26
$380
2
Savahna Porter
Yuma, AZ
m 98
$200
3
Grant Sudbeck
Tucson, AZ
m 91
$125
4
DeShaun Jefferson
Phoenix, AZ
m 146
$100
5
Justin Medina
Santa Fe, NM
m 69
$95
6
Bill Grant
Rio Rancho, NM
m 77
$70
7
Labriel Leach
Tucson, AZ
m 119
$60
8
Andy Byer
Albuquerque, NM
m 131
$77
9
Forrest Holland
Vista, CA
m 44
$85
10
Theo Douthit
Phoenix, AZ
m 70
$45
11
Emily Ornelas
Phoenix, AZ
m 80
$20
12
Nathan Panaligan
N. Las Vegas, NV
m 87
$110
13
Chris Weyrauch
Chandler, AZ
m 68

14
Greg Garbera
Glendale, AZ
m 93
$30
15
Kris George
Glendale, AZ
m 125
$15
16
Michael Cripe
San Diego, CA
m 148

17
Brandon Allred
Las Vegas, NV
p 73
$126
18
Christian Jensen
Anthem, AZ
p 59
$119
19
Jeremy Medina
Santa Fe, NM
m 99
$15
20
Eric Rubin
Phoenix, AZ
m 134
$15
21
Paul Haymaker
Maricopa, AZ
m 37
$64
22
Cameron Smith
Santee, CA
m 43
23
Kyle King
Phoenix, AZ
m 83
$15
24
Tiffany Chi
Prescott, AZ
m 129
$15
25
Elias Ewert
Chandler, AZ
m 59

26
Greg Geering
Phoenix, AZ
m 80
27
Sarah Carity
Albuquerque, NM
m 111

28
Kacy Bonifacini
San Diego, CA
m 141

29
Rachelle Davis
Tucson, AZ
m 87
$30
30
BJ Baker
Tempe, AZ
m 90

31
Mike Kremer
Peoria, AZ
m 106
$15
32
Zach Simon
Scottsdale, AZ
m 118

33
Kevin Narciso
Phoenix, AZ
m 154
34
Brian Ballard
San Diego, CA
m 160
35
Joseph Anderson
Avondale, AZ
m 168

36
Bryan Caldwell
Phoenix, AZ
m 181
37
DJ Sloan
Las Vegas, NV
m 182
38
Christina Waldron
Albuquerque, NM
m 183
39
Brandon Donnelly
Lake Havasu City, AZ
m 187
40
Jerod Florez
Bosque Farms, NM
m 191
41
Shane Peck
San Bernardino, CA
m 194
42
Taylor Brennan
Prescott, AZ
m 196
$15
43
Amanda Falk
Tucson, AZ
m 198
44
Nicholas Lee
Tucson, AZ
m 203
45
Bear Wiltfang
Lake Havasu City, AZ
m 204
46
Kevin Schoenfeld
Peoria, AZ
m 208
47
Paul Szymanski
Phoenix, AZ
m 214
48
Robert Majeske
Tucson, AZ
m 215

49
Eric Warren
Phoenix, AZ
m 217
$30
50
Dan Eagy
Phoenix, AZ
m 218
51
Mike Hayes
Tucson, AZ
m 235
52
Rebecca Bodinet
Phoenix, AZ
m 257
53
Brian Weyrauch
Tempe, AZ
m 271
54
Matthew Erb
Phoenix, AZ
m 289
55
Mike Armstrong
Tucson, AZ
m 290
56
Andy Reynoso
Las Vegas, NV
m 296
57
Dan Bodinet
Phoenix, AZ
M 303
58
Rane Lacona
Phoenix, AZ
m 306
59
Steven Black (left)
Phoenix, AZ
m 317
Handicap Division
rank
name
city, state
score
prize
1
Cameron Peck
San Bernardino, CA
m 36
$300
2
Susan Kurzeka
Albuquerque, NM
m 55
$245
3
Alicia Sullivan
Kingman, AZ
p 10
$161
4
Wendy Shelton
Albuquerque, NM
m 63
$80
5
Zachary Barnard
Albuquerque, NM
p 49
$142
6
Jewels Giordano
Phoenix, AZ
m 5
$120
7
Bethany Baker
Tempe, AZ
m 37
$65
8
David Price
Safford, AZ
m 89
$70
9
Mark Mares
Los Lunas, NM
p 15
$122
10
Philip Stephens
Phoenix, AZ
p 7
$30
11
Taylor King
Phoenix, AZ
m 85

12
Francisco Peralta
Tucson, AZ
m 98

13
Kendrick Russell
Queen Creek, AZ
p 15
$20
14
Kyle Bridgman
Kingman, AZ
p 18
$15
15
Austin Mansfield
Albuquerque, NM
m 8
$21
16
Paul Carper
Rio Rancho, NM
m 46
$20
17
Nicole Stanczak
Phoenix, AZ
m 41
$30
18
Courtney Dutton
Chandler, AZ
m 73

19
Chelsea Zemelka
Phoenix, AZ
m 111
$15
20
Holly Emery
Queen Creek, AZ
m 118

21
Kristian Noel Lusterio
San Diego, CA
m 19

22
Brandon Longo
Phoenix, AZ
m 26

23
Janeyl Carper
Rio Rancho, NM
m 35
$35
24
Alesha Pannier
Lake Havasu City, AZ
m 67
25
Michael Curry
Phoenix, AZ
m 18

26
Daniel Cotton
Phoenix, AZ
m 68
$15
27
Tiffany King
Surpise, AZ
m 82
28
Ashley Dale
Albuquerque, NM
m 114

29
Amy Dorsey
Prescott Valley, AZ
m 121

30
Amanda Vadnais
Prescott, AZ
m 126
31
Justin White
Phoenix, AZ
m 127
32
Charlie Elliott
Santa Fe, NM
m 132

33
Steven Pizzi
Avondale, AZ
m 134

34
Kyle Frederick
Chandler, AZ
m 135

35
Jacob Fischer
Peoria, AZ
m 152

36
Alex Ellis
Phoenix, AZ
m 156

37
kayla Frederick
Chandler, AZ
m 165

38
Bo La Londe
Mesa, AZ
m 175

39
Kyle Ruzylo
Oceanside, CA
m 178

40
Michael Kenny
Prescott Valley, AZ
m 178

41
Kylee Bonneville
Mesa, AZ
m 179

42
Matt Payne
Phoenix, AZ
m 182
43
Anthony Tripi
El Paso, TX
m 184
44
Foster Phandanouvong
San Diego, CA
m 190
45
Bryanna Dawson
Chandler, AZ
m 199
46
Cody Mansfield
Albuquerque, NM
m 207
47
Megan Withey
Glendale, AZ
m 236
48
Nick Powanda
San Diego, CA
m 249
49
Joey Longo
Phoenix, AZ
m 523
High Female: Davis 912
Cuts: scratch -148; handicap -118
Storm Ball Winner: David Price
Jr. Gold Qualifier: none
TOTAL AWARDED THIS EVENT: $3,382