AMF DEER VALLEY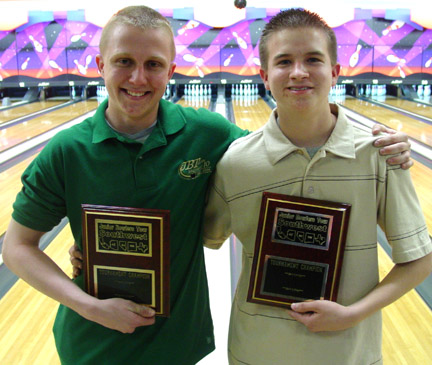 champions Eric Rubin and Jordan Bell
Eric Rubin and Jordan Bell overcame demanding conditions to win their first JBT SW titles in exciting action at AMF Deer Valley Lanes.
The scratch division finals was all Rubin, who jump started his day with a 277 in game six, and won the following two matches to get into the finals. In round one of the stepladder, Rubin defeated Kyle King 233-174. Eric then got by Jerod Florez, 211-178, and followed with a 220-171 win over Lanndyn Carnate to reach the title match.
Top qualifier Kevin Saunders had put on an awesome performance. A very difficult lane condition was put out for this event on purpose (it took only a 180 average to make the first cut- it often takes over 210 on a 'house' pattern), but Kevin made great shots all day, rolling all 8 qualifying games over 200, an impressive accomplishment. However, the title match was a different story, as the determined Rubin got off to another hot start, while Kevin suffered three early open frames. By the time Saunders righted the ship, the deficit was too large, and Rubin cruised to a 226-193 win and a long awaited first career JBT SW win.
In the handicap division, Chelsea Zemelka got by a close round one of the finals with a 223 game that edged Austen Christensen (216) and Brandon Longo (201). In round two Zemelka rolled a 195, but could only watch as Kylee Bonneville struck on his last ball to tie Andrew Farris at 218. Farris, however, won the rolloff easily to advance. Andrew came up big again in the semifinals, rolling a 222 to beat Daniel Cotten (207) and Alex Ellis (187) to reach the title match.
Top seeded Jordan Bell was enjoying easily his best JBT SW event, and maintained the momentum in the title match. A late charge by Jordan wrapped up a 214-191 win, and his first career JBT SW title.
Everyone who finished in the top 5 qualifies for the 2006 JBT SW Arizona Invitational Tournament, the regular season's year end event, featuring a guaranteed minimum $1,000 first place scholarship in each division. Top season-long point scorers also qualify for the 2006 JBT SW Touring Players' Championship, featuring a guaranteed minimum $2,000 first place scholarship per division!
Thanks to Peggy Cianciola and everyone at AMF Deer Valley for another terrific job hosting our Tour. Peggy truly cares about all facets of junior bowling, including our Tour, and it definitely shows. 104 entrants shared in over $2,000 in scholarships awarded. Please continue to help spread the word about the terrific benefits of bowling JBT SW events!
AMF Deer Valley- final results and optional scholarship winners
2/25/2006
Arizona Conference
Scratch Division
rank
name
city, state
score
prize
1
Eric Rubin
Phoenix, AZ
p 59
$260
2
Kevin Saunders
Goodyear, AZ
p 295
$241
3
Lanndyn Carnate
Glendale, AZ
p 199
$131
4
Jerod Florez
Bosque Farms, NM
p 161
$40
5
Kyle King
Phoenix, AZ
p 104
$30
6
Steven Black
Phoenix, AZ
p 44
$40
7
Derek Thurber
Phoenix, AZ
p 38
$51
8
Bill Grant
Rio Rancho, NM
p 24

9
Randy Cote
Tucson, AZ
m 3

10
Mike Ingeman
Phoenix, AZ
m 12

11
Tom Anderson
Chandler, AZ
m 21
$45
12
Chris Davenport
Tucson, AZ
m 26

13
Cameron Smith
Santee, CA
m 41
$30
14
Melissa Del Rio
Tucson, AZ
m 55

15
Nathan Shock
Thornton, CO
m 59
$31
16
Kris George
Glendale, AZ
m 62
$55
17
Dan Delano
Phoenix, AZ
m 115

18
DeShaun Jefferson
Phoenix, AZ
m 125

19
Scott DeHass
Tempe, AZ
m 135

20
David Johnston
Glendale, AZ
m 168

21
Greg Garbera
Glendale, AZ
m 196
$45
22
Michael Cross
Tucson, AZ
m 207

23
Tyler Addotta
Tucson, AZ
m 226
$15
24
Bear Wiltfang
Glendale, AZ
inc card

25
Shane Peck
Riverside, CA
m 103
$45
26
Elias Ewert
Chandler, AZ
m 107

27
Chris Varholdt
Chandler, AZ
m 114

28
Emily Ornelas
Phoenix, AZ
m 125
$21
29
Justin Medina
Santa Fe, NM
m 135

30
BJ Baker
Tempe, AZ
m 139

31
Theo Douthit
San Diego, CA
m 142

32
Bryan Caldwell
Phoenix, AZ
m 145

33
Jeremy Medina
Santa Fe, NM
m 146
34
Zach Simon
Scottsdale, AZ
m 148

35
Dan Bodinet
Phoenix, AZ
m 161

36
Rebekah Gottlieb
Tempe, AZ
m 163

37
Amanda Falk
Tucson, AZ
m 174
38
Steven Sheffey
Glendale, AZ
m 175
39
Taylor Brennan
Prescott, AZ
m 195
40
Miguel Lopez
Peoria, AZ
m 207

41
Dan Eagy
Phoenix, AZ
m 209

42
Mike Kremer
Peoria, AZ
m 216
43
Eric Warren
Phoenix, AZ
m 221
$5
44
Kevin Schoenfeld
Peoria, AZ
m 225
45
Chris Weyrauch
Chandler, AZ
m 239
46
Justin Penwell
Mesa, AZ
m 263
47
Philip Stephens
Phoenix, AZ
m 269
48
Robert Majeske
Tucson, AZ
m 317

Handicap Division
rank
name
city, state
score
prize
1
Jordan Bell
Phoenix, AZ
p 178
$243
2
Andrew Farris
Phoenix, AZ
p 64
$171
3
Alex Ellis
Phoenix, AZ
p 153
$75
4
Daniel Cotten
Glendale, AZ
p 108
$100
5
Kylee Bonneville
Mesa, AZ
p 84
$105
6
Chelsea Zemelka
Phoenix, AZ
p 36
$80
7
Brandon Longo
Phoenix, AZ
p 9
$60
8
Austen Christensen
Avondale, AZ
m 4
$40
9
Michael Kenny
Prescott Valley, AZ
m 9
$10
10
Corbin Farris
Phoenix, AZ
m 30
$73
11
Kevin Millard
Tucson, AZ
m 31
$15
12
Justin White
Phoenix, AZ
m 33

13
Kayla Frederick
Chandler, AZ
m 50

14
Emmanuel Durazo
Phoenix, AZ
m 54
$10
15
Rebecca Bodinet
Phoenix, AZ
m 62
$15
16
Cameron Peck
Riverside, CA
m 64
$35
17
Allie Ijams
Mission Viejo, CA
m 78

18
Tanner Savage
Phoenix, AZ
m 82

19
Nicholas Lee
Tucson, AZ
m 83

20
Justin Newkirk
Tucson, AZ
m 84
$13
21
Bryce Techmer
Phoenix, AZ
m 91
$5
22
Dylan Taylor
Scottsdale, AZ
m 101

23
Chris Webb
Phoenix, AZ
m 103

24
Joshua Shoup
Phoenix, AZ
m 132

25
Larry Gilgur
Cave Creek, AZ
m 132

26
Rane Lacona
Phoenix, AZ
m 136

27
Andrew Harris
Phoenix, AZ
m 137

28
Shawn Thomas
Phoenix, AZ
m 149

29
Linsay Salhoff
Phoenix, AZ
m 6

30
Samantha Aguilar
Tucson, AZ
m 75
31
CJ Crowley
Tempe, AZ
m 79
$15
32
Jay Prewitt
Mesa, AZ
m 79
$30
33
Jenny Cahn
Phoenix, AZ
m 79

34
Rebeca Reguero
Phoenix, AZ
m 88
$15
35
Jacqui Gerchak
Phoenix, AZ
m 88

36
Matt Payne
Phoenix, AZ
m 101

37
Michael Curry
Phoenix, AZ
m 103

38
Bethany Baker
Tempe, AZ
m 107

39
Tiffany King
Surprise, AZ
m 107

40
Chelsea Harris
Phoenix, AZ
m 111

41
Joey Longo
Phoenix, AZ
m 116

42
Michael Aguilar
Phoenix, AZ
m 119
43
Alex Powell
Phoenix, AZ
m 121
44
Bryanna Dawson
Phoenix, AZ
m 138
45
Courtney Dutton
Chandler, AZ
m 152
46
Greg Gloria
Mesa, AZ
m 154
47
Troy Dennis
Phoenix, AZ
m 163
$5
48
Gino Salaverria
Peoria, AZ
m 189
49
Steven Pizzi
Avondale, AZ
m 194
50
Justus Trader
Prescott Valley, AZ
m 211
$5
51
Jason Moore
Phoenix, AZ
m 222
52
Kyle Frederick
Chandler, AZ
m 280
53
Drew Leinberger
Mesa, AZ
m 354
54
Dennan Boscarino
Mesa, AZ
m 478
55
Taylor King
Phoenix, AZ
inc card
Cuts: scratch -102; handicap -74
Ball Winner: Emmanuel Durazo
Jr. Gold Qualifiers: none
TOTAL AWARDED THIS EVENT: $2,095