AMF EAGLE LANES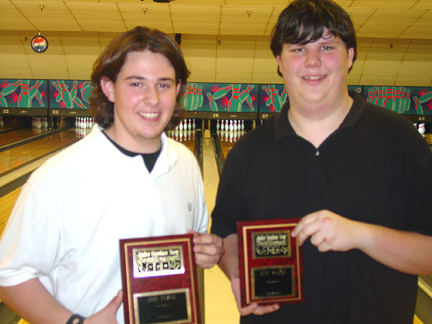 champions JR Monteith & Nick Powanda
On a day where our handicap division took the spotlight, JR Monteith and Nick Powanda claimed their first titles in exciting JBT SW action at AMF Eagle Lanes.
The scratch division, which as a whole struck an awful lot but produced no honor scores, opened its stepladder finals with BJ Baker striking on his fill ball to shut out Theo Douthit, leading to a 248-235 final score. Baker remained red-hot in round two, upending current points leader Brian Carmichael 257-181, but the 14-time title winner suddenly got cold in the semifinals, and Cameron Smith took advantage, defeating BJ 212-170 and advancing to the title match.
Top qualifier JR Monteith had a breakout performance at the Main Event, and continued the momentum by easily qualifying in the top spot. However, an early open had him way behind Smith through six frames. JR responded beautifully though by striking out from there, forcing Cameron to double in his tenth for the win. Smith's first shot struck, but unfortunately for him his next shot left a stubborn 4-pin, giving a stunned Monteith a 226-223 win and his first JBT SW victory.
The handicap division had already two of its most exciting moments in JBT SW history before the stepladder even started. In game two of the tournament, 14-year old Foster Phandanouvong electrified the crowd by stringing 12 strikes in a row for a perfect 300 game, an extreme rarity in the handicap division. Scores remained high all day, and defending handicap division Bowler of the Year Kaitlin Mayall had only done just enough to make the first cut, and found herself well out of the finals cut after game one of the semis. That all changed in twelve amazing frames, as she sent herself into tears and the entire bowling center into a frenzy with a perfect 300 game of her own, at barely 13 years old becoming the youngest bowler (and only the fifth female) in JBT SW history to roll a 300 game. We know fully well that 300 games aren't the rarity they used to be, but sometimes they can still be very special, and that was indeed the case for Foster and Kaitlin today.
Even with all that Kaitlin only qualified 4th for the finals, and had her day come to a sudden end at the hands of Christina Fraijo, who opened round one of the finals with a 252-217 win over Kaitlin.
Fraijo then got red hot and rolled a huge 246 scratch game (283 with handicap)... and got blown out, because Foster was at it again. This time, under the pressure of the finals, he ran the front eleven strikes before a light-hit 7-pin denied him double perfection, but of course advanced him to the semifinal match. In the semifinal, Brenden Lou rolled a fine 223 game, but could only watch as Phandanouvong needed just a mark to advance... and shockingly whiffed a 6-10 spare to the right, giving a disbelieving Lou the 223-221 win.
The whole crowd was desperate to take a breath at this point, but couldn't as top qualifier Nick Powanda engaged in a terrific match with Lou. Brenden, clearly struggling with some hand problems, still fought bravely, but Powanda was too much. The always-smiling Nick finished off Lou 241-220, and really had something to smile about as he claimed his first JBT SW victory.
Everyone who finished in the top 5 qualifies for the 2006 JBT SW So Cal Invitational Tournament, the regular season's year end event, featuring a guaranteed minimum $1,000 first place scholarship in each division. Top season-long point scorers also qualify for the 2006 JBT SW Touring Players' Championship, featuring a guaranteed minimum $2,000 first place scholarship per division!
Big thanks to everyone at AMF Eagle for a terrific job hosting our event, which awarded over $1,600 in scholarships!
AMF Eagle- final results and optional scholarship winners
1/14/2006
Southern California Conference
Scratch Division
rank
name
city, state
score
prize
1
JR Monteith
Yorba Linda, CA
p 365
$200
2
Cameron Smith
Santee, CA
p 240
$118
3
BJ Baker
Tempe, AZ
p 211
$175
4
Brian Carmichael
Moreno Valley, CA
p 214
$60
5
Theo Douthit
San Diego, CA
p 174
$48
6
Chris Weyrauch
Chandler, AZ
p 164
$8
7
Josh Wilson
San Diego, CA
p 158
$23
8
Tom Anderson
Chandler, AZ
p 121

9
Justin Lou
San Diego, CA
p 68
$30
10
Jerod Florez
Bosque Farms, NM
p 46
$33
11
Forrest Holland
Vista, CA
p 35
$30
12
Justin Medina
Santa Fe, NM
p 18

13
April Urban
Rancho Cucamonga, CA
m 61
$10
14
Kenny Taylor
San Diego, CA
m 75

15
Jeremy Medina
Santa Fe, NM
p 2

16
Jason Larcome
Chula Vista, CA
m 7

17
Shane Peck
Riverside, CA
m 18

18
Steven Lanning
San Diego, CA
m 27
19
Brittany Page
Los Angeles, CA
m 27

20
Savannah Guerrero
Riverside, CA
m 30

21
Felicia Mara
Riverside, CA
m 68

22
Richard Brown
Rancho Santa Margarita, CA
m 83

23
Robert Page
Los Angeles, CA
m 90
24
Berman Sae-Aee
San Diego, CA
m 94
25
Matthew Hutchinson
Escondido, CA
m 165
26
Matthew Spive
Escondido, CA
m 184
27
Shelby Shirlock
Lake Elsinore, CA
m 198
28
Andrew Hutchinson
Escondido, CA
m 236
Handicap Division
rank
name
city, state
score
prize
1
Nick Powanda
San Diego, CA
p 295
$215
2
Brenden Lou
San Diego, CA
p 277
$100
3
Foster Phandanouvong
San Diego, CA
p 242
$143
4
Christina Fraijo
Corona, CA
p 173
$55
5
Kaitlin Mayall
Chula Vista, CA
p 221
$40
6
Martika Cabezas
Cathedral City, CA
p 156
$71
7
Jaymes Conn
La Mesa, CA
p 154
$75
8
Kyle Ruzylo
Oceanside, CA
p 153
$30
9
Kelly Ruzylo
Oceanside, CA
p 124
$15
10
Matt Payne
Phoenix, AZ
p 110
$30
11
James Hawkins Jr.
Anaheim, CA
p 86
$16
12
Brian Castelloe
Oceanside, CA
p 53
$15
13
Samantha Meyers
Mission Hills, CA
p 36

14
Jeff Ingram
San Diego, CA
p 32

15
Allie Ijams
Mission Viejo, CA
p 20

16
Jordan Ferrer
Henderson, NV
p 14
$15
17
Shane Lien
San Diego, CA
p 4
$15
18
Andrew Chain
San Diego, CA
m 23
$15
19
Shayne Huuntley
Lake Forest, CA
p 15

20
Brittany Kolatzny
San Diego, CA
p 8
21
Michael May
San Diego, CA
p 6
22
Melissa Long
Long Beach, CA
m 2

23
Tyler Boscarino
Alpine, CA
m 2
24
CJ Schaffer
Oceanside, CA
m 5

25
Suzy Monteith
Yorba Linda, CA
m 22
26
Troy Lien
San Diego, CA
m 24

27
Lana Lycan
San Diego, CA
m 31

28
Anthony Cruz
San Diego, CA
m 38

29
Louis Barragan
Burbank, CA
m 45

30
Justin Basom
San Diego, CA
m 58
31
Drew Stern
Northridge, CA
m 64

32
Mimi Duong
San Diego, CA
m 68
33
Cameron Peck
Riverside, CA
m 79
$15
34
Kristian Lusterio
San Diego, CA
m 91
35
David Bates
San Diego, CA
m 95
PowerBowl games: 157-178-219 (no winners)
Cuts: scratch + 4; handicap +26
Storm Ball Winner: Foster Phandanouvong
Junior Gold Qualifiers: Foster Phandanouvong
TOTAL AWARDED THIS EVENT: $1,620