CA Doubles Classic at FOREST LANES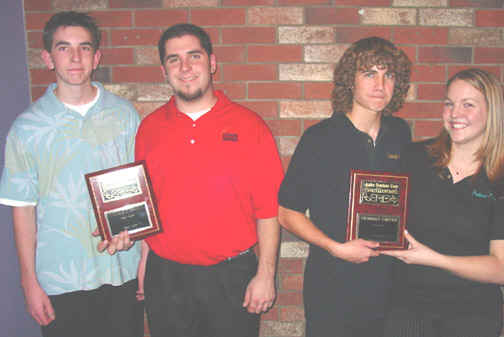 champs Devin Bidwell & Mason Sherman and Shane Lien & Lana Lycan
A jam-packed day of action at Forest Lanes saw two bowlers come through for second titles, and two regulars finally cash in for title number one, in the JBT SW's So Cal Doubles Classic.
After seven grueling team games, the scratch field was reduced to five teams for the stepladder finals. In round one, current JBT superstar Brian Carmichael and former JBT superstar and current PBA member Joel Ricketts fired 11 out of 12 strikes to end the day of the New Mexican team of Jerod Florez and Jeremy Medina, 279-204.
In round two, Carmichael and Ricketts, who needed a 509 score in game 7 just to get into the finals, continued to look dominant, defeating Jared Lawrence and Chris Fritsch 229-183. In the semifinals, though, Brian and Joel were derailed by the adult-junior team of Matt Jones and Robert Mosley, 238-179, advancing them to the title match.
Top qualifiers Devin Bidwell and Mason Sherman had dominated the field most of the day. Sherman averaged 236 for his seven games, while after a bad first game, Bidwell averaged 228 for his last six, easily grabbing the top seed. The title match was well-bowled and dramatic. In the end, a late double from Mason and Devin locked it up, and the 224-205 win was good for Mason's 2nd career JBT SW title, and Devin's first. They split the $350 top scholarship prize.
In the handicap division, the stepladder finals belonged to the San Diego team of Shane Lien and Lana Lycan. They opened the finals by defeating the adult-junior team of Martika Cabezas and Andrea Snyder by a 229-189 margin. In a furious round two comeback, they edged the father-son team of Mike and Jeff Carr, 222-214. Mike also had the high game of the tournament, a big 299 in game one. In the semifinal, Lana and Shane took care of Savannah Guerrero and Jenna Katsura 205-163 to advance to the championship game.
Top-seeded Allie Ijams and Eddie Sayles were one of the few teams to improve in the semifinals, but found themselves struggling against the red-hot Lycan and Lien in the title match. In the end, Shane and Lana came up with a 223-184 win, good for Lana's 2nd career JBT SW title and Shane's first, and they split a $300 scholarship prize.
Every junior who finished in the top 5 qualifies for the 2006 JBT SW So Cal Invitational Tournament, the regular season's year end event, featuring a guaranteed minimum $1,000 first place scholarship in each division. Top season-long point scorers also qualify for the 2006 JBT SW Touring Players' Championship, featuring a guaranteed minimum $2,000 first place scholarship per division!
Big thanks to everyone at Forest Lanes for hosting this great event, and for working with us with the overflow crowd. 69 teams shared in over $3,100 awarded. Over $200,000 will be awarded by JBT SW this season alone- visit us at www.jbtsw.com, and please continue to help spread the word about the terrific benefits of bowling JBT SW events!
So Cal Doubles at Forest Lanes- final results and optional scholarship winners
12/3/2005
Southern California Conference
Scratch Division
rank
name
prize
partner
prize
score
total prize
1
Devin Bidwell
$190
Mason Sherman
$230
p 531
$420
2
Matt Jones
$200
Robert Mosley

p 314
$200
3
Brian Carmichael
$100
Joel Ricketts

p 270
$100
4
Jared Lawrence
$50
Chris Fritsch
$50
p 288
$100
5
Jerod Florez
$30
Jeremy Medina
$30
p 287
$60
6
Sam Hitchcock
$60
Paul Danforth

p 268
$60
7
Theo Douthit
$40
Teddy Turner
p 245
$40
8
Shane Peck
$165
Randy Myers

p 176
$165
9
Justen Danforth

Pat Danforth

p 152
$30
10
Joey Weaver
Derek Taylor

p 139

11
Shelby Shirlock
Ashkan Tahvildaran
p 129
12
Drew Wellnitz
John Wellnitz
p 78

13
Jeff Spiesman

Kevin Valmonte

p 78

14
Cameron Smith
$15
Nate Swiman
p 66
$15
15
Pat Snyder
Doane Cole
p 4
16
Will Jackson
$15
Krischna Howard
m 16
$15
17
David Bingam
Dennis Carter
m 55
18
Forrest Holland
Travis Benelli
m 70
19
Danielle Schilling
Derek Schilling
m 19
20
Christian Jensen
Kris George
m 27
21
Jessica Hetkowski
Christina Waldron
m 36
22
Nick Powanda
John Powanda
m 54
23
Brian Gonzales
Edmund Rede
m 56
24
April Urban
Steve Zimmerman
m 62
25
Chris Weyrauch
Rachel Carr
m 69
26
Dayton Crossley
Jason Eubanks
m 79
27
Robert Page
Brittany Page
m 114
28
JR Monteith
James Maloney
m 127
29
Brian Ballard
Deven DeLuca
m 132
30
Alyse McGinnes
Richard Brown
$15
m 136
$15
31
Felicia Mara
Brian Main
m 136
32
Preston Fukumizu
Marcus Battiest
m 137
33
Jeremy Glover
$15
Leigh Hall
m 167
$15
34
Arisha Piper
Kristyn Lee
m 167
35
Eric Milne
Fred Moynier
m 168
36
Foster Phandanouvong
Jason Wilt
m 176
37
Steven Lanning
Steven Lanning
m 233
Handicap Division
rank
name
prize
name
prize
score
total prize
1
Lana Lycan
$180
Shane Lien
$200
p 39
$380
2
Allie Ijams
$145
Eddie Sayles
$175
p 129
$320
3
Savannah Guerrero
$100
Jenna Katsura

p 112
$100
4
Jeff Carr
$80
Mike Carr
p 107
$80
5
Martika Cabezas
$85
Andrea Snyder

p 55
$85
6
Anthony Cruz
$95
Al Monfort

p 22
$95
7
Paul Ospital
$15
Paul Ospital
p 2
$15
8
Steve Hair

Charlie Hair

m 9

9
Erin Ballard

James Green
m 11

10
Brett Lackerman

Greg Lackerman
m 34

11
Marc Harding
$30
Shayne Huntley
$30
m 44
$60
12
Cameron Peck

Kyle Ruzylo

m 45

13
CJ Schaffer

David Schaffer
m 93

14
Christina Fraijo
Sharon Fraijo
m 109
15
Rudy Powell
Louis Powell Sr.
m 118
16
Kacy Bonifacini
$15
Dave Bonifacini
m 149
$15
17
Drew Stern

Johnny Varela
m 42

18
Samantha Meyers

Warren Meyers
m 69

19
Tyler Boscarino
$15
Michael Boscarino
m 71
20
Michael May

Debra Holland

m 74

21
Calvin Nophalath
Simon Nophalath
m 76
22
Brian Castelloe
Ed Castelloe
m 82
23
Andrew Chain
Mimi Duong

m 98

24
James Hawkins
Wesley Low
$15

m 109
25
Kelly Ruzylo
Alanna Veach
m 144
26
Justin Basom
Troy Lien
m 150

27
Jason Larcome
Ronnie Nophalath
m 158
28
Wishtoyo Vasquez
Dexter Harrod
m 177
29
Kyle DeCew
Jason Warschauer
m 191
30
Kaitlin Mayall
$30
Laura Hardeman
m 191
31
Brittany Kolatzny
Arno Kolatzny
m 202
32
Jaymes Conn
Kevin Conn
m 243
Cuts: scratch minus 3; handicap minus 38
Storm Ball Winner: Justin Basom
TOTAL AWARDED THIS EVENT: $3,179 ($2,375 scholarship, $804 cash adult brackets)