GOLD COAST LANES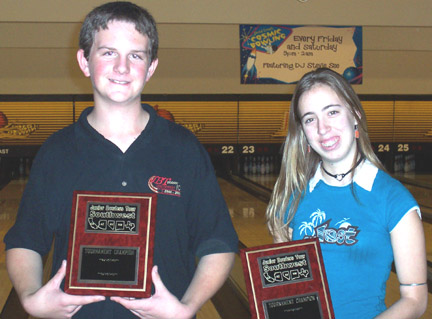 champions Cameron Smith & Alesha Pannier
A handicap division 'graduate' finally came through for a scratch victory, while Alesha Pannier broke through for her first win, in exciting JBT SW action at Gold Coast.
In the scratch division, Arizonan Tom Anderson opened the stepladder finals with a 224-176 win over California's Shane Peck. Anderson then went spare-7 bagger in round two to dispose of local talent Brandon Allred 244-202. Tom then slowed down in the semifinal, and a late string by Cameron Smith made the difference in Smith's 223-188 victory, advancing him to the title match.
Cameron had a tall task ahead of him in facing top-seed Nathan Panaligan. Nathan dominated the field all day long, and was looking to open the 05-06 Mojave Conference season with his third consecutive victory, a feat only achieved once before in JBT SW history (by superstar Andrew Cain, who opened the 98-99 Arizona season with four in a row). However, Cameron didn't back off, as both bowlers traded strikes and 9-counts most of the way. In the tenth, Panaligan's solid-9 forced a 19-count out of Smith. Under great pressure, Smith left a solid-9 himself, spared it, and struck on the fill ball for a 216-214 victory. It was Smith's 2nd title, but first scratch, and after many others tried, he became the first of the bowlers who moved from handicap to scratch this summer to claim a JBT SW victory.
Cameron also earns an extra $50 scholarship from Etonic bowling shoes for wearing their shoes throughout the day. The whole JBT SW, and Cameron especially, would like to thank Etonic again for their generous bonus offer!
Ricky Overton won the opening match of the handicap division finals by defeating Allie Ijams 232-213. In round two it was Overton over Scott Schickling by a 228-177 margin. The semifinal was a different story, however, as Alesha Pannier took over with a 218-206 win, advancing her to her first career title match.
Top qualifier Jordan Katz impressed the crowd all day long with his slow-rolling, big hooking lefty strike ball, but found himself in a dogfight with a determined Pannier, who was easily having her career best JBT event. After a four-bagger to take over, Katz left an unfortunate blowout 7-10 in the ninth frame to give Pannier an opportunity which she would take full advantage of. After a brooklyn strike on her first ball, Alesha's second ball in the tenth was dead flush, and when Jordan could not match her double, Pannier had herself a 235-230 victory and her first JBT SW title.
Everyone who finished in the top 5 qualifies for the 2006 JBT SW Mojave Invitational Tournament, the regular season's year end event, featuring a guaranteed minimum $1,000 first place scholarship in each division. Top season-long point scorers also qualify for the 2006 JBT SW Touring Players' Championship, featuring a guaranteed minimum $2,000 first place scholarship per division!
Thanks to Rich, Janie, and everyone at Gold Coast for being gracious hosts again for our Tour. 80 entrants shared in over $1,700 in scholarships awarded. Please continue to help spread the word about the terrific benefits of bowling JBT SW events!
Gold Coast- final results and optional scholarship winners
11/13/2005
Mojave Conference
Scratch Division
rank
name
city, state
prize
1
Cameron Smith
Santee, CA
$288
2
Nathan Panaligan
N. Las Vegas, NV
$148
3
Tom Anderson
Chandler, AZ
$60
4
Brandon Allred
Las Vegas, NV
$143
5
Shane Peck
Riverside, CA
$40
6
Justin Medina
Santa Fe, NM
$30
7
Forrest Holland
Vista, CA
$15
8
Emily Ornelas
Phoenix, AZ

9
Jerod Florez
Bosque Farms, NM
$8
10
Josh Wilson
Fallbrook, CA
$60
11
Jeremy Medina
Santa Fe, NM
12
Matt Pentz
Lake Havasu City, AZ

13
Steven Slivka
Las Vegas, NV

14
Chris Hooks
Las Vegas, NV

15
Christian Jensen
Anthem, AZ

16
Mike Ellingson
Las Vegas, NV

17
Carl Winder
Las Vegas, NV

18
DJ Sloan
Las Vegas, NV
$8
19
Jeff Mathews
Las Vegas, NV

20
Kevin Houck
Lake Havasu City, AZ

21
Tiffany Chi
Prescott, AZ
$40
22
Brandon Watts
Lake Havasu City, AZ

23
Joe Claspell
Lake Havasu City, AZ

24
Paolo Castro
Las Vegas, NV

25
Bobby Sherman
Las Vegas, NV

26
Ryan McNeel
Las Vegas, NV
27
Chris Kagawa
Las Vegas, NV
28
Andy Reynoso
Las Vegas, NV

29
Taylor McKenrick
Henderson, NV

30
Bobby Majdanski
Las Vegas, NV
31
Ray Griffith
Las Vegas, NV

32
Amanda Voight
Las Vegas, NV
33
Jessica Hetkowski
Las Vegas, NV
Handicap Division
rank
name
city, state
prize
1
Alesha Pannier
Lake Havasu City, AZ
$212
2
Jordan Katz
Las Vegas, NV
$100
3
Ricky Overton
Las Vegas, NV
$70
4
Scott Schickling
Lake Havasu City, AZ
$102
5
Allie Ijams
Mission Viejo, CA
$125
6
Blaine Hellman
Las Vegas, NV
$55
7
Chase Nadeau
Las Vegas, NV
$30
8
Cameron Peck
Riverside, CA
$110
9
Jason Majdanski
Las Vegas, NV

10
Chris Dycus
Las Vegas, NV

11
Zach Hattori
Henderson, NV

12
Darcie Staggs
Bullhead City, AZ
$12
13
Kyle Adams
Las Vegas, NV
$24
14
Merrill Hill
Las Vegas, NV

15
Bryce Hackney
Las Vegas, NV
$15
16
Maddie Pellegrino
Henderson, NV

17
Brandon Davis
Lake Havasu City, AZ
$15
18
Kyle Bridgman
Kingman, AZ
$30
19
Tim Lee
Las Vegas, NV

20
Krysta Nadeau
Las Vegas, NV

21
Paul Heuther
Las Vegas, NV
22
Alyssa Madrid
Las Vegas, NV

23
Hannah Chipman
Las Vegas, NV
$15
24
Sasha Black
Ft Mohave, AZ
25
Mary Sutton
Las Vegas, NV

26
Nick Lamek
Las Vegas, NV

27
Meissa Heuther
Las Vegas, NV

28
Jessica Johnson
Lake Havasu City, AZ
29
Breezy Sharma
Lake Havasu City, AZ

30
Quinn Hill
Las Vegas, NV
31
Aubrey Calabrese
Las Vegas, NV

32
Alicia Sullivan
Kingman, AZ
33
Ryan Yadao
Las Vegas, NV
34
Alex Katz
Las Vegas, NV
35
Sam Cefalu
Las Vegas, NV
36
Logan Kennedy
Las Vegas, NV

37
Ashley Olriksen
Las Vegas, NV
38
Jordan Ferrer
Henderson, NV
39
Michael May
San Diego, CA
40
Summer Martin
Las Vegas, NV
41
Troy Graydon
Las Vegas, NV
42
Melanie Griffith
Las Vegas, NV
$15
43
Sean Adams
Las Vegas, NV
44
Sean Huggins
Las Vegas, NV
$15
45
Sean Harrison
Las Vegas, NV
46
Brandon Ramirez
Las Vegas, NV
47
Casey Bybee
Las Vegas, NV
PowerBowl games: 130-279-228 (no winners)
Cuts: scratch miuns 30; handicap plus 8
Storm Ball Winner: Sean Harrison
Junior Gold Qualifiers: Emily Ornelas,Shane Peck
300 Games: none
TOTAL AWARDED THIS EVENT: $1,790