KEARNY MESA BOWL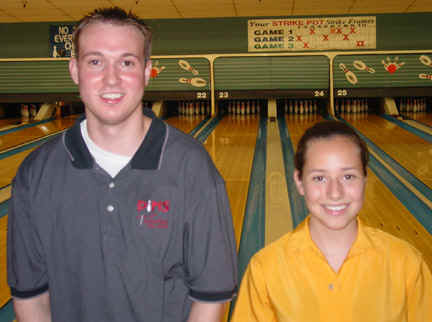 champs Brian Carmichael & Martika Cabezas
Brian Carmichael and Martika Cabezas became the first champions of the JBT SW's 10th season with convincing victories at Kearny Mesa Bowl.
In the scratch division, the scores were predicted to be high and followed suit. Carmichael highlighted the qualifying round with a 290 opener for a +269 5-game set (10th best in our history), while Sam Hitchcock had the high individual effort with a 297. Hitchcock hung on for the #4 seed in the finals, and opened the finals with a 204-172 win over Josh Wilson.
Round two was a thriller, as Mike Fell opened the next match with the front seven, but Hitchock held his own as well. After a costly open, Fell recovered beautifully with a double in the tenth to force Sam to go double-nine for the win. Hitchcock was up to the task, striking out for a 258-256 win. The semifinal round was just as exiting, as 36-time titlist Steven Black was his next challenge. Both bowlers fought the changing lanes, but a 4-9 in Black's 7th frame proved to be the turning point. With a 20-count in the tenth, Sam again was in a pressure situation, needing all 3 strikes to win. And again, Hitchcock was unflappable, flushing three shots for a dramatic 205-204 win.
Top qualifier Carmichael had led every round of the tournament easily, and his +442 8-game total was again good for 10th on our all-time list. However, although he bowled a solid title match game, it was clear to anyone who was watching that Sam wasn't about to go away. With a chance to finally put him away, Brian struck on his first ball in the tenth, but grabbed his second ball and left a 6-count, which he spared, for a 235 finish, setting up a situation for Sam where he needed 8-spare-strike to win. Hitchock's first shot looked good, but bizarre pin action left a 4-5-7, which he could not convert, giving a stunned Carmichael a 235-226 victory, and his 3rd career JBT SW title.
The handicap division finals opened with Jaymes Conn rolling a big 234, good for his first stepladder finals win, over Lana Lycan's 209 game and Tyler Boscarino's 180 effort. Conn was up to the task again in round two, striking in the tenth for a 256 score that just beat out a fine effort by Sean Buranhiran (244), and Nick Powanda (190). An exciting semifinal match saw Conn go back and forth with Martika Cabezas, while Foster Phandanouvong unfortunately struggled to find the range. Cabeza's strike in the tenth, followed by good count, wrapped up a 221 game that was good enough to edge Conn (219) and defeat Foster (187), advancing her to the title match.
Although Cabezas is a newcomer to us, she has won three JST events, so she bowled with the confidence of a champion against top qualifier Mimi Duong. Miss Duong had been at or near the top of the leaderboard throughout the event, and was looking to break through for her first title. Despite a late charge, Martika had built up too much of a lead in the early frames for Mimi to catch up to. The result was a 217-183 victory for Cabezas, good for her first JBT SW title to add to her collection. Miss Duong, the 04-05 JBT SW Female Future Star, did a great job backing up that award with the runner-up finish.
Big thanks to Mr. Johnny Hubble and his fine staff at Kearny Mesa for hosting a wonderful event! Be sure to watch the final matches of both divisions soon at the Videos page of this website!
Kearny Mesa Bowl- final results and optional scholarship winners
8/27/2005
Southern California Conference
Scratch Division
rank
name
city, state
score
prize
1
Brian Carmichael
Moreno Valley, CA
p 442
$200
2
Sam Hitchcock
Lake Forest, CA
p 286
$190
3
Steven Black
Phoenix, AZ
p 344
$260
4
Mike Fell
Moreno Valley, CA
p 296
$70
5
Josh Wilson
Vista, CA
p 230
$65
6
Kacy Bonifacini
San Diego, CA
p 181
$35
7
Nick Reed
Moreno Valley, CA
p 180
$15
8
Forrest Holland
Vista, CA
p 149

9
Jeremy Medina
Santa Fe, NM
p 110

10
Theo Douthit
Tempe, AZ
p 105
11
Justin Medina
Santa Fe, NM
p 101
12
Devin Bidwell
Lake Forest, CA
p 85
13
Shelby Shirlock
Lake Elsinore, CA
p 77

14
Shane Peck
San Bernardino, CA
p 54
$25
15
Michael Cripe
San Diego, CA
p 47
$10
16
Steven Lanning
San Diego, CA
p 47

17
Justin Lou
San Diego, CA
m 32
18
Sarah Carity
Albuquerque, NM
m 104
19
Berman Sae-Aee
San Diego, CA
p 2
20
Julian Bosley
San Diego, CA
m 3
21
Brittany Page
Los Angeles, CA
m 5
$10
22
Brian Ballard
San Diego, CA
m 21
23
Joey Chuo
Thermal, CA
m 28
24
Rachelle Davis
Tucson, AZ
m 38
25
Jason Larcome
Chula Vista, CA
m 39
26
Robert Page
Los Angeles, CA
m 52
27
Steven Sheffey
Scottsdale, AZ
m 54
28
Taylor Brennan
Prescott, AZ
m 63
29
Jessica Hetkowski
Las Vegas, NV
m 63
30
Tom Anderson
Chandler, AZ
m 74
31
Pat Snyder
Covina, CA
m 84
32
Jerod Florez
Bosque Farms, NM
m 89
33
Christina Waldron
Albuquerque, NM
m 98
34
Ramey Rahib
San Diego, CA
m 98
$10
35
Scott Alvarez
Covina, CA
m 178
36
Matthew Spire
Escondido, CA
m 203
Handicap Division
rank
name
city, state
score
prize
1
Martika Cabezas
Cathedral City, CA
p 175
$230
2
Mimi Duong
San Diego, CA
p 242
$178
3
Foster Phandanouvong
San Diego, CA
p 218
$170
4
Jaymes Conn
La Mesa, CA
p 127
$90
5
Nick Powanda
San Diego, CA
p 173
$60
6
Sean Buranhiran
Covina, CA
p 170
$68
7
Tyler Boscarino
Alpine, CA
p 161
$15
8
Lana Lycan
San Diego, CA
p 128
$45
9
Troy Lien
San Diego, CA
p 113
$30
10
Jordan Ferrer
Las Vegas, NV
p 91
$15
11
Andrew Chain
San Diego, CA
p 87
$20
12
Carlos Vasquez
San Diego, CA
p 85

13
Peter Vanhuang
San Diego, CA
p 73
$10
14
Andrew Wellnitz
San Diego, CA
p 70
15
Brittany Kolatzny
San Diego, CA
p 63

16
Edwin Rowe
San Diego, CA
p 55

17
Matthew Schrank
San Diego, CA
p 52

18
Drew Thevenot
San Diego, CA
p 51
$16
19
Michael Lozano
San Diego, CA
p 32
$15
20
Anthony Cruz
San Diego, CA
p 26
$15
21
Shane Lien
San Diego, CA
p 20
22
Michael May
San Diego, CA
p 16
$10
23
Alejandro Romero
San Diego, CA
p 4
24
Todd Udell
Santee, CA
p 1
25
Enrique Curiel
San Diego, CA
m 17
$10
26
James Hawkins Jr.
Anaheim, CA
m 23

27
Cameron Smith
Santee, CA
p 34
$5
28
Brandon Clemons
Corona, CA
p 34
29
Stephanie Udell
Santee, CA
p 30
$10
30
Samantha Meyers
Mission Hills, CA
p 25
31
Charlie Hair
Lake Forest, CA
p 25
32
Jesse Orlowski
San Diego, CA
p 24
33
Lesliann Katsura
San Diego, CA
p 16
34
Tim Ursillo
San Diego, CA
p 15
35
Keith Clemons
San Diego, CA
p 14
36
Kaitlin Mayll
Chula Vista, CA
p 13
$25
37
Melissa Long
Long Beach, CA
p 7
38
Kristian Noel Lusterio
San Diego, CA
p 5
39
Aurelia Correa
San Diego, CA
m 10
40
Savannah Guerrero
Riverside, CA
m 16
41
LJ Cline
San Diego, CA
m 19
42
Brenden Lou
San Diego, CA
m 27
43
Stephen Fuller
Lake Forest, CA
m 33
44
Kyle Ruzylo
Oceanside, CA
m 33
45
Christina Fraijo
Covina, CA
m 47
46
Armando Garcia
San Diego, CA
m 47
47
Lisa Marine
San Diego, CA
m 49
48
Kiana Rowe
San Diego, CA
m 71
49
Wesley Low
Palmdale, CA
m 72
50
Paul Ospital
Crestline, CA
m 93
51
Kyle DeCew
Riverside, CA
m 133
52
Cameron Peck
San Bernardino, CA
m 169
PowerBowl games: 133-190-171 (no winners)
High Female: Kacy Bonifacini 1111, Brittany Page 995
Cuts: scratch plus 8; handicap plus 37
Storm Ball Winner: Brandon Clemons
TOTAL AWARDED THIS EVENT: $1,927