BRC KYRENE LANES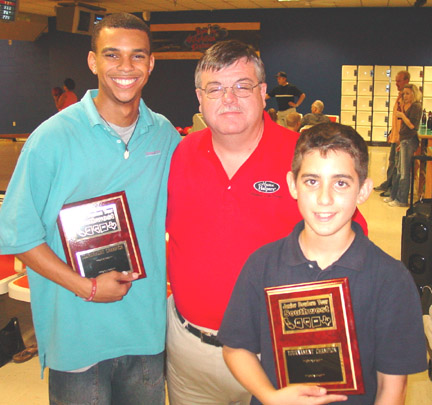 champions Wesley Buckles and Steven Pizzi, with event sponsor Steve Bodinet of Home Helpers-Direct Link
In our largest regular-season singles event in our 10-year, 300+ event history, two bowlers captured their first JBT SW victories in exciting action at BRC Kyrene Lanes.
Steven Black highlighted qualifying action with a 300 game in round four. It was his seventh 300 in JBT play, and the 19th of his junior career, sixth best in YABA/USBC history. It was also the second 300 in JBT SW play this season. All 300 bowlers will split a $2000 scholarship bonus at the end of the season, courtesy of Storm Bowling, our title sponsor.
Meanwhile, Wesley Buckles, a freshman at ASU from Chicago, made big noise of his own in the semis, rolling 299-278-223 for an even 800, only the 7th 800+ series in JBT SW history. Appropriately, those two bowlers would meet in our scratch division title match.
Before the finale, BJ Baker opened up the stepladder finals with a late 5-bagger for a 235 game that defeated Forrest Holland (230) and Mike Kremer (173). In round two, Baker escaped again, this time with a 203 that edged Kevin Saunders (189) and Theo Douthit (199), when Theo, needing 9 pins to tie, suffered a 4-6-10 split to end his day. In the semifinal match, Buckles came on strong with a 236 to defeat Baker (206) and Jeremy Medina (181).
The title match was, unfortunately, anticlimactic, as both bowlers struggled to adjust to the finals pair. Buckles, however, made the better moves, and was able to coast to a 204-141 win, good for his first career JBT SW title.
In the handicap division, Chelsea Zemelka won the opening round of the stepladder finals with a 244 game that beat Richard Stone (166) and Amanda Vadnais (237), when Vadnais only got one of the two strikes she needed in the tenth.
Rakan Najdawi then won round two, as his 228 game was just enough to beat Zemelka's 217, and Cliff Castle champion Jacob Fischer's 213. The semifinal match was a thriller, as after Najdawi finished up at 186, Chris Spinner and Steven Pizzi deadlocked at 218, forcing a two-frame rolloff. Pizzi won the rolloff 37-31, to advance to his first title match.
The title match against top qualifier Zach Huglin was a blowout as well. Although Huglin had lapped the field through eight games, he was unable to maintain that momentum in the title match. A late 4-bagger by Pizzi put the match out of reach, and the 232-143 final result was good for his first career JBT SW title.
Over $200 was raised at the event to support Southern Louisiana USBC Youth. The money will support association tournaments. Amanda Falk, Theo Douthit, and Kevin Saunders all qualified for the 2006 Junior Gold Finals during the event.
Over $3000 was awarded to the 136 bowler field. Big thanks to Steve Bodinet of Home Helpers-Direct Link, our title sponsor. You can find out more about his business at our website, as well as view complete results, and videotapes of the final matches of ALL JBT SW events. Thanks also to the great staff at BRC Kyrene for another great job hosting the 11th event at this fine center.
BRC Kyrene Lanes- final results and optional scholarship winners
9/17/2005
Arizona Conference
Scratch Division
rank
name
city, state
score
prize
1
Wesley Buckles
Chicago, IL
p 362
$275
2
StevenBlack
Phoenix, AZ
p 363
$409
3
BJ Baker
Tempe, AZ
p 170
$165
4
Jeremy Medina
Santa Fe, NM
p 285
$289
5
Theo Douthit
Phoenix, AZ
p 276
$90
6
Kevin Saunders
Goodyear, AZ
p 247
$70
7
Mike Kremer
Peoria, AZ
p 209
$60
8
Forrest Holland
Vista, CA
p 178
$100
9
Steven Sheffey
Glendale, AZ
p 153
$40
10
Andrew Anthony
Tempe, AZ
p 140
$30
11
Eric Rubin
Phoenix, AZ
p 139
$20
12
Kris George
Glendale, AZ
p 125
$24
13
Joseph Anderson
Avondale, AZ
p 112
14
Grant Sudbeck
Tucson, AZ
p 97

15
Lanndyn Carnate
Glendale, AZ
p 90
$15
16
David Johnston
Glendale, AZ
p 76

17
Bryan Caldwell
Glendale, AZ
p 68

18
Dan Bodinet
Phoenix, AZ
p 56
$30
19
Will McPherson
Chandler, AZ
p 54

20
Elias Ewert
Chandler, AZ
p 53

21
Christian Jensen
Anthem, AZ
p 52

22
Jonathan Pletcher
Chandler, AZ
p 51

23
Kevin Schoenfeld
Phoenix, AZ
p 40

24
Amanda Falk
Tucson, AZ
p 26

25
DeShaun Jefferson
Phoenix, AZ
p 23

26
Greg Garbera
Glendale, AZ
p 23
$45
27
Labriel Leach
Tucson, AZ
p 17

28
Micah Leija
Casa Grande, AZ
m 11

29
Zach Simon
Scottsdale, AZ
m 25

30
Justin Medina
Santa Fe, NM
m 42

31
Robert Butler
Phoenix, AZ
m 47
32
Kyle King
Phoenix, AZ
m 68

33
Chris Weyrauch
Chandler, AZ
m 111
34
Rachelle Davis
Tucson, AZ
m 113
$20
35
Brandon Donnelly
Lake Havasu City, AZ
m 118
$30
36
Bear Wiltfang
Lake Havasu City, AZ
m 121
$15
37
Greg Shoaf
Phoenix, AZ
p 4
38
Rane lacona
Phoenix, AZ
m 1
39
Tiffany Chi
Prescott, AZ
m 12
40
Eric Warren
Phoenix, AZ
m 18
$15
41
Mark Mandell
Queen Creek, AZ
m 20
$15
42
Paul Haymaker
Phoenix, AZ
m 20
43
Mike Smith
Chandler, AZ
m 40
44
Chris Davenport
Tucson, AZ
m 44
45
Chris Varholdt
Phoenix, AZ
m 48
46
Greg Geering
Phoenix, AZ
m 53
47
Randy Cote
Tucson, AZ
m 55
48
Robert Smith
Phoenix, AZ
m 60

49
Dan Eagy
Phoenix, AZ
m 64
$24
50
Jerod Florez
Bosque Farms, NM
m 65
$24
51
Emily Ornelas
Phoenix, AZ
m 67
52
Savahna Porter
Yuma, AZ
m 78
53
CJ Lee
Gilbert, AZ
m 85
54
Tom Anderson
Chandler, AZ
m 90
55
Derek Thurber
Phoenix, AZ
m 90
$15
56
Cameron Smith
Santee, CA
m 97
57
Taylor Brennan
Prescott, AZ
m 99
58
Shane Peck
Riverside, CA
m 102
59
Miguel Lopez
Peoria, AZ
m 103
60
Melissa Del Rio
Tucson, AZ
m 105
61
Matthew Erb
Phoenix, AZ
m 114
62
Kyle Smith
Casa Grande, AZ
m 118
63
Robert Majeske
Tucson, AZ
m 121
64
Rebecca Bodinet
Phoenix, AZ
m 121
65
Rebekah Gottlieb
Tempe, AZ
m 127
66
Paul Szymanski
Tempe, AZ
m 136
67
Nicholas Lee
Tucson, AZ
m 178
68
Jeff Millmier
Phoenix, AZ
m 185
69
Gregory Gloria
Phoenix, AZ
m 206
70
Sarah Carity
Albuquerque, NM
m 234
Handicap Division
rank
name
city, state
score
prize
1
Steven Pizzi
Avondale, AZ
p 208
$250
2
Zach Huglin
Gilbert, AZ
p 326
$138
3
Chris Spinner
Phoenix, AZ
p 191
$100
4
Rakan Najdawi
Phoenix, AZ
p 174
$105
5
Jacob Fischer
Peoria, AZ
p 190
$95
6
Chelsea Zemelka
Phoenix, AZ
p 173
$70
7
Amanda Vadnais
Prescott, AZ
p 173
$50
8
Richard Stone
Casa Grande, AZ
p 169
$40
9
Michael Curry
Phoenix, AZ
p 163
$88
10
Alicia Sullivan
Kingman, AZ
p 161
$33
11
Amy Johnson
Phoenix, AZ
p 152
$15
12
Zachary Najdawi
Phoenix, AZ
p 150

13
Rebeca Reguero
Phoenix, AZ
p 142
$30
14
Collin Lynch
Prescott Valley, AZ
p 138

15
Alex Powell
Phoenix, AZ
p 132
$28
16
Gary Vose Jr.
Casa Grande, AZ
p 122

17
Caden Lynch
Prescott Valley, AZ
p 119

18
Kendrick Russell
Queen Creek, AZ
p 106

19
David Price
Safford, AZ
p 106
$45
20
Matt Payne
Phoenix, AZ
p 97

21
Bryanna Dawson
Chandler, AZ
p 96

22
Megan Withey
Glendale, AZ
p 89
$10
23
Kayla Frederick
Chandler, AZ
p 88

24
Tiffany King
Surprise, AZ
p 75

25
Kristen Lee
Tucson, AZ
p 74

26
Kyle Frederick
Chandler, AZ
p 67

27
Brittany Crowell
Glendale, AZ
p 45
$13
28
Max Van Kirk
Prescott Valley, AZ
p 43

29
Sean Balbos
Prescott, AZ
p 43
$30
30
Breezy Sharma
Lake Havasu City, AZ
p 42
31
Justin White
Phoenix, AZ
p 42
32
Daniel Cotten
Peoria, AZ
p 40
$15
33
Joshua Shoup
Phoenix, AZ
p 28

34
Jonathan Crowell
Glendale, AZ
p 5

35
Kylee Bonneville
Mesa, AZ
m 5

36
Blake Kalaf
Phoenix, AZ
p 38

37
Courtney Dutton
Chandler, AZ
p 33

38
Taylor King
Phoenix, AZ
p 33

39
Alex Van Kirk
Prescott Valley, AZ
p 33

40
CJ Crowley
Tempe, AZ
p 22
$90
41
Bethany Baker
Tempe, AZ
p 18

42
Jewels Giordano
Phoenix, AZ
p 14
43
Holly Emery
Queen Creek, AZ
p 3
44
Drew Leinberger
Phoenix, AZ
even
45
Lindsay Salhoff
Glendale, AZ
even
46
Kyle Bridgman
Kingman, AZ
m 6
47
Lauren Zachow
Cave Creek, AZ
m 9
48
Brittany Riggers
Phoenix, AZ
m 14
49
Robert Atherton
Glendale, AZ
m 20
50
Laurra Sitton
Phoenix, AZ
m 24
51
Philip Stephens
Phoenix, AZ
m 24
52
David Stone
Casa Grande, AZ
m 27
53
Cody Vanderweyst
Phoenix, AZ
m 35
54
Emily Alonge
Phoenix, AZ
m 38
55
Nicole Stanczak
Phoenix, AZ
m 49
56
Eric Vitzthum
Phoenix, AZ
m 50
57
Tyler Rhinehart
Phoenix, AZ
m 79
58
Andrew Gibson
Phoenix, AZ
m 103
59
Jordan Vanderweyst
Phoenix, AZ
m 104
60
JT Tatum
Prescott Valley, AZ
m 105
61
Alesha Pannier
Lake Havasu City, AZ
m 114
62
Brandon Longo
Phoenix, AZ
m 116
63
Rachel Redding
Phoenix, AZ
m 117
64
Cameron Peck
Riverside, CA
m 210
65
Joey Longo
Phoenix, AZ
m 218
66
Brian McKenna
Phoenix, AZ
m 279
High Female: Falk 1044; Davis 1015
Cuts: scratch +5; handicap +41
Storm Ball Winner: Alicia Sullivan
Jr. Gold Qualifiers: Amanda Falk, Theo Douthit, Kevin Saunders
TOTAL AWARDED THIS EVENT: $3,067