LUCKY 66 LANES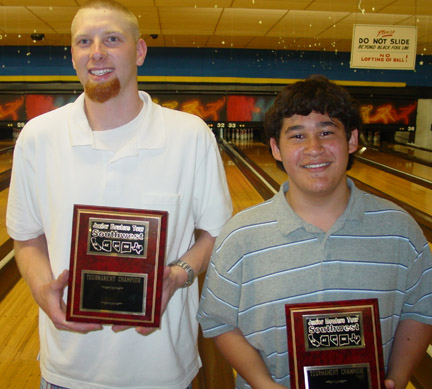 champs William Haverland & Brandon Culp
William Haverland and Brandon Culp tasted victory in exciting JBT SW action at Albuquerque's Lucky 66 Bowl.
The stepladder finals were dominated by BJ Baker until the title match. He won round with a 236-217 victory over Stephen Gaucin. Baker than followed with a 255-194 win over Geoffrey Young, and got by Jeremy Medina 225-214 to reach the title match.
Haverland had yet another dominant performance in his cameo appearances with us, and wanted to avenge some recent mediocre title match performances. He did that and then some, blasting ten strikes in s 278-225 romp over Baker, good for his third career JBT tile.
The handicap division finals opened with Jordan Oppenheim rolling a big 269, and he needed every bit of it to get past Kyle Pearce (259) and Michael Hinojosa (198). Oppenheim then rolled on in round two with a 226 to beat Zachary Barnard (211) and Paul Carper (199). Another close match again went in Jordan's favor in the semifinal, with his 235 just getting by DeeDee Harvey (233) and Bethany Baker (176).
Top seed Brandon Culp put a quick stop to Oppenheim's run with a fast start that he didn't look back from. The 253-183 final score was plenty good for Culp to capture a long-awaited first career JBT title.
Everyone who finished in the top 5 qualifies for the 2006 JBT SW NM-TX Invitational Tournament, the regular season's year end event, featuring a guaranteed minimum $1,000 first place scholarship in each division. Top season-long point scorers also qualify for the 2006 JBT SW Touring Players' Championship, featuring a guaranteed minimum $2,000 first place scholarship per division!
Thanks to Kelly Reidl and everyone at Lucky 66 for a great weekend at their center! Big thanks also to the many folks who donated to the weekend's raffles: John Young's Pro Shop, Paul Yoder's Pro Shop, Sue Ribble, and Kelly Riedl. 85 entrants shared in over $1,700 in scholarships awarded. Please continue to help spread the word about the terrific benefits of bowling JBT SW events!
Lucky 66 Saturday- final results and optional scholarship winners
5/13/2006
New Mexico-Texas Conference
Scratch Division
rank
name
city, state
score
prize
1
William Haverland
Round Rock, TX
p 349
$300
2
BJ Baker
Tempe, AZ
p 224
$118
3
Jeremy Medina
Santa Fe, NM
p 322
$136
4
Geoffrey Young
Denton, TX
p 284
$55
5
Stephen Gaucin
El Paso, TX
p 236
$55
6
Sam Cuevas
Lubbock, TX
p 152
$8
7
Andy Byer
Albuquerque, NM
p 143
$8
8
Brian Collier
Lubbock, TX
p 135
$15
9
Christina Waldron
Albuquerque, NM
p 25
$10
10
Jerod Florez
Bosque Farms, NM
p 14

11
Jarrad Espinoza
Albuquerque, NM
p 9

12
Bill Grant
Rio Rancho, NM
m 8

13
Chris Johnson
El Paso, TX
m 30

14
Justin Medina
Santa Fe, NM
m 52

15
Carlos Mendez
El Paso, TX
m 63
16
Dan Romero
Santa Fe, NM
m 85

17
Josh Arceo
Albuquerque, NM
m 89

18
William Entsminger
El Paso, TX
m 144
19
BJ Eichensehr
El Paso, TX
m 247
Handicap Division
rank
name
city, state
score
prize
1
Brandon Culp
El Paso, TX
p 241
$234
2
Jordan Oppenheim
Rio Rancho, NM
p 160
$100
3
Dee Dee Harvey
Las Cruces, NM
p 238
$94
4
Bethany Baker
Tempe, AZ
p 228
$90
5
Zachary Barnard
Albuquerque, NM
p 210
$50
6
Paul Carper
Rio Rancho, NM
p 203
$59
7
Kyle Pearce
Espanola, NM
p 179
$60
8
Michael Hinojosa
Las Cruces, NM
p 169
$40
9
Justin White
Phoenix, AZ
p 150
$39
10
Brian Silva
Albuquerque, NM
p 141

11
Janeyl; Carper
Rio Rancho, NM
p 139
$31
12
Kirsten Kelley
Amarillo, TX
p 129
$15
13
Blake Brown
Albuquerque, NM
p 128

14
Eric Kear
Albuquerque, NM
p 121
$15
15
Tevynn Laws
Albuquerque, NM
p 103

16
Charlie Elliott
Santa Fe, NM
p 97

17
Asley Belden
Tijeras, NM
p 92
$30
18
Jacob Sanchez
Albuquerque, NM
p 92

19
Kyla Casaus
Roswell, NM
p 87

20
Christa Harvey
Las Cruces, NM
p 73
$15
21
JJ Johnson
Hobbs, NM
p 60

22
Jo Jo Griego
Albuquerque, NM
p 54

23
Jamie Tillman
Hobbs, NM
p 48

24
Amanda Johnson
Rio Rancho, NM
p 47
$15
25
Mark Mares
Los Lunas, NM
p 46

26
Sabrina Vargas
Albuquerque, NM
p 44
$15
27
Rachel Thompson
Albuquerque, NM
p 42
$15
28
Eddie Carrion
Albuquerque, NM
p 32

29
William Yoder
Albuquerque, NM
p 31
$30
30
Andrew Esparza
El Paso, TX
p 26

31
Jordan Spam
Rio Rancho, NM
p 25
32
Heather Wilson
Albuquerque, NM
p 7

33
Susan Kurzeka
Albuquerque, NM
m 25
$75
34
Eric Sanford
Santa Fe, NM
m 46

35
Nathan Hughes
San Jose, NM
p 13

36
Jeremy Baca
Albuquerque, NM
p 12

37
Jessica Palma
Albuquerque, NM
p 1

38
Bailey McFarland
El Paso, TX
even

39
Thomas Gutierrez
Albuquerque, NM
m 9

40
Austin Mansfield
Albuquerque, NM
m 9

41
Justin Silva
Albuquerque, NM
m 10
$15
42
Debbie Jarzemba
Santa Fe, NM
m 12
43
Krista Casaus
Roswell, NM
m 18
44
Mike Romero
Santa Fe, NM
m 20
45
Ryan Scheer
Rio Rancho, NM
m 27
46
Jamison Spam
Rio Rancho, NM
m 27
47
Darnelle Spears
El Paso, TX
m 34
48
Kyla Collier
Amarillo, TX
m 35
49
Jeff Tillman
Hobbs, NM
m 45
50
Erin Kelley
Albuquerque, NM
m 60
$15
51
Angelo Espinoza
Albuquerque, NM
m 61
52
Tanner Palmer
Amarillo, TX
m 62
53
Josh Brown
Albuquerque, NM
m 63
54
Wendy Shelton
Albuquerque, NM
m 63
55
Sophie Diaz
Santa Fe, NM
m 65
56
Kara Casuas
Roswell, NM
m 68

57
Amanda Jarzemba
Santa Fe, NM
m 69
58
Anthony Tripi
El Paso, TX
m 69
59
Kalani Kaula
Albuquerque, NM
m 86
60
Mike Santana
Albuquerque, NM
m 86
61
Nick Hernandez
Silver City, NM
m 87
62
Kelley Smith
Albuquerque, NM
m 90
63
Heaven Pajala
Albuquerque, NM
m 90
64
Sara Vargas
Albuquerque, NM
m 141
65
Olivia Silva
Albuquerque, NM
dnf
Cuts: scratch +11, handicap +9
Ball Winner: Paul Carper
TOTAL AWARDED THIS EVENT: $1,791