AMF McRAY LANES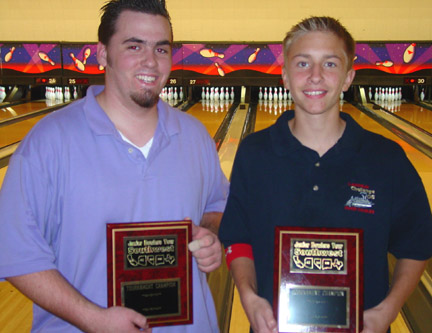 champions Theo Douthit & Justin Newkirk
A rare double repeat of champions highlighted an exciting day of JBT SW action at AMF McRay Lanes.
Always steady Kevin Saunders opened up the stepladder finals of the scratch division with a192-135 win over Scott DeHass, who was making his first top-5 appearance in quite a while. In round two, Douthit took care of Saunders, 214-200, and followed with a 226-181 win over 'cool points' leader DeShaun Jefferson to advance to the title match.
Top qualifier Kyle King was looking to become the first of many scratch division 'graduates' from the handicap division to win a JBT SW event, and the 13-year old remained tied with Douthit through six frames. However, the veteran southpaw came up with the bigger finish, and his 257-215 win was good for his 3rd title of the season, and 6th of his JBT SW career.
The handicap division stepladder opened with Brandon Longo rolling a 229 game to defeat fine efforts from Kayla Frederick (222) and Blake Kalaf (192). Longo rolled on in round two, and his 192 was enough to defeat Austen Christensen's 170, and Kylee Bonneville's 164. Longo then rebounded with a 235 to beat Michael Curry (197) and Justus Trader (196), advancing him to his first title match.
Top qualifier Justin Newkirk blew away the field at Deer Valley, and despite a steep re-rating, duplicated the feat at McRay. He remained in control the entire title match as well, and cruised to his second consecutive victory with a 254-206 decision over Longo.
Everyone who finished in the top 5 qualifies for the 2006 JBT SW Arizona Invitational Tournament, the regular season's year end event, featuring a guaranteed minimum $1,000 first place scholarship in each division. Top season-long point scorers also qualify for the 2006 JBT SW Touring Players' Championship, featuring a guaranteed minimum $2,000 first place scholarship per division!
Thanks to Dave Ensrud and everyone at McRay for being gracious hosts for this event. 104 entrants shared in over $1,900 in scholarships awarded. Please continue to help spread the word about the terrific benefits of bowling JBT SW events!
AMF McRay Lanes- final results and optional scholarship winners
11/12/2005
Arizona Conference
Scratch Division
rank
name
city, state
score
prize
1
Theo Douthit
Phoenix, AZ
p 151
$230
2
Kyle King
Phoenix, AZ
p 202
$100
3
DeShaun Jefferson
Phoenix, AZ
p 173
$84
4
Kevin Saunders
Goodyear, AZ
p 143
$165
5
Scott DeHass
Tempe, AZ
p 136
$40
6
Rachelle Davis
Tucson, AZ
p 113
$59
7
Forrest Holland
Vista, CA
p 108
$79
8
Christian Jensen
Anthem, AZ
p 108
$20
9
Tom Anderson
Chandler, AZ
p 105
10
Jeremy Medina
Santa Fe, NM
p 104
$55
11
Jonathan Pletcher
Phoenix, AZ
p 102

12
Elias Ewert
Chandler, AZ
p 91
$10
13
Zach Simon
Scottsdale, AZ
p 79
$29
14
Randy Cote
Tucson, AZ
p 75
$10
15
Greg Shoaf
Phoenix, AZ
p 58

16
Mike Kremer
Peoria, AZ
p 52
$30
17
Amanda Falk
Tucson, AZ
p 9

18
Mike Smith
Chandler, AZ
m 14

19
Chris Weyrauch
Chandler, AZ
m 16

20
Nathan Shock
Thornton, CO
m 24

21
Kevin Schoenfeld
Phoenix, AZ
m 25
$15
22
Taylor Brennan
Prescott, AZ
m 49
$10
23
Savahna Porter
Yuma, AZ
m 53

24
Melissa Del Rio
Tucson, AZ
m 74

25
Eric Warren
Phoenix, AZ
m 22

26
Brian Weyrauch
Tempe, AZ
m 26
$30
27
Bear Wiltfang
Glendale, AZ
m 31
$44
28
Miguel Lopez
Peoria, AZ
m 37

29
Matthew Erb
Phoenix, AZ
m 38

30
Robert Majeske
Tucson, AZ
m 42

31
Kyle Smith
Casa Grande, AZ
m 72
32
Justin Penwell
Tucson, AZ
m 87

33
Greg Garbera
Glendale, AZ
m 90
$15
34
Chris McHenry
Tucson, AZ
m 105
$10
35
Bryan Caldwell
Glendale, AZ
m 106

36
Jerod Florez
Bosque Farms, NM
m 120

37
Megan Withey
Glendale, AZ
m 123
38
Justin Medina
Santa Fe, NM
m 125
39
Rane Lacona
Phoenix, AZ
m 135
40
David Johnston
Glendale, AZ
m 143

41
Chris Varholdt
Phoenix, AZ
m 148

42
Emily Ornelas
Phoenix, AZ
m 158
43
Scott Millard
Tucson, AZ
m 159
44
Rebekah Gottlieb
Tempe, AZ
m 160
45
Shane Peck
Riverside, CA
m 197
46
Philip Stephens
Phoenix, AZ
m 206
47
Kris George
Glendale, AZ
m 250
48
Robert Smith
Phoenix, AZ
m 277

Handicap Division
rank
name
city, state
score
prize
1
Justin Newkirk
Tucson, AZ
p 319
$251
2
Brandon Longo
Phoenix, AZ
p 121
$106
3
Justus Trader
Prescott Valley, AZ
p 156
$75
4
Michael Curry
Phoenix, AZ
p 148
$96
5
Kylee Bonneville
Mesa, AZ
p 147
$65
6
Austen Christensen
Avondale, AZ
p 146
$61
7
Kayla Frederick
Chandler, AZ
p 114
$30
8
Blake Kalaf
Chandler, AZ
p 114
$20
9
Ty Prewitt
Chandler, AZ
p 105
$20
10
Daniel Cotten
Glendale, AZ
p 85

11
Steven Pizzi
Avondale, AZ
p 85

12
Tim Radney
Mesa, AZ
p 83
$15
13
Greg Gloria
Phoenix, AZ
p 72
$30
14
Nicholas Lee
Tucson, AZ
p 71

15
Joshua Shoup
Chandler, AZ
p 44

16
Justin White
Phoenix, AZ
p 43
$55
17
Tyler Rhinehart
Queen Creek, AZ
p 40

18
Bryanna Dawson
Chandler, AZ
p 38

19
Bethany Baker
Tempe, AZ
p 35
$15
20
Randy Blunck
Phoenix, AZ
p 34

21
Chelsea Zemelka
Phoenix, AZ
p 19
$15
22
Matt Payne
Phoenix, AZ
p 16

23
Bryce Techmer
Chandler, AZ
p 3

24
Zach Huglin
Gilbert, AZ
m 9

25
Drew Leinberger
Tempe, AZ
m 23

26
Michael May
San Diego, CA
m 30
$30
27
John Munoz
Phoenix, AZ
m 34

28
Alex Powell
Phoenix, AZ
m 53

29
Rebeca Reguero
Phoenix, AZ
m 64

30
Kaitlin Mayall
Chula Vista, CA
m 13
$15
31
Kayla Goad
Phoenix, AZ
m 20

32
Andrew Gin
Gilbert, AZ
m 20

33
CJ Crowely
Mesa, AZ
m 24
$15
34
Brittany RIggers
Phoenix, AZ
m 24
$10
35
Tiffany King
Surprise, AZ
m 27
$6
36
Keaton Quade
Phoenix, AZ
m 30

37
Ben Stalker
Phoenix, AZ
m 40

38
Jay Prewitt
Phoenix, AZ
m 42
$30
39
Courtney Dutton
Chandler, AZ
m 43

40
Jerry Rush
Mesa, AZ
m 46

41
Derek Hurley
Mesa, AZ
m 54

42
Chris Spinner
Phoenix, AZ
m 58
43
Chris Huglin
Gilbert, AZ
m 68
44
Caden Lynch
Prescott Valley, AZ
m 75
45
Cameron Peck
Riverside, CA
m 75
46
Jeff Goad
Phoenix, AZ
m 78
47
Joshua Downs
Phoenix, AZ
m 86
48
Kyle Karpovich
Chandler, AZ
m 86
49
Francisco Peralta
Tucson, AZ
m 89
50
Vance Varholdt
Phoenix, AZ
m 94
51
Amanda Albani
Phoenix, AZ
m 109
52
Holly Emery
Queen Creek, AZ
m 122
53
Kyle Frederick
Chandler, AZ
m 145
54
Collin Lynch
Prescott Valley, AZ
m 146
55
Josh Sanchez
Phoenix, AZ
m 296
56
Mike L'Heureux
Phoenix, AZ
inc card
Cuts: scratch -18; handicap -12
Storm Ball Winner: Shane Peck
TOTAL AWARDED THIS EVENT: $1,975