MOJAVE DOUBLES at Strike Zone, Sunset Station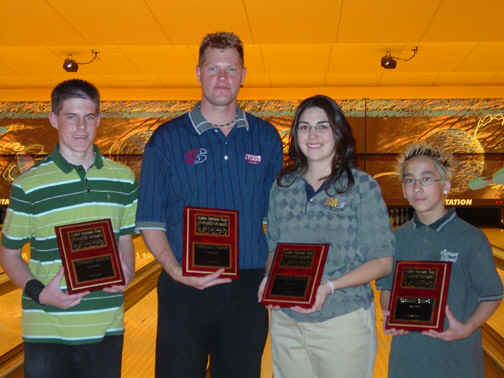 champions Kris George, Jeff Hemer, Ruby Jim, and Zach Hattori (l-r)
George, Hemer, Jim, Hattori Capture JBT SW Mojave Doubles Titles
Four bowlers captured titles in the JBT SW's popular and exciting Mojave Doubles Classic, held at the beautiful new Strike Zone Bowling Center inside Henderson's Sunset Station Casino.
In the scratch division, 40 teams including many of Las Vegas' best adult bowlers who took time out to bowl with our juniors, were whittled down to five for the alternating-frame stepladder finals. In an all-Arizona round one, the teams of Kris George and Jeff Hemer and Brandon Watts and Ron Roberst both started with the first four strikes, but George and Hemer had the better finish for a 235-222 win.
In a much lower scoring round two, Kris and Jeff held off a late charge to get by Andy Reynoso and Sakae Watanabe 180-164. The semifinal match was another classic Doubles thriller against Alyssa Madrid and female superstar Wendy MacPherson. After George filled 20 pins in the tenth, Madrid lost count with a 7-spare in her tenth, then regrouped for a perfect strike on the fill ball to tie the match at 203. Both junior bowlers were elected to bowl the one-shot rolloff, and George came up clutch with a strike on his first shot. Needing to match the strike to force another rolloff, Madrid threw another absolutely beautiful shot, but a solid-8 stood, giving the stunned George and Hemer team a trip to the title match.
The final against top seeds JBT superstar Nathan Panaligan and his partner Brian Alexander was close all the way with neither team able to pull away. Kris spared a 10-pin in the tenth, forcing a double from the opponents. Brian stepped up and threw a beautiful shot, but a 7-pin stood, giving George and Hemer the 207-202 win and the title. Kris earned $300 for the win, the 9th of his JBT career. He also becomes only the third bowler in JBT SW history to win two titles in one weekend, having won in San Diego the day before.
In the handicap division stepladder, two junior-junior combos battled in round one, with Julianne Nosz and Jenna Graydon getting by Jordan Ferrer and Ray Griffith 213-199. A thrilling round two saw Ruby Jim and Zach Hattori escape by Julianne and Jenna in a squeaker, 214-213. It didn't get any easier against the father and son team of Ryan and Robert Yadao, but Jim and Hattori again had just enough to win 203-193, advancing to the title match.
The top seeded team of Brandon Dauphinais and Paul Cardinale had led comfortably after qualifying, with Brandon making an impressive season debut after a great 04-05 campaign. The title match was a nip-and-tuck affair, with each team fighting hard for their first wins. After Cardinale filled twenty in his team's tenth, Ruby was forced to get double-nine for the win. After throwing a fantastic clutch double, an unfortunate ball return delay gave her a few minutes to think about the fill ball. When the lane was fixed, Jim took her time and threw a great shot for a 9-count, giving her team a 207-206 win, good for her and Zach's first JBT SW titles, and $300 in scholarships for Hattori.
Every junior who finished in the top 5 qualifies for the 2006 JBT SW Mojave Invitational Tournament, the regular season's year end event, featuring a guaranteed minimum $1,000 first place scholarship in each division. Top season-long point scorers also qualify for the 2006 JBT SW Touring Players' Championship, featuring a guaranteed minimum $2,000 first place scholarship per division!
Thanks to Mr. Dick Peters and everyone at Strike Zone for an awesome job hosting this event. 95 entrants shared in over $3,400 in cash and scholarships awarded. Please continue to help spread the word about the terrific benefits of bowling JBT SW events!
Mojave Doubles at Strike Zone- final results and optional scholarship winners
2/19/2006
Mojave Conference
Scratch Division
rank
name
prize
partner
prize
score
total prize
1
Kris George
$330
Jeff Hemer

p 358
$330
2
Nathan Panaligan
$160
Brian Alexander

p 434
$160
3
Alyssa Marid
$110
Wendy MacPherson

p 411
$110
4
Adam Reynoso
$250
Sakae Watanabe

p 375
$250
5
Brandon Watts
$90
Ron Roberts

p 356
$90
6
Christian Jensen
$35
Theo Douthit
$35
p 254
$70
7
Justin Spurrier
$75
Jerad Faulkenborg
$30
p 249
$105
8
Rand Kelly
$90
Paul Renteria

p 230
$90
9
Joe Claspell

Art Ramirez

p 227

10
Dan Delano

Mike Ingeman
$30
p 195
$30
11
Brandon Allred
Mike Wise
p 190

12
Kevin Valmonte
Jared Lawrence
p 173

13
Andy Reynoso

Cease Panaligan

p 120

14
DJ Sloan
$120
Cayson Coyle
p 93
$120
15
Jordan Katz
Scott Vernon
p 47

16
Bobby Majdanski
$30
Tommy Majdanski
m 20

17
Justin Medina
Jessica Hetkowski
m 24
18
Ricky Overton

Roger LeTourneau

m 29

19
Mike Scavuzzo
Jim Galgano
m 61
20
Ryan Howard
Andy Decker
m 97
21
Forrest Holland
Travis Benelli
m 67
22
Raoul Saiz
Jesse medellin
m 76
23
Tom Anderson
Paul Anderson

m 97

24
Emily Ornelas
Justin White
m 111
25
Chris Hooks

Bill Hooks
m 121
26
Devin DeGrief
Tommy Scavuzzo
m 121
27
Tiffany Chi
Derek Thurber
m 128
28
Jerod FLorez
Jeremy Medina
$15
m 138
$15
29
Shane Peck
Cameron Smith

m 145
30
Kalani Diliner
Joseph Perez

m 155
31
Steven Slivka
Al Slivka
m 155
32
Brian Ballard
Foster Phandanouvong
m 158
33
Sarah Ansteth

Kevin Boyle
m 165

34
Rachelle Davis

Matthew Erb
m 167
35
Steven Ashley

Michael Ashley

m 168

36
Steven Schofield
Kary Nguyen
m 180
37
Adnan Khawaja
Ayesha Khawaja
m 270
38
Chris Kutcher
Sean Khurea
m 272
39
Taylor McKenrick
Steve Sereno
m 291
40
Elijah Johnson
Chris Lumley
m 703
Handicap Division
rank
name
prize
name
prize
score
total prize
1
Zach Hattori
$330
Ruby Jim

p 141
$330
2
Brandon Dauphinais
$240
Paul Cardinale

p 292
$240
3
Ryan Yadao
$210
Robert Yadao

p 242
$210
4
Julianne Nosz
$65
Jenna Graydon
$65
p 128
$130
5
Jordan Ferrer
$45
Ray Griffith
$45
p 139
$90
6
Ashley Olriksen
$80
Nicole Olriksen

p 117
$80
7
Melissa Huether
$50
Paul Huether
$35
p 115
$85
8
Matt Raagas
$75
Larry Raagas

p 104
$75
9
Jason Majdanski
$50
Tim Thurtle

p 97
$50
10
Casey Doidge
$70
Chris Dycus
$25
p 69
$95
11
Justin King

Cody Leslie
$15
p 67
$15
12
Mathew Sweat

Tanya Barnes

p 67

13
Casey Rosenberg
Alex Watanabe
$15
p 61
$15
14
Courtney Dutton

Jaymes Conn
$15
p 60
$15
15
Ryan Reikowki

Nicole Reikowski

p 54

16
Sean Harrison
Jay Johnson
p 33

17
Shawn Patterson
Shawn Patterson Sr.

p 21
18
Walker Newman

Charlie Whitaker
p 6

19
Bill Grant

Stephanie Merrell
p 2

20
Darcie Staggs

Buck Staggs
p 1

21
Anthony Cruz
$45
Al Monfort
m 1
$45
22
Jerome Jim

Eddie Jim
$15
m 1
$15
23
Nick Lamek
$15
Ryan Jacobson
$15
m 5
$30
24
Brittany Yocum
Ed Yocum
m 13
25
Alesha Pannier
$30
Scott Schickling
m 19
$30
26
Nick Seghetti
Tony Seghetti
m 29

27
Casey Bybee
Jamie Butler
m 47
28
Josh Ferrer
Chris Martin
m 199
29
Lissette Vega
Esmerelda Vega

dnf

30
Katherine Jim

Kevin Foss
m 21
31
Melanie Griffith
Stephen Griffith
m 23
32
Kris Del Campo
Alexis O'Brien
m 27
33
Jeff Belding

Guy Belding
m 28

34
Steven Emery
Ed McCracken
m 35
35
Steven Blackburn
Larry Blackburn
m 36
36
Kayla Blackburn
Barnara Blackburn
m 38
37
James Hawkins Jr.
William Mayall
m 41
38
Teri Haennelt
David Haennelt
m 42
39
Warren Meyers
Samantha Meyers
m 43
40
Drew Stern
Esther Meyers
m 50
41
Sabreana Robinson
Reba Harrison
m 58
42
Nick garcia
David Opdyke
m 61
43
Logan Kennedy
Allie Ijams
$45
m 63
44
Breezy Sharma
George Sharma
m 69
45
Kaitlin Mayall
Cameron Peck
m 83
46
Michael Newman
Zach Newman
m 95
47
Bryce Hackney
Layne McDonald
m 96
48
Benjamin Whitney
Tom Kingsbury
m 119
49
Krysta Nadeau
Dotty Nadeau-Haynes
m 133
50
Tim Lee
Frank Lee
m 146
51
Kyle Bridgman
Lori Brown
m 186
52
Alicia Sullivan
Jerry Sullivan
m 201
53
Willie Dubovik III
Willie Dubovik IV
m 202
54
Melissa Long
Carolyn Medina
m 207
55
Alex Katz
Fronk Lozer
m 232
Cuts: scratch minus 60; handicap minus 3
Storm Ball Winner: Willie Dubovik VII
TOTAL AWARDED THIS EVENT: $3,475 ($3,085 scholarship, $450 cash adult brackets)