MOJAVE INVITATIONAL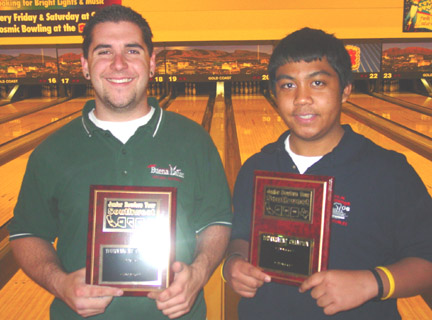 champs Mason Sherman & Jordan Ferrer
Mason Sherman and Jordan Ferrer picked up $1,000 scholarships each as champions of the JBT's Mojave Conference Invitational Tournament, held at Gold Coast Bowling Center.
After four grueling rounds of triple elimination matchplay, eleven bowlers remained alive in the scratch division, including qualifying leader Sherman, and exempt bowlers #1 Nathan Panaligan, #2 Brandon Allred, and #3 Kris George. In round five, Nathan enjoyed a bye, while Allred eliminated George, #14 Bobby Majdanski eliminated #12 Eric Warren, Last Chance winner Steven Black eliminated #10 Jensen, #15 BJ Baker handed #13 Mark French his second loss, and Sherman gave #7 Jeff Spiesman his first loss.
Round six saw Majdanski eliminate Allred, Black oust French, Spiesman give Baker loss #2, and Sherman hand Panaligan his second loss.
In round seven, Black eliminated Majdanski, Baker eliminated Panaligan, and Spiesman gave Sherman loss #2. With four bowlers then left, Sherman eliminated Black 238-187, while Baker stayed alive by beating Spiesman 237-178. This set up an immediate rematch while Sherman enjoyed the bye, and this time Spiesman eliminated Baker 192-189 to advance to an all-California title match.
The title match was close the whole way, and when Sherman went spare-strike in the tenth, the score was tied at 203. The first ever one-shot rolloff for a major JBT title saw Sherman win 10-8, giving him his 4th career JBT victory.
Handicap division qualifying was led by Cameron Peck, who was still alive after five rounds of triple-elimination matchplay, along with top seed Alesha Pannier, #3 Jordan Ferrer, and #5 Merrill Hill. In round six, Ferrer had the bye, while Pannier handed #12 Justni King his second loss, #14 Jenna Graydon gave Last Chance winner Zach Hattori his second loss, #9 Paul Huether eliminated Peck, and #8 Amanda Voight dispatched Hill.
In round seven, Voight was next in line for the bye, while Graydon eliminated Huether, Pannier eliminated Hattori, and King handed Ferrer loss#2. In round eight, King received a bye, while Pannier eliminated Graydon 211-193, and Ferrer eliminated Voight 241-186. Then, with three bowlers remaining, Pannier got to enjoy a rare second bye, while Ferrer defeated King in a 244-235 thriller, setting up a title match with Alesha.
Ferrer seems to bring his A game to the Invitationals, having captured the top prize here last year. Pannier, the point leader and odds-on Bowler of the Year, ran out of gas a bit in the title match, and jordan was able to cruise to a 216-166 win, and his 3rd career JBT title.
Thanks to everyone at Gold Coast for an absolutely fantastic job hosting the many JBT events held at their center. 88 qualifiers shared in an enormous $7,455 in scholarships awarded at the event. The top 15 in our season-long points after this event now qualify for the Touring Players Championship, featuring a $2,000 first place scholarship. We'll see everyone else in September if not sooner for the start of season eleven!
Mojave Invitational- final results and optional scholarship winners
6/11/2006
Mojave Conference
Scratch Division
rank
name
city, state
prize
1
Mason Sherman
Moorpark, CA
$1,015
2
Jeff Spiesman
Ventura, CA
$500
3
BJ Baker
Tempe, AZ
$300
4
Steven Black
Phoenix, AZ
$255
5
Nathan Panaligan
N. Las Vegas, NV
$345
6
Bobby Majdanski
Las Vegas, NV
$115
7
Brandon Allred
Las Vegas, NV
$280
8
Mark French
Ventura, CA
$75
9
Kris George
Glendale, AZ
$170
10
Christian Jensen
Anthem, AZ
$75
11
Eric Warren
Phoenix, AZ
$65
12
Brandon Watts
Lake Havasu City, AZ
$110
13
Shane Peck
Riverside, CA
$160
14
Kevin Valmonte
La Verne, CA
$50
15
Joe Brandon
Delray Beach, FL
$110
16
Mike Ingeman
Arden Hills, MN
$110
17
Forrest Holland
Escondido, CA
$15
18
Theo Douthit
San Diego, CA

19
Tom Anderson
Chandler, AZ

20
Cayson Coyle
Las Vegas, NV

21
Jeff Mathews
Las Vegas, NV
$15
22
Andy Reynoso
Las Vegas, NV

23
Chris Kagawa
Las Vegas, NV

24
Jeremy Medina
Santa Fe, NM
$15
25
Kary Nguyen
Las Vegas, NV

26
Cameron Smith
Santee, CA
$15
27
Brandon Donnelly
Lake Havasu City, AZ

28
Justin Spurrier
Las Vegas, NV

29
Kevin Saunders
Goodyear, AZ

30
Jordan Katz
Las Vegas, NV

31
Ryan Howard
Las Vegas, NV

32
Josh Wilson
Escondido, CA

33
DJ Sloan
Las Vegas, NV

34
Adam Reynoso
Las Vegas, NV

35
Kevin Houck
Lake Havasu City, AZ

36
Jessica Hetkowski
Las Vegas, NV

37
Eddie Schaub
Las Vegas, NV

38
Paolo Castro
Las Vegas, NV
39
Danielle Schilling
Palmdale, CA
40
Steven Slivka
Las Vegas, NV
41
Tiffany Chi
Prescott, AZ
42
Rachelle Davis
Tucson, AZ
43
Joe Claspell
Lake Havasu City, AZ
44
Emily Ornelas
Phoenix, AZ
45
Jordan Ono
Pearl City, HI
46
Jerod Florez
Bosque Farms, NM
Handicap Division
rank
name
city, state
prize
1
Jordan Ferrer
Henderson, NV

$1,080

2
Alesha Pannier
Lake Havasu City, AZ

$650

3
Justin King
Henderson, NV

$300

4
Amanda Voight
Las Vegas, NV

$200

5
Jenna Graydon
Las Vegas, NV

$165

6
Paul Huether
Las Vegas, NV

$130

7
Zach Hattori
Las Vegas, NV

$75

8
Merrill Hill
Las Vegas, NV

$125

9
Cameron Peck
Riverside, CA

$195

10
Scott Schickling
Lake Havasu City, AZ

$175

11
Melissa Huether
Las Vegas, NV

$95

12
Blaine Hellman
Las Vegas, NV

$110

13
Hannah Chipman
Las Vegas, NV

$65

14
Allie Ijams
Mission Viejo, CA

$50

15
Alyssa Madrid
Las Vegas, NV

$50

16
Doug Taylor
Las Vegas, NV

$50

17
Kyle Bridgman
Kingman, AZ

18
Ricky Overton
Las Vegas, NV

19
Alex Katz
Las Vegas, NV

20
Casey Bybee
Las Vegas, NV

21
Alicia Sullivan
Kingman, AZ

22
Sean Huggins
Las Vegas, NV

23
Shane Delullo
Las Vegas, NV

24
Summer Martin
Las Vegas, NV

25
Nick Lamek
Las Vegas, NV

$45

26
Brandon Dauphinais
Henderson, NV

27
Michael May
San Diego, CA

28
Jay Prewitt
Chandler, AZ

29
Ryan Yadao
Las Vegas, NV

30
Logan Kennedy
Henderson, NV
31
Steven Blackburn
Pahrump, NV
32
Quinn Hill
Las Vegas, NV

33
Bethany Baker
Tempe, AZ

34
Joshua Ferrer
Henderson, NV

35
Ashley Belden
Tijeras, NM

36
Alvin Chan
Henderson, NV

37
Bryce Hackney
Las Vegas, NV

38
Ryan Jacobson
Las Vegas, NV

39
Tim Lee
Las Vegas, NV

40
Nick Seghetti
Las Vegas, NV

41
Andrew Gottlieb
Las Vegas, NV

42
Eddie Jim
Pahrump, NV

TOTAL AWARDED THIS EVENT: $7,345