NM-TX INVITATIONAL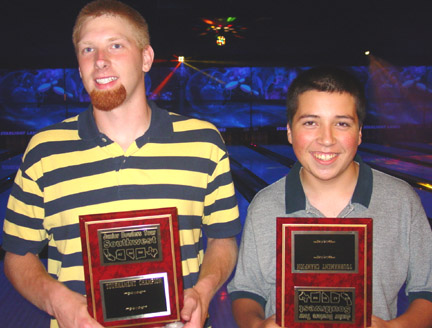 champs William Haverland & Mike Romero
William Haverland and Mike Romero picked up a cool $1,000 scholarship each as champions of the JBT's NM-TX Conference Invitational Tournament, held at Santa Ana Star Casino's Starlight Lanes.
Robyn Ashley led the difficult 10-game qualifier, but quickly was eliminated in the triple-elimination matchplay. After five grueling rounds, eight bowlers remained, including top two seeds Andy Byer and Bill Grant, undefeated #11 Tom Anderson, always dangerous #7 Steven Black, and last chance winner #16 Christopher Yoshimura. In round six, Haverland handed Anderson his first loss, Grant handed #10 Justin De Dera his second loss, Byer eliminated Black, and #5 Justin Medina eliminated Yoshimura.
In round seven, Medina eliminated Byer 213-168, Haverland eliminated DeDera 278-226, and Anderson eliminated Grant 226-201. With three bowlers now remaining, Medina got a valuable bye, while Haverland dismissed Anderson 235-193, setting up a title match sitiation where Medina had to beat Haverland twice for the title.
Justin was up to the challenge in match one, coming from behind for a 179-167 win in a low scoring battle. In the finale, more nerves were evident, but Haverland was able to put it together in the end for a 193-173 win and his 4th career JBT title.
Christa Harvey was the handicap division leader in the qualifying round, but also suffered an early exit in the triple-elimination matchplay. Seven bowlers remained after round five, including top seed Ashley Belden, #2 Charlie Elliott, #3 Sara Vargas, and #5 Janeyl Carper. In that round, Vargas enjoyed the bye, while #13 Sabrina Vargas eliminated #15 Ahkeen Williams, Elliott eliminated Carper, and #9 Romero gave Belden her second loss.
In the next round, Romero got a much-needed bye, Elliott eliminated Sabrina 209-195, and Ashley Belden stayed alive by stringing the first nine strikes for a 288-202 elimination of Sara Vargas.
With three bowlers left, Belden got a very rare second bye, while Romero and Elliott squared off in a semifinal game, which was won by Mike by a 218-206 margin, setting up a one-game title match against Belden.
Romero had had a decent but certainly not spectacular season with us, but put it all together at the Invitational, and had enough left in the tank to defeat Belden 228-193 for his first JBT title.
Thanks to Jerry Bradley, Margaret Sanchez, and everyone at Starlight Lanes for an absolutely fantastic job hosting this great event. 82 qualifiers shared in an enormous $7,495 in scholarships awarded at the event. The top 15 in our season-long points after this event now qualify for the Touring Players Championship, featuring a $2,000 first place scholarship. We'll see everyone else in September if not sooner for the start of season 11!
NM-TX Invitational- final results and optional scholarship winners
6/10/2006
New Mexico-Texas Conference
Scratch Division
rank
name
city, state
prize
1
William Haverland
Round Rock, TX
$1,010
2
Justin Medina
Santa Fe, NM
$550
3
Tom Anderson
Chandler, AZ
$250
4
Andy Byer
Albuquerque, NM
$310
5
Bill Grant
Rio Rancho, NM
$200
6
Justin DeDera
Albuquerque, NM
$80
7
Steven Black
Phoenix, AZ
$385
8
Christopher Yoshimura
Lakewood, CO
$60
9
Stephen Gaucin
El Paso, TX
$115
10
Jerod Florez
Bosque Farms, NM
$65
11
Shane Peck
Riverside, CA
$95
12
Jeremy Medina
Santa Fe, NM
$130
13
BJ Eichensehr
El Paso, TX
$50
14
Geoffrey Young
Denton, TX
$80
15
Robyn Ashley
Farmington, NM
$110
16
Sam Cuevas
Lubbock, TX
$50
17
BJ Baker
Tempe, AZ
$105
18
Brian Collier
Amarillo, TX
$30
19
Dan Romero
Santa Fe, NM
20
Cody Mansfield
Albuquerque, NM
21
William Entsminger
El Paso, TX
22
Christian Jensen
Anthem, AZ
23
Matt Snyder
Amarillo, TX
$15
24
Christina Waldron
Albuquerque, NM
25
Josh Arceo
Albuquerque, NM
Handicap Division
rank
name
city, state
prize
1
Mike Romero
Santa Fe, NM
$1,045
2
Ashley Belden
Tijeras, NM
$650
3
Charlie Elliott
Santa Fe, NM
$400
4
Sara Vargas
Albuquerque, NM
$330
5
Sabrina Vargas
Albuquerque, NM
$200
6
Janeyl; Carper
Rio Rancho, NM
$200
7
Ahkeen Williams
Las Cruces, NM
$145
8
Jordan Oppenheim
Rio Rancho, NM
$75
9
Wendy Shelton
Albuquerque, NM
$80
10
Jeremy Baca
Albuquerque, NM
$110
11
Kyla Casaus
Roswell, NM
$50
12
Christa Harvey
Las Cruces, NM
$50
13
Jerrico Palma
Roswell, NM
$50
14
Kalani Kaula
Albuquerque, NM
$140
15
DeeDee Harvey
Las Cruces, NM
$50
16
Jessica Palma
Albuquerque, NM
$95
17
Miranda Ruiz
Roswell, NM

18
Ryan Scheer
Rio Rancho, NM
$15
19
Travis Turner
Amarillo, TX

20
Bethany Baker
Tempe, AZ

21
Nathan Hughes
San Jose, NM
$15
22
Kara Casuas
Roswell, NM

23
Debbie Jarzemba
Santa Fe, NM

24
Eric Kear
Albuquerque, NM

25
Paul Carper
Rio Rancho, NM

26
Tanner Palmer
Amarillo, TX

27
Annalicia Martinez
Roswell, NM

28
Kirsten Kelley
Amarillo, TX
$60
29
Amanda Johnson
Rio Rancho, NM
$30
30
Blake Brown
Albuquerque, NM

31
Victoria Baca
Albuquerque, NM
32
William Yoder
Albuquerque, NM

33
Zachary Barnard
Albuquerque, NM

34
Susan Kurzeka
Albuquerque, NM
$5
35
Thomas Gutierrez
Albuquerque, NM

36
Vincent Michel
Albuquerque, NM

37
Bailey McFarland
El Paso, TX

38
Kyle Gaines
Espanola, NM

39
Arielle Palma
Roswell, NM

40
Jonathan Frederick
El Paso, TX

41
Evaristo Baca
Albuquerque, NM

42
Eric Sanford
Santa Fe, NM
43
Amanda Jarzemba
Santa Fe, NM
44
Elizabeth Romero
Santa Fe, NM
45
Brianna Jaramillo
Albuquerque, NM
46
Rachel Thompson
Albuquerque, NM
47
Santiago Withers
Albuquerque, NM
48
Brandon Culp
El Paso, TX
49
Krista Casaus
Roswell, NM
50
Jamison Spam
Rio Rancho, NM

51
Justin Silva
Albuquerque, NM
52
Mark Mares
Los Lunas, NM
53
Anthony Tripi
El Paso, TX
$15
54
Carlos Mendez
El Paso, TX
55
Travis Gudelj
Albuquerque, NM
56
Darnelle Spears
El Paso, TX

57
Chris Fox
Amarillo, TX

Ball Winner: Jamison Spam
TOTAL AWARDED THIS EVENT: $7,495