OASIS LANES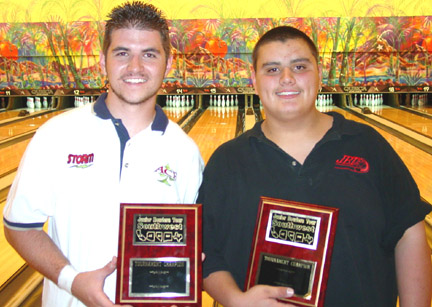 champions Andy Byer & Jerrico Palma
Brand-new Oasis lanes got its first taste of JBT SW action, and Andy Byer and Jerrico Palma liked the place just fine, capturing victories in exciting New Mexico-Texas Conference action.
The scratch division finals opened with Jerod Florez, who thrilled the crowd by tossing a 300 game in the opening game of the tournament, continuing his impressive day with a 215-212 win over Jeremy Medina, who is enjoying a fine season but is piling up the fifth place finishes.
In round two, Bill Grant, who fired a 287 earlier, put on another fine show in dispatching Florez by a 237-175 margin. The tables were turned in the semifinals, however, as local favorite Stephen Gaucin gave Grant no room in a 268-193 win to advance to the championship game.
Top qualifier Andy Byer, the defending NM-TX Bowler of the Year, was looking to reverse a slow start to the new season, but the always tough Gaucin wasn't going away without a fight. In the end, Andy's spare in the tenth was enough to wrap up a 223-214 victory, good for the 7th title of his increasingly impressive JBT SW career.
The handicap division finals opened with Krista Casaus, oldest sister of Leisure Bowl champion Kyla, keep the family tradition alive with a 224 game that defeated CJ Jordan (206) and Kirstie Jones (197). Despite the loss, Jones made history as the lowest average bowler ever to make the stepladder finals (39).
In round two Krista got red hot, rolling a big 255 to defeat Janeyl Carper (206) and Heaven Pajala (188). The semifinal match was a tense affair, but in the end Casaus had just enough gas to put together a 228 score, edging Christa Harvey's 217 and Jonathan Frederick's 205, advancing her to the title match.
Top qualifier Jerrico Palma had been the dominant bowler of the day, and started off that way in the title match. Some miscues in the middle frames made it close, but the exhausted Casaus, despite a great effort, didn't quite have enough left for one more comeback. The final score of 206-184 was good for the first JBT SW title of Palma's career.
Thanks to Bobby Stives and his great staff for doing an excellent job hosting us. The JBT SW looks forward to many more stops to this beautiful new center.
Oasis Lanes- final results and optional scholarship winners
10/2/2005
New Mexico-Texas Conference
Scratch Division
rank
name
city, state
score
prize
1
Andy Byer
Albuquerque, NM
p 323
$260
2
Stephen Gaucin
El Paso, TX
p 292
$109
3
Bill Grant
Rio Rancho, NM
p 255
$83
4
Jerod Florez
Bosque Farms, NM
p 150
$54
5
Jeremy Medina
Santa Fe, NM
p 76
$25
6
Shane Peck
Riverside, CA
m 7
$24
7
Josh Arceo
Albuquerque, NM
m 18

8
Chris Johnson
El Paso, TX
m 137
$10
9
Justin DeDera
Albuquerque, NM
m 38

10
Christina Waldron
Albuquerque, NM
m 64
$10
11
William Entsminger
El Paso, TX
m 80

12
Sarah Carity
somewhere…
m 148

13
BJ Eichensehr
El Paso, TX
m 175

14
Mark Benson
El Paso, TX
m 198

15
Ashley Dale
Albuquerque, NM
m 233
Handicap Division
rank
name
city, state
score
prize
1
Jerrico Palma
Roswell, NM
p 278
$305
2
Krista Casaus
Roswell, NM
p 129
$110
3
Jonathan Frederick
El Paso, TX
p 204
4
Christa Harvey
Las Cruces, NM
p 191
$81
5
Heaven Pajala
Albuquerque, NM
p 191
$75
6
Janeyl Carper
Rio Rancho, NM
p 181
$102
7
Kirstie Jones
Roswell, NM
p 181

8
CJ Jordan
El Paso, TX
p 144
$50
9
Nathan Hughes
San Jose, NM
p 120
$45
10
Cory Shepan
Las Cruces, NM
p 115
$20
11
Kayla Jones
Roswell, NM
p 79

12
Vincent McCormick
El Paso, TX
p 73
13
Thomas Gutierrez
Albuquerque, NM
p 70

14
Kelsey Jones
Roswell, NM
p 56

15
Ryan Fast
Roswell, NM
p 46

16
Kendra Jones
Roswell, NM
p 37

17
Jesse Henson
Hobbs, NM
p 37

18
Susan Kurzeka
Albuquerque, NM
p 35
$45
19
Zak Covert
El Paso, TX
p 34

20
Amanda Johnson
Rio Rancho, NM
p 31
$76
21
Juan Romero
Albuquerque, NM
p 21
$15
22
Paul Carper
Rio Rancho, NM
p 20
$6
23
Charlie Elliott
Santa Fe, NM
p 20

24
LJ Matthews
Las Cruces, NM
p 20

25
Michael Hinojosa
Las Cruces, NM
p 14

26
Kara Casaus
Roswell, NM
p 10

27
Brandon Dye
Roswell, NM
p 10

28
Kyla Casaus
Roswell, NM
m 21

29
Zachary Barnard
Albuquerque, NM
m 37
$30
30
Misty Carrasco
El Paso, TX
m 10
$10
31
Bailey McFarland
El Paso, TX
m 13
32
Brandon Culp
El Paso, TX
m 15

33
PJ Gordon
El Paso, TX
m 19

34
Cameron Peck
Riverside, CA
m 19
$15
35
Carlos Medez
El Paso, TX
m 25
$10
36
Andrew Esparza
El Paso, TX
m 26

37
Cyera Quintana
El Paso, TX
m 27

38
Jennifer Fast
Roswell, NM
m 32

39
Taylor Cruz
Santa Fe, NM
m 36
$30
40
Julia Carrasco
El Paso, TX
m 36

41
Joseph Palma
Roswell, NM
m 37

42
McKenzie Nicolson
El Paso, TX
m 48
43
Jeremy Baca
Albuquerque, NM
m 48
44
Ahkeen Williams
El Paso, TX
m 51
45
John Freeman
Silver City, NM
m 58
46
Brook Scraberry
Roswell, NM
m 60
47
Anthony Tripi
El Paso, TX
m 67
$11
48
Travis Gudelj
Albuquerque, NM
m 67
49
Andrew McKinsey
Rio Rancho, NM
m 76

50
Cody Homnick
El Paso, TX
m 77

51
Travis Shepan
Las Cruces, NM
m 84
52
Nico Mejia
El Paso, TX
m 108
53
Cory Prater
El Paso, TX
m 109
54
Brittany Prater
El Paso, TX
m 120
55
Eric Kear
Albuquerque, NM
m 120
$10
56
Mark Mares
Los Lunas, NM
m 121
57
Aurora Popple
El Paso, TX
m 123
58
Brandy Main
Roswell, NM
m 124
59
Lee Nicolson
El Paso, TX
m 136
Cuts: scratch -18; handicap -1
Storm Ball Winner: John Freeman
Jr. Gold Qualifier: none
TOTAL AWARDED THIS EVENT: $1,621