THE ORLEANS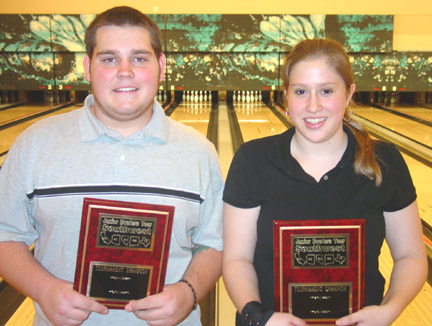 champs Eric Warren & Bethany Baker

Arizonans Eric Warren and Bethany Baker invaded Las Vegas and walked out with victories in exciting JBT SW Mojave Conference action at The Orleans.

The scratch division finals opened with Kris George continuing a fine spring with a 201 game that defeated Christian Jensen (189) and Jeremy Almoina (194). Brandon Watts then came up with a 236 to win round two against George (192) and Mike Ingeman (234), who had fired a big 290 to get into the finals. In the semifinals, Shane Peck rolled a 235 to reach his first scratch division title match, ousting Watts (188) and Brandon Allred (213).

Warren had led the scoring barrage all day long, firing his second career JBT 300 game, en route to an 801 3-game opening series, only the 10th 800 series in JBT SW history. The powerful lefty remained red-hot in the finals as well, defeating Peck 236-189 for his third career victory, which was also the first scratch win of his JBT career.

In the handicap finals, Nathan Almoina won round one with a fine 221 game to defeat Justin King (156) and Ryan Yadao (193). In round two, Summer Martin, the lowest average bowler in the finals, held her own just fine with a 250 game that beat fine games from Almoina (239) and Kyle Bridgman (214). In the semifinals, Merrill Hill came up with a 217 score to end the days of Martin (196) and the unpredictable Logan Kennedy (181), advancing Hill to the title match.

Top qualifier Bethany Baker had cheered on big brother BJ to his first career 300 (finally!) earlier in the day, but then took over the family spotlight by charging to the top seed for the first time in her career. She and Hill engaged in an extremely well-bowled title match, but in the end Bethany had enough in the tank for a 267-243 win over Hill, giving Baker the first title of her JBT career.

Everyone who finished in the top 5 qualifies for the 2006 JBT SW Mojave Invitational Tournament, the regular season's year end event, featuring a guaranteed minimum $1,000 first place scholarship in each division. Top season-long point scorers also qualify for the 2006 JBT SW Touring Players' Championship, featuring a guaranteed minimum $2,000 first place scholarship per division!

Thanks to everyone at The Orleans for another great job hosting our Tour. 87 entrants shared in over $2,000 in scholarships awarded. Please continue to help spread the word about the terrific benefits of bowling JBT SW events!
The Orleans- final results and optional scholarship winners
4/9/2006
Mojave Conference
Scratch Division
rank
name
city, state
prize
1
Eric Warren
Phoenix, AZ
$236
2
Shane Peck
Riverside, CA
$275
3
Brandon Allred
Las Vegas, NV
$93
4
Brandon Watts
Lake Havasu City, AZ
$123
5
Mike Ingeman
Phoenix, AZ
$75
6
Kris George
Glendale, AZ
$55
7
Jeremy Almoina
Las Vegas, NV
$30
8
Christian Jensen
Anthem, AZ
$20
9
BJ Baker
Tempe, AZ
$33
10
Kevin Schoenfeld
Phoenix, AZ
$30
11
Andrew Decker
Las Vegas, NV
12
Johnny Ray
Las Vegas, NV

13
Andy Reynoso
Las Vegas, NV

14
Taylor Brennan
Prescott, AZ
$30
15
Adam Reynoso
Las Vegas, NV
$30
16
Andy Byer
Albuquerque, NM
$90
17
Carl Winder
Las Vegas, NV

18
Paolo Castro
Las Vegas, NV

19
Devin DeGrief
Las Vegas, NV
$25
20
Bill Grant
Rio Rancho, NM

21
Cameron Smith
Santee, CA

22
Chris Kagawa
Las Vegas, NV

23
Steven Black
Phoenix, AZ
$30
24
Cayson Coyle
Las Vegas, NV

25
Bobby Majdanski
Las Vegas, NV

26
DJ SLoan
Las Vegas, NV
27
Nathan Panaligan
N. Las Vegas, NV
28
Sean Khureya
Las Vegas, NV

29
Jessica Hetkowski
Las Vegas, NV
$10
30
Jeff Mathews
Las Vegas, NV
31
Chris Weyrauch
Chandler, AZ

32
Ricky Overton
Las Vegas, NV
33
Eddie Schaub
Las Vegas, NV
34
Justin Spurrier
Las Vegas, NV
35
Brian Weyrauch
Tempe, AZ
36
Jordan Katz
Las Vegas, NV
37
Chris Kutcher
Las Vegas, NV
38
Steven Slivka
Las Vegas, NV
39
Ray Griffith
Las Vegas, NV
40
Rebekah Gottlieb
Tempe, AZ
41
Robert Zicarelli
Las Vegas, NV
42
Kat Jim
Las Vegas, NV
Handicap Division
rank
name
city, state
prize
1
Bethany Baker
Tempe, AZ
$200
2
Merrill Hill
Las Vegas, NV
$125
3
Logan Kennedy
Henderson, NV
$105
4
Summer Martin
Las Vegas, NV

5
Nathan Almoina
Las Vegas, NV
$60
6
Kyle Bridgman
Kingman, AZ
$80
7
Ryan Yadao
Las Vegas, NV
$55
8
Justin King
Las Vegas, NV
$30
9
Kelly White
Henderson, NV
$20
10
Nick Seghetti
Las Vegas, NV
$15
11
Paul Huether
Las Vegas, NV
$15
12
Breezy Sharma
Lake Havasu City, AZ
$15
13
Justin White
Phoenix, AZ

14
Alex Katz
Las Vegas, NV

15
Alesha Pannier
Lake Havasu City, AZ

16
Lesliann Katsura
Los Angeles, CA
$30
17
Taylor McKenrick
Henderson, NV

18
Alicia Sullivan
Kingman, AZ
$45
19
Ryan Jacobson
Las Vegas, NV

20
Tim Lee
Henderson, NV

21
Jordan Ferrer
Henderson, NV

22
Kevin Foss
Pahrump, NV

23
Ashley Olriksen
Las Vegas, NV

24
Zach Hattori
Las Vegas, NV
$15
25
Hannah Chipman
Las Vegas, NV

26
Amanda Voight
Las Vegas, NV

27
Drew Stern
Northridge, CA

28
Sean Huggins
Las Vegas, NV
29
Melissa Huether
Las Vegas, NV

30
Jason Majdanski
Las Vegas, NV
$15
31
Viki Kutcher
Las Vegas, NV

32
Joshua Ferrer
Las Vegas, NV
33
Louis Barragan
Burbank, CA
34
Steven Sensabaugh
Yorba Linda, CA

35
Darcie Staggs
Bullhead City, AZ

36
Quinn Hill
Las Vegas, NV

37
Bryce Hackney
Las Vegas, NV
38
Matt Raagas
Las Vegas, NV
39
Casey Bybee
Las Vegas, NV
40
Blaine Hellman
Lake Havasu City, AZ

41
Brandon Surko
Las Vegas, NV
42
Casey Rosenberg
Las Vegas, NV

43
Scott Schickling
Lake Havasu City, AZ
300 Games: BJ Baker, Eric Warren
TOTAL AWARDED THIS EVENT: $2,005