PARKWAY BOWL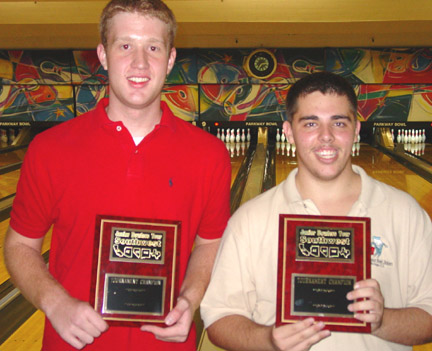 champs BJ Baker & Drew Stern
BJ Baker had a nearly perfect finish to his day en route to his 11th JBT SW title, while David Stern earned his first JBT SW victory the hard way, in exciting action at Parkway Bowl.
Scoring during earlier rounds was highlighted by Jared Lawrence, who has twice won JBT SW events at Parkway before, showing he intended to add a third by tossing a perfect 300 in game #4, his sixth career perfect game. Jared will split the season-long $2000 scholarship bonus provided by Storm for all 300 games rolled during the season, and will receive a special shirt from Cody's Sportswear.
The scratch finals opened with a battle of two more 300 game specialists, as Mason Sherman easily defeated Steven Black by a 224-159 score. In round two, Forrest Holland's double in the tenth appeared to give him the win, but a 7-count on the fill ball gave Sherman new life. Needing to roll all three strikes in the tenth to tie, he did just that for a 218 deadlock. In our thrilling one-shot rolloff, Holland struck first, forcing Sherman to do the same, and again he was up to the challenge, forcing a second rolloff. In this one, Forrest again struck to put the pressure back on Mason, who threw a good ball but left a 4-pin, finally giving Holland the draining win.
In the semifinal match, Holland ran out of gas just as BJ Baker was getting started, and Baker ran off six in a row for a 246-190 win to advance to his first title match of the season. Top qualifier Lawrence hadn't been tested much all day, going plus-364 for his eight games, and was able to roll a big 237 in the title match- and, incredibly, he never had a chance in the game. That's because BJ rattled off the first ten strikes, getting in position to become the second bowler to roll a 300 in a JBT SW title match. However, a perfect 11th shot left a solid-10 for the lefty, who settled for a 289, plenty good to capture the 11th title of his career, two behind Mike Ramsey for 4th on our all-time list.
The handicap division saw its fair share of excitement in the stepladder finals as well. In round one, Troy Lien just squeaked by Wesley low by a 197-195 margin. In an equally tight round two, Lien struck out for a 224 game, forcing a mark out of Cameron Peck. Peck, who already has a title this season in Arizona, was up to the task, converting the 1-2-8 for a 235-224 win. In round three, both bowlers bowled very well, but Drew Stern got the strikes he needed to defeat Peck by a 252-229 score, advancing him to his first title match.
Top qualifier Michael May exploded for 260 and 290 games (with handicap) to finish the qualifying round, and 283 to finish the semifinal round, so we already knew he could come up clutch when he needed to. Stern was clutch himself when he doubled in the tenth, but then a short count on his fill ball gave new life to May. Needing a spare on his fill ball to tie the match, May converted the 1-2, ending the match all square at 238, only the second tie in the handicap title match in our history (the other was way back in 1999). In the rolloff that followed, Stern stayed clean early, and that provided the difference he needed, winning the rolloff 95-60, good for his first career JBT SW title in thrilling fashion.
Thanks to everyone at Parkway Bowl for hosting another great JBT SW event. Over $1,900 in scholarships were awarded to a 92-bowler field. Jared Lawrence claimed a spot in the Junior Gold Finals by winning the qualifier, and Christina Fraijo won a Storm Diablo bowling ball in the raffle. Congratulations to all our winners!
Parkway Bowl- final results and optional scholarship winners
9/24/2005
Southern California Conference
Scratch Division
rank
name
city, state
score
prize
1
BJ Baker
Tempe, AZ
p 231
$225
2
Jared Lawrence
Torrance, CA
p 364
$179
3
Forrest Holland
Vista, CA
p 224
$185
4
Mason Sherman
Moorpark, CA
p 203
$70
5
Steven Black
Phoenix, AZ
p 194
$165
6
Jeff Spiesman
Ventura, CA
p 187
$30
7
DeShaun Jefferson
Phoenix, AZ
p 161
$25
8
Sam Hitchcok
Lake Forest, CA
p 143
$30
9
Devin Bidwell
Ventura, CA
p 127
10
Anthony Diaz
San Diego, CA
p 124
$15
11
Brian Ballard
San Diego, CA
p 110
$45
12
Kevin Valmonte
EL Monte, CA
p 104
13
Danielle Schilling
Littlerock, CA
p 103

14
Shelby Shirlock
Lake Elsinore, CA
p 91
$15
15
Cameron Smith
Santee, CA
p 90

16
Kacy Bonifacini
San Diego, CA
p 83

17
Brian Carmichael
Moreno Valley, CA
p 75
$13
18
Christian Jensen
Anthem, AZ
even
19
Sarah Carity
Albuquerque, NM
m 18
20
Jerod Florez
Bosque Farms, NM
m 23
21
JR Monteith
Orange, CA
m 72

22
Shane Peck
Riverside, CA
m 83
$28
23
Wesley Buckles
Chicago, IL
m 23
24
Justin Lou
San Diego, CA
m 25
25
Michael Cripe
San Diego, CA
m 33
26
Steven Lanning
San Diego, CA
m 40
27
Drew Thevenot
Santee, CA
m 41
28
Matthew Hutchinson
Escondido, CA
m 54
29
Robert Page
Los Angeles, CA
m 59
30
Brittany Page
Los Angeles, CA
m 60
31
Jason Hermann
San Diego, CA
m 64
32
Kris George
Glendale, AZ
m 74
33
Nick Reid
Los Angeles, CA
m 97
34
Rachelle Davis
Tucson, AZ
m 103

35
Matthew Spive
Escondido, CA
m 106
36
Theo Douthit
Phoenix, AZ
m 110
37
Brandon Donnelly
Lake Havasu City, AZ
m 122
38
Richard Brown
Rancho Sata Margarita, CA
m 131
39
Jason Larcome
Chula Vista, CA
m 145
40
Bear Wiltfang
Lake Havasu City, AZ
m 155
41
Rebekah Gottlieb
Las Vegas, NV
m 213
42
Berman Sae-Aee
San Diego, CA
Handicap Division
rank
name
city, state
score
prize
1
Drew Stern
Northridge, CA
p 236
$215
2
Michael May
San Diego, CA
p 250
$115
3
Cameron Peck
Riverside, CA
p 231
$240
4
Troy Lien
El Cajon, CA
p 199

5
Wesley Low
Palmdale, CA
p 194
$9
6
Philip Stephens
Phoenix, AZ
p 188
$59
7
Brenden Lou
San Diego, CA
p 156
$40
8
Kyle Ruzylo
Oceanside, CA
p 127
$30
9
Foster Phandanouvong
San Diego, CA
p 125
$55
10
Louis Barragan
Burbank, CA
p 124
$29
11
Andrew Chain
San Diego, CA
p 110
$39
12
Alysha Cuevas
Wilmington, CA
p 92
$25
13
Alex Powell
Phoenix, AZ
p 80
$9
14
Monical Lozano
San Diego, CA
p 77
$24
15
Nikki Elberts
Sylmar, CA
p 72

16
Todd Udell
San Diego, CA
p 71
$15
17
Kristine Cuevas
Wilmington, CA
p 71

18
Jeff Ingram
San Diego, CA
p 46

19
Melissa Long
Long Beach, CA
p 27
$15
20
Mimi Duong
San Diego, CA
p 6
$15
21
Matt Schrank
El Cajon, CA
m 13
22
James Hawkins Jr.
Moreno Valley, CA
m 37

23
Megan Withey
Glendale, AZ
m 61
24
Kaitlin Mayall
Chula Vista, CA
m 89
25
Paul Ospital
Crestline, CA
m 104

26
Anthony Rodieck
El Cajon, CA
p 11

27
Jaymes Conn
La Mesa, CA
p 9

28
Anthony Cruz
San Diego, CA
m 5
29
Lana Lycan
San Diego, CA
m 10

30
David Bates
El Cajon, CA
m 17
31
Allie Ijams
Mission Viejo, CA
m 28
$15
32
Marycruz Mora
San Diego, CA
m 28
33
Christina Fraijo
Corona, CA
m 30
34
Shane Lien
El Cajon, CA
m 31
35
Sean Buranhiran
San Diego, CA
m 37
36
Michael Lozano
San Diego, CA
m 43

37
Samantha Meyers
Mission Hills, CA
m 49
38
Tyler Boscarino
Alpine, CA
m 55
39
Christopher Cuevas
Wilmington, CA

m 85
40
Jesse Orlowski
San Diego, CA
m 86
41
Kelly Ruzylo
Oceanside, CA
m 88
42
Matt Rennick
La Mesa, CA
m 97
43
Steohanie Udell
San Diego, CA
m 105
44
Ronnie Nophalath
San Diego, CA
m 110
45
Josh Giraldo
North Hills, CA
m 120
46
Martika Cabezas
Cathedral City, CA
m 121
47
Kristian Lusterio
San Diego, CA
m 127
48
Justin Basom
Lemon Grove, CA
m 134
49
Denise Way
San Diego, CA
m 193
PowerBowl games: 267-228-190 (no winners)
Cuts: scratch minus 20; handicap plus 16
Storm Ball Winner:Christina Fraijo
Junior Gold Qualifiers: Jared Lawrence
300 Games: Jared Lawrence
TOTAL AWARDED THIS EVENT: $1,964