PARKWAY BOWL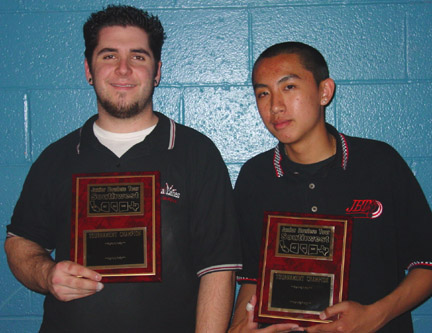 champs Mason Sherman and Ronnie Nophalath
On a day with huge implications for the upcoming Invitational, Mason Sherman and Ronnie Nophalath came up biggest, capturing titles in exciting JBT SW action at Parkway Bowl.
In a battle of two of our Tour's premier lefties, BJ Baker struck in the tenth to defeat Theo Douthit 222-214 in round one of the stepladder finals. Baker then got by Devin Bidwell 215-146, before being stopped cold by Jeff Spiesman, who blasted a beautiful 280 game to defeat BJ's 200 and advance to the finals.
Top qualifier Mason Sherman had led most of the day, and was able to hold off Spiesman by a 223-180 margin to claim the third title of his JBT career and a hefty $290 in scholarships.
In the handicap division, Jeff Ingram rolled a 243 in round one of the stepladder finals to defeat fine efforts by Tyler Boscarino (214) and Jerico Napalan (194). Shayne Huntley, needing a top-5 finish to get in the Invitational, accomplished that with a big 271 game to beat Ingram (189) and Stephanie Udell (240). Udell also qualified for the Invite with the top-5 finish. Huntley remained red-hot in the semifinal match, shooting a 247 to defeat Eddie Sayles (237) and Andrew Wellnitz (184) to advance to the title match.
Top qualifier Ronnie Nophalath had already had an awesome day, and was yet another bowler to wrap up an Invitational spot on the last possible day. He maintained the momentum in the final match, cruising to a 263-217 win over Huntley, good for his first career JBT title.
Thanks to everyone at Parkway for another fine job hosting our event. 91 entrants shared in over $1,800 in scholarships awarded. Please continue to help spread the word about the terrific benefits of bowling JBT SW events!
The field is now set for the 2006 JBT SW Southern California Invitational Tournament, the regular season's year end event, featuring a guaranteed minimum $1,000 first place scholarship in each division. Top season-long point scorers also qualify for the 2006 JBT SW Touring Players' Championship, featuring a guaranteed minimum $2,000 first place scholarship per division!
Parkway Bowl- final results and optional scholarship winners
4/22/2006
Southern California Conference
Scratch Division
rank
name
city, state
score
prize
1
Mason Sherman
Moorpark, CA
p 321
$290
2
Jeff Spiesman
Ventura, CA
p 270
$100
3
BJ Baker
Tempe, AZ
p 249
$153
4
Devin Bidwell
Simi Valley, CA
p 267
$78
5
Theo Douthit
San Diego, CA
p 207
$108
6
Chris Weyrauch
Chandler, AZ
p 193
$15
7
Robert Page
Los Angeles, CA
p 169
8
Kyle King
Phoenix, AZ
p 141

9
Richard Brown
Rancho Sata Margarita, CA
p 125

10
Anthony Diaz
San Diego, CA
p 117

11
Preston Fukumizu
Los Angeles, CA
p 99
$15
12
Ryan Halpert
Los Angeles, CA
p 91

13
Brian Ballard
San Diego, CA
p 40

14
Jared Lawrence
Torrance, CA
p 31
$8
15
Angelica Diaz
San Diego, CA
p 20
$30
16
Brittany Page
Los Angeles, CA
p 9
$10
17
Kevin Valmonte
La Verne, CA
p 2

18
Savannah Guerrero
Riverside, CA
p 2
$30
19
Steven Black
Phoenix, AZ
m 17
20
April Urban
Laguna Hills, CA
m 36
$15
21
Steven Lanning
San Diego, CA
m 18
$15
22
Edward Gamboa
San Diego, CA
m 19
$8
23
Rebekah Gottlieb
Tempe, AZ
m 26
24
Brian Carmichael
Moreno Valley, CA
m 31
25
Will Jackson
Gardena, CA
m 39
26
Shane Peck
Riverside, CA
m 41
27
Danielle Schilling
Palmdale, CA
m 50
28
Matthew Spire
Escondido, CA
m 63
29
Matt Clune IV
San Diego, CA
m 73
30
Matt Jones
Canoga Park, CA
m 78
31
Chrissy Quinn
San Diego, CA
m 96
32
Josh Wilson
Vista, CA
m 130
33
Matthew Hutchinson
Escondido, CA
m 142
34
Jeremy Glover
Los Angeles, CA
m 146

35
Jason Larcome
Chula Vista, CA
m 167
36
Logan Bain
San Diego, CA
m 168
37
Cameron Smith
Santee, CA
m 208
Handicap Division
rank
name
city, state
score
prize
1
Ronnie Nophalath
San Diego, CA
p 281
$200
2
Shayne Huntley
Mission Viejo, CA
p 147
$100
3
Eddie Sayles
Los Angeles, CA
p 274
$120
4
Andrew Wellnitz
San Diego, CA
p 199
$60
5
Stephanie Udell
San Diego, CA
p 199
$95
6
Jeff Ingram
San Diego, CA
p 136
$75
7
Tyler Boscarino
Alpine, CA
p 135
$50
8
Jerico Napalan
San Diego, CA
p 135
$39
9
Brenden Lou
San Diego, CA
p 126
10
Shane Lien
San Diego, CA
p 109

11
Taylor King
Phoenix, AZ
p 98
$39
12
Bethany Baker
Tempe, AZ
p 96

13
Gilbert Burriel
San Diego, CA
p 73

14
Nick Powanda
San Diego, CA
p 63

15
Justin Basom
Lemon Grove, CA
p 62

16
Martika Cabezas
Cathedral City, CA
p 52
$63
17
Christina Fraijo
Covina, CA
p 40

18
Kaitlin Mayall
Chula Vista, CA
p 38

19
Jordan Bain
San Diego, CA
p 27

20
Stephen Eaton
San Diego, CA
p 25

21
Kristian Lusterio
San Diego, CA
p 21
22
Charlie Hair
Lake Forest, CA
p 19
$15
23
Anthony Cruz
San Diego, CA
p 15
24
LJ Cline
San Diego, CA
p 7
25
Drew Stern
Northridge, CA
p 3
$39
26
Todd Udell
San Diego, CA
m 22

27
Michael Lozano
San Diego, CA
m 45

28
Melissa Long
San Diego, CA
m 9
$30
29
Steven Sensabaugh
Yorba Linda, CA
m 13

30
Andrew Chain
San Diego, CA
m 15
$30
31
Eric Demo
San Diego, CA
m 15

32
Lisa Marine
San Diego, CA
m 20
33
Monica Lozano
San Diego, CA
m 24
34
Troy Lien
San Diego, CA
m 25
35
Jesus Garcia
San Diego, CA
m 27
36
Jordan Chambers
San Diego, CA
m 29

37
Travis Evans
San Diego, CA
m 35
38
Brittany Kolatzny
San Diego, CA
m 35
39
Rick Clabaugh
San Diego, CA
m 35
40
Kelly Ruzylo
Oceanside, CA
m 37
$15
41
Joshua Ferrer
Henderson, NV
m 38
42
Jordan Ferrer
Henderson, NV
m 47
$15
43
Lana Lycan
San Diego, CA
m 60
44
Brian Casrtelloe
Carlsbad, CA
m 67
45
David Eagle
Las Vegas, NV
m 73
46
Lousi Barragan
Burbank, CA
m 92
47
Denise Way
San Diego, CA
m 96
48
Mimi Duong
San Diego, CA
m 108
49
Wesley Low
Palmdale, CA
m 118
50
James Hawkins Jr.
Anaheim, CA
m 128
51
Kyle Ruzylo
Oceanside, CA
m 133
52
Samantha Meyers
Mission Hills, CA
m 138
$15
53
Foster Phandanouvong
San Diego, CA
m 142
Cuts: scratch miuns 11; handicap minus 1
Ball Winner: Skip Johnston
TOTAL AWARDED THIS EVENT: $1,875