PBA-JBT Pro-Am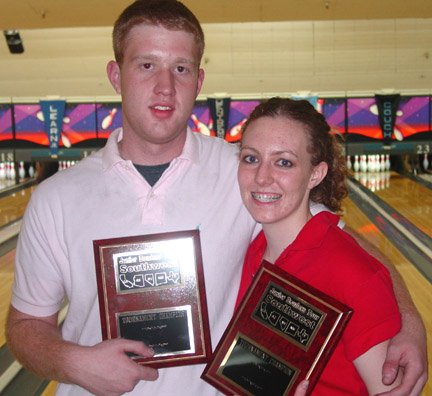 champs BJ Baker & Ashley Belden
In a thoroughly entertaining and exhausting event, two veterans came out on top at the JBT-PBA Pro-Am held in conjunction with the Denny's PBA Tour Motel 6 Phoenix Classic at AMF Christown Lanes.
Two jam-packed adult Pro-Am squads before us resulted in a late start and no time to fully re-oil the lanes, so while the bowlers weren't faced with PBA conditions, they still had a very demanding situation to adjust to. They also benefitted from the advice and encouragement from 15 PBA superstars assigned to our squad. Among them were six with JBT experience (in the east coast JBT), including two JBT Bowlers of the Year, Tommy DeLutz Jr. and Patrick Allen- who of course is now PBA Bowler of the Year.
After the field was cut to the top 60%, we sent the pros on their way to Alabama, and the field bowled two more games, after which we cut to the top 5 for the finals, which began at approximately 12:30 AM-- keeping kids off the streets on Saturday nights is evidently what JBT is all about!
In the scratch division, Andy Byer won round one of the finals 184-156 over Theo Douthit. In round two, Forrest Holland used Robert Smith spare ball-like speed to overcome a virtually oil-less track area and defeat Byer 222-209. Holland lost the line in the semifinals, though, and Dan Eagy took advantage for a 164-159 win and his first trip to the scratch division title match.
Top seed BJ Baker used ball choice, hand position, and great projection to overcome the conditions and make them look easy in the finale. Although Eagy rolled a very solid 191, BJ trumped that with a huge 226 to claim the win, the 15th of his increasingly impressive of his JBT SW career.
The handicap finals belonged to Ashley Belden, who recovered from a difficult title match loss in Kingman last month to win all four matches to finally claim her first JBT SW title. She began with a 217-198 win over Californian Justin Basom. In round two, she won a close battle over fellow New Mexican Ryan Scheer 208-192. In the semifinals, Ashley defeated Kyle Bridgman 231-178 to reach her second straight Arizona Conference title match.
Top seed Kyle Karpovich was enjoying his best JBT SW event ever, taking over the lead in the semifinals. He and Belden engaged in a tense battle in the title match, and Kyle's double in the 8th and 9th had him near victory. A double of Ashley's own in the 9th and 10th got her back in it, however, and when Kyle had a heartbreaking 10th frame open, Ashley had a 192-184 win, and her first JBT SW title.
Everyone who finished in the top 5 qualifies for the 2006 JBT SW Arizona Invitational Tournament, the regular season's year end event, featuring a guaranteed minimum $1,000 first place scholarship in each division. Top season-long point scorers also qualify for the 2006 JBT SW Touring Players' Championship, featuring a guaranteed minimum $2,000 first place scholarship per division!
Thanks to Pat Cook and everyone at Christown for allowing us to extend the format well into the Phoenix night. Thanks also to the entire PBA Tour for allowing us to have this special squad, and doing their usual great job with our kids! 140 entrants shared in over $3,000 in scholarships awarded. Please continue to help spread the word about the terrific benefits of bowling JBT SW events!
JBT-PBA Pro-Am- final results and optional scholarship winners
1/21/2006
Arizona Conference
Scratch Division
rank
name
city, state
prize
1
BJ Baker
Tempe, AZ
$272
2
Dan Eagy
Phoenix, AZ
$520
3
Forrest Holland
Vista, CA
$109
4
Andy Byer
Albuquerque, NM
$90
5
Theo Douthit
San Diego, CA
$116
6
Kris George
Glendale, AZ
$60
7
Kyle King
Phoenix, AZ
$50
8
Mike Cross
Tucson, AZ
$40
9
Eric Rubin
Phoenix, AZ
$30
10
Christian Jensen
Anthem, AZ
$29
11
Kevin Saunders
Goodyear, AZ
$60
12
DJ Sloan
Las Vegas, NV
$15
13
Joe Claspell
Lake Havasu City, AZ
14
DeShaun Jefferson
Phoenix, AZ
15
Elias Ewert
Chandler, AZ

16
Andy Reynoso
Las Vegas, NV

17
Jonathan Pletcher
Chandler, AZ

18
Berman Sae-Aee
San Diego, CA

19
Jeremy Medina
Santa Fe, NM
$36
20
Matthew Hutchinson
Escondido, CA

21
Emily Ornelas
Phoenix, AZ

22
Amanda Falk
Tucson, AZ

23
Brandon Donnelly
Lake Havasu City, AZ
$9
24
David Johnston
Glendale, AZ

25
Christina Waldron
Albuquerque, NM

26
Steven Sheffey
Glendale, AZ

27
Brandon Watts
Lake Havasu City, AZ

28
Jeff Mathews
Las Vegas, NV

29
Justin Penwell
Mesa, AZ

30
Savahna Porter
Yuma, AZ

31
Mike Kremer
Peoria, AZ
32
Nathan Panaligan
N. Las Vegas, NV

33
Rachelle Davis
Tucson, AZ
34
Megan Withey
Glendale, AZ

35
Paul Szymanski
Tempe, AZ

36
Foster Phandanouvong
San Diego, CA

37
Justin Medina
Santa Fe, NM
38
Eric Warren
Phoenix, AZ
39
Dan Bodinet
Phoenix, AZ
40
Jonny Ingram
Flagstaff, AZ

41
Tyler Addotta
Tucson, AZ

42
Chris Varholdt
Chandler, AZ
43
Will McPherson
Chandler, AZ
44
Kevin Schoenfeld
Phoenix, AZ
45
Tom Anderson
Chandler, AZ
46
Shane Peck
Riverside, CA
$9
47
Cameron Smith
Santee, CA
48
Brian Ballard
San Diego, CA

49
Brian Weyrauch
Tempe, AZ

50
Chris Weyrauch
Chandler, AZ

51
Alex Powell
Phoenix, AZ
52
Greg Garbera
Glendale, AZ
$9
53
Tiffany Chi
Prescott, AZ
54
Zach Simon
Scottsdale, AZ
55
Bear Wiltfang
Lake Havasu City, AZ
56
Bryan Caldwell
Glendale, AZ
57
Matt Zang
Tucson, AZ
58
Philip Stephens
Phoenix, AZ
59
Jerod Florez
Bosque Farms, NM
60
Melissa Del Rio
Tucson, AZ
61
Robert Majeske
Tucson, AZ
Handicap Division
rank
name
city, state
prize
1
Ashley Belden
Tijeras, NM
$250
2
Kyle Karpovich
Chandler, AZ
$150
3
Kyle Bridgman
Kingman, AZ
$100
4
Ryan Scheer
Rio Rancho, NM
$108
5
Justin Basom
Lemon Grove, CA
$80
6
Tiffany King
Surprise, AZ
$70
7
Blake Kalaf
Chandler, AZ
$60
8
Jessica Smith
Casa Grande, AZ
$50
9
Emmanuel Durazo
Phoenix, AZ
$54
10
Daniel Cotten
Glendale, AZ
$175
11
Ben Stalker
Phoenix, AZ
$35
12
Bethany Baker
Tempe, AZ
$39
13
Jordan Bell
Phoenix, AZ
$25
14
Michael May
San Diego, CA
$20
15
Rebecca Bodinet
Phoenix, AZ

16
Anthony Cruz
San Diego, CA
$27
17
Zach Huglin
Gilbert, AZ

18
Gary Vose Jr.
Casa Grande, AZ

19
Chris Huglin
Gilbert, AZ

20
Anthony Tripi
El Paso, TX

21
Jewels Giordano
Phoenix, AZ
$27
22
Ryan Hailey
Flagstaff, AZ
$47
23
Bryanna Dawson
Phoenix, AZ
24
Justin Newkirk
Tucson, AZ
$23
25
Kyle Frederick
Chandler, AZ
$27
26
Joey Longo
Phoenix, AZ

27
Brooks Gould
Gilbert, AZ

28
Nicole Stanczak
Phoenix, AZ

29
Nicholas Lee
Tucson, AZ

30
Nick Lamek
Las Vegas, NV
$9
31
Brandon Longo
Phoenix, AZ
32
Austen Christensen
Avondale, AZ

33
Andy Garriott
Phoenix, AZ

34
Alex VanKirk
Prescott Valley, AZ

35
Kaitlin Mayall
Chula Vista, CA
$54
36
James Hawkins Jr.
Anaheim, CA

37
Matt Payne
Phoenix, AZ

38
Vance Varhldt
Chandler, AZ

39
Dale Williams
Flagstaff, AZ

40
Rebeca Reguero
Phoenix, AZ
$36
41
Allie Ijams
Mission Viejo, CA
$36
42
Kayla Frederick
Chandler, AZ
43
Joshua Shoup
Phoenix, AZ
$36
44
Rane Lacona
Phoenix, AZ
45
Christina Fraijo
Corona, CA
$9
46
Drew Stern
Northridge, CA
$9
47
Drew Leinberger
Phoenix, AZ
48
Cameron Peck
Riverside, CA
49
Andrew Gin
Gilbert, AZ
50
Sarah Allred
Phoenix, AZ
51
Nathan Morgan
Avondale, AZ
52
Michael Curry
Phoenix, AZ
53
Courtney Dutton
Chandler, AZ
54
Tim Radney
Mesa, AZ
55
Chris Spinner
Mesa, AZ
56
Zachary Najdawi
Phoenix, AZ
57
Daniel Fazziola
San Diego, CA
$60
58
Brittany Riggers
Phoenix, AZ
59
Brittany Crowell
Glendale, AZ
60
Steven Pizzi
Phoenix, AZ
61
Kylee Bonneville
Mesa, AZ
62
Chelsea Zemelka
Phoenix, AZ
63
Michael Kenny
Prescott Valley, AZ
64
Jacob Fischer
Phoenix, AZ
$9
65
Devon McCormick
Tucson, AZ
$45
66
Greg Gloria
Mesa, AZ
67
Justin Jordan
Mesa, AZ
68
Jaymes Conn
La Mesa, CA
69
Travis Scott
Peoria, AZ
70
Katie Andros-Murphy
Kingman, AZ
71
LJ Cline
San Diego, CA
72
Tim Bertotti
Kingman, AZ
73
Taylor King
Phoenix, AZ
74
Jonathan Crowell
Glendale, AZ
75
Bryce Techmer
Phoenix, AZ
76
Lindsay Salhoff
Phoenix, AZ
77
Collin Lynch
Prescott Valley, AZ
78
Rakan Najdawi
Phoenix, AZ
Cuts: scratch +1199; handicap 1213
TOTAL AWARDED THIS EVENT: $3,074