SAM'S TOWN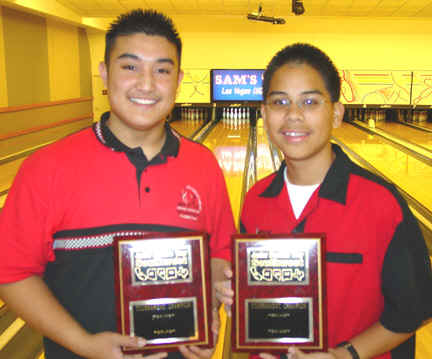 champions Nathan Panaligan & Ryan Yadao
Note to the rest of the Mojave Conference scratch division: look out for Nathan Panaligan in the first two events of a JBT SW season. Nathan won his second consecutive tournament to open the Mojave season for the second straight season, while Ryan Yadao finally broke through for his first JBT SW title, in exciting action at Sam's Town Bowling Center.
The scratch division stepladder finals opened with defending Mojave Conference Bowler of the Year Steven Black falling to Brandon Allred by a 200-195 score. In round two, Theo Douthit, one of our Tour's best southpaws, came up with a 235-181 defeat of Allred. Douthit backed that up with a 228-151 win over current So Cal Conference points leader Forrest Holland. to advance to the title match.
Top qualifier Panaligan flirted with an 800 series in the semifinals en route to claiming the top seed at +354 for his eight games. The match remained close for eight frames, but a late clutch triple by Nathan sealed a 228-189 win. The victory was the fourth of his JBT SW career, and with our next stop at Gold Coast, the site of one of his other wins, he'll look to put a stranglehold on the Mojave scratch points race at that double-points event.
In the handicap division, Scott Schickling escaped round one of the stepladder finals with a 226-220 decision over Jordan Ferrer. Schickling continued his winning ways in round two, defeating San Diego's Michael May 215-199 in round two. Yadao stopped Schickling in the semifinals, 238-204, to set up the deciding match.
Top qualifier Jennifer Roach had looked strong all day in her best-ever JBT SW performance, but ran into trouble in the title match against Yadao. Ryan, who has been improving dramatically this season, consistently filled frames, and the end result was a commanding 227-164 win over Roach, good for his first career JBT SW title.
Everyone who finished in the top 5 qualifies for the 2006 JBT SW Mojave Invitational Tournament, the regular season's yearend event, featuring a guaranteed minimum $1,000 first place scholarship in each division. Top season-long point scorers also qualify for the 2006 JBT SW Touring Players' Championship, featuring a guaranteed minimum $2,000 first place scholarship per division!
80 entrants shared in over $1,700 in scholarships awarded at the event. Big thanks to everyone at Sam's Town for another fantastic job hosting our event. Please continue to help spread the word about the terrific benefits of bowling JBT SW events, and we'll see you at Gold Coast, our next regular season stop, at 8:30 AM on November 13!
Sam's Town- final results and optional scholarship winners
10/9/2005
Mojave Conference
Scratch Division
rank
name
city, state
score
prize
1
Nathan Panaligan
N. Las Vegas, NV
p 352
$246
2
Theo Douthit
Phoenix, AZ
p 239
$110
3
Forrest Holland
Vista, CA
p 285
$135
4
Brandon Allred
Las Vegas, NV
p 217
$50
5
Steven Black
Phoenix, AZ
p 229
$115
6
Christian Jensen
Anthem, AZ
p 208
$35
7
Bobby Majdanski
Las Vegas, NV
p 184
$52
8
Ryan Johnson
Las Vegas, NV
p 164

9
Bobby Sherman
Las Vegas, NV
p 147
$40
10
DJ Sloan
Las Vegas, NV
p 127
$15
11
Cayson Coyle
Las Vegas, NV
p 121

12
Brian Ballard
San Diego, CA
p 107

13
Michael Roach
Lake Havasu City, AZ
p 73
$16
14
Paolo Castro
Las Vegas, NV
p 61

15
Jessica Hetkowski
Las Vegas, NV
p 60
$25
16
Shane Peck
Riverside, CA
p 56
$61
17
Adam Reynoso
Las Vegas, NV
p 51

18
Kevin Houck
Lake Havasu City, AZ
p 49
19
Tom Anderson
Chandler, AZ
p 46
$40
20
Carl Winder
Las Vegas, NV
m 26
21
Joe Claspell
Lake Havasu City, AZ
p 3

22
JR Monteith
Yorba Linda, CA
p 3

23
Ryan McNeel
Las Vegas, NV
m 18

24
Brandon Watts
Lake Havasu City, AZ
m 20
25
Eddie Schaub
Las Vegas, NV
m 22

26
Chris Hooks
Las Vegas, NV
m 31
27
Raoul Saiz
Las Vegas, NV
m 32
28
Chris Kagawa
Las Vegas, NV
m 56

29
Melissa Castro
Las Vegas, NV
m 56

$10
30
Stan Hughes
Las Vegas, NV
m 67
31
Rebekah Gottlieb
Las Vegas, NV
m 95

32
Andy Reynoso
Las Vegas, NV
m 100
33
Matt Pentz
Lake Havasu City, AZ
m 101
34
Kord Collin
Las Vegas, NV
m 124

35
Jeff Mathews
Las Vegas, NV
m 131
36
Steven Ashley
Las Vegas, NV
m 140
37
Taylor McKenrick
Henderson, NV
m 149
38
Michael Ellingson
Las Vegas, NV
m 183
39
Amanda Voight
Las Vegas, NV
m 200
40
Michael Rhoan
Las Vegas, NV
m 83
Handicap Division
rank
name
city, state
score
prize
1
Ryan Yadao
Las Vegas, NV
p 188
$245
2
Jennifer Roach
Lake Havasu City, AZ
p 191
$137
3
Scott Schickling
Lake Havasu City, AZ
p 153
$60
4
Michael May
San Diego, CA
p 168
$85
5
Jordan Ferrer
Henderson, NV
p 152
$60
6
Breezy Sharma
Lake Havasu City, AZ
p 151
$20
7
Tony Seghetti
Las Vegas, NV
p 75

8
Nick Seghetti
Las Vegas, NV
p 69

9
Brandon Ramirez
Las Vegas, NV
p 65

10
Allie Ijams
Mission Viejo, CA
p 58

11
Jordan Katz
Las Vegas, NV
p 44
$10
12
Aubrey Calabrese
Las Vegas, NV
p 40
$11
13
Quinn Hill
Las Vegas, NV
p 31
$15
14
Troy Graydon
Las Vegas, NV
p 27
$11
15
Darcie Staggs
Bullhead City, AZ
p 25
$90
16
Jessica Johnson
Las Vegas, NV
p 22

17
Brandon Davis
Las Vegas, NV
p 2
$15
18
Alesha Pannier
Lake Havasu City, AZ
m 2

19
Nick Lamek
Las Vegas, NV
m 2

20
Kyle Bridgman
Kingman, AZ
m 7
$25
21
Summer Martin
Las Vegas, NV
p 2
22
Tabetha Jones
Las Vegas, NV
even

23
Merrill Hill
Las Vegas, NV
m 3
24
Bryce Hackney
Las Vegas, NV
m 5
$15
25
Sam Cefalu
Las Vegas, NV
m 24

26
Ashley Olriksen
Las Vegas, NV
m 31

27
Cameron Peck
Riverside, CA
m 32

28
Sean Harrison
Las Vegas, NV
m 35
29
Mary Sutton
Las Vegas, NV
m 36

30
Maddie Pellegrino
Henderson, NV
m 40
31
Sean Huggins
Las Vegas, NV
m 42

32
Brandon Dauphinais
Henderson, NV
m 42
33
Steven Emery
Las Vegas, NV
m 50
34
Sam Frey
Las Vegas, NV
m 55
35
Alex Katz
Las Vegas, NV
m 61
36
Kelly White
Henderson, NV
m 128

37
Kaitlin Mayall
Chula Vista, CA
m 134
$25
38
Alicia Sullivan
Kingman, AZ
m 135

39
Jenna Graydon
Las Vegas, NV
m 156
40
Jesse Wade
Las Vegas, NV
m 176
PowerBowl games: 176-218-157 (no winners)
Cuts: scratch plus 17; handicap plus 3
Storm Ball Winner: Bryce Hackney
Junior Gold Qualifiers: Nathan Panaligan
300 Games: none
TOTAL AWARDED THIS EVENT: $1,785