SOUTH COAST BOWLING CENTER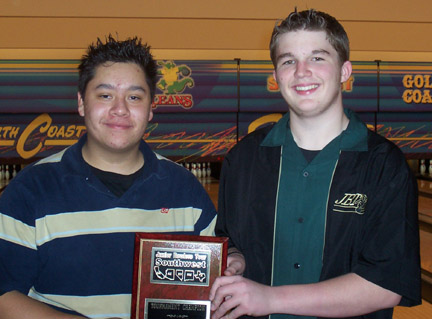 champs Adam Reynoso and Sean Huggins
March is all about "survive and advance" in the sports world, and Adam Reynoso and Sean Huggins emerged from the madness as JBT champions in exciting Mojave Conference action at the beautiful new South Coast Bowling Center.
24 scratch division survivors were whittled down to eight through five grueling rounds where the lowest score on each pair was eliminated each game. In that round of 8, Josh Wilson, Brandon Allred, Brandon Watts, and Jerimiah Wiltfang were all sent to the sidelines. In the round of four, Californian Kevin Valmonte and Arizonan Brandon Donnelly were eliminated, setting up a title match between Mason Sherman and Adam Reynoso.
On paper this was a mismatch, with Mason a nationally-famous junior with many titles to his credit on ours and other tours, while Adam's only JBT top-5 came last month in the Mojave Doubles. However, the match stayed close throughout, and in the end it was Reynoso who threw the biggest shots, coming through with a 243-234 victory and his first JBT title.
The handicap division also began with 24 survivors, and was equally pared down to eight. Sasha Black, Logan Kennedy, Melissa Huether, and David Opdyke were eliminated in that round, finishing 5th-8th respectively. In the semifinal round, Justin King and Jay Prewitt were sidelined after excellent performances, leaving Huggins and Alicia Sullivan as the lone survivors.
Huggins remained in control throughout the finale, and was able to defeat Sullivan 229-181, for the first title of his JBT SW career.
Everyone who finished in the top 5 qualifies for the 2006 JBT SW Mojave Invitational Tournament, the regular season's year end event, featuring a guaranteed minimum $1,000 first place scholarship in each division. Top season-long point scorers also qualify for the 2006 JBT SW Touring Players' Championship, featuring a guaranteed minimum $2,000 first place scholarship per division!
Thanks to GM Billy Walker, Chuck, and the great staff at South Coast for a great job hosting our Tour in our first event at this spectacular addition to the Coast centers. 88 entrants shared in over $2,000 in scholarships awarded. Please continue to help spread the word about the terrific benefits of bowling JBT SW events!
South Coast- final results and optional scholarship winners
2/12/2006
Mojave Conference
Scratch Division
rank
name
city, state
prize
1
Adam Reynoso
Las Vegas, NV
$390
2
Mason Sherman
Moorpark, CA
$100
3
Kevin Valmonte
La Verne, CA
$109
4
Brandon Donnelly
Lake Havasu City, AZ
$65
5
Josh Wilson
Fallbrook, CA
$159
6
Brandon Allred
Las Vegas, NV
$85
7
Brandon Watts
Lake Havasu City, AZ
$50
8
Bear Wiltfang
Lake Havasu City, AZ
$20
9
Kris George
Glendale, AZ
$30
10
Nathan Panaligan
N. Las Vegas, NV
11
Jeff Mathews
Las Vegas, NV
12
DJ Sloan
Las Vegas, NV
$15
13
Andrew Decker
Las Vegas, NV
$19
14
Patrick Snyder
Corona, CA
$30
15
Paolo Castro
Las Vegas, NV

16
Danielle Schilling
Palmdale, CA
$69
17
Steven Black
Phoenix, AZ
$49
18
Shane Peck
Riverside, CA

19
Christian Jensen
Anthem, AZ

20
John Ailstock
Laughlin, NV

21
Eddie Schaub
Las Vegas, NV

22
Ricky Overton
Las Vegas, NV

23
Chris Kagawa
Las Vegas, NV

24
Ray Griffith
Las Vegas, NV

25
Andy Reynoso
Las Vegas, NV

26
Taylor Brennan
Prescott, AZ
27
Joe Claspell
Lake Havasu City, AZ
28
Jordan Katz
Las Vegas, NV

29
Melissa Castro
Las Vegas, NV
$10
30
Ryan Howard
Las Vegas, NV
31
Johnny Ray
Las Vegas, NV

32
Chris Kutcher
Las Vegas, NV
33
Tiffany Chi
Prescott, AZ
34
Jeff Spiesman
Ventura, CA
35
Cameron Smith
Santee, CA
36
Rebekah Gottlieb
Tempe, AZ
37
Sarah Ansteth
Las Vegas, NV
38
Justin Spurrier
Las Vegas, NV
39
Kalani Dilliner
Las Vegas, NV
40
Sean Khureya
Las Vegas, NV
41
Timmy Lee
Las Vegas, NV
42
Jessica Hetkowski
Las Vegas, NV
43
Kary Nguyen
Las Vegas, NV
44
Kevin Houck
Lake Havasu City, AZ
Handicap Division
rank
name
city, state
prize
1
Sean Huggins
Las Vegas, NV
$240
2
Alicia Sullivan
Kingman, AZ
$136
3
Justin King
Las Vegas, NV
$60
4
Jay Prewitt
Chandler, AZ
$77
5
Sasha Black
Fort Mohave, AZ
$85
6
Logan Kennedy
Henderson, NV
$45
7
Melissa Huether
Las Vegas, NV
$20
8
David Opdyke
Las Vegas, NV
$20
9
Zach Hattori
Las Vegas, NV
$50
10
Kristopher DelCampo
Las Vegas, NV
$27
11
Darcie Lee Staggs
Bullhead City, AZ
12
Cody Leslie
Las Vegas, NV
$45
13
Alesha Pannier
Lake Havasu City, AZ
$10
14
Lissette Vega
Pahrump, NV
$15
15
Justin Claspell
Lake Havasu City, AZ

16
Alvin Chan
Lake Havasu City, AZ

17
Merrill Hill
Las Vegas, NV
$30
18
Hannah Chipman
Las Vegas, NV
$50
19
Bryce Hackney
Las Vegas, NV

20
Melanie Griffith
Las Vegas, NV

21
Casey Rosenberg
Las Vegas, NV
$75
22
Paul Huether
Las Vegas, NV

23
Jordan Ferrer
Henderson, NV

24
Amanda Voight
Las Vegas, NV

25
Cameron Peck
Riverside, CA
26
Kevin Foss
Pahrump, NV

27
Chris Martin
Las Vegas, NV
$15
28
Esmerelda Vega
Pahrump, NV
29
MikeThompson
Las Vegas, NV

30
Alex Katz
Las Vegas, NV

31
Ryan Jacobson
Las Vegas, NV

32
Scott Schickling
Lake Havasu City, AZ
33
Ty Prewitt
Chandler, AZ
34
Quinn Hill
Las Vegas, NV

35
Joshua Parz
Las Vegas, NV

36
Blaine Hellman
Lake Havasu City, AZ

37
Taylor McKenrick
Henderson, NV
38
Ryan Yadao
Las Vegas, NV
39
Brandon Parz
Las Vegas, NV
40
Breezy Sharma
Lake Havasu City, AZ

41
Kyle Frederick
Chandler, AZ
42
Kayla Frederick
Chandler, AZ

43
Joshua Ferrer
Henderson, NV
300 Games: none
TOTAL AWARDED THIS EVENT: $2,180