AMF SQUAW PEAK LANES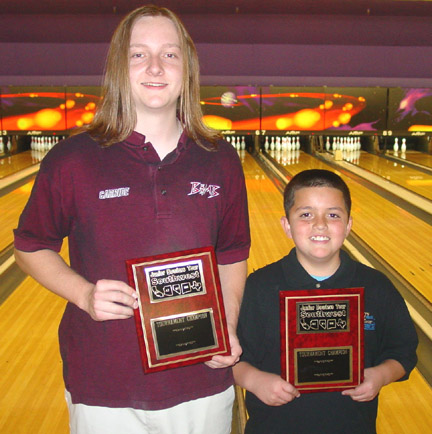 champs Kevin Saunders & Cameron Peck
On a very important double-points day, two bowlers made important leaps up the points standings with victories in JBT SW action at AMF Squaw Peak.
The scratch division finals opened up with Brandon Donnelly making his second finals in six days (he finished 5th at South Coast) a success with a 202 game that defeated Randy Cote (185) and Bryan Caldwell (166). Round two went to Forrest Holland, as his 223 was enough to get by Jeremy Medina (182) and Donnelly (193). Justin Medina then avenged the Medina brothers by starting with the first nine strikes en route to a big 265 score to get by Christian Jensen's fine 237, and a 203 from Holland, to advance to the title match.
Top qualifier Kevin Saunders had just snuck by Jensen in the last game of match play, but found himself in a dogfight against Medina, who is no stranger to high scores in the stepladder this year (see the Starlight Lanes results!). In the tenth frame, both bowlers could have struck out for 255 for a tie, but it was Medina who blinked first. After a 4-pin leave by Justin, Kevin calmly threw a perfect double for a 254-243 win, good for his 7th career JBT title, adding 100 points to his point lead in the Arizona Conference.
Alex Ellis opened round one of the handicap finals with a 224-190 victory over Robert Atherton. Ellis got even better in round two, defeating Steven Pizzi, who moved up to #1 on the points list, 237-216. The next match was an absolute strikefest, as Justin White, who switched to a plastic ball to conquer the drying conditions, pulled out a 261-253 thriller over Ellis to advance to the title match.
Top qualifier Cameron Peck had led since game two of the tournament, continuing to put together one of the most amazing seasons in handicap division history. He remained untouchable in he title match, cruising to a 247-193 victory, and his fifth title of both the season and his JBT career. The win also popped him all the way up to second on the Arizona points list, as teh plot definitely begins to thicken as spring begins.
Everyone who finished in the top 5 qualifies for the 2006 JBT SW Arizona Invitational Tournament, the regular season's year end event, featuring a guaranteed minimum $1,000 first place scholarship in each division. Top season-long point scorers also qualify for the 2006 JBT SW Touring Players' Championship, featuring a guaranteed minimum $2,000 first place scholarship per division!
Thanks to everyone at Squaw Peak for a great job hosting our Tour. 108 entrants shared in over $2,500 in scholarships awarded. Please continue to help spread the word about the terrific benefits of bowling JBT SW events!
AMF Squaw Peak- final results and optional scholarship winners
3/18/2006
Arizona Conference
Scratch Division
rank
name
city, state
score
prize
1
Kevin Saunders
Goodyear, AZ
p 222
$289
2
Justin Medina
Santa Fe, NM
p 132
$125
3
Christian Jensen
Anthem, AZ
p 213
$155
4
Forrest Holland
Vista, CA
p 121
$214
5
Brandon Donnelly
Lake Havasu City AZ
p 97
$110
6
Jeremy Medina
Santa Fe, NM
p 109
$105
7
Randy Cote
Tucson, AZ
p 71
$40
8
Bryan Caldwell
Glendale, AZ
p 78
$30
9
Tom Anderson
Chandler, AZ
p 57
$20
10
Savahna Porter
Yuma, AZ
p 56
$48
11
Bear Wiltfang
Lake Havasu City AZ
p 52
$47
12
Eric Rubin
Phoenix, AZ
p 33

13
Greg Garbera
Glendale, AZ
p 25
$32
14
Merrell Hughes
Chandler, AZ
p 20

15
Steven Black
Phoenix, AZ
p 19
$30
16
Mike Ingeman
Tempe, AZ
p 10
$15
17
Elas Ewert
Chandler, AZ
p 7

18
Chris Varholdt
Chandler, AZ
p 2

19
DeShaun Jefferson
Phoenix, AZ
m 3
$15
20
BJ Baker
Tempe, AZ
m 4
$90
21
Chris Weyrauch
Chandler, AZ
m 4

22
Miguel Lopez
Peoria, AZ
m 23

23
Matt Zang
Tucson, AZ
m 36

24
Jessica Hetkowski
Las Vegas, NV
m 39

25
Mike Armstrong
Tucson, AZ
m 44

26
Dan Bodinet
Phoenix, AZ
m 45

27
Joe Claspell
Lake Havasu City AZ

m 56

28
Bill Grant
Rio Rancho, NM
m 86

29
Lanndyn Carnate
Glendale, AZ
m 144

30
Kyle King
Phoenix, AZ
m 146

31
Eric Warren
Phoenix, AZ
m 66
$15
32
Brandon Watts
Lake Havasu City AZ
m 68

33
Berman Sae-Aee
San Diego, CA
m 68
34
Shane Peck
Riverside, CA
m 71
$17
35
Cameron Smith
Santee, CA
m 72

36
Matt Herbert
Prescott, AZ
m 72
$30
37
Will McPherson
Chandler, AZ
m 78
38
Taylor Brennan
Prescott, AZ
m 79
39
Michael Cross
Tucson, AZ
m 85
40
Kris George
Glendale, AZ
m 88

41
Dan Delano
Phoenix, AZ
m 88

42
Megan Withey
Glendale, AZ
m 89
43
Zach Simon
Scottsdale, AZ
m 99
$17
44
Theo Douthit
San Diego, CA
m 101
45
Mike Kremer
Peoria, AZ
m 119
46
Steven Sheffey
Glendale, AZ
m 121
47
Rebekah Gottlieb
Tempe, AZ
m 127
48
Jerod Florez
Bosque Farms, NM
m 137

49
Justin Penwell
Mesa, AZ
m 138
50
Melissa Del Rio
Tucson, AZ
m 147
51
Matthew Erb
Phoenix, AZ
m 152
52
Philip Stephens
Phoenix, AZ
m 155
53
Emily Ornelas
Phoenix, AZ
m 170
54
David Johnston
Glendale, AZ
m 171
55
Amanda Falk
Tucson, AZ
m 174
56
Tiffany Chi
Prescott, AZ
m 195
57
Rachelle Davis
Tucson, AZ
m 210
58
Robert Majeske
Tucson, AZ
m 211
59
Brian Weyrauch
Tempe, AZ
m 238
60
Scott Millard
Tucson, AZ
dnf
Handicap Division
rank
name
city, state
score
prize
1
Cameron Peck
Riverside, CA
p 224
$318
2
Justin White
Phoenix, AZ
p 161
$115
3
Alex Ellis
Phoenix, AZ
p 119
$90
4
Steven Pizzi
Avondale, AZ
p 154
$75
5
Robert Atherton
Glendale, AZ
p 150
$50
6
CJ Crowley
Gilbert, AZ
p 106
$98
7
Jewels Giordano
Phoenix, AZ
p 99
$60
8
Daniel Cotten
Glendale, AZ
p 92
$33
9
Amy Hammann
Phoenix, AZ
p 76
$18
10
Jay Prewitt
Chandler, AZ
p 64

11
Corbin Farris
Phoenix, AZ
p 63

12
Bryanna Dawson
Chandler, AZ
p 60

13
Rane Lacona
Phoenix, AZ
p 58
$60
14
Gino Salaverria
Phoenix, AZ
p 54

15
Joshua Shoup
Phoenix, AZ
p 51

16
Andrew Farris
Phoenix, AZ
p 46

17
Kayla Frederick
Chandler, AZ
p 15
$13
18
Bethany Baker
Tempe, AZ
p 13
$15
19
Eric Vizthum
Phoenix, AZ
p 12

20
Samantha Aguilar
Tucson, AZ
p 3

21
Allie Ijams
Mission Viejo, CA
p 1
$30
22
Kylee Bonneville
Mesa, AZ
m 31
$13
23
Andrew Harris
Phoenix, AZ
m 46
$15
24
Joshua Ferrer
Henderson, NV
m 124

25
Kyle Frederick
Chandler, AZ
m 7

26
Cheslea Zemelka
Phoenix, AZ
m 7

27
Austen Christensen
Avondale, AZ
m 10
$30
28
Jordan Ferrer
Henderson, NV
m 10

29
Rebecca Bodinet
Phoenix, AZ
m 23

30
Matt Payne
Phoenix, AZ
m 33
31
Jordan Bell
Phoenix, AZ
m 34

32
Arthur Cardenas
Sahuarita, AZ
m 41

33
Alex Powell
Phoenix, AZ
m 49

34
Michael Curry
Phoenix, AZ
m 55

35
Michael Kenny
Prescott Valley, AZ
m 61
$30
36
Justus Trader
Prescott Valley, AZ
m 61

37
Rebeca Reguero
Phoenix, AZ
m 62

38
Nicholas Lee
Tucson, AZ
m 63

39
Michael Aguilar
Tucson, AZ
m 65

40
Kevin Millard
Tucson, AZ
m 70

41
Chelsea Harris
Phoenix, AZ
m 77

42
Courtney Dutton
Chandler, AZ
m 80
43
Alesha Pannier
Lake Havasu City, AZ
m 81
44
Christian Cardenas
Sahuarita, AZ
m 95
45
Emmanuel Durazo
Phoenix, AZ
m 95
46
Tim Radney
Mesa, AZ
m 96
47
Brandon Longo
Phoenix, AZ
m 127

48
Dennan Boscarino
Phoenix, AZ
m 170
Cuts: scratch -65; handicap -6
Ball Winner: Michael Kenny
Jr. Gold Qualifiers: none
TOTAL AWARDED THIS EVENT: $2,527