STARLIGHT LANES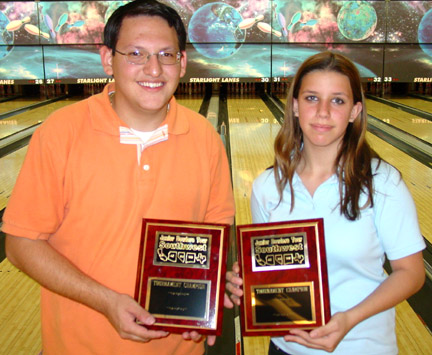 champions Stephen Gaucin and Sara Vargas

Stephen Gaucin climbed the stepladder to claim another JBT SW victory, while Sara Vargas took the short route to her first win, in JBT SW action at Starlight Lanes.

Gaucin first faced Robyn Ashley, and escaped when a great 10th frame shot by Robyn didn't strike, giving Stephen the 224-223 win. In round two, Gaucin ran the back five strikes to eliminate Justin DeDera 204-200. In the semifinals, he came up big again, defeating Jeremy Medina 237-219, to advance to the title match.

Top qualifier Jerod Florez was having his best tournament of the season, but was unable to keep pace with Gaucin, who was getting stronger with every shot. In the end, Stephen defeated Jerod 245-205, good for the fourth title of his JBT SW career.

The handicap division saw some very competitive matches in the first three rounds of the stepladder finals. Ahkeen Williams made his first finals a success by winning round one witha 218 game that squeezed by a 210 from Joey Grant, and a 209 from points leader Kyla Casaus.

In round two, it was Williams again, rolling a big 241 to just get by Zachary Barnard (231) and Brianna Jaramillo (212). The semifinal match was as close as it could be without a tie, with #3 seed Justin Sanchez firing a 209 game, beating Ahkeen Williams by one pin (208), and William Yoder by two (207)- wow!

Top seeded Sara Vargas remained in control the entire title match against a suddenly struggling Sanchez, and was able to capture her first JBT SW title with a 226-174 win over Justin.

Everyone who finished in the top 5 qualifies for the 2006 JBT SW NM-TX Invitational Tournament, the regular season's year end event, featuring a guaranteed minimum $1,000 first place scholarship in each division. Top season-long point scorers also qualify for the 2006 JBT SW Touring Players' Championship, featuring a guaranteed minimum $2,000 first place scholarship per division!

Big thanks to Margaret, Jerry, Gary, and the staff of Starlight Lanes for a terrific job hosting our event, which awarded $1,584 in scholarships, bringing the weekend total to over $3,200!
Starlight Lanes (Sun.)- final results and optional scholarship winners
10/30/2005
New Mexico-Texas Conference
Scratch Division
rank
name
city, state
score
prize
1
Stephen Gaucin
El Paso, TX
p 220
$244
2
Jerod Florez
Bosque Farms, NM
p 323
$107
3
Jeremy Medina
Santa Fe, NM
p 282
$50
4
Justin DeDera
Albuquerque, NM
p 243
$62
5
Robyn Ashley
Farmington, NM
p 168
$30
6
Sam Cuevas
Lubbock, TX
p 113
$30
7
Tom Anderson
Chandler, AZ
p 89
$15
8
Josh Arceo
Albuquerque, NM
p 11

9
Shane Peck
Riverside, CA
m 21
$30
10
Bill Grant
Rio Rancho, NM
m 55

11
Justin Medina
Santa Fe, NM
p 42

12
Andy Byer
Albuquerque, NM
p 24

13
William Entsminger
El Paso, TX
m 1

14
Dan Romero
Santa Fe, NM
m 38

15
Philip Stephens
Phoenix, AZ
m 78
16
Christina Waldron
Albuquerque, NM
m 117
$10
17
Ashley Dale
Albuquerque, NM
m 129
Handicap Division
rank
name
city, state
score
prize
1
Sara Vargas
Albuquerque, NM
p 225
$215
2
Justin Sanchez
Albuquerque, NM
p 190
$100
3
William Yoder
Albuquerque, NM
p 199
$105
4
Ahkeen Williams
Las Cruces, NM
p 135
$60
5
Zachary Barnard
Albuquerque, NM
p 166
$107
6
Brianna Jaramillo
Albuquerque, NM
p 149
$77
7
Joey Grant
Rio Rancho, NM
p 135
$30
8
Kyla Casaus
Roswell, NM
p 127
$20
9
Jerrico Palma
Roswell, NM
p 119
$32
10
Mike Romero
Santa Fe, NM
p 118
$15
11
Kendall Kipp
Albuquerque, NM
p 116
$24
12
Aaron Winchester
Santa Fe, NM
p 112

13
Tad Scott
Roswell, NM
p 110
$15
14
Olivia Silva
Albuquerque, NM
p 102

15
Arielle Palma
Roswell, NM
p 98

16
Heaven Pajala
Albuquerque, NM
p 88
$30
17
Lacey Shelton
Albuquerque, NM
p 85

18
Krista Casaus
Roswell, NM
p 82

19
Blake Brown
Albuquerque, NM
p 80

20
Cameron Peck
Riverside, CA
p 75
$30
21
Jesse Henson
Hobbs, NM
p 62
$30
22
Brandon Dye
Roswell, NM
p 49
$15
23
Thomas Gutierrez
Albuquerque, NM
p 38
$15
24
Alex Powell
Phoenix, AZ
p 14
$10
25
Michael Hinojosa
Las Cruces, NM
p 8

26
Mark Mares
Los Lunas, NM
m 5

27
Nathan Hughes
San Jose, NM

m 50
$30
28
Paul Carper
Rio Rancho, NM
m 124
$15
29
Miranda Ruiz
Albuquerque, NM
m 6

30
Ashley Belden
Tijeras, NM
m 8
31
Shauna McAfee
Albuquerque, NM
m 14
32
Mariah Martinez
Albuquerque, NM
m 14

33
Amanda Johnson
Rio Rancho, NM
m 26
$15
34
Susan Kurzeka
Albuquerque, NM
m 29

35
Ryan Scheer
Rio Rancho, NM
m 33

36
Charlie Elliott
Santa Fe, NM
m 34

37
Kara Casaus
Roswell, NM
m 41

38
Joseph Palma
Roswell, NM

m 44

39
Kassi Johnson-Willis
Roswell, NM
m 45

40
Justin Roach
Roswell, NM
m 48

41
Josh Brown
Albuquerque, NM
m 52

42
Kylee Kipp
Albuquerque, NM
m 53
43
Juan Romero
Albuquerque, NM
m 54
44
Justin White
Phoenix, AZ
m 60
45
Tanner Palmer
Amarillo, TX
m 61
46
Brooke Scarberry
Roswell, NM
m 61
47
Brittany McComb
Albuquerque, NM
m 66
48
Rachel Thompson
Albuquerque, NM
m 67

49
Travis Gudelj
Albuquerque, NM
m 70
50
Jessica Palma
Albuquerque, NM
m 72
$21
51
Jeremy Baca
Los Lunas, NM
m 90
52
Annalicia Martinez
Roswell, NM
m 99
53
Jamison Spam
Rio Rancho, NM
m 108
54
Sabrina Vargas
Albuquerque, NM
m 114
55
Jordan Oppenheim
Albuquerque, NM
m 121
High Female: Waldron 883
Cuts: scratch +43; handicap -1
Storm Ball Winner: Jamison Spam
Jr. Gold Qualifier: none
TOTAL AWARDED THIS EVENT: $1,584