SUNCOAST BOWLING CENTER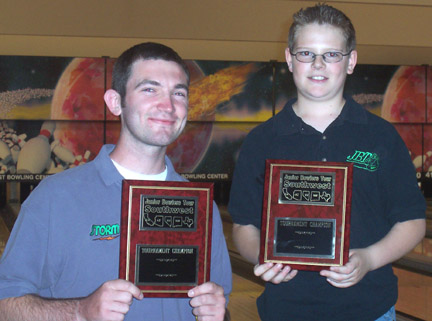 champs Mark French and Paul Huether
Mark French made a cameo appearance a success, while Paul Huether made it two wins in three events, in exciting JBT Mojave Conference action at Suncoast Bowling Center.
Las Vegan Justin Spurrier opened the scratch division stepladder finals with a 203-189 win over Californian Forrrest Holland. Spurrier then got past red-hot Andy Reynoso 215-202, before falling to fellow southpaw Jeff Spiesman 264-234, to set up an all-California title match.
French has long been one of the best junior bowlers in the country, but has made only limited JBT appearances in his busy career. He made sure to cash in on this one, though, averaging over 244 on the day, and wrapping up his first JBT title with a 233-196 win over his friend Jeff.
The handicap division finals opened with Ricky Overton making a successful division-hop with a 221-181 win over Merrill Hill, who snuck into the top-5 in points with the day's fine performance. Huether then exploded in round two for a 266-187 win over Overton, and followed with a 231-168 win over Kris Del Campo, who was making his third straight finals, to reach the title match.
Top qualifier Sean Huggins was looking for his second title of the season as well, but Huether was not to be denied, wrapping up a 244-227 win in an exciting title match.
The field is now set for the 2006 JBT SW Mojave Invitational Tournament, the season's final event, featuring a guaranteed minimum $1,000 first place scholarship in each division. Top season-long point scorers also qualify for the 2006 JBT SW Touring Players' Championship, featuring a guaranteed minimum $2,000 first place scholarship per division!
Thanks to Lynn, Tim, Tina, and everyone at Suncoast for hosting our event. 80 entrants shared in over $1,500 in scholarships awarded. Please continue to help spread the word about the terrific benefits of bowling JBT SW events!
Suncoast- final results and optional scholarship winners
6/4/2006
Mojave Conference
Scratch Division
rank
name
city, state
prize
1
Mark French
Ventura, CA
$200
2
Jeff Spiesman
Ventura, CA
$100
3
Justin Spurrier
Las Vegas, NV
$60
4
Andy Reynoso
Las Vegas, NV
$80
5
Forrest Holland
Vista, CA
$133
6
Brandon Allred
Las Vegas, NV
$33
7
Joe Branson
Wichita, KS
$28
8
Adam Reynoso
Las Vegas, NV
$176
9
Nathan Panaligan
N. Las Vegas, NV
$15
10
Bobby Majdanski
Las Vegas, NV

11
Chris Kagawa
Las Vegas, NV

12
Jessica Hetkowski
Las Vegas, NV
$25
13
Kevin Valmonte
La Verne, CA

14
Paolo Castro
Las Vegas, NV

15
Mason Sherman
Moorpark, CA

16
Joe Claspell
Lake Havasu City, AZ

17
Jordan Katz
Las Vegas, NV

18
Carl Winder
Las Vegas, NV

19
Shane Peck
Riverside, CA

20
Kris George
Glendale, AZ

21
Cayson Coyle
Las Vegas, NV

22
Mike Ellingson
Las Vegas, NV

23
Danielle Schilling
Palmdale, CA

24
Josh Wilson
Vista, CA
$15
25
Jeremy Almoina
Las Vegas, NV

26
Eddie Schaub
Las Vegas, NV

27
Jeff Mathews
Las Vegas, NV
$15
28
Christian Jensen
Anthem, AZ

29
Johnny Ray
Las Vegas, NV

30
Kary Nguyen
Las Vegas, NV

31
Steven Slivka
Las Vegas, NV

32
DJ Sloan
Las Vegas, NV

33
Brandon Watts
Lake Havasu City, AZ

34
Nick Garcia
Las Vegas, NV

35
Sean Khureya
Las Vegas, NV

36
Kalani Dilliner
Las Vegas, NV

Handicap Division
rank
name
city, state
prize
1
Paul Huether
Las Vegas, NV
$200
2
Sean Huggins
Las Vegas, NV
$160
3
Kris Del Campo
Las Vegas, NV
$90
4
Ricky Overton
Las Vegas, NV
$50
5
Merrill Hill
Las Vegas, NV
$40
6
Alicia Sullivan
Kingman, AZ
$45
7
Melissa Huether
Las Vegas, NV
$20
8
Kyle Bridgman
Kingman, AZ

9
Blaine Hellman
Las Vegas, NV

10
Allie Ijams
Mission Viejo, CA

11
Rebekah Gottlieb
Tempe, AZ
$60
12
Matt Raagas
Las Vegas, NV
$30
13
Danielle Moody
Las Vegas, NV

14
Justin King
Las Vegas, NV

15
Quinn Hill
Las Vegas, NV

16
Ashley Olriksen
Las Vegas, NV

17
Nathan Almoina
Las Vegas, NV

18
Tim Lee
Las Vegas, NV

19
Troy Graydon
Las Vegas, NV

20
Scott Schickling
Lake Havasu City, AZ
$15
21
Nick Lamek
Las Vegas, NV

22
Cameron Peck
Riverside, CA

23
David Opdyke
Las Vegas, NV

24
Crystal Gutierrez
Las Vegas, NV

25
Ryan Jacobson
Las Vegas, NV

26
Alesha Pannier
Lake Havasu City, AZ

27
Nick Seghetti
Las Vegas, NV

28
Bryce Hackney
Las Vegas, NV

29
Jenna Graydon
Las Vegas, NV

30
Josh Ferrer
Henderson, NV
31
Mike May
San Diego, CA
32
Zach Hattori
Las Vegas, NV

33
Ryan Yadao
Las Vegas, NV

34
Justin Claspell
Lake Havasu City, AZ

35
Alex Katz
Las Vegas, NV

36
Andrew Gottlieb
Las Vegas, NV

37
Taylor McKenrick
Henderson, NV

38
Summer Martin
Las Vegas, NV

39
Sean Harrison
Las Vegas, NV

40
Jordan Ferrer
Henderson, NV
$45
41
Mariah Robinson
Las Vegas, NV

42
Logan Kennedy
Henderson, NV

43
Kelly Ann White
Henderson, NV

44
Michael Thompson
Las Vegas, NV

Cuts: scratch +28; handicap +14

Ball Winner: Scott Schickling
TOTAL AWARDED THIS EVENT: $1,650