Tenpins & More @ Rio Rancho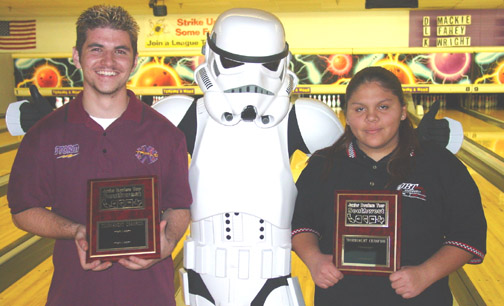 champs Andy Byer and Miranda Ruiz, with Storm Trooper #17654-A
Andy Byer dominated all day long, while Miranda Ruiz staged a big comeback to win JBT SW titles in exciting action at Tenpins & More @ Rio Rancho.
The scratch division finals opened with steady Stephen Gaucin defeating second-time finalist Brian Collier 188-153. In round two, Jeremy Medina got by Gaucin, 181-168. In another low scoring but tight match, Medina defeated Bill Grant 181-175, to advance to the title match.
Top qualifier Andy Byer had dominated the field, making the challenging lane condition look easy. It was no different in the title match, as he cruised to a big 255-221 win, good for the 8th title of the 2004 Touring Players' Championship's JBT SW career.
In the handicap division, Jordan Oppenheim won round one of the 8-person stepladder finals with a 22 game that defeated Alex Yoder (199) and Olivia Silva (190). In round two, Arielle Palma advanced with a big 229 game, but was temporarily overshadowed by the entertaining performance of 5 year-old Michael Yoder, whose 227 just lost out to Arielle. Meanwhile, Jordan rolled a nice 206, but settled for 6th place.
In the semifinals, three girls went at it, with Miranda Ruiz' 195 being just enough to get by Palma (174) and Ashley Belden (188), advancing her against top qualifier Alysha Cuevas. Cuevas, visiting family in Roswell, put on a great performance to reach the top seed, but found herself in a tight battle against Ruiz, who wouldn't even have made the cut if not for a personal-best 203 in game five. After Miranda finished with an open tenth, Cuevas left the 2-4-5 in her tenth, and by getting only one on the spare the result was a heartbreaking 203-202 loss for Alysha, and a stunned Ruiz had her first career JBT SW title.
Everyone who finished in the top 5 qualifies for the 2006 JBT SW NM-TX Invitational Tournament, the regular season's year end event, featuring a guaranteed minimum $1,000 first place scholarship in each division. Top season-long point scorers also qualify for the 2006 JBT SW Touring Players' Championship, featuring a guaranteed minimum $2,000 first place scholarship per division!
Thanks again to Steve Mackie and everyone at Tenpins & More for a great job hosting a very successful doubleheader weekend. 65 entrants shared in over $1,400 in scholarships awarded. Please continue to help spread the word about the terrific benefits of bowling JBT SW events!
Tenpins & More- final results and optional scholarship winners
12/18/2005
New Mexico-Texas Conference
Scratch Division
rank
name
city, state
prize
1
Andy Byer
Albuquerque, NM
$278
2
Jeremy Medina
Santa Fe, NM
$145
3
Bill Grant
Rio Rancho, NM
$66
4
Stephen Gaucin
El Paso, TX
$50
5
Brian Collier
Amarillo, TX
$35
6
Tom Anderson
Chandler, AZ
7
Jerod Florez
Bosque Farms, NM
$6
8
Nathan Herring
Amarillo, TX

9
Sam Cuevas
Lubbock, TX

10
Anthony Johnson
Amarillo, TX

11
Robyn Ashley
Farmington, NM

12
Dan Romero
Santa Fe, NM
13
Cody Mansfield
Albuquerque, NM
14
Christina Waldron
Albuquerque, NM
Handicap Division
rank
name
city, state
prize
1
Miranda Ruiz
Roswell, NM
$200
2
Alysha Cuevas
Wilmington, CA
$100
3
Ashley Belden
Tijeras, NM
$85
4
Arielle Palma
Roswell, NM
$60
5
Michael Yoder
Albuquerque, NM

6
Jordan Oppenheim
Rio Rancho, NM
$40
7
Alex Yoder
Albuquerque, NM
$60
8
Olivia Silva
Albuquerque, NM
$20
9
Janeyl Carper
Rio Rancho, NM
$66
10
Thomas Gutierrez
Albuquerque, NM
$41
11
Charlie Elliott
Santa Fe, NM
$52
12
Brandy Main
Roswell, NM
$15
13
Travis Turner
Amarillo, TX
14
Zachary Barnard
Albuquerque, NM

15
Ahkeen Williams
Las Cruces, NM

16
Krista Casaus
Roswell, NM

17
Sabrina Vargas
Albuquerque, NM

18
Joseph Palma
Roswell, NM

19
Carter Casper
Amarillo, TX

20
Jerrico Palma
Roswell, NM

21
Kyla Collier
Amarillo, TX
$15
22
Paul Carper
Rio Rancho, NM

23
Brianna Jaramillo
Albuquerque, NM
$56
24
Wendy Shelton
Albuquerque, NM

25
Kristine Cuevas
Wilmington, CA
$15
26
Kara Casaus
Roswell, NM

27
John Yoder
Albuquerque, NM

28
Nathan Hughes
San Jose, NM

29
Mark Mares
Los Lunas, NM
$45
30
Jamison Spam
Rio Rancho, NM
$6
31
Ryan Scheer
Rio Rancho, NM

32
Sara Vargas
Albuquerque, NM

33
Kassi Johnson-Willis
Roswell, NM

34
Jessica Palma
Los Lunas, NM

35
Kelley Smith
Albuquerque, NM
$15
36
Blake Brown
Albuquerque, NM

37
Brandon Dye
Roswell, NM

38
Tanner Palmer
Amarillo, TX
$15
39
Sydney Bowerman
Amarillo, TX

40
William Yoder
Albuquerque, NM

41
Juan Romero
Albuquerque, NM

42
Camille Martinez
Santa Fe, NM
43
Austin Mansfield
Albuquerque, NM
44
Joey Grant
Rio Rancho, NM
45
Annalicia Martinez
Roswell, NM
46
Susan Kurzeka
Albuquerque, NM
47
Josh Brown
Albuquerque, NM
48
Kyla Casaus
Roswell, NM
49
Amanda Johnson
Rio Rancho, NM
$15
Cuts: scratch -52; handicap -29
Storm Ball Winner: Ashley Belden
Jr. Gold Qualifier: none
TOTAL AWARDED THIS EVENT: $1,516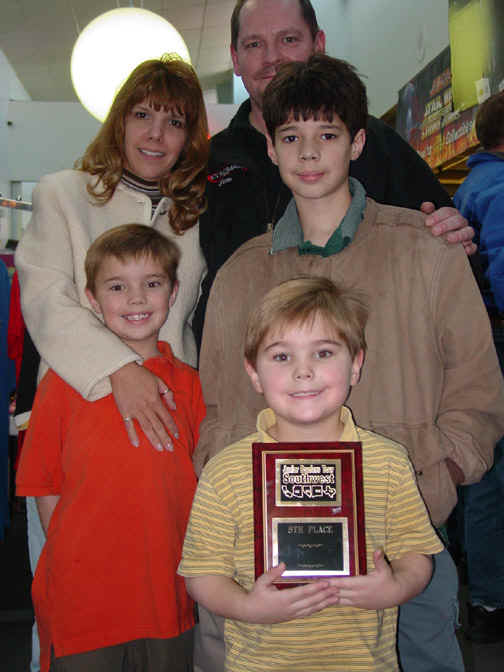 Michael Yoder and the happy Yoder family