AMF UNION HILLS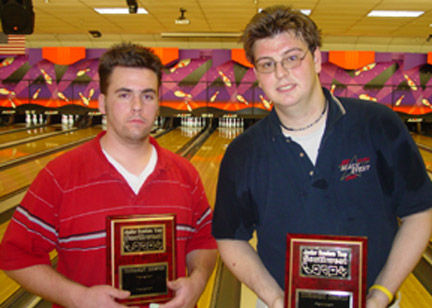 champs Theo Douthit & Michael Curry
The JBT's Bowler of the Year races are heating up with the weather, and Theo Douthit and Michael Curry stepped up to that challenge with wins in exciting Arizona Conference action at AMF Union Hills.
The scratch division finals was the Kevin Saunders show prior to the title match. He began with a 246-158 win over Lanndyn Carnate. Kevin, the current scratch division points leader, followed that by doubling in the tenth for a 200-195 win over Mike Donnelly, and then blasted eleven strikes in the semifinal match for a 280-247 win over a snakebit Bill Grant to reach the title match.
Douthit, the prime contender with Saunders for Bowler of the Year, has made a strong statement this spring, winning at Cactus in April, and then averaging over 240 to run away with the top seed here. Kevin fired a fine 226 in the title match, but was no match for a white-hot Theo, who tossed a big 269 (with a towel-shot gutter on the fill) for the win, his 8th career JBT win, closing the gap in the AZ B.O.Y. race.
The handicap division had 3 of the top 6 point leaders in the finals, a rare feat for this late in the season. Brandon Longo, one of those three, opened the finals with a 217-198 win over another one of those leaders, red-hot Kylee Bonneville (who has 3 ladders his last 4 events). Longo just got by Kyle Frederick in round two, 231-220, before Curry came on to defeat Longo, 218-172.
Curry has been fighting it out with Steven Pizzi for the points lead for a while, and took full advantage of Pizzi's missed cut today to close that gap a lot. The title match against top seed Tiffany King came down to the tenth frame, where Curry's spare turned out to be enough for a 196-182 win, good for his second JBT title of his career.
Everyone who finished in the top 5 qualifies for the 2006 JBT SW Arizona Invitational Tournament, the regular season's year end event, featuring a guaranteed minimum $1,000 first place scholarship in each division. Top season-long point scorers also qualify for the 2006 JBT SW Touring Players' Championship, featuring a guaranteed minimum $2,000 first place scholarship per division!
Thanks to everyone at Union Hills for their hard work in our first ever visit to that center (leaving only two public, civilian Phoenix area centers we've never been to- name 'em!). Over $2,200 in scholarships were awarded to the 93 bowler field. Please continue to help spread the word about the terrific benefits of bowling JBT SW events!
AMF Union Hills- final results and optional scholarship winners
5/6/2006
Arizona Conference
Scratch Division
rank
name
city, state
score
prize
1
Theo Douthit
San Diego, CA
p 416
$374
2
Kevin Saunders
Goodyear, AZ
p 227
$209
3
Bill Grant
Rio Rancho, NM
p 243
$75
4
Mike Donnelly
Chandler, AZ
p 239
$70
5
Lanndyn Carnate
Glendale, AZ
p 200
$55
6
Randy Cote
Tucson, AZ
p 190
$30
7
Kris George
Glendale, AZ
p 166
$35
8
Eric Rubin
Chandler, AZ
p 162
$64
9
Greg Garbera
Glendale, AZ
p 161
$15
10
Christian Jensen
Anthem, AZ
p 149
$44
11
Marc Algeri
Phoenix, AZ
p 139
12
Philip Stephens
Phoenix, AZ
p 106

13
Bear Wiltfang
Lake Havasu City, AZ
p 96
$74
14
Chris Varholdt
Chandler, AZ
p 85

15
Savahna Porter
Yuma, AZ
p 81
$35
15
Hasan Kural
Glendale, AZ
p 80

17
Kyle King
Phoenix, AZ
p 76

18
Amanda Falk
Tucson, AZ
p 70

19
Brandon Donnelly
Lake Havasu City, AZ
p 68

20
Chris Weyrauch
Chandler, AZ
p 28

21
Steven Black
Phoenix, AZ
p 16
$14
22
Chris Davenport
Tucson, AZ
p 1

23
BJ Baker
Tempe, AZ
m 42
$15
24
Megan Withey
Glendale, AZ
m 68
$25
25
Will McPherson
Chandler, AZ
p 15

26
Jeremy Medina
Santa Fe, NM
p 7

27
Mike Ingeman
Tempe, AZ
even

28
Mike Kremer
Peoria, AZ
m 1

29
Tom Anderson
Chandler, AZ
m 3

30
Miguel Lopez
Peoria, AZ
m 6

31
Elias Ewert
Chandler, AZ
m 8

32
Kevin Schoenfeld
Peoria, AZ
m 23
$30
33
Melissa Del Rio
Tucson, AZ
m 26
34
DeShaun Jefferson
Phoenix, AZ
m 34

35
Kevin Narciso
Phoenix, AZ
m 37
$15
36
Bryan Caldwell
Glendale, AZ
m 48

37
Eric Warren
Phoenix, AZ
m 55
38
Joseph Anderson
Avondale, AZ
m 57
39
Rachelle Davis
Tucson, AZ
m 73
40
Zach Simon
Scottsdale, AZ
m 78

41
Berman Sae-Aee
San Diego, CA
m 102

42
Amanda Albani
Glendale, AZ
m 115
43
Steven Sheffey
Glendale, AZ
m 128

44
Bobby Fisher
Glendale, AZ
m 139
45
Mike Cross
Tucson, AZ
m 140
46
Tiffany Chi
Prescott, AZ
m 164
47
Matt Zang
Tucson, AZ
m 204
Handicap Division
rank
name
city, state
score
prize
1
Michael Curry
Phoenix, AZ
p 231
$285
2
Tiffany King
Surprise, AZ
p 249
$153
3
Brandon Longo
Phoenix, AZ
p 200
$90
4
Kyle Frederick
Chandler, AZ
p 210
$128
5
Kylee Bonneville
Mesa, AZ
p 177
$40
6
Chris Webb
Phoenix, AZ
p 168
$30
7
Amy Dorsey
Prescott Valley, AZ
p 163
$25
8
Kyle Vitzthum
Glendale, AZ
p 149
$19
9
Stephanie Ankebrant
Tempe, AZ
p 146

10
Keanen Barton
Phoenix, AZ
p 143

11
Nicole Stanczak
Phoenix, AZ
p 139

12
Justin Givler
Phoenix, AZ
p 127

13
Jay Prewitt
Chane
p 116
$43
14
Bethany Baker
Tempe, AZ
p 111

15
Eric Vitzthum
Glendale, AZ
p 110
$10
16
Joey Longo
Phoenix, AZ
p 103

17
Austen Christensen
Avondale, AZ
p 94
$60
18
Courtney Dutton
Chandler, AZ
p 93

19
Bryanna Dawson
Phoenix, AZ
p 91

20
Jason Moore
Mesa, AZ
p 87

21
CJ Crowley
Gilbert, AZ
p 86
$15
22
Nicholas Lee
Tucson, AZ
p 79

23
Emmanuel Durazo
Phoenix, AZ
p 23
$15
24
Rebeca Reguero
Phoenix, AZ
p 51
$13
25
Steven Pizzi
Avondale, AZ
p 49

26
Andrew Farris
Phoenix, AZ
p 49

27
Michael Kenny
Prescott Valley, AZ
p 43
$15
28
Kayla Frederick
Chandler, AZ
p 34
29
Tim Radney
Mesa, AZ
p 34

30
Joshua Shoup
Phoenix, AZ
p 31

31
Rane Lacona
Phoenix, AZ
p 23

32
Corbin Farris
Phoenix, AZ
p 21

33
Lauren Zachow
Phoenix, AZ
p 13
$25
34
Jacqui Gerchak
Phoenix, AZ
p 11

35
Justin White
Phoenix, AZ
p 2

36
Daniel Cotton
Glendale, AZ
m 1

37
Matt Payne
Phoenix, AZ
m 7

38
Bryce Techmer
Phoenix, AZ
m 11

39
Alex Ellis
Phoenix, AZ
m 14
$15
40
Robert Atherton
Glendale, AZ
m 18

41
Vance Varholdt
Chandler, AZ
m 19

42
Alex Powell
Phoenix, AZ
m 23
$15
43
Rebekah Gottlieb
Tempe, AZ
m 32
$13
44
Chelsea Zemelka
Phoenix, AZ
m 33
$10
45
Taylor King
Phoenix, AZ
m 38
$10
46
Daniel Varholdt
Chandler, AZ
m 63
Cuts: scratch +15; handicap +53
Ball Winner: Mike Kremer
Mystery Score Winners: E. Vitzthum, George, Taylor King, Zachow
TOTAL AWARDED THIS EVENT: $2,213