NEW YORBA LINDA BOWL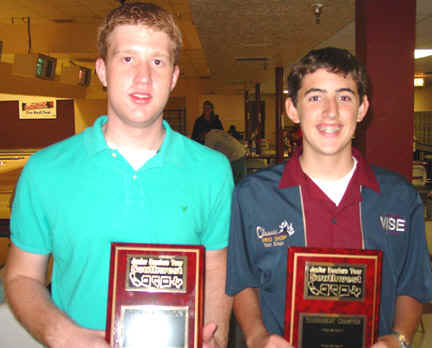 champions BJ Baker & Justin Basom
BJ Baker continued to dominate the scratch division, while Justin Basom claimed his first title in exciting JBT SW action at New Yorba Linda Bowl
The scratch division saw its highest scoring tournament of the season, as nine bowlers finished +200 or better after eight games, highlighted by Cameron Smith's 298 effort in qualifying. BJ Baker, the champion from our last So Cal event, opened the stepladder finals with a near-perfect 278-223 win over Felicia Mara, who held her own against the boys for her first top-5 finish.
Baker then remained on a roll in the next two matches, defeating 04-05 So Cal JBT SW Bowler of the Year Josh Blanchard 222-205, who had gone +254 for the 5-game qualifying round, in round two. He followed with a 216-199 win over Brian Carmichael to advance to the title match.
Top seed Jeff Spiesman, looking for his first JBT SW title, shot 235 or better for 6 out of his 8 qualifying games, but was unable to get lined up against the veteran Baker, who put immediate pressure on Spiesman with early strikes. In the end it was a rout, and Baker claimed his second consecutive JBT SW So Cal title with a 256-176 win. The victory was the 12th of his JBT SW career, fifth best on our all-time list.
In the handicap division, Chris Charnock claimed the fifth and final seed for the finals, then won a squeaker over fellow first-time finalist Daniel Ploner, 222-218 in round one of the stepladder finals. In round two, Sean Buranahiran came on strong to defeat Charnock 220-201. Basom took over in the semifinal matchup, winning 247-199 to advance to his first title match.
Top seeded James Hawkins Jr. impressed all day with a both-handed delivery that made me pull my back out just watching it, but was very effective against the pins all day. However, the title match was a different story, as Hawkins struggled on the pair, while a confident Basom maintained a tough pace. In the end, Justin defeated James 227-165, good for his first career JBT SW title.
Everyone who finished in the top 5 qualifies for the 2006 JBT SW So Cal Invitational Tournament, the regular season's yearend event, featuring a guaranteed minimum $1,000 first place scholarship in each division. Top season-long point scorers also qualify for the 2006 JBT SW Touring Players' Championship, featuring a guaranteed minimum $2,000 first place scholarship per division!
87 entrants shared in over $1,900 in scholarships awarded at the event. Big thanks to Mr. Butch Hesketh and everyone at Yorba Linda for another fantastic job hosting our event. Please continue to help spread the word about the terrific benefits of bowling JBT SW events!
Yorba Linda Bowl- final results and optional scholarship winners
10/8/2005
Southern California Conference
Scratch Division
rank
name
city, state
score
prize
1
BJ Baker
Tempe, AZ
p 252
$215
2
Jeff Spiesman
Ventura, CA
p 371
$100
3
Brian Carmichael
Moreno Valley, CA
p 287
$80
4
Josh Blanchard
Clovis, CA
p 285
$131
5
Felicia Mara
Rancho Cucamonga, CA
p 231
$50
6
Devin Bidwell
Ventura, CA
p 211
$30
7
Preston Fukumizu

Los Angeles, CA

p 208
$25
8
Curtis Jensen

Fremont, CA

p 206
$13
9
Steven Black
Phoenix, AZ
p 206
$180
10
Kevin Valmonte
EL Monte, CA
p 198
11
Brittany Page
Los Angeles, CA
p 179
$40
12
Justin Lou
San Diego, CA
p 172
13
Jared Lawrence
Torrance, CA
p 166

14
Theo Douthit
Phoenix, AZ
p 157
$43
15
Danielle Schilling
Littlerock, CA
p 106

16
Brian Ballard
San Diego, CA
p 98

17
Cameron Smith
Santee, CA
p 71
$13
18
Mason Sherman
Moorpark, CA
p 66
19
Shane Peck
Riverside, CA
p 50
$30
20
Sam Hitchcock
Lake Forest, CA
m 97
$15
21
Chris Weyrauch
Chandler, AZ
p 9

22
Josh Wilson
Vista, CA
p 8

23
Justen Danforth
Lake Forest, CA
m 9
$15
24
Will Jackson

Gardena, CA

m 15
25
Savannah Guerrero
Riverside, CA
m 22
26
Forrest Holland
Vista, CA
m 27
27
Kacy Bonifacini
San Diego, CA
m 36
28
Shelby Shirlock
Lake Elsinore, CA
m 39
29
Chris Fore
Oceanside, CA
m 42
30
Richard Brown
Rancho Sata Margarita, CA
m 44
31
Krystal Alvarado

Corona, CA

m 52
32
Jason Larcome
Chula Vista, CA
m 64
33
JR Monteith
Yorba Linda, CA
m 65
34
Steven Lanning
San Diego, CA
m 81

35
Rebekah Gottlieb
Las Vegas, NV
m 121
36
Robert Page
Los Angeles, CA
m 126
37
Matthew Spive
Escondido, CA
m 157
38
Julian Bosley
San Diego, CA
m 181
39
Ryan Halpert

Moorpark, CA

m 192
40
David Sanchez

Mira Loma, CA

m 408
Handicap Division
rank
name
city, state
score
prize
1
Justin Basom
Lemon Grove, CA
p 202
$200
2
James Hawkins Jr.
Anaheim, CA
p 205
$110
3
Sean Buranahiran
Covina, CA
p 197
$80
4
Chris Charnock

Anaheim, CA

p 127
$60
5
Daniel Ploner
Moreno Valley, CA
p 166
$50
6
Jaymes Conn
La Mesa, CA
p 122
$70
7
Kelly Ruzylo
Oceanside, CA
p 114

8
Shane Lien
San Diego, CA
p 112

9
Dan Glusman

Foothill Ranch, CA

p 110
$25
10
Allie Ijams
Mission Viejo, CA
p 104
$150
11
Martika Cabezas
Cathedral City, CA
p 95
12
Paul Ospital
Crestline, CA
p 90

13
Kaitlin Mayall
Chula Vista, CA
p 82
$10
14
Foster Phandanouvong
San Diego, CA
p 74
$45
15
Susy Monteith
Yorba Linda, CA
p 72

16
Charlie Hair

Lake Forest, CA

p 66

17
Lesliann Katsura

Norwalk, CA

p 58

18
Melissa Long
Long Beach, CA
p 45
$45
19
Monica Lozano
San Diego, CA
p 44

20
Samantha Meyers
Mission Hills, CA
p 17

21
Aprille LeBaquin

Cerritos, CA

p 8

22
Drew Stern
Northridge, CA

p 7
$45
23
Rudy Powell
San Bernardino, CA
m 2
24
Wendy Martinez

Yorba Linda, CA

p 1

25
Wesley Low
Palmdale, CA
m 9
26
Brittany Kolatzny
San Diego, CA
m 10
27
Louis Barragan

Burbank, CA

m 12

28
Nick Powanda
San Diego, CA
m 19

29
Kyle Ruzylo
Oceanside, CA
m 20
$25
30
Eddie Sayles

Los Angeles, CA

m 21
31
Christina Fraijo
Corona, CA
m 30

32
Kristina Lusterio
San Diego, CA
m 37
33
Mimi Duong
San Diego, CA
m 40

34
Cameron Peck
Riverside, CA
m 47
35
Bethany Baker
Tempe, AZ
m 54
36
Michael May
San Diego, CA
m 62

37
Nikki Elberts
San Diego, CA
m 73
38
Eric Sheather

Mira Loma, CA

m 73

39
Lana Lycan
San Diego, CA
m 77
40
Troy Lien
San Diego, CA
m 97
41
Tyler Bosacarino
Alpine, CA
m 97
42
Anthony Cruz
San Diego, CA
m 98
43
Michael Lozano
San Diego, CA
m 123
44
Ronnie Nophalath
San Diego, CA
m 131
45
Andre Chain
San Diego, CA
m 146
46
Armando Garcia
San Diego, CA
m 166
47
Steven Sensabaugh
Yorba Linda, CA
inc card
PowerBowl games: 205-161-272 (no winners)
Cuts: scratch plus 19; handicap plus 3
Storm Ball Winner: David Sanchez
Junior Gold Qualifiers: none
300 Games: none
TOTAL AWARDED THIS EVENT: $1,915